Trail Runner's Guide to UTMB 2021
Your complete guide to the UTMB races
Heading out the door? Read this article on the new Outside+ app available now on iOS devices for members! Download the app.
The Ultra-Trail du Mont-Blanc (UTMB) isn't just one thing. It's The Spandex Superbowl, wrapped in Gore-Tex Mardi Gras with a dash of Chafing World Cup. It's a week-long festival of mountain racing that attracts thousands of runners to Chamonix, France.
"Chamonix has a rich history. It's really a place of innovation and freedom," says David Laney, 30,  Nike Trail athlete and three-time UTMB runner. "You can read about it, watch videos or buy French cheese but [UTMB] should really be experienced."
RELATED: So You Want To Run UTMB. Here's How To Qualify. 
The alphabet soup of race names reference the tiny alpine villages in France, Italy and Switzerland that surround Mont Blanc, or in the case of PTL, one very intrepid baker (see below). Chamonix (3,400 feet) is located at the base of Mont Blanc, the highest summit in the Alps at 15,781 feet.
The petit French ville's cobblestone streets will teem with compression-sock-clad competitors who will be competing in one of the six events throughout the week. The five smaller races (perhaps in prestige, rather than mileage, as in the case of PTL) lead up to UTMB, considered by many to be the sport's crown jewel. This is our breakdown of the week's events.
You can watch the live stream here.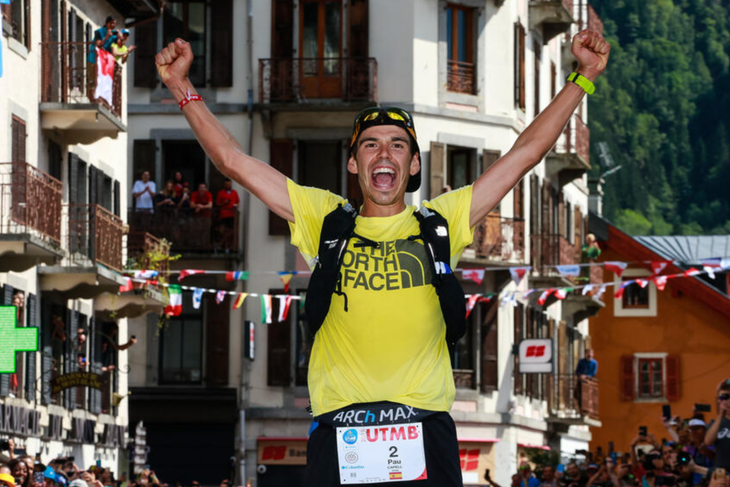 UTMB: The Ultra-Trail du Mont-Blanc
The marquee and last event of the week-long series, UTMB completely circles its namesake summit in just over 100 miles with a whopping 32,808 feet of vertical gain—more than it would take to summit Everest from sea level. About 2,300 runners will attempt to traverse the course's 10 alpine summits in under 46 hours 30 minutes.
Though an American man has yet to cinch a UTMB win, Krissy Moehl won the inaugural event in 2003, and again in 2009. Rory Bosio racked up two consecutive victories in 2013 and 2014, and Nikki Kimball claimed the title in 2007. Could Courtney Dauwalter be back to claim another win? Stay tuned!
Runners To Watch
Courtney Dauwalter is back after her 2019 win, and a tough DNF at the Hardrock 100. Fresh off a Western States 100 win, Beth Pascall is back to tackle the course after coming in 5th in 2019, and 4th in 2018. Hillary Allen is back on the scene after nabbing second place at TDS in 2019, and a string of injuries. Katie Schide, who finished 6th in 2019, is also back and looking to move up in the rankings. Though originally from the U.S., Schide has been living and training in Switzerland for several years.  Brittney Peterson, who recently came in 4th at WSER, and Emily Hawgood (who came in 7th, originally from Zimbabwe but lives and trains in the U.S.) will also compete.
Jim Walmsley is back, and out for revenge after a tough 5th place finish in 2017. Francois D'Haene, fresh off a victory at the Hardrock 100 will also be a top contender. UTMB Champ Xavier Thevenard will be back to reclaim his title, and Pau Capell will attempt to reclaim his title.
Other runners to watch include Kelly Wolf, Magdalena Boulet and Camille Heron.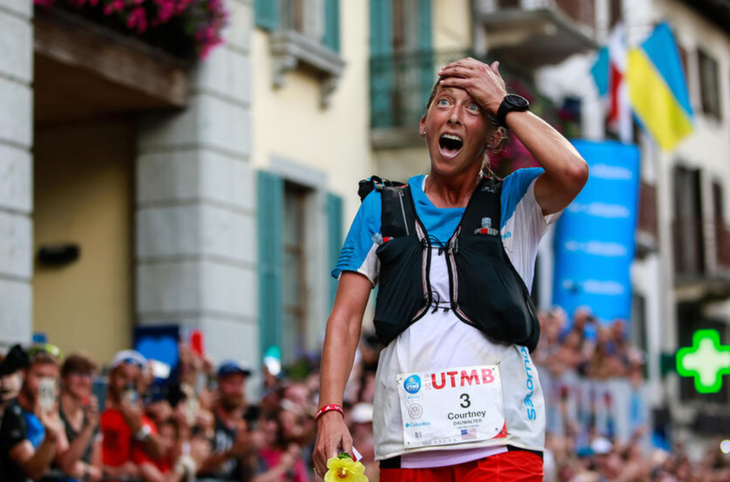 UTMB Races
CCC: Courmayeur-Champex-Chamonix
Previously seen as the  "little sister of the UTMB", CCC has become a respected race in its own right with a demanding 101-kilometer course that ascends over 20,000 feet. It just about covers the last 100K of the UTMB course, which offers an in-depth preview for many runners with UTMB dreams. Historically, Americans have been successful at CCC, with notable victories by Clare Gallagher, Hayden Hawks and Zach Miller.
PTL: Petite Trotte à Léon
Perhaps UTMB's most distinctive event, the PTL takes teams of two to three runners over 300 kilometers of rugged, unmarked terrain around Mont Blanc. Named for an adventurous French baker and hardcore volunteer, it takes many teams the allowed 152 hours 30 to complete.
The course changes every year and there is no official winner. The event is so challenging that finishing is judged as a win.
TDS: Sur les Traces des Ducs de Savoie
The extra-technical TDS is the "cool-kids" race, attracting a who's who of mountain runners from around the world.  2019's new-and-improved route is even more rugged than previous years. It traverses 145 kilometers from Courmayeur, Italy, to Chamonix around the Mont Blanc massif. This "mid-distance" (by UTMB standards) event hosts 1,600 runners, and has a 42-hour cutoff.
No American has ever won TDS, but Hillary Allen ran a ferocious race for 2nd in 2019.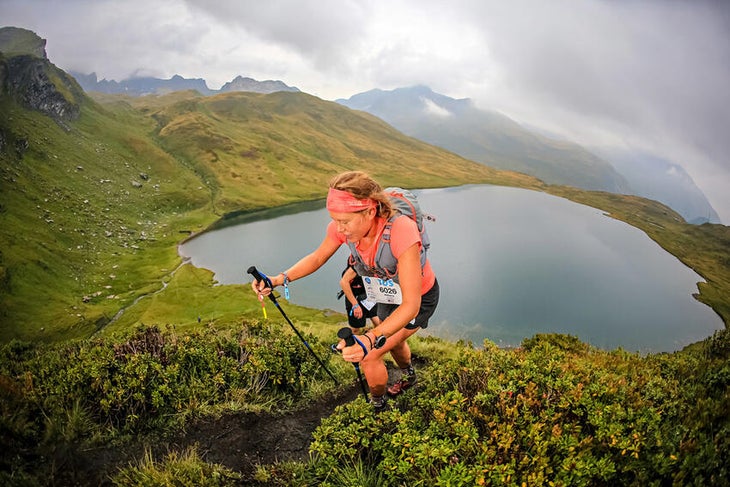 OCC: Orsières-Champex-Chamonix
Probably the closest thing UTMB has to an entry-level race, this 55K is a testing ground for many future UTMB competitors. The route climbs over 11,000 feet as it winds through the Swiss Valais region with a 14-hour-30-minute cutoff.
MCC: Martigny-Combe-Chamonix
The MCC is a 40K race for the "bénévoles" and "gens du pays," the volunteers and locals who help with UTMB. The shortest of the races, it provides an accessible surprisingly challenging (7,500 feet of elevation gain) glimpse into the French Alps.