The Vermont 100 Was Supposed to Happen Last Weekend. Then the Floods Came.
The historic ultramarathon in Vermont was canceled due to historic floods and a state of emergency. This didn't stop race organizers and runners from helping out those in need.
Photo: Ben Kimball - 2022
Heading out the door? Read this article on the new Outside+ app available now on iOS devices for members! Download the app.
On Monday, July 10, the rains in and around Windsor, Vermont, came in hard. The area had already been experiencing an above-average wet summer, so the ground and rivers were already substantially saturated. 
In total, Vermont's recent storms dropped as much as nine inches—a record-setting 5.23 inches in Montpelier in a single day—which included statewide flooding, a governor-issued state of emergency, one death, and more than 200 rescues. Many of the area's rivers rose to higher levels than Hurricane Irene in 2011. 
Among the widespread displacement and climate-change-exaggerated weather, one of the most iconic 100-mile races, the Vermont 100 (VT100), was set to happen on July 14. Amy Rusiecki, the race director, who lives an hour south of the course in Massachusetts, had her race team in Vermont send her constant updates of the worsening conditions. 
"Immediately my plan was: let's let this start to recede on Tuesday, and then we'll go out and assess and understand what the situation is like." 
But the situation only got worse.
There are two bridge crossings on the course, and both were nearly flooded by mid-week, and both of the connecting roads along the bucolic River Road were underwater. Reading, Vermont, was also compromised by the flooding at Camp Ten Bear Aid (miles 47 and 70), a critical aid station for the race, along with several other washouts, making access and safety for the runners impossible. 
"There would have been no way to get aid station supplies, to get ambulances, to get any sort of support, medical or otherwise, to the runners in that whole section because so many of our access points and main roads were still closed to the public," said Rusiecki. 
By Tuesday, the flood levels had only increased, and, by 9 P.M., after much deliberation, after assessing every possible alternative with her team, Rusiecki called off the race, the first time in its 34-year history (not counting two COVID years of cancellation).
RELATED: 4 Ways Climate Change Affects You As a Runner
The Vermont 100: A New England Classic
Much like Western States 100, the VT100 has its origins steeped in endurance horse racing. What started in the late 1960s as an equestrian event in and around Woodstock, Vermont, didn't evolve into a foot race until 1989, when, according to the Vermont 100 website, Laura Farrell—who in 1982 had already completed both a 100-mile horse ride and a 100-mile run elsewhere—was invited to run the inaugural VT100. That morning, 114 runners competed in the VT100, and a tradition was born. Farrell would later become the first race director of the VT100. 
In 2008, they added a 100K distance, and, in 2017, the race became the first trail/ultra race to formally recognize visually- and mobility-impaired runners in their own "Athletes with Disabilities" awards category. 
These days, the race fills immediately upon opening, reaching its 450-runner limit. It's an official 2024 Western States 100 Mile Endurance Run qualifier, and it's part of the Grand Slam of Ultrarunning. And, yes, fifty riders still arrive for the annual horse race.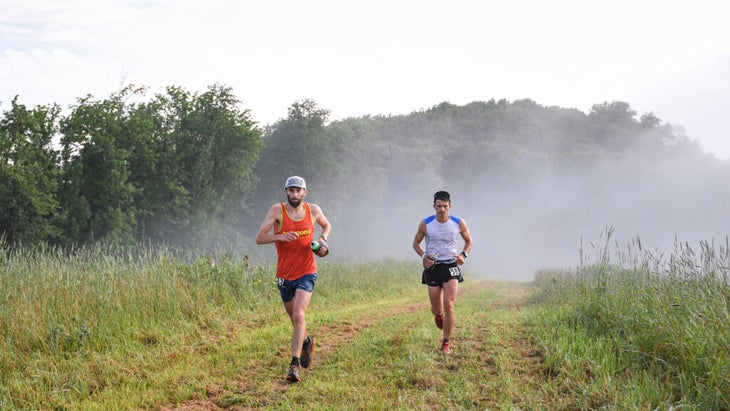 In 2015, Rusiecki took over as race director. A highly accomplished ultrarunner, coach, and three-time member of the USA Trail Team, Rusiecki is a self-described problem-solver.
"All RDs are going through this same thing—climate change and how it's impacting our races and these crazy weather things that happen, and needing to pivot or have contingencies," said Rusiecki. 
Rusiecki had to rely on many people on the ground in the high-impact zones along the course to know how exactly to proceed. But this, she says, is the secret sauce to being an effective race director. "Surround yourself with awesome people. Surround yourself with a great race committee or advisors that can be sounding boards. That's how you work your way through these things," she said.
"There Was Mud Everywhere."
Faith Raymond, 58, lives in Springfield, Vermont, just south of the course. She was slated to run the 100-miler this year. Not only has she finished the VT100 once and the 100K run three times, but she's also completed the race…by horseback. 
When Raymond heard of the cancellation, it didn't surprise her. "I think because I live here and witnessed the flooding and damage first-hand, it was absolutely the right thing to do. My first thoughts were for those who had lost their homes and businesses. It was an incredibly difficult decision for the committee to make, but I supported them 100 percent," she said. 
Once the race was called off, Raymond and others sprang into action to help, pulling down course markers. "As we drove around it seemed like every few minutes we were gasping at a new tragedy," she said. "So many roads were destroyed or damaged, and there was so much mud everywhere."
Raymond highlighted how incredible it was for the VT100 committee to quickly redirect all the food and supplies earmarked for the race and donate them to food banks and shelters throughout Vermont in need. They also provided an extensive list of volunteer opportunities for runners to patch into, with contact information.
"Many displaced runners came here [to Vermont] anyway, volunteering their time and energy to help put the community back together," said Raymond. "It's an incredible group of people, from the committee members to the runners, riders, volunteers, and landowners associated with the VT100, which is one of the reasons I love it so much. We will be back."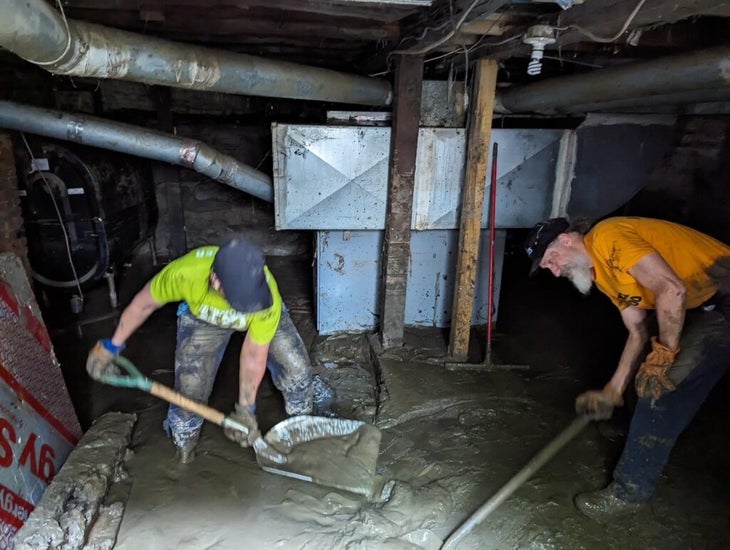 "Mother Nature Is Powerful; Humanity Is Powerful, too."
Krista Alderiece, 46, lives on the VT100 course (mile 86), in West Windsor, Vermont. She's won the VT100 ride and was aiming for her 500-mile buckle with her fifth 100-mile run finish.
"I started coming to the race as a horsewoman in 2001, riding with my mom and completing it on horseback for eight years," she said. After an incident with her horse, Alderiece yearned for long-distance endurance events, so she tried her hand at ultrarunning. Four buckles later (and eight buckles from her husband), her family has long-standing memories of this race. Last year was particularly special, as their two sons crewed and paced them both. 
"I was so excited for all of us to share the trails together and run for our favorite charity, Vermont Adaptive Ski and Sports," said Alderiece. "I let myself be sad for a few days. I was sad for families who had lost so much with the floods, and sad for our beautiful state. But as Vermonters, we are strong."
Alderiece had gone out on course to assess the damage and conditions before it was officially canceled, and knew right away that it was unfit for racing. 
"Tears flowed as I looked for River Road and it was completely underwater," she said. Someone had just marked the course, but the markings were all but submerged. "You could see a lone yellow plate in the middle of the raging river, hanging on a tree where the road once was. At that moment, we knew there would be significant damage to homes. One silver lining was going back to that spot 24 hours later seeing a woman walking her dog along that same road. Mother Nature is powerful, but humanity is powerful, too."
RELATED: Local Running Stores And The Power Of Community
An Alternative Ultra Emerges 
"I see my job as a race director to be a problem solver," said Rusiecki. "So one of the things that really frustrates me is when we do have situations like this that it's like, I can't think my way around it. I feel like it's my job to just successfully navigate to find a way through."

In addition to the overwhelming support from the community and runners to help with flood relief, other race directors in the area offered to roll VT100 runners into their races, runners who might be interested in still running a race, including the Vermont 50.
After the race was officially canceled, by Wednesday, Rusiecki had already sent an invitation for a "choose-your-own-adventure" 100-miler in Massachusetts on Saturday, where she lives, and where flooding was less severe. 
The day turned out to be intensely hot and muggy and, on Sunday, strong rains came again. In all, twenty runners started, a handful made it to 100K, and one hearty soul finished his first-ever hundred miler, Matt Czaplinski, 57, from Northampton, Massachusetts. But not without a fight.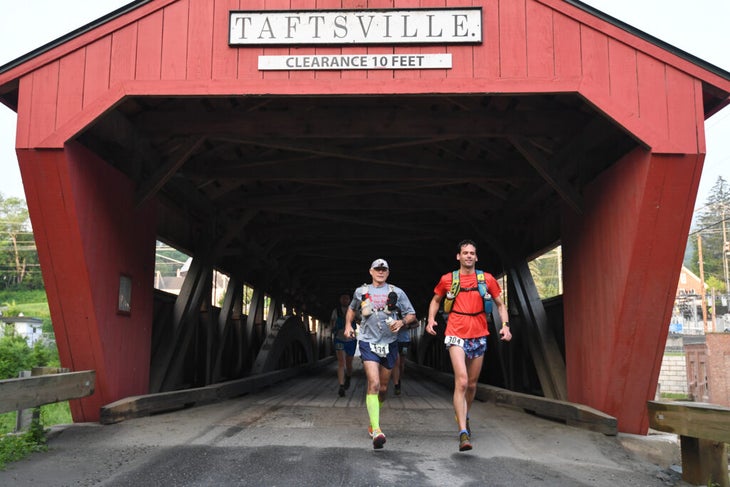 He was planning to raise money for Vermont Adaptive at the VT100, what would have been his first 100-miler, and was heartbroken when the race was canceled. "It really felt like I had been training for this race for three years, since I realized I loved to run trails and do ultras," said Czaplinski. He looked for other possible races, with no luck in the foreseeable future.
The flooding has been particularly potent for Czaplinski, as his father used to live right at the foot of the Wrightsville Dam, in Montpelier, which made national news for the potential downstream disaster if the dam flooded. 
Minutes after Rusiecki canceled the VT100, she sent out an email about her homegrown 100-miler from her house. Czaplinski was in. 
"I couldn't believe that she had rallied her energy to essentially organize another event even as she had been working round the clock to try to make VT100 happen. Though the Vermont 100 course boasts 17,000 feet of elevation gain, the new route was far more technical and tough, at times "something out of the Barkley Marathons."
He had his doubts about finishing, until his family met him 40 miles in, which gave him a necessary boost. The rest of the run included an epic lightning storm and sustained humidity, with water gushing down every bit of the trail, but over 24 hours after starting, he finished.  
RELATED: John Kelly Sets the Fastest Known Time on Vermont's Long Trail
"Amy has an amazing capacity both to figure out logistics and connect with people to galvanize the community," he said. "I was amazed that she pulled this together, but having been on the receiving end of this kind of generosity, I realize why so many people are willing to make heroic efforts at a moment's notice."
As more rain is expected in the forecast for Vermont, Rusiecki and her team of volunteers, along with many runners and crew, turned their canceled race into an opportunity to volunteer at food shelters or flood restoration work, while some were also able to slip in a long run, despite the weather—tragedy turned into a community resilience and adaptability. In all, they had over 40 volunteers work in the affected communities over the weekend, and donated about $25,000 worth of food to these communities.
"In the end, what the weekend was really about was getting the community together, connecting over some miles, supporting each other with our crazy adventures, and having fun," said Rusiecki. "Ultimately, that's what happened. Which is exactly what I needed."