The Rise Of Vertical Racing
Heading out the door? Read this article on the new Outside+ app available now on iOS devices for members! Download the app.
What's Up With Vertical Running?
In 2006, 96 trail racers toed a starting line in a quiet valley at the base of a ski area in New Hampshire's White Mountains. The new Loon Mountain race was one of the steepest trail races in the United States, rising 3,200 feet over 6.6 miles. On a section called Upper Walking Boss, the course angled to a grade of over 40 percent—steep enough that you could reach out and touch the grass in front of your eyes.
The majority of the participants that morning were experienced mountain runners. "Most were either hard core or trying to make the USA mountain-running team," says Dave Dunham, a long-time Northeast trail runner. Still, the course ground them down, with each ascent harder than the last. Dunham recalls more than few runners saying, "Just when I figured I'd gotten past the worst of it, it got much worse".   
"In a typical trail race, if you see someone just ahead, that's 10 seconds. On Upper Walking Boss, it's so steep, that time is a minute," explains Paul Kirsch, one of the course designers. "It messes with your brain."
The scene was informal and fun. "It was all very low key, small time and low tech," says Kirsch.
This year, Loon Mountain hosted just under 1,000 runners.
"You can't say it's the same event," says Kirsch. A staggered start is used to avoid crowding. There are EMTs, radio communications and electronic timing. And, in a nod to the growth of uphill running, the types of runners taking part have changed, too. "We now have a lot of people who had never done a mountain race before," says Kirsch. 
So-called "Vertical Running," like the routes they travel, is trending up in a big way. The result? Running steep up—and sometimes steep down, as well— is increasingly part of the trail-running culture in the United States. In the process, it's redefining what it means to trail run.
It's a story that's unfolding across the country. Two thousand miles away from the White Mountains, Nancy Hobbs, the American Trail Running Association Executive Director, has watched firsthand as trail runners gravitate to the Incline, a self-timed lung-busting climb in Manitou Springs, Colorado. A former funicular route complete with rail ties, the Incline reaches angles of up to 68 percent and gains over 2,000 feet in less than a mile (see "Colorado Rocky Mountain High," page 36 for more info). 
"It's just gone bananas. People are doing it every day," says Hobbs, whose Google tracker camera recording of the route is available online. Elite athletes vie for the fastest times, with U.S. runners Joe Gray and Allie McLaughlin, currently topping the list with times of 17 minutes 45 seconds and 20 minutes 7 seconds, respectively. Even soldiers at nearby Fort Carson have gotten into the action. Each year about 500 of them tackle the route in what amounts to a one-day camouflage invasion.
An Alaskan Bar Bet …
Sometime not long after the start of the 20th century—like all good legends, the specific date is lost to history—a challenge was issued in a bar in Seward, Alaska: could the mountain just outside town be scaled and descended in less than an hour? The peak, then called Lowell Mountain, was already well- known to locals, who would climb it to watch for incoming ships, then race down to announce the new arrival. 
A sourdough by the name of Al Taylor accepted the challenge, later determined to be 3,022 feet of climbing and a round trip of just over three miles. His time? 1 hour 20 minutes. Taylor had to ante up a round of drinks.
A "Hey, Watch This!" moment a century before the phrase came in to vogue, the boozy bar bet led to one of the world's earliest vertical mountain races. A few years later, on July 4, 1915, a race was inaugurated on what was already being nicknamed Seward's "Marathon Mountain." (The name was officially changed to Mount Marathon in the 1960s.) Local merchants put up prizes. The winner, James Walters, still couldn't quite get in under an hour. His time was 1:02. 
For four decades, Mount Marathon was one-of-a-kind. But in time, other uphill races followed—notably New Hampshire's Mount Washington Foot Race. First run in 1936, the race climbs 4,650 feet along a 7.6-mile road to the summit of the Northeast's highest peak. Twenty years after Mount Washington, Colorado's Pikes Peak added two races—the Ascent, to the summit of the 14,115-foot peak, and a round-trip marathon that takes place the day after the Ascent.
… and an Italian Mountaineer
For many years, Pikes Peak, Mount Washington and Mount Marathon chugged along as popular, albeit quirky events. Then, on July 22, 1989, an Italian alpinist named Marino Giacometti ticked off an uphill run that captured the imagination of runners around the world and helped kick off the modern era of uphill running and racing.
Starting in the sleepy, end-of-the-valley village of Alagna on the mountainous Swiss border, Giacometti ran uphill, left the trails behind and struck out over snowfields, eventually running up a steep gully and across a glacier to the summit of 15,199-foot Monte Rosa. Giacometti's 3:53:30 run was a key moment in the development of wildly steep mountain running. Two years later, Giacometti organized a race in which five runners left Courmayeur, Italy, and raced to the summit of Europe's high point, 15,780-foot Mont Blanc. It was the first race in what would eventually morph into the International Skyrunning Federation, an organization that now sponsors and promotes tough mountain races around the world. Now 67, Giacometti continues to run in the Alps.
A century after the Seward bar bet and three decades after Giacometti's speed record, steep, vertical races are now capturing the imagination of a wide range of runners, in a way never seen before. What shifted?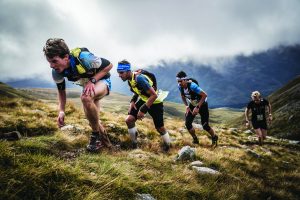 Gravity Always WinsWhy is
Hobbs has one theory. "Runners are looking for something different," she says. "They wonder, 'Can I do this?' There's an ego component to the vertical races, as well."
And while steep-uphill trail races
are demanding, unlike ultramarathons, they don't require months of training. 
"You challenge yourself, whether you're running, hiking or something in between, and when it's over in an hour, you get an amazing view," says Hobbs. 
For his part, Kirsch sees the surge in vertical races as part of the larger growth of trail running.  "People are migrating to trails. Ultrarunning is surging, and, at a race, it's easy to tack on a vertical event, too," he says.
And then, there's the masochism.
"I'm always fighting the urge to vomit," says the longtime uphill runner Peter Maksimow, 40, of Manitou Springs, Colorado. Maksimow has raced vertical courses around the U.S. and Europe. His first was the technically challenging Vertical Kilometer in Chamonix, France, which includes cables and a ladder to assist runners.
"I crumpled to a fetal position after I crossed the finish line," he says. 
What's the appeal of such suffering?
"My body tells me, 'We shouldn't be doing this, I'm not going to survive,' but my mind says, 'Naw, shut up, this is what we've trained for.' Fighting gravity," Maksimow adds, "is one of the most difficult things you can do. It always wins!"
Growing Numbers and Epic Moments
The number of uphill races is growing in the U.S., as race directors angle their vision upward in search of new routes.
Though the American Trail Running Association doesn't track vertical races separately, the uptick is evident.
"It's a cool trend," says Hobbs. "There are many more steep-uphill races than there used to be." (See sidebar.)
Classic events, meanwhile, are experiencing growth and sometimes unprecedented demand. Mount Washington, which caps its race at 1,325 runners, has seen the number of runners entering the lottery rise from 2,500 to 3,000 in the past two years.
One of the newcomers is Squaw Valley's Broken Arrow Vertical Kilometer. Climbing 3,100 feet in 3.1 miles, the route includes a handline bolted to rock en route to the summit of 8,885-foot-high Squaw Peak. 2016 was the first year for the race, with 102 runners. Last year, there were 152.
With snow slopes, scree, steep slabs and moments of exposure, it's a memorable course. "Depending on conditions, we have sections on snow that are as steep as 40-degrees," says Ethan Veneklasen, the race co-director.
And for the newcomers who might be a bit queasy on those angles, Broken Arrow takes a cue from its European counterparts with ropes rigged on the exposed sections of the course. The coup de grâce is a 30 foot-ladder along an airy ridge, which runners have dubbed the "Stairway to Heaven." Participants, according to Veneklasen, all have the same reaction at the finish: "A huge smile … and a profound sense of relief that the suffering is over."
3,100 miles to the north, the grandfather of vertical races, Mount Marathon, has been coping with rapid growth in interest. The event is still managed by the local Chamber of Commerce and is now capped at 1,000. Despite an estimated 30,000 fans who come to Seward (pop: 2,831) to watch, the race maintains a homegrown spirit. Finishers are hosed down by race volunteers. All are covered in dirt, many with blood. 
U.S. trail runner Rickey Gates has helped bring Mount Marathon to the attention of the lower 48. His April 2014 article on the race appeared in this magazine, following a motorcycle trip to Alaska that included a stop in Seward to race.
Gates has raced Mount Marathon four times. He finished second in 2013—after dislocating his shoulder in a fall. He was just nine seconds behind the winner. He was second again in 2015, behind Catalan runner Kilian Jornet. He describes the scene:
It's the Fourth of July. Most of Anchorage—which means most of Alaska—has descended on this little fishing town to see the brave and select few test their limits on a very public stage. Thousands of people line the course to watch shirtless men and scantily clad women run towards the mountain like Braveheart against the English or something.
As a spectator you watch and wait and a half an hour goes by and these warriors return, bloody, covered in dust and mud with a knowingness in their eyes. And you want what they have. But there's only one way to get it. And it ain't pretty. Or pleasant. But let's be honest—battle can be fun.
A year later, the film 3022 Ft. brought Mount Marathon to an international audience. "When I first heard about it, I thought, 'This makes almost no sense,'" says filmmaker Max Romey.  "Then I experienced it and thought, 'This definitely doesn't make sense!' Calling Mount Marathon a trail race is like calling an astronaut a commuter."
"It's 'OIA,'" says Holly Brooks, 37, from Anchorage. "Only In Alaska." Brooks has won the race twice and finished second three times. "We have the topography and the people who are wild enough, crazy enough and creative enough to think of it."
Brooks speaks with a certain authority on wild and crazy. 2009's race featured warmer-than-usual temperatures. A cooling breeze on the summit was notably absent. Leading at the top, Brooks collapsed in front of Seward's Hospital, a half-mile from the finish, suffering from exertional rhabdomyolysis, the breakdown of muscle from extreme effort. Knowing that race rules didn't allow her to run the following year if she didn't finish, she checked herself out of the ER, finished the race, then returned for another three bags of IV fluid. "That," she concludes, "is what Mount Marathon is all about."
Enjoy the Pain Cave
Brooks' experience is a maniacal outlier, of course. For those who to want to try a vertical run, U.S. Mountain Running Champion and this year's Broken Arrow VK winner Morgan Arritola, 33, of Ketchum, Idaho, adds a dose of sensibility. 
"Just do it and enjoy the short, hard effort and the views," she says. "We live in a world where people overthink so much that the beauty and simplicity of hard work is muddied."
And when it's over? "You're done with enough time to have lunch and carry on with the rest of the day."
Doug Mayer lives in Chamonix, France, where he tries in vain to keep up with the locals on the descents.