The Gritty-est Trail Running Group in Delaware
What started as a Facebook page for group runs and became dinners, workshops, and a community on the East Coast.
Heading out the door? Read this article on the new Outside+ app available now on iOS devices for members! Download the app.
Vicky Sullivan couldn't think of a name. It was late 2021, and she wanted a name that fit her vision for a women's-only trail running group in the Wilmington, Delaware area. 
The project had been one shared with her running buddies from runs in the neighborhood and various local groups like She Runs This Town and Trail Sisters Philadelphia. Wanting to get more women on the trails, she created a Facebook group as a space for women in the area to run together, ask questions, and celebrate one another.
The first name Sullivan put, "Let's Go Get Dirty," wasn't a winner. But the mission was. Fifteen people showed up to that first run on Thanksgiving Day 2021. A new name was also found.
"My friend Britton Elwood turned around at one point and said, 'What about GRIT?'" Sullivan said. "She said it stood for Girls Really Into Trails. It sounded fabulous."
Thus, GRIT was born. In just over a year, it's become a community of over 160 people, mostly moms from Pennsylvania, Delaware, and New Jersey. As a mother of one, Sullivan remembers her hesitation to get on the trails.
RELATED: Women-Only Trail Running Groups Are Key to Growing Female Participation in Trail and Ultrarunning
Finding the Trails
Sullivan had never ran off the roads before 2016 when a friend invited her on a trail run.
"I looked at her like, 'What do you mean on the trails? Like in the woods?'" she recalled. "I never even knew such a thing existed. I grew up in a concrete jungle."
Hailing from Taipei, Taiwan, and then moving to Long Island, New York, at age 15 in 1990, Sullivan found a home on the track and on the neighborhood roads. It was her cousin on Long Island who first convinced her to run for her school, which helped her bridge the language barrier and make friends.
Life was similar when she moved to Delaware in 2011 and picked up running again. In a new place with a limited social circle and working from home, she gradually found others to share the miles.
Years later, she got the invite to the trails. The neighborhoods were fairly navigable. Trails sounded like a labyrinth one could easily get lost in or hurt on. The fear of the unknown nearly kept her home that day.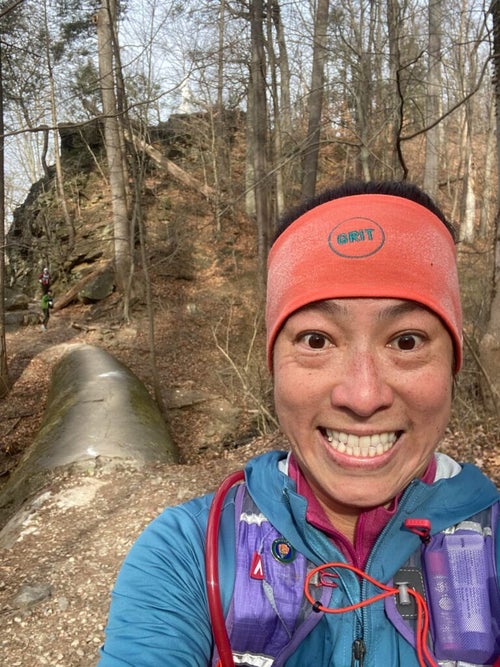 With reassurance from her friend, they ran along the Brandywine Creek in Wilmington, experiencing the solitude and beauty of running in a natural environment for the first time.
"For that little short time, it's almost like we just checked out of the world that we were in," she said. "I really enjoyed that disconnection."
Sullivan returned on cloud nine. She signed up for her first 50K, which she completed in October 2018. The more she hit the trails, the better she felt. She knew she wasn't alone in this, and she knew it was something others would enjoy.
"I hear a lot of people, like me, say, 'Oh my god, that is so scary. I never know where to go when I'm running in the woods. I don't want to get lost. I'm scared to go out there by myself,'" Sullivan said. "That's something I understand. I just kept thinking all these women were missing out. Trail running is beautiful, it's always a positive experience. It's so empowering and they shouldn't let the fear of not knowing where to go stop them from enjoying something so beautiful."
Those "others" now make up the over 160-person GRIT squad. They all, at one point, felt that same fear about the trails, but it was Sullivan who guided them to a new passion like her friend did. It took on a life of its own from there. 
"In order for this to work, you need Vicky," said Kristen Varley, 60, who is part of GRIT. "You need that person who is active and passionate in the group and committed to being the admin organizing most of the stuff. She is the reason this group thrives, and you can see it in what the group has become."
RELATED: This Retreat Is Helping Support Women of Color in the Running Industry
How the Group Works
GRIT started as a place to post and host bi-monthly group runs on the singletrack dirt trails in the Brandywines or at nearby state parks or nature preserves. That is still the main purpose, but Sullivan wanted it to be more and include more than just a date, time, and place
Sullivan and Elwood, who came up with the name, organize most of the big groups runs on the page. They scout the routes and provide detailed descriptions of the loop, distance, how long it's expected to take, and the pace if someone needs to finish by a certain time. Runs are no-drop endeavors, meaning no one gets left behind.
Then there's everything else. GRIT now hosts monthly dinners and hosts free workshops in partnership with local physical therapists office discussing nutrition, recovery, and fueling.
"We try to think of topics and conversations that would help and encourage all of us to feel more confident being out there if they want to race," Sullivan said. "This way they'll have the tools they need to help them grow."
Most of all, she sees more people in the group hosting smaller runs and looking for trail buddies during the week. Recently, Elwood said this included someone posting a group run specifically for slower runners.
"It said they'd walk up hills and encouraged people who might not be comfortable yet in group runs," Elwood said. "We don't drop, but I totally get it. There are people who might not have even tried the group run because it was intimidating or scary. Walking the hills and having a good time is trail running, and we love that this group is growing this way."
Add in group swag, volunteering together at local events, and Sullivan reaching out to everyone she can about the group, it has local recognition thanks to its inclusive and educational principles by women and for women. It also joins a group of affinity groups across the nation working to bridge the gender gaps in the sport.
"I think it's less intimidating when it's just girls," Varley said. "When I first got into trail running, I did so with a group of guys from my marathon training group. It was almost all guys who would drop me like it was nothing. There are always groups like that. Having a group like this, it's welcoming, no one gets lost, and everyone has fun."
What's Next
With just over a year complete, Sullivan isn't sure what is next for GRIT, but its vision is set.
"My long-term vision is to continue to encourage other women to try this new sport, check out this new community," Sullivan said. "I hope it continues to grow, but at a healthy pace to maintain the closeness of the group where everyone feels comfortable enough to say, 'Hey, come join us on the group run. We got you.'"
They'll do this with everyone in mind.
"Runners, in general, have an idea of what they're supposed to look like, or a lifestyle you're supposed to lead, and you're not a runner unless you fit those boxes," Elwood said. "Yet, here we are. Pennsylvania has a strong presence of female runners, and when you see someone who looks like you, has a similar life with kids or dealing with similar stuff, that reassures you that you can enjoy it like everyone else. Then it becomes a matter of just getting out there."