The Beating Heart of Nolan's
The two adventurers that fell in love with each other, then the legendary line linking 14 of Colorado's highest peaks.
Heading out the door? Read this article on the new Outside+ app available now on iOS devices for members! Download the app.
The sound of falling rocks caught Andrew Hamilton's attention. 
Andrea Sansone's foot toppled a rock off of the loose scree, just below the summit of South Maroon Peak, a class 3 peak that tops out at 14,163 ft. The mountain is part of Colorado's Elk Range,  known for its chossy and unpredictable terrain. 
"I might have been a bit naive back then," says Sansone. "It was like my fourth peak ever. And I chose to do this really hard, technical climb."
Andrew Hamilton and his hiking partner were just ahead on the summit. 
"I told my hiking partner, 'jeeze, we should try to stay ahead of her!'" laughs Hamilton. 
But Sansone caught up to Hamilton at the summit. After introductions, Hamilton invited Sansone to join him and his hiking partner on the difficult traverse that connects North and South Maroon Peaks (known, collectively, as the Maroon Bells), a wicked, high-alpine moonscape of scree with no bail-out options that requires technical experience. 
Sansone was totally game. They enjoyed each other's company so much, the two regrouped to do Pyramid Peak, a Class 4 14er near the Maroon Bells, the next day. 
"Then we did Longs Peak. Then we did Mount Princeton," remembers Sansone. "Within the next couple of days, we did four peaks together. And that was really fun. And we just stayed in touch." 
This high-altitude meet-cute kicked off a partnership in life and alpine adventure that would propel both parties to a relationship with Colorado's much sought-after Nolan's 14. 
Sansone loves to go uphill. She's previously set the mixed-gender FKT on California's 14ers (there are fifteen 14,000+ peaks in California), the female FKT on Colorado's 14ers, and holds the record for most ascents of Colorado's Manitou Incline, racking up a day's worth of rail-tie stair climbing for a total of 33.5 miles with a staggering 38,000 feet of climbing. 
Hamilton had a background in adventure racing and was no stranger to long efforts in the mountains. He has held the records for several mountain traverses, ranging from the highly sought-after FKTs to the esoteric to all but those deeply steeped in the nuances of FKTs. He held the record for quickest completion of both Colorado and California's 14ers (mixed gender FKT, even snagging the winter record for the Colorado's peaks). He's set the record for the Highest Hundred Peaks in Colorado. The fastest FKT to his name took just over two days. The longest took over 84 days (all 56 Colorado 14ers). He had several efforts on the Nolan's line and earned the self-supported FKT, while Sansone supported, and got curious about pursuing the line herself. 
Hamilton describes himself as methodical, a "spreadsheets and splits" kind of guy. Sansone is more emotional and readily admits to crying during a lot of her tougher attempts. 
But, the couple is committed both in life and adventure nonetheless.
"She likes to hear, 'you're amazing, I love you. You can do this.'" says Hamilton. "Even when I really want to just show her a pace chart."
Love On the Nolans Line
On September 12, Andrea Sansone, 33, from Golden, Colorado, set a new women's supported Fastest Known Time (FKT) on Nolan's 14 route in 45 hours and 52 minutes. Her time is the second-fastest recorded time on the route, behind Joey Campanelli's 2020 FKT. 
RELATED: Andrea Sansone Sets New FKT on Legendary Nolan's 14 Route
This much romanticized route was first devised over 20 years ago. In 1999, friends and ultrarunners Blake Wood and Fred Vance were looking to link up as many 14ers as possible in a single, 100-mile push. They turned to mountaineer Jim Nolan, who had summited all 56 of Colorado's 14,000-foot peaks, and who had created a route that connected 14 14ers of the Sawatch range in a single line. From Mount Shavano in the south to Mount Massive in the north, the route was just under a "century" and racked up over 44,000 feet of climbing. Wood and Vance named the route after its originator, and mandated that to be official, the route must be completed in under 60 hours. 
Nolan's 14 is unique because it exists at the nexus of orienteering, ultrarunning, and mountaineering. There is no set route, and runners must create their own line to link up the peaks, often sending them off-trail in technical, high-altitude terrain. Most runners who complete Nolan's rack up about 95 miles and almost 44,000 feet of climbing and descending. The route's average elevation hovers just over 12,000 feet, and forgiving weather windows are few and far between. But Nolan's onerousness is also its allure, a puzzle that draws runners into its challenge like moths to an enigmatic flame.
"When Jared [Campbell] and I started seriously looking at Nolan's, in 2012, it was still an underground adventure that few people had ever attempted," says Matt Hart, writer and editor at UltraSignup. "Only three people had ever finished it before us, including one of our ultrarunning heroes, Blake Wood, so we knew it was possible. But it was mysterious in the years before every route had been documented and shared via gpx files. It was still the great unknown which felt risky and made it irresistible. Nolan's felt like an antidote to the overly catered and controlled racing scene. A return to true adventure running."
Online trip reports date back to 1999, and aren't exhaustive, but show that fewer than 50 adventurers have completed the line. Wood and Vance failed to complete it on their first attempt, instead returning to finish the route in 2001. Notable alumni of the line include Alex Nichols, Gary Robbins, Jared Campbell, Luke Nelson, Meghan Hicks, Missy Gosney, Anna Frost, and Matt Hart. 
Nolan's felt like an antidote to the overly catered and controlled racing scene. A return to true adventure running.
For some, like Megan Hicks, managing editor at IrunFar and multi-time FKT holder on Nolans,  the fascination goes back years. 
"In college I majored in geology, and we did a field trip to Colorado. I recall looking at the Sawatch Range, where the Nolan's 14 route lies. I noticed how it's tallest peaks lined up to create this spellbinding skyline," says Hicks. "I'd spend time with Anna Frost, who was getting to know the Nolan's 14 route for an attempt on it someday, and the lineup of peaks was just as captivating. It made complete sense that someone had already linked up those mountains in one line."
Sansone and Hamilton currently hold the mixed team FKT (during which Sansone also set the supported women's FKT) before Sabrina Stanley tackled the route five days later. Shortly after, Meghan Hicks would reset the FKT, which was promptly lowered again by Stanley.
After multiple attempts on the route, Hick's devotion to the link-up of peaks through the Colorado high country hasn't wavered. 
"There are a few routes, like the Nolan's 14, that I could do over and over and every time it would feel new and different.  You can't help who and what you fall in love with, and you often struggle when someone asks you to articulate your love," says Hicks.  "This is what Nolan's 14 is to me."
Whether it's a multi-year relationship like Hicks's, or a quick tryst like Hart's, the route captures the imagination of anyone with an inclination towards the adventurous and mountain vertical. The specific demands of the route command attention and presence in a way that few things do these days, and Hicks has gravitated towards that pull.
RELATED: How to Train for Technical Trails
"There's also this really neat feeling you get when you move your body over complex terrain in an efficient way," says Hicks.  "There's no trail to lead you, no bobbling on navigation, and no tripping or sliding around. It triggers this primal connection with nature that's kind of addictive. I want to feel it but don't often get to, and it comes about every now and again on the Nolan's 14 line."
Perhaps the demands of this route upon the runner – the requirement of staying within its grasp for many hours and multiple days – cultivates a certain intimacy, a falling in love, surrender as a rational response to an irrational desire.
"Over the 58+ hours we were out there I grew to love the route. It's a clean and aesthetic line that makes logical sense," says Hart. "And it's so damn hard."
Falling in Love with Nolans
In August of 2020, Sansone and Hamilton set out to tackle the Nolan's line. An aborted attempt four weeks prior (derailed due to Sansone encountering a breathing issue on Mt. Missouri) left the couple hungry to traverse all 14 of Nolan's summits. 
"I wanted to go out there and show the community what I'm capable of," says Sansone. "My most favorite thing is being out there with Andrew, because he's my life partner and I love him so much. And these mountains, Nolan's, is where we thrive together."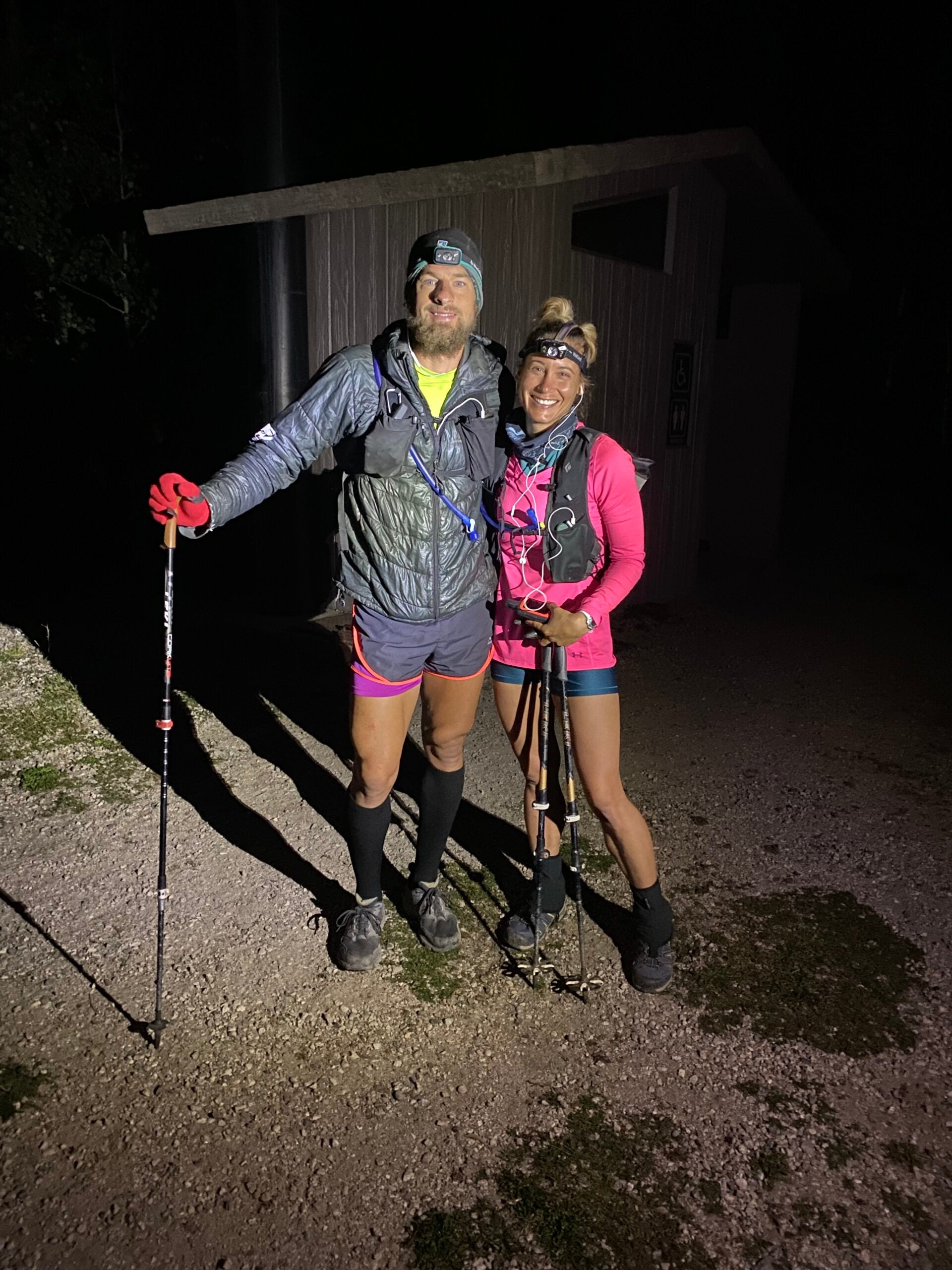 Sansone works part-time as a nurse at Children's Hospital in Denver, which leaves time to train for longer adventures. While she likes to trail run, particularly around Golden's North Table Mountain, she mostly identifies as a hiker. "My strength is hiking, and hiking for a long time," says Sansone. "And I've gotten a lot better on the downs. Now I can jog them, but really I just let gravity take me down."
Not only did Sansone and Hamilton complete Nolan's, they added on Mount of the Holy Cross, a variation of the route known as "Holy Nolan's". 
"We probably lost three hours on that attempt, just making ramen and stuff," says Sansone. "I knew immediately that I could do it faster." Sansone's weekend attempt shaved almost three hours off Stanley's time from 2020. 
The Beating Heart of Nolans
This summer, Sansone set the women's record for the most number of Colorado 14ers climbed in an hour, ticking off 12 summits to beat the previous record of eight. 
During the effort, Sansone found herself on the technical and exposed link-up between Columbia and Missouri. The granodiorite is tacky, but unforgiving. Known to bite into soft hands and exposed knees. But Sansone found herself moving swiftly and gracefully through the rocky and exposed sections of the traverse. She felt like she was moving towards her best, most authentic self as she hopped across scree, and scrambled over ridgelines. 
"I call that section the Heart of Nolans," says Sansone. "It's right about in the middle, and it just has these iconic traverses that I deeply love."
Traversing the heart of her much-beloved line stirred a dormant desire in Sansone. 
"That record is what really planted the seed to go back and try Nolan's," says Hamilton. "I was looking at her splits, and thinking, she's got to try this again."
The Nolans Line pulled Sansone back into its orbit yet again. She projected the line all summer, working sections multiple times to get to know their ins and outs. What would happen if she took a more direct, steeper path here, or a more gradual descent there? 
"I probably did Mount Massive five times," says Sansone. "I did it during the day, I did it at night. I did it tired, and then, I'd drive to Mount Elbert and do that. I wanted to know the route in and out, and I didn't want to depend on anyone for the route-finding."
In that time on the line, she fell even deeper in love with the brutal beauty of the glacier-sharpened peaks and felt more connected to their tender alluvial valleys. She could wax poetic about it, but she'd really rather just hike it. 
The Route
Sansone camped at the Mt. Shavano trailhead, eagerly awaiting to hear from one of her pacers, FKT holder Joey Campanelli. Sansone wasn't sure how ready he'd be, or if he'd even make it. But if he did, he'd be doing most of the Nolan's line off the couch. 
The night before she would start the route, she received a text: "I think I got you! I think a bunch of rest and caffeine, and I'll just have to suck it up!". Campanelli was game. 
Sansone hadn't used pacers for her previous FKT's, relying on herself or Hamilton's support and encouragement. For the first day of the FKT attempt, she felt great, easily beating her splits, before she crashed and burned on the summit of 14er, Columbia. 
"My body just knows what to do," says Sansone. "Even when I'm feeling mentally destroyed, I can still move uphill pretty well."
Night above treeline is frigid, and Sansone had neglected to pick up pants from her crew, running instead in shorts, which led to cramping and losing time on her splits. 
"It was the hardest thing I've done in my entire life," says Sansone. "I moaned. I cried. I wanted to give up." Hamilton, who was pacing her at the time, tried to cheer her up by singing songs. (When pressed for details, Hamilton said he'd rather not say. "It's too embarrassing.")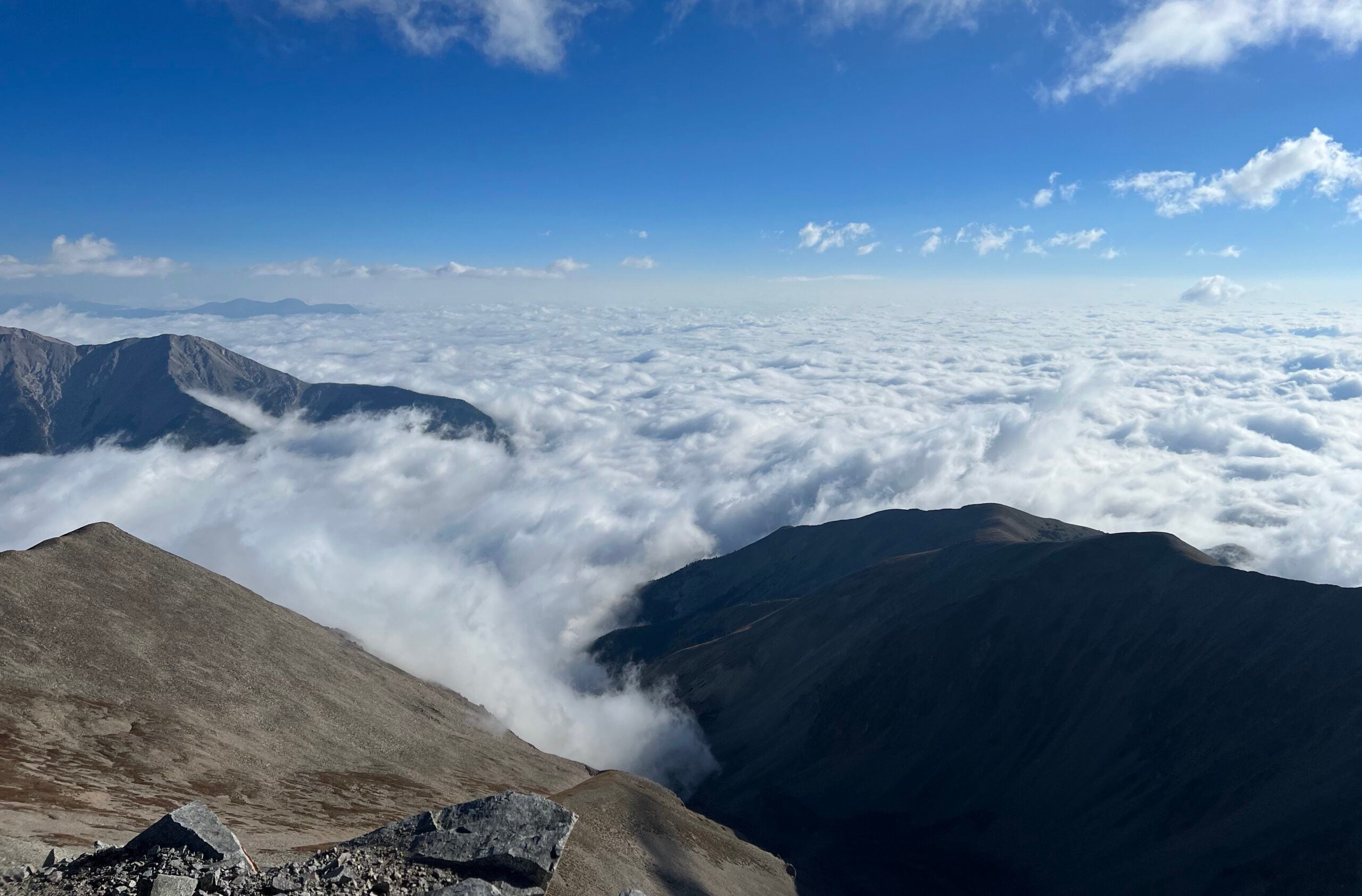 Sansone said the attempt became a death march right around Mt. Huron. For the first time, she felt sad, scared, and alone on the line. 
"In those hardest moments, you can't let your mind get the best of you," says Sansone. "I wanted this really bad, so I stayed in it and just took it peak by peak."
The exhaustion inevitably led to a bit of frustration between Hamilton and Sansone. 
"No one deserves that from me," Sansone wrote in her trip report. "Especially not Andrew. How can he be out there, consistently telling me how amazing I am? I am humbled by the confidence and faith in my success that they [the crew] were willing to carry me through my lowest of lows, the tears, the cussing, and the doubts."
Hamilton held her and let her cry for a moment on the trail under a fortuitous full moon that hovered over the Collegiate Peaks. Hamilton encouraged her to imagine the impact she'd have on herself, and the community, if she just kept going.
And so, she did. Through shivers and tears, Sansone kept hiking. 
When she realized she could beat the 46-hour benchmark, Sansone really started to push, encouraged by Hamilton and her pacers. 
"The last three miles felt like a sprint," says Hamilton. "In reality, we're probably talking 12 minute miles. But it felt like a full-on sprint."
The lights of the Leadville Fish hatchery glowed through the dim forest. She'd made it. 
The Record
Sansone collapsed in a puddle of cramping muscles and tears at the Fish Hatchery trailhead. She'd gone under the 48-hour mark, a sort of "breaking two" for this long, mountain effort. 
"It just felt so good to be done," says Sansone. "The best part was my crew, growing in these friendships, and sharing such an intense and intimate space."
Sansone hugged Hamilton and shared a sweet moment of accomplishment with her crew just as the September sun tinged in rose gold over the Collegiate Peaks. 
We talked just hours after the attempt, both Sansone and Hamilton were giggly on adrenaline and 5-Hour energy. Sansone's laughter kept turning into coughs as her lungs excised the dust she'd been breathing in for days as she hiked over the peaks. 
You get the sense that these adventurers could finish each other's sentences, but they don't: because beyond the intimate connection they share with the mountains, is a deep admiration and respect for each other. Even after 45+ hours together, they were hanging onto each others every word.