How Two Strangers Teamed Up To Win One Of The Toughest Stage Races on Earth
A last-minute change of plans left one Colorado elite athlete seeking a partner for the grueling 8-day TransAlpine Run. She found her on a mountain. Wearing heels.
Heading out the door? Read this article on the new Outside+ app available now on iOS devices for members! Download the app.
When it comes to their approach to trail running, Rea Kolbl and Erin Ton couldn't be more different. The Colorado mountain athletes discovered that over a cup of coffee before they ever went for a run together.
The 31-year-old Kobl is a low-mileage, high-quality type of runner who puts great emphasis on strength training, fueling, hydration, and recovery, to make sure she's optimally fit for her primary sport — skimo racing in the winter. 
Ton, 24, is an absolute vert fiend who is on a quest to rack up one million vertical feet in the mountains this year. She averages about 100 miles per week, with approximately 30,000 to 35,000 feet of vertical gain. 
So how would these two function together when paired up for an eight-day stage race in Germany, Austria and Italy? They were going to have to find out the hard way in early September when they teamed up for the 8-day, 155-mile Transalpine Run, an event that includes an average of 18-25 miles on mostly technical terrain and 6,200 feet of vertical every single day.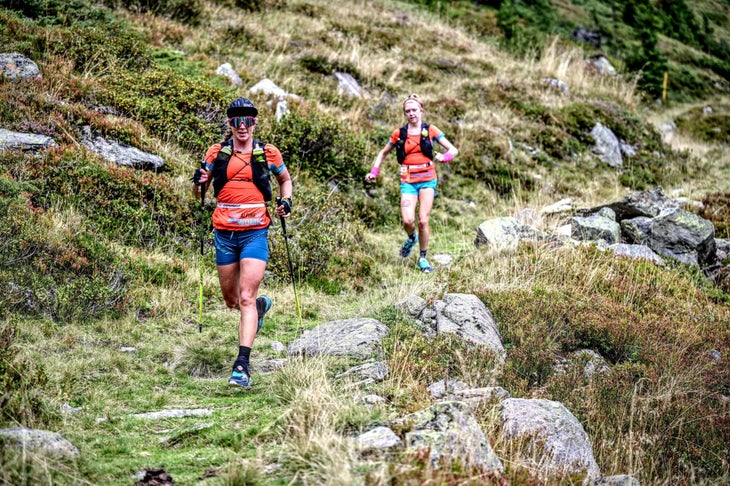 "This was my A race for the year, but about 30 days out my original partner wasn't going to be able to do it, so I had to find someone else," Kobl said. "I tried to find someone by asking everyone I knew. In my mind, it became more of an adventure than a race. I still wanted to go, but performing at a high level kind of became secondary."
High Peaks and High Heels
Just as Kolbl was about to lose hope in finding a replacement, Dynafit athlete manager Michael Casarrubia passed along Erin Ton's name after someone highly recommended her. On paper, she may not have seemed like the ideal candidate to join Kolbl on such a high-level international stage race, given that she'd only run two races in her life and had no formal background as a competitive runner.
But once Kobl checked out Ton's Strava page and Instagram feed and got an idea of her prodigious mountain chops, she sensed it was worth a conversation. She didn't, however, ask her why there were so many photos of Ton posing in high heels and cocktail dresses at some of Colorado's most prominent trailheads. It seemed peculiar, but she figured it was just an Instagram thing and she'd find out what that was all about eventually.
"My most important thing was finding someone who really liked to do scrambly things because when you do a lot of scrambling, you naturally become better at descending and technical terrain," Kolbl said. "All I really cared about my partner was that they try their best and try to learn things they don't know."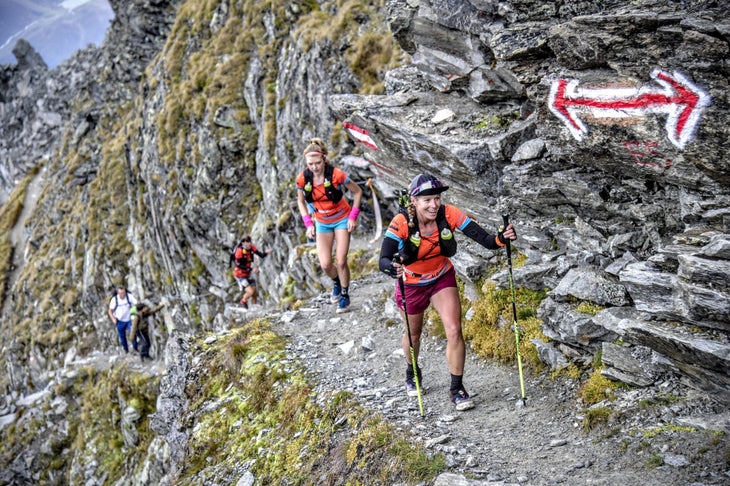 Managing Their Differences
While meeting for coffee in mid-August in Golden, Colorado, and going for a short run together, the two realized how different they really were. While Kolbl has been a competitive athlete all her life—in the past several years she's competed in ultra-distance trail running, adventure racing, obstacle-course racing, and ski mountaineering—Ton has spent her early twenties summiting high peaks and big mountain traverses, instead, including several Fastest Known Time efforts. 
All I really cared about my partner was that they try their best and try to learn things they don't know.
A professional athlete and coach, Kolbl carries a more serious tone and pragmatic vibe, with a lot of structure in her training and preparation. She's excelled at a high level in every sport she's tried, including earning her way onto the U.S. Skimo National Team and also notching several FKTs.
RELATED: The Trail Runner's Guide To Skiing
Ton, meanwhile, comes across as much more of a happy-go-lucky free spirit who craves the freedom of long, big days in the mountains. Balancing part-time work at a running store, she's completed the task of summiting all 57 of Colorado's 14,000-foot peaks, and has also reached the summit of 93 of Colorado Centennials, i.e., the state's 100 highest peaks.
And yet, despite their differences, Kolbl immediately thought Ton would fit the bill. But she hoped to impart some of her knowledge and experience, while also getting some of Ton's boundless enthusiasm and youthful energy to rub off on her.
A True Test of Teamwork
With travel plans booked, Kolbl flew to Europe for additional training as Ton cleared her schedule at Berkeley Park Running Company and booked her flights.
"I was a little bit shocked when Michael reached out to me," Ton said. "Here was this badass athlete looking for a new partner, and I had a little bit of imposter syndrome. I didn't want to let her down."
Three weeks later, the two met up in Ljubljana, Slovenia—where Kolbl's family is originally from and still lives—to make final preparations for the race. And that's when Kolbl finally had to ask the obvious question about hiking in high heels. 
Ton told her that after she finished the 14ers, she wanted to celebrate by returning to her first peak—14,439-foot Mt. Elbert, Colorado's highest—wearing heels and a dress. After her recent summit of 14,115-foot Pikes Peak, she's reached 22 of the summits in heels.
"It didn't bother me and it's not something I would pick her for, but I feel like it was part of her personality and something she does," Kolbl said. "Maybe if she had wanted to do Transalpine in heels, I would have been a little concerned about it."
With all of that as a backdrop, this unlikely couple drove to Germany for the Transalpine Run, a weeklong team race that required them to run, scramble, and trek across long distances within close proximity of each other. They quickly found out they were up to the task, physically, mentally, and emotionally.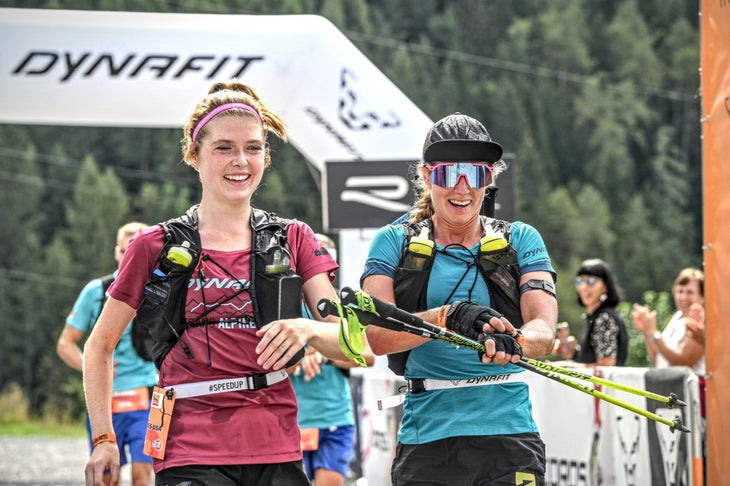 On the first day, they finished second to a German women's team but overtook them the next day and never relinquished the lead. While several teams were good at ascending and negotiating some of the mild terrain, none could keep up with them on the rugged descents. By the second day, they had the leaders' jerseys and continued to increase the cumulative time gap.
Most stages ranged from about 20 to 34 miles, with an enormous amount of vertical gain and descent. The vertical kilometer day, stage four, was supposed to be a lighter day, but it turned into an 8-mile day with 3,500 feet of ascending.
"When I saw how good Erin was at descending, I knew we were going to be very competitive," Kolbl said. "On the way up, we might lose maybe a minute or two against the best women's teams. But there was a lot of time that can be gained on the way down, especially on technical terrain. So I was pretty excited when I realized how well-matched we were." 
It wasn't a walk in the park though. They each struggled at different moments, and each had to have each other's back to avoid a major collapse. For example, Ton had a challenging day on the fifth stage when she started to feel nauseous on a high ridgeline, but Kolbl was there to talk her through it and suggest they ease up on their pace for the final 4 miles. Then, on the final three stages, Kolbl suffered lower back pain and, at times, her right leg seized up, so Ton had to take charge in maintaining their morale and keep them from stalling. 
RELATED: How to Deal with Racing Pain Like a Pro
While maintaining good communication and a positive demeanor were keys to their success, so, too, was Kolbl's insistence that they get input from her nutritionist, sports psychologist, and recovery strategist before the race. Those aspects were all new to Ton, but they both agreed that the attention to detail after each day's stage—refueling, foam rolling, stretching, massage work and protein-rich recovery shakes—made a big difference in their daily performance. 
Kolbl and Ton won the women's division of the eight-day race after nearly 31 cumulative hours of running. That gave them a 42-minute margin over another American women's team, Emmiliese Von Avis and Erika Flowers, from Montana.
"There are things that you can't control in a race like that, but I wanted us to be able to control what we could control," Kolbl said. "We paid just as much attention to recovery as we did to racing, and that really helped a lot. We'd race really hard for half the day and cross the finish line, but it was nonstop every day. Usually in any normal ultra race, I would just finish and relax and space out the rest of the day with nothing to worry about, but knowing we had to do it all over again the next day it was straight into recovery and preparation for the next day. I have learned as my career as an athlete has evolved that those elements are extremely important."
When they crossed the finish line on the eighth and final day, they celebrated the shared journey knowing that it was an experience fueled by their own individual ability and tenacity as much as it was about learning, sharing, and relying on each other.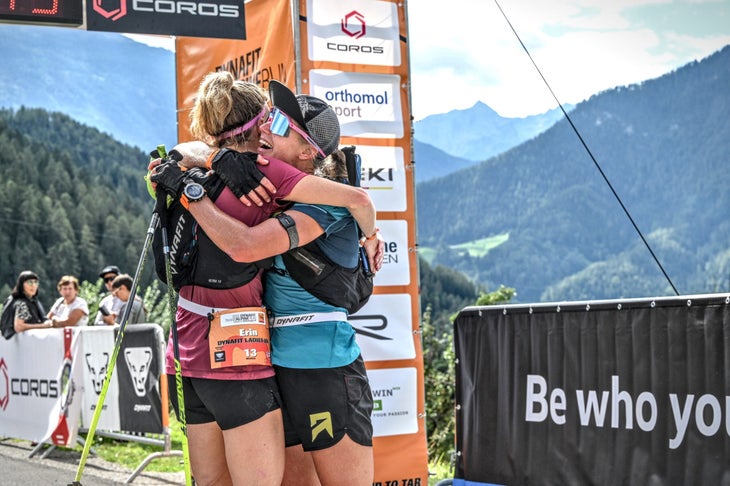 "I gained so much being with Rea, learning from her experience and following her lead," Ton said. "I am very spontaneous and want to have my freedom in the mountains, but I know I need someone to pull back the reins. I want to sign up for more long, technical races, and I think I have a lot of potential if I can just find a coach or someone to guide me." 
For Kolbl, the race worked out better than she might have hoped—especially when she had to scramble in the 11th hour to find a new partner. She said she appreciated Ton's raw ability and free spirit, as well as her willingness to adapt and support her along the way.
"In a race like that, you have to manage more than just yourself," Kolbl said. "I kept thinking about how fun it would be to do a race like that alone, but, in the end, it feels so much better when you finish with your partner, and you could see that in everyone crossing the finish line. There is something magical about being off your phone, being in your own head for 5 hours a day, day after day with a single team focus. It brings you to a happiness that life doesn't normally provide."