So You Want To Run UTMB. Here's How To Qualify.
Running Stones, qualifying points. A new World Series. How are you going to get into UTMB?
Heading out the door? Read this article on the new Outside+ app available now on iOS devices for members! Download the app.
The trail and ultra world was rocked this spring when the Ultra-Trail du Mont-Blanc announced a partnership with Ironman, the global triathlon brand. Aside from the inevitable financial questions that pop up with such an acquisition, many trail runners were left wondering how am I going to get into UTMB?
RELATED: UTMB Partners With Ironman
To compete at the UTMB World Series Finals in Chamonix, runners must compete in at least one of the 30 UTMB World Series Events or one of the three UTMB World Series Majors, where they can collect Running Stones for use in the lottery or be rewarded for their performance with direct access. Men's and women's champions will be crowned for each of the three key distances of the UTMB race week in Chamonix: the OCC (50K), CCC (100K) and UTMB (100 miles).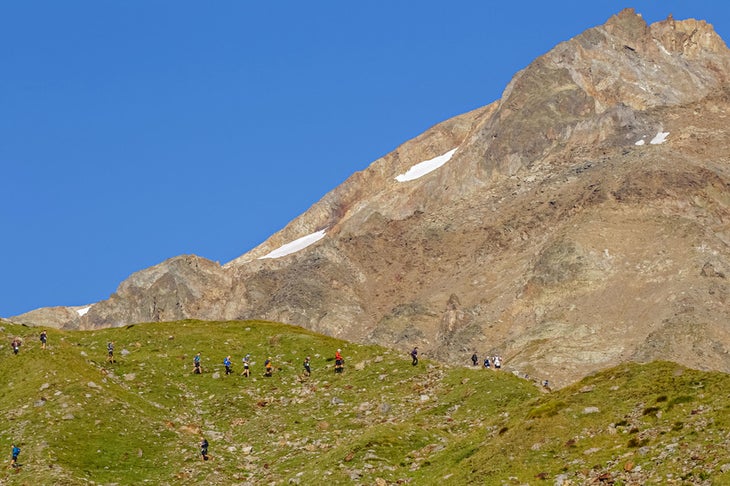 The full UTMB World Series calendar will be announced sometime this fall, including several UTMB World Series Events and one UTMB World Series Major in the U.S.
"Trail running was born in the USA… [but] it's not easy for a French company to develop something [there]," said UTMB Co-Founder and Co-Owner Michel Poletti, in an interview with Trail Runner columnist Doug Mayer. "That's part of our decision to partner with Ironman, is that it will be easier for them to develop the sport in the U.S. than for us in France." Poletti noted they are talking with "many other races in the world, including the United States."
RELATED: Trail Runner's Guide To UTMB
View this post on Instagram
What The Heck Is A Running Stone?
A Running Stone is like a lottery ticket. It's your entry into the lottery to compete at UTMB, CCC, TDS and OCC. If you have seven stones, that means your name is in the lottery seven times, giving you a higher chance of being selected than someone with only three stones. 
You can earn stones by competing in UTMB associated races. For example, competing in a 50k+ race "by UTMB" will earn you nine stones. Competing in an Ultra-Trail World Tour (UTWT) race over 50k will earn three stones. Western States Endurance Run finishers and Javelina Jundred runners can earn three stones. UTMB is now a Western States Golden Ticket Race, as is Javelina. You can see the full list of qualifying races here. 
UTMB, CCC, TDS and OCC do not earn runners Running Stones.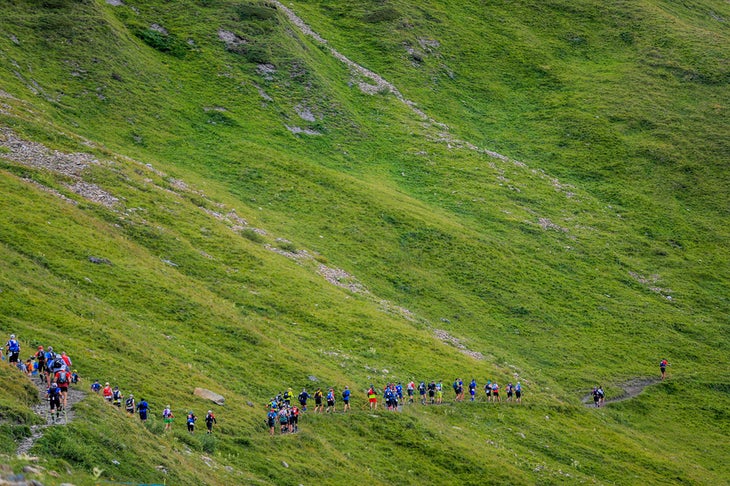 UTMB Qualifying Points
Runners who haven't collected Running Stones can enter the lottery if they have the required number of qualifying points from no more than two races.
UTMB: 10 points acquired between 01/01/2019 and 31/12/2021
CCC: 6 points acquired between 01/01/2019 and 31/12/2021
TDS: 8 points acquired between 01/01/2019 and 31/12/2021
OCC: 4 points acquired between 01/01/2019 and 31/12/2021
Elite Runners
UTMB races save spots for elite runners according to the number of ITRA points a runner has. For men, anyone with an ITRA score over 880 can skip the lottery and entry fee. Elite men with scores between 800-880 can skip the line but still pay an entry fee. Women with an ITRA score over 760 get free entry and no lottery, while women with a score between 760 and 675 skip the lottery, but pay the entry fee.  The top three runners from any given country get in free. Easy!
All Roads End In Chamonix
UTMB is calling its new global race series the "UTMB World Series," which breaks down into four categories of races: World Series Qualifiers, Events, Majors and Finals. Qualifier races, whose numbers will apparently be in the thousands, give "privileged access" to World Series Events and World Series Majors, both of which feature 50K, 100K and 100-mile distances. Each World Series race gives a participant one lottery entry (UTMB calls them "stones") to the finals in Chamonix. The World Series Majors are the flagship races on each continent, with two entries to the Chamonix lottery. Between the Majors and Events categories, UTMB expects to have 30 to 40 races take part.  
Everything points toward Chamonix and the World Series Finals—and the only way to get there will be through the new race series. To get to Chamonix, runners will also need to finish a race of comparable difficulty in one of the other UTMB race series.