Meet the Recipients of the 2023 Everyone Runs Fund
In January, Runners for Public Lands launched a new program to help runners from underrepresented backgrounds thrive in the trail community. Here are the first athletes.
Photo: Courtesy of Nicole Smith
Heading out the door? Read this article on the new Outside+ app available now on iOS devices for members! Download the app.
Despite the rise of trail running over the past decade, many runners continue to face barriers within the sport. Runners for Public Lands (RPL), a nonprofit organization dedicated to building more inclusive running communities centered around protecting the environment, is working to make trail running more accessible to underserved communities.
Launched in 2019, RPL recognizes the importance of protecting nature and ensuring equitable access to these wild spaces. "Our goal is to become the national organization that organizes runners to give back to and care for the environment," said Kathleen Baker, RPL's managing director. "There are several organizations that do this work for different recreation groups, and we are trying to do that for runners."
In January 2023, RPL announced the Everyone Runs Fund (ERF). Jess Rogers, president of RPL's board of directors, shared that the creation of the ERF was inspired by local community member and adaptive athlete Shaun Wahl. RPL sponsored Wahl at the Born to Adapt race in 2022, and Rogers shared that "seeing the joy in Shaun's face as he finished his first ever trail race, and watching folks in the community rally around him and his family, motivated us to create this fund."
The team at RPL decided to make the ERF one of the main focus areas of the organization. This program, which RPL hopes to continue for years, helps underrepresented and underserved runners work toward running goals through financial and in-kind assistance. The ERF helps recipients meet their specific needs, from costs of races, gear, and traveling, to running coaches and strength training programs.
RELATED: This Essential Race Director Toolkit Supports Inclusion and Sustainability
Meet the 2023 ERF Recipients
For its first year, the ERF will support two athletes, each with unique plans and goals for the year ahead.
Griselda Garcia is a 32-year-old Latina runner born and raised in San Diego, California. Working as an elementary school teacher, Garcia heard about the Everyone Runs Fund through her local running group, Urban Trail Runners. The group gets people to explore trails within San Diego available to most individuals through neighborhoods, near bike paths, and accessible by public transportation.
The environmental mission of RPL drew Garcia to the Everyone Runs Fund. In her daily life, Garcia aims to live a low-waste lifestyle by being mindful of products she purchases, including the impact the manufacturing and packaging has on the environment.
After getting more involved in trail running, Garcia noted that there are few people that look like her on the trails, and she wants to be a part of changing that. This year, Garcia has a few big races on the calendar. She and a group of other San Diego-based runners will be toeing the start line at the Rut 50K in Montana in September. This grueling mountain race will mark her second 50K, with the hope of feeling strong by the time she reaches the finish line. The Rut will mark the first trail race for other fellow San Diego runners who will be joining Garcia, and she hopes to be able to guide them as they navigate this new experience.
The Rut marks a stepping stone for Garcia's biggest goal for 2023: Run the Rock on November 11 in Bend, Oregon, her first 50-mile race. As she navigates this new distance, Garcia is excited about working with a coach on strength training, to help her feel strong for the mountain races ahead. For Garcia, trail running reminds her of the importance of dedication to reach one's goals. Getting to a finish line and feeling strong by the end of the race takes time and commitment, often several months. By working towards these goals, she hopes to show other people in her community and her students that through hard work and dedication, you can accomplish the big goals you set for yourself.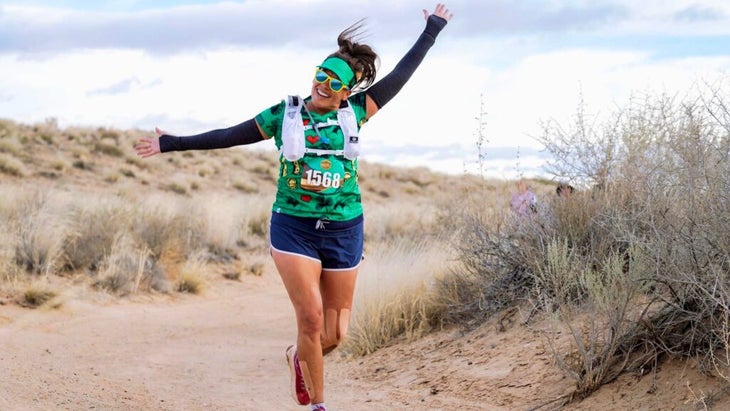 Nicole Smith is a Jemez and Navajo Native American runner based outside of Albuquerque, New Mexico. Smith, 38, recently moved back to New Mexico after living in Hawaii for over a decade. For the past eight years, she has worked for Native Hawaiian organizations that have helped her further appreciate her culture.
Smith began trail running more during the pandemic, and moving back to her home mountains has only helped her fall more in love with the sport. With multiple races under her belt since the start of the year, Smith prefers the sub-ultra distances. She was drawn to RPL's Everyone Runs Fund and its commitment to helping others, despite being a relatively new organization.
Smith's goals for the year ahead are to lay the foundation for future plans. Over the next few years, she will be working to become a competitive runner at the sub-ultra distance.
"If you don't have big goals, you'll never get anywhere amazing," she says. Achieving this goal will be no easy feat, but Smith is ready to put in the work and continue her commitment to the sport that brings her such an immense amount of joy.
In August, Smith will be running the TransRockies Run in Colorado with Native Women Running for the second year in a row, followed by The California Crown 26K in Mammoth Lakes, California, in September. Smith hopes that these goals, along with her long-term plans, will allow her story to keep being told. As a Native American woman, she notes that an integral part of her culture includes running.
RELATED: For Carolyn Su, TransRockies Run is About Building Representation
"It's part of who we are, and it's time for another generation of native runners to become well known." In the coming years, Smith hopes to see more Native American representation in trail running, especially at some of the bigger races in the sport.
Smith recognizes that everyone's why in this sport is unique; she simply wants to inspire others to get out on the trails, whatever their why may be. She also wants others to realize that it's never too late to try something new and find what brings you joy. Recognizing that she wants to be a competitive runner at a later age than most has only inspired her further to pursue these goals.
RELATED: Traversing the Greater Yellowstone Ecosystem in Defense of Public Lands
The Future of the Everyone Runs Fund
Runners For Public Lands hopes to expand the Everyone Runs Fund and be able to support more athletes in the trail running community. Smith and Garcia have empowering running goals that should do more than merely inspire the trail running industry. As the sport grows, so does the need to uplift and empower underserved, marginalized, and underrepresented runners. RPL will continue highlighting Smith's and Garcia's journeys on their Instagram and blog as they make progress toward their goals.
"The more brands, organizations, and community members that help us spread the word, fund, and celebrate these amazing athletes, the larger impact we will have across the running community," said Rogers.
Trail running is still in its early stages of becoming fully mainstream, and this allows runners in this community to actively choose how the sport grows. Everyone has a right to explore and enjoy nature. The Everyone Runs Fund recognizes this and showcases the vital need to uplift and empower our fellow runners and support them as they pursue their goals.