Reviving Ultrarunning's Toughest Challenge
A small subset of Hardrock Hundred runners stretch to complete a superhuman series.
Photo: Mile 90 Photography
Heading out the door? Read this article on the new Outside+ app available now on iOS devices for members! Download the app.
It took Paul Terranova 10 years to get into the Hardrock Hundred Mile Endurance Run—eight years of entering its lottery, plus two when the event was canceled in 2019 and 2020. When he finally received news that one of his 256 tickets got pulled during last December's lottery, three words came to mind: 
Rocky Mountain Slam.
Terranova doesn't merely want to fulfill a longstanding goal to run Hardrock, the much-loved beast of a high-altitude hundred that takes place in Colorado's San Juan Mountains on July 14-16. Ever since he first qualified to enter the Hardrock lottery in 2012, he nurtured a goal to do the original Rocky Mountain Slam of hundred-milers, which requires racing in a single summer a combination of Hardrock, The Bear, and two of these three: Bighorn, Leadville, or Wasatch. 
Not only that, he also wants to chase the longstanding record for fastest cumulative time for that slam established by Karl Meltzer in 2006.
"Racing multiple times in a year with short recovery times in between tests all of your skill sets—training, racing, recovering, racing again—and it's a really fun challenge to put together four hundreds in a short amount of time," says Terranova, 49, an Army veteran and engineering consultant who lives in Twin Lakes, near Leadville, Colorado. He'll have an 11-week span between Hardrock and the September 29 Bear to complete all four races.
There are ultrarunners, and then there are slammers. Slammers fulfill races in a series, most notably the classic Grand Slam of Ultrarunning (four of the oldest hundreds) or the newer Triple Crown of 200s. Given the difficulty of not only finishing these races consecutively, but also of entering them due to the events' long-odds lotteries, slammers are an extremely rare breed.
RELATED: Courtney Dauwalter Returns to Hardrock, Just Three Weeks After Western States Record
Terranova is joined by two others going for the Rocky Mountain Slam this year: Jeff "Bronco Billy" Browning, 51, of Arizona, and Andrew Barney, 50, of Utah. Like Terranova, it'll be Browning's first attempt at the Rocky Mountain Slam, but Barney is going for his seventh finish of the slam, which would give him the record of most ever.
Participation might spike after this year, however, thanks to a new "Rocky Mountain Slam 2.0," designed to allow more runners to experience "all its painful glory," according to an announcement on its webpage. The organizers added a couple more races into the series' mix, to give aspirants more options to enter, and made Hardrock optional rather than mandatory in the series. 
Reviving the Rocky Mountain Slam
The Rocky Mountain Slam's 400 miles make for a brutally challenging but beautiful summer in the Rockies. 
To date, only 42 people have finished the Rocky Mountain Slam a total of 64 times. The series began informally in 1999 as a combination of Hardrock-Leadville-Wasatch-Bear, and James Ballard of Montana was the first to do it. Two years later, Betsy Kalmeyer of Colorado became the second. Those four events have a combined elevation gain of approximately 95,000 feet.
In the early 2000s, a group of ultrarunners and race directors at the heart of those ultras—including Leland Barker, Roch Horton, Hans-Deiter Weisshaar, Phil Lowry, and Errol "The Rocket" Jones—nurtured the idea of making a Rocky Mountain Slam an official series, with The Bear race committee being the primary organizer. Since The Bear, based in Logan, Utah, is the final race in the series, it hosts an awards ceremony for the Rocky Mountain Slammers. 
"Whereas the Grand Slam highlights some of the early hundreds, the Rocky Mountain Slam highlights some of the toughest, and all races reside in the greater Rocky Mountain range," explains Cody Draper, who took over race directing The Bear two years ago after Leland Barker's long tenure.
RELATED: Why The Rocky Mountain Slam Is The Toughest Race Series In Ultrarunning
In 2003, the committee added the Bighorn 100, held in June in Wyoming, as one of the races that counted toward the slam. From then on, Rocky Mountain Slammers had to complete two mandatory races—Hardrock and The Bear—and choose two others from Bighorn, Leadville, and Wasatch.
From 2003 through 2013, the Rocky Mountain Slam drew four to eight participants most years.  Hans-Dieter Weisshaar of Germany completed the slam six times, his final one in 2013 at age 72. Rickie Redland-McManus of Colorado completed the most Rocky Mountain Slams for women, finishing it five times between 2003–07.
In 2006, Karl "Speedgoat" Meltzer of Utah claimed the slam's fastest cumulative record of 86 hours, 54 minutes by running 27:07 at Hardrock, 20:52 at Leadville, 20:18 at Wasatch and 18:35 at The Bear. Perhaps most impressive, Meltzer placed seventh in Leadville that year and won the other three races. He also won the HURT 100, San Diego 100, and Javelina Jundred in that same stellar year.
In 2012, Darcy Piceu (then Africa) of Colorado established the fastest women's time, and third best overall in the Rocky Mountain Slam, by placing fourth in Leadville and winning Bighorn, Hardrock, and The Bear, with a total of 97 hours, 7 minutes. 
By 2015, however, participation in the Rocky Mountain Slam tanked, mainly due to the difficulty and uncertainty of getting into Hardrock through its lottery. Leadville and Wasatch became more difficult to enter, too. The slam had zero entrants in 2017 and 2018, and only one or two in other years. When Hardrock was canceled in 2019, due to avalanche damage and snowpack, the organizers substituted the Ouray 100 for the series, and Franco Soriano of California was that year's lone slammer. No slam was organized in 2020 due to the pandemic.
Last year, with only Andrew Barney and Shinsuke Isomura carrying the torch by participating in the Rocky Mountain Slam, The Bear race committee intended to discontinue it. Based on feedback and diehard interest, however, they decided to keep it going in a modified way.
RELATED: Video: When Kilian Met Karl
"We want the legacy of running four or more of the toughest hundreds in the Rockies [in one summer] to live on," says Draper. "We ultimately decided to go with a Version 2.0 and include more races into the series, along with removing the mandatory Hardrock requirement. This will allow more runners to have a chance to participate in this extremely difficult series."
Starting this year, the Rocky Mountain Slam 2.0 involves running four of any combination of the following 100-mile races; only The Bear remains mandatory: Bighorn (June), Hardrock (July), Ouray (July), Leadville (August), Wyoming Range (August), Wasatch (September) and The Bear (September). The organizers plan to add Scout Mountain 100 in Idaho to the series next year, to give one more race option for June.
"I'm happy they made changes to keep it alive and going," says Terranova. "People latch onto it, and if it's inspiring for some to do a particular combination [of races in the Rocky Mountain Slam], that's great, and if it's inspiring for someone else to do a different combination, that's great too. It's still a very small subset" of 100-mile mountain runners.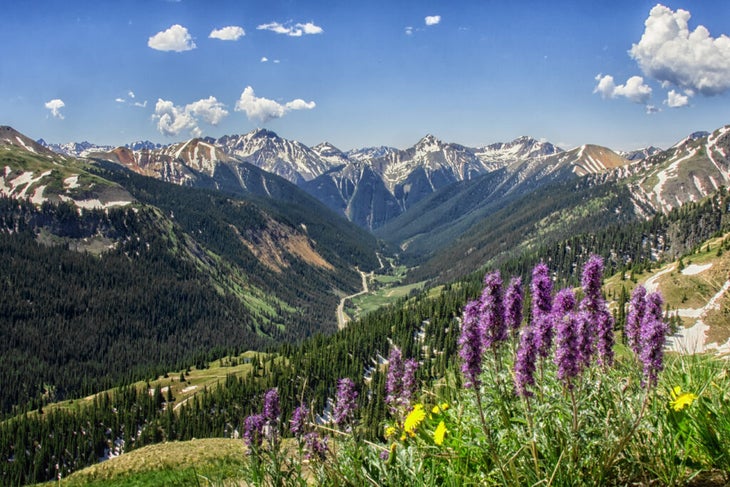 A Slammer from the Start
As a newer ultrarunner, Terranova jumped into the Grand Slam of Ultrarunning back in 2012 when he entered that year's Western State Endurance Run, which was his first ever 100-miler. As if struck by buckle fever, he went all in on his sport and committed himself to the Grand Slam that year, with a Kona bonus. After a strong 20:12 100-mile debut at Western States, he raced the Grand Slam's remaining events of Vermont 100, the Leadville Trail 100 and the Wasatch Front 100, then topped it off with the Ironman World Championship in Hawaii five weeks after Wasatch.
Over the ensuing decade, while he racked up credentials such as two top-10 finishes at Western States and first at the 2019 USATF 100K championship, his Rocky Mountain Slam dream didn't dim. A longtime resident of Austin, Texas, he originally wanted to become the first Texan to complete it. But then he moved to Colorado in 2020. 
Becoming a Coloradan became an advantage insofar as living at 9,700 feet elevation allowed him to train for and accomplish graduate-level mountain adventures in the Sawatch Range over the past couple of years, including the Nolan's 14 line of 14'ers and the 160-mile Collegiate Loop. 
His new home near Leadville also put him and his wife, the sports nutritionist Meredith Terranova, in close proximity to ultrarunning legend Courtney Dauwalter and her husband Kevin Schmidt. As a neighborly friendship developed, the Terranovas became members of "The Daucrew," supporting Dauwalter on her FKT of the Collegiate Loop and at last month's Western States, where she shattered the course record.
Post-Hardrock, Terranova anticipates spending a couple of weeks recovering with light running and cycling, followed by a training week to sharpen his legs for the speedier Leadville, where he hopes to run his fastest hundred in the slam. Knowing that Meltzer's 27:07 time at Hardrock will be tough to match, given Hardrock's snowpack and arguably slower counterclockwise direction this year, Terranova hopes to better the Speedgoat's time at Leadville.
Now that Browning is in the mix for the Rocky Mountain Slam also, Terranova has someone to chase besides the legacy of Meltzer's top cumulative time. "He's world-class," he said of Browning, "and he's won so many hundreds, I certainly expect he'll be in front of me. I know he'll be going hard, and that's motivation for me to race as hard as I can." 
Browning Slams to Match His Age in Hundreds
This year's Hardrock will be Browning's seventh, and he has won prior editions of all four slam races (The Bear 2017 and 2019, Hardrock 2018, Wasatch 2012, and Bighorn five times since 2005). But he never lined up all four races in one year for the slam until now, mainly because his focus in past years was running an optimal Western States Endurance Run in June or focusing on new 200s. For the slam this year, he chose a combination that included Bighorn instead of Leadville because he couldn't gain entry to Leadville.
As if the Rocky Mountain Slam weren't enough for one year, Browning already entered and won the Coldwater Rumble 100 in January and Sedona Canyons 125 in May. He crushed Bighorn in June with a win in 19:47—a little more than an hour faster than Meltzer's 2006 Leadville time. He's therefore on track to set a new Rocky Mountain Slam record.
Browning first heard about the Rocky Mountain Slam in 2005, when he shared a campsite at Bighorn with Roch Horton. "I've had it on my list to do for a long, long time," he says. But it didn't fall into place until this year, and he credits his wife, Jennifer, for suggesting it. 
RELATED: WATCH: Jeff Browning's Western States-Hardrock Double
"I turn 52 this year, and I did the Moab 240 last year, and she didn't want me to do another 200 this year. I was thinking about doing the Cocodona 250, and to get me off thinking about it, she said, 'Hey, you're turning 52 and have 46 100-mile finishes. You only need six more to equal your age.'" A lightbulb went off—he'd do the Rocky Mountain Slam plus Coldwater and the new Sedona 125 (which runs with Cocodona and covers half its route).
Heading into Hardrock, Browning's goal is to run as close to 26 hours as possible. "I've run 26:58 in that direction, in 2021," he says. "But I went really conservative that year because I had blown up at Western States" three weeks prior. His Hardrock PR is 25:42, from 2016 when the route ran clockwise.
Asked about the new version of the slam, Browning says, "I think it's awesome because it gives runners all these other options and gives the Rocky Mountain Slam some legs again. All you have to do is make sure you sign up for The Bear, then pick three others from the list."
Meanwhile, as Browning and Terranova pursue fast goal times at their four Rocky Mountain hundreds, Andrew Barney's singular goal is to finish his seventh slam—and, in the years to come, a total of ten or more finishes in the series. 
"For me, the Rocky Mountain Slam was never about the fastest time, but just being able to complete it. Perseverance, to me, is the true meaning of the slam," says Barney. "An added challenge is I'm doing the Kerry Way 200K [in Ireland] on September 1, flying back September 5, and running Wasatch September 8."
In addition to tying the record with Weisshaar for the most Rocky Mountain Slams, Barney has earned distinction from running hundreds in a kilt to honor his Scottish and Irish heritage. "When in Europe, I'm referred to as 'the big American in a kilt,' and several runners from the UK nod approvingly and say, 'Why didn't I think of that?' I get less chafing, and it's cooler to wear."
Asked what drives him, Barney says, "I love being in the mountains, and I have a goal to finish one hundred100-milers before I'm 60. If I can finish at least five each year, I'll make it."
For info on the Rocky Mountain Slam, see its website and its Ultrasignup page.
Sarah Lavender Smith lives and runs near Telluride, Colorado, and publishes a weekly newsletter about mountain running and midlife grit at sarahrunning.substack.com.