Quarantine MVP's: Ryan Sandes' At-Home 100-Miler
Heading out the door? Read this article on the new Outside+ app available now on iOS devices for members! Download the app.
With coronavirus shuttering races, closing trails, and limiting outdoor exercise across the world, it would be easy to think we'd be starved of the triumph, redemption, and occasional nausea that come as hallmarks of the world's greatest sporting events. Not so.
While a lot of us reacted to canceled races and reduced trail access by putting our training on hold, a few athletes have remained determined to stay the course despite it all. We salute the lockdown icons like Ryan Sandes from South Africa.

Sandes calls running 100 miles around his house harder than Western States. At least, in some aspects.
"Running a 100-mile race is harder physically, but you have competitors around you. [In my house] I wasn't racing anyone or a time. Mentally, it was one of the toughest things I've ever done," Sandes says. "That last 30 or 40k—I've never experienced anything like that."
His times would seem to bear out that claim: Sandes ran Western States in 15:03:56 in 2012. His at-home hundred clocked in closer to 26 hours.
The idea initially came about as a joke. "I am going to run 1,117 laps of my garden. Yeeeaw this will be my first 100 miler on home soil," he posted on Instagram on April 1st. But after a few days, he started to think about it more seriously.
"I thought, let's give 'er a bash, it could be quite a cool challenge," he says. Sandes mapped out a 360-foot lap winding around his backyard, up some stairs, and through his house. He set up an aid station on his dining room table. His wife and son would crew.
The first 25 miles were fun—it was the first time Sandes had run any kind of distance during those first few weeks of lockdown, and he recalls feeling excited just to be up and moving. That lasted until about mile 50. By then, the repetitiveness had sapped out just about all the fun.
Around mile 75, the sun set. Sandes's indoor-outdoor course, which had at first seemed such a clever use of space, now carried him from the darkness of his backyard to the brightly-lit house every few minutes. It was like being in a slow-motion strobe. Disorientation set in, and Sandes says it felt like panic.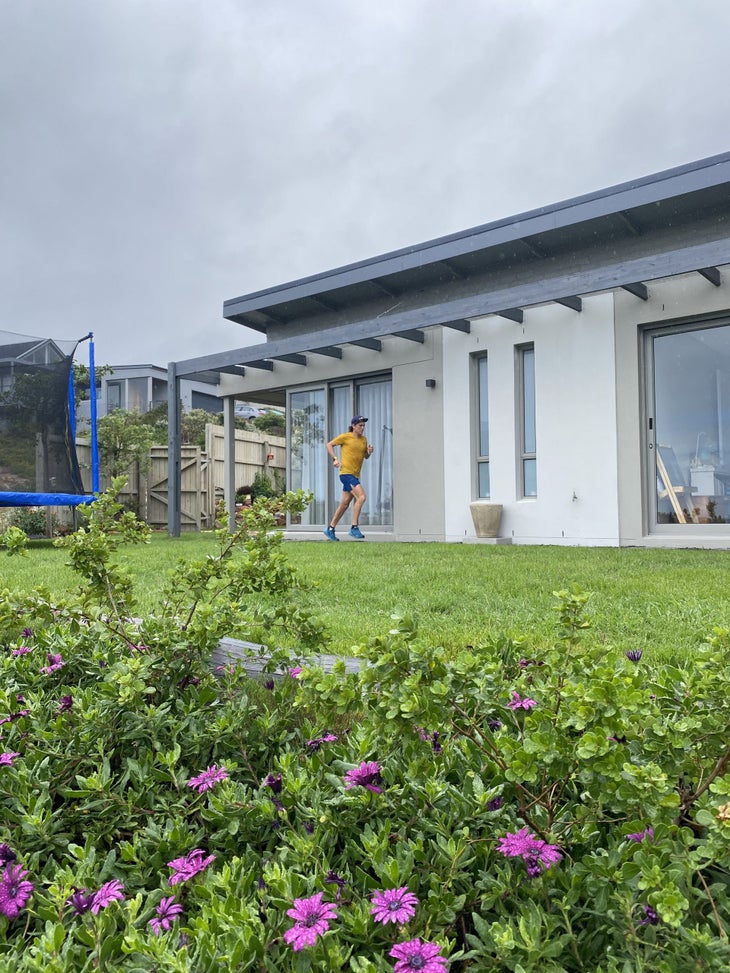 "It was really messing with my eyes. I tried to stop and take a power nap, but I couldn't sleep at all—it was like I was just freaking out." When he finally finished, Sandes recalls feeling "pure relief" that he'd made it through the ordeal. While he maintains that his at-home hundred ranks among the top five toughest psychological challenges he's ever faced (up there with a recent traverse of the Himalayas), he's glad he did it.
"Right now, everything around us is happening so quickly and everything is pretty crazy and frantic. But at least when I was doing the run it felt like everything was slowing down. You're much more present in the moment. I was able to focus on, essentially, what I could control, whereas a lot of the stuff that's happening externally with the virus, we have no control over," Sandes says.
He also notes that many of the psychological strategies he employs in endurance races have become invaluable during quarantine.
"In a 100-miler, you have to break it down into lots of bite-sized chunks. You take it one step at a time, focus on getting from one aid station to the next, or, if it's really bad, one tree to the next," he says. "With this, it's been important to take it one day at a time. I set myself a few mini goals every day, so at least I feel like I've accomplished something. It's important to celebrate the little victories."
Corey Buhay is a freelance writer and editor based in Boulder, Colorado. She's a lifelong runner, a decent rock climber, and an exceptionally poor but enthusiastic baker.