Quarantine MVP's: Michael Ortiz's Everest At Home
Heading out the door? Read this article on the new Outside+ app available now on iOS devices for members! Download the app.
On March 29, Michael Ortiz ran 13,200 laps around the living room of his Brooklyn apartment. The next weekend, he ran 100 miles on a treadmill, slept for five hours, and then ran 100 more. Ortiz was playing catchup: He had almost let himself fall behind on his goal of running 100 hundos in 100 weeks. Almost.
Ortiz, a 36-year-old financial executive, didn't exactly set out to run 100 hundred-milers. At least, not at first. He'd been captivated by the idea of running back-to-back races for a while, and after three attempts he did, with the Chattanooga 100 on November 30, 2018, and the Daytona 100 the following weekend. He wondered if he could do three in a row. Then four.
Fast forward to March 2020, and, somehow, Ortiz was 68 races in, and on track to complete 100 by the end of the year. It had become a campaign of sorts—Ortiz hoped that by proving he, a regular guy, could run 100 races, he'd inspire other people to try at least one.
The first few weeks of the challenge were arduous, but his body eventually adjusted to the weekly sleep deprivation of the overnight races, and the routine of flying in and out of New York each weekend. He had his system dialed. Even more exciting: Thanks to hours of research and careful planning, he'd been able to book flights and bib numbers in all 50 states. It was going to be a hell of a year.
Enter the coronavirus. Around mid-march, flights started getting canceled, and races were either postponed or deleted altogether.
"Everything was happening all at once. My emails were blowing up," Ortiz says. "It was demoralizing. And for a few days there I was strongly considering ending it there at 68."
The idea that he'd have to defer his dream to another year—not to mention that all the meticulous logistical juggling would go to waste—felt shattering. It was an emotion he worried he didn't deserve to feel given the severe hardship so many Americans were facing.
But at the same time, he wondered, would giving up on his goal actually be the right thing to do? After all, he had worked so hard to break his body into this new rhythm, and he was worried that if he took a month or two off, he'd have to start from scratch and deal with the exhaustion and sleep-deprivation of those early weeks all over again. Plus, lucking into another 68-week injury-free streak? How often could that happen?
"There were so many unknowns, and I'd just invested so much in this already," Ortiz explains. "So I thought, 'Hm. What can we do in the house?'"
Ortiz started treadmill shopping. He found one on the low-tech end for $600 on Amazon and pulled the trigger. But by the time the weekend arrived—and with it his time slot for squeezing in his next 100—the treadmill was still M.I.A., trapped in shipping limbo somewhere in Indiana.
"That was another hit," Ortiz remembers. But by that point, he was determined. He measured out a 40-foot loop around his apartment and laid down cardboard so he wouldn't wear out his carpet. Then, he turned on his computer to livestream the challenge (for accountability purposes) and started running.
Around 120 people tuned in, and questions and comments flooded his screen. Onlookers told him how inspired they felt. Many said they planned to hop on their own treadmills or even run their own indoor 100-milers (albeit not always all at once). Ortiz knew he'd made the right decision.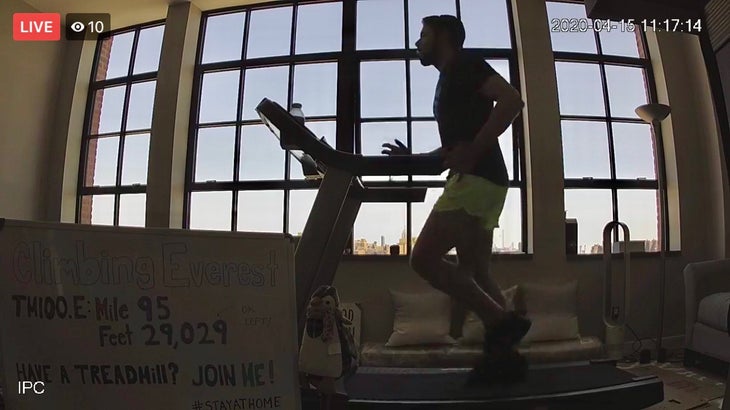 After back-to-back hundos on his newly arrived treadmill, Ortiz became wary of both overuse injury and boredom. So, he set the incline to 10-degrees and spent the weekend climbing 29,029 feet, the elevation of the summit of Mt. Everest. The week after, he ran downhill, an elevation equivalent to the depth of the Mariana Trench. Then there was the backward 100 (which he calls his hardest so far), and one in which he rolled dice every few miles to determine incline or decline, percent grade, and whether he'd run that section forward or backward.
He says the extra challenges, while fun for the first few miles, did tend to get tiresome mid-run. He thought of ditching the gimmicks more than once and just sticking to his original 100-by-100 goal.
"I'd think, 'There's no reason to do it backwards. This is going so slowly. It's going to take days. Why am I doing this?'" he says. Ultimately, the thing that kept him going is the same thing that's kept a lot of the quarantined population going: The support of friends, and the constant encouragement beamed through social media. (He also started using the challenges as fundraisers for the New York division of NAMI, the National Alliance on Mental Illness, which added to his commitment.)
"Knowing who's watching me and getting those messages that were motivating me to keep going—that helped a ton," Ortiz says. Every time he wanted to quit, he'd recall all the people who'd written to tell him that his challenges had inspired them. And he'd keep running.
Corey Buhay is a freelance writer and editor based in Boulder, Colorado. She's a lifelong runner, a decent rock climber, and an exceptionally poor but enthusiastic baker.