How Owen Thornton Notched His First 100-Mile Victory…at 17.
With his first win at 17, Owen Thornton has his heart and mind set on a future in ultrarunning.
Heading out the door? Read this article on the new Outside+ app available now on iOS devices for members! Download the app.
At Ardrey Kell High School in Charlotte, North Carolina, Owen Thornton is known as the long distance kid. While he is on the cross country team, that's not what earns him the moniker. Thornton is a rare breed of teenager: he's a 100-mile runner.
He not only runs them, he wins them. He completed his first 100-mile race on December 4 at the Unico 100 in North Carolina, and won by over an hour in 18:45:18. Yes, it was a small field of 30. But, still.
Thornton was 17 at the time (he turned 18 in mid-January). Most his age haven't even heard of ultrarunning. His teammates in school might touch the low double digits on runs, appropriate for the 5K cross country races they're training for. 
Thornton wasn't bored with the lower mileage. He simply craved the headspace he found during hours on foot. The run consumed his thoughts after so many miles, leaving everything he had to worry about behind for a little while. As a graduating senior, that was college, his future, his parents going through a divorce, and the myriad of other concerns on the mind of a teenager on the cusp of the rest of his life. 
So, he runs. It's therapeutic, even if not a cure. Mentally, he finds peace on the run. That's what drove him to run 100 miles in the first place. Not bad for a kid who didn't even know what cross country was, or that running was involved, when his mom signed him up as a freshman.
Down The Rabbit Hole
While it took a while for Thornton's legs to adapt to ultra-level mileage, he found joy beyond the boundaries of a field or court. Being outdoors, exploring, was his calling. He was in the 10th grade when he first went down the rabbit hole of ultrarunning online content.
First, he watched The North Face videos featuring Mike Foote. Then, he was learning about Michael Wardian's World Marathon Challenge. Before he knew it, he wanted to be like Mike. 
"I started thinking, I should go a little farther," Thornton says. "When I finished cross country sophomore year, the longest I had run before was 15 miles, which I had done one Saturday on my own. Two weeks after the season, I tried 20, which ended up being 19. I was so happy. I thought, 'If I can run 19, I can run a marathon.'"
A week later, Thornton, then 15, ran the Charlotte Marathon. That was when he learned that it took much more and different training to succeed at longer distances. He finished in 3:40:56, but injured his hip in the process. He missed his track season that year as a result, but his mind was elsewhere anyway. His visions were of breaking 3 hours in the marathon rather than five minutes in the mile. When the pandemic hit and he was stuck at home with races on hold, he continued reading about ultras. 
That's when he first asked his mom about a 50 miler. She was, understandably, hesitant. But after consulting with the physical therapist who had helped with Thornton's hip injury and hiring a coach, Kyle Masterson, to lay out a healthy plan for a teenager, the goal was in motion.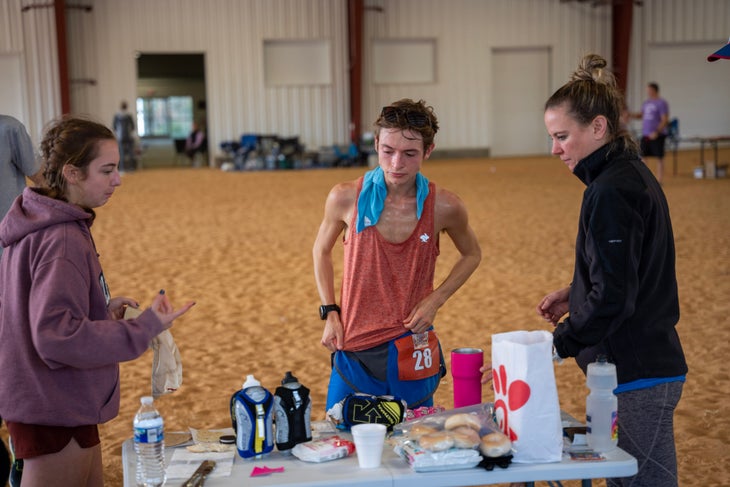 "I wouldn't recommend every 16, 17, or 18 year old try a 50 or 100 miler," says Masterson. "It's important that it comes from them. He's the one pushing to do this. No one is forcing him, so why make him wait 10 years?"
The Chaski Endurance coach spoke with Thornton about the sacrifices that come with training for longer distances: potentially skipping his senior track season, less time for a social life, balancing training with school and family. Thornton understood and was undeterred. They committed to building slowly in a way that would set Thornton up for success and minimize risk of another injury.
Over the next two and a half years, Thornton gradually increased his mileage. He claimed two 50-mile finishes (his first at 16 in November of 2020) and a 100-mile DNF at the Burning River 100 in July of 2021. He'd been running smooth through 70 miles when a groin injury arose. A few miles later, he could barely lift his leg. He dropped at mile 74.
Determined to reach triple digits before turning 18, he signed up for the Unico 100. It was nearby and eight months away. With Masterson's guidance, he built back up. Throughout the fall, miles were split between school, cello practice, and cross country training. He pieced miles together before school, before practice, during practice, after practice, before races, after races, and on the weekends. It was all within the parameters of Masterson's training plan. He peaked at 80 miles a week, four weeks out from Unico.
Finally, his chance for redemption arrived.
RELATED: 6 Ways To Set More Mindful Goals
The Race
At Unico, Thornton got excited with a quick first mile and led alone before settling into the pack. He sat in second for 18 miles before taking over again. With short aid stations breaks, he developed a gap.
While his mind wandered over the course of so many miles, he eventually found himself in the elusive "zone." Right here, in this moment, on this looped course near his North Carolina home, he'd found the place he was always looking for.
"The only thing that matters is the trail ahead of you," he said. "Everything else is blocked out. I always enjoy that."
He came through halfway in 8:16, then slowed a bit due to underfueling. To make up for it, Mark Dreyer, Thornton's crew chief and friend from Ohio with 47 years of running experience, forced him to eat some non-synthetic calories and take in more electrolytes. Fueling was a big learning experience for Thornton at Burning River and Unico.
"As we got his fueling up, we started telling his pacers to run in front of him and pick up his pace," Dreyer says. "Then, we asked him to drop to run a 5-mile loop in under an hour. Owen delivered."
Around 85 miles, second place was closing in, only 15 minutes behind him. That's when Thornton, with the help of a pacer, dropped the hammer. 
"I ran 9-minute miles for the next five or six miles," Thornton said. 
Moving well for another 10 miles, Thornton crested the final hill of the loop one last time. In sight was the marker for half a mile to the finish. He looked at Dreyer, who was pacing him, took a deep breath, and exhaled harshly. Thornton loves a fast finish.
"We were running side by side into the corral and he cut me off so that I had to jump over the wall," Dreyer says. "Everyone knew what he had done, and he ran the entire race. Never walked once. It was his game plan, and to his credit, he did it. He's still got stuff to learn, but the sky is the limit for this kid."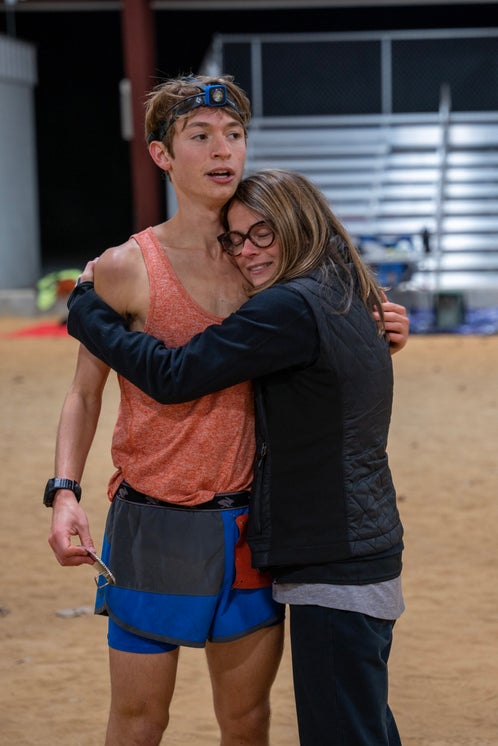 After Thornton broke the tape in 18:45:18, his mom awarded him his first belt buckle. In post-race reflection, the 17-year-old pondered how he could do better and also the runners he met there, the runners he would cheer on to the finish after him, and, of course, when he could do this again.
"I can't overstate how unique Owen is in a multitude of ways, in all the good ways," Masterson said. "He's not your average 18-year-old. He's got a passion for it that's come until much older for most. He's a special kid and I'm excited to see where he goes next."
RELATED: The Future Of Trail Running
The Future
Owen is freshly 18 and on the verge of his high school graduation. Despite a D1 offer to run collegiately, he's leaning toward heading back to where he was born in Ohio for college. He's not against collegiate running. He just prefers going longer.
His enthusiasm for the sport leaves him with many years of running ahead. With that comes endless possibilities that he's already dreaming about. He hopes he can turn pro and race around the world. He eyes races like the Ultra-Trail du Mont-Blanc, Western States, and the Javelina Jundred. He's even thinking about when he can do Moab 240.
Those, he knows, are down the line. He knows he can find happiness on any trail. That's why he's already signed up for Endurance Hunter 100 in April. With 15,000 feet of elevation, it's a greater challenge than either of his first 100s. But he's already found his mountain to do repeats on. He's not in any rush, just excited to go again.
"I'm usually looking for races the same day I finish one," he said. "It's something else to get excited about, and it's just so therapeutic to me. I get bored sitting around, so I make time for the things that are important to me. That's what I'll figure out in college, too, both academically and running. I want to achieve the goals I want to achieve."