Opinion: You Can't Sell Safety
Heading out the door? Read this article on the new Outside+ app available now on iOS devices for members! Download the app.
Almost every woman has taken precautionary steps to stay safe while running. We've all been told not to dress a certain way to avoid male attention, avoid earbuds to better hear an attacker or not wear a ponytail because it makes you more grabbable. Leading up to Women's History Month, I've gotten a barrage of emails advertising every kind of safety product, from the almost offensively hyper-feminine (rings, rhinestones) to the nearly dystopian and steampunk. I particularly like the sorority-style flourish on the "Trailblazing Tina" kit, pictured below, complete with matching mini-taser and shoe spikes, because while I have been forced to sacrifice untold amounts of comfort and autonomy for safety, style I will not.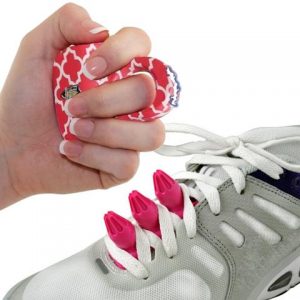 I just want to live in a world where I don't have to modify my behavior based on how "grabbable" it makes me. Let us not pretend for even a single second that it's not bananas that in our culture it's normal, or even advised to run with pepper spray, a knife or—even as one reader suggested on my previous writing about safety,—"This is what firearms are for." My self-respect, and my upper body strength, cannot tolerate another women's self-defense course.
So, how do we deal with violence against women while running? We can talk about it. While this darkly funny list points out the cognitive dissonance at work, the piece points out something terrible: the usual guidelines put the full burden of prevention on potential victims, treating the violence as a given.
TURNING THE TABLES
Men can also benefit from the great technological advances in personal-safety devices. Here are my tongue-in-cheek gear recommendations for men who are concerned that they might hurt a woman while she's out on the trail, minding her own business.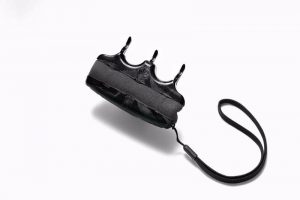 THE REALITY
Aside from patently ridiculous products, many safety measures like running only at certain times of day, in certain places, with certain people with certain non-grabbable hairstyles become background noise in our lives. Fear of violence limits women in ways we've gotten so used to that we hardly notice.
Fear of violence limits women in ways we've gotten so used to that we hardly notice.
I, just like almost every female-identifying person I know, has encountered a spectrum of unwanted attention, ranging from catcalls (not great, but not physical violence) to genuinely threatening encounters. While the most extreme scenarios tend to attract the most attention (there's an entire Wikipedia page dedicated to this phenomenon), it's the everyday degradation and dehumanization that makes the bedrock of a culture that devalues women and leads to an environment where safety is not a given.
These things exist on a spectrum, and even at the most seemingly innocuous end of that spectrum, women avoiding doing perfectly legal things like running alone, or wearing ponytails and earbuds, to avoid having crimes enacted against them, shows that our culture is more comfortable having women internalize guilt and fear rather than confronting the conditions that make those things necessary.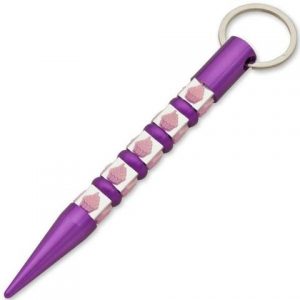 Though the range of female-specific self-defense products are comical, they point to a fundamental absurdity in how we treat this topic. Women aren't safe while running. And we're unwilling to have hard conversations that address the root issues of uneven power dynamics and a byzantine justice system that often marginalizes those who need it most. While many organizations and companies focus on teaching women to decrease their risk of being assaulted by telling them to be aware of their surroundings or teaching self-defense, these measures are generally ineffective and don't address the underlying issues. Programs that teach bystander intervention or target potential perpetrators, rather than potential victims tend to be more effective.
Discussions around women's safety tend to center the experiences of cis-gender white women. Though that fear is very real, prioritizing the safety of some risks leading to the marginalization of others in the name of safety. BIPOC runners face additional safety concerns at the intersection of patriarchy and white supremacy. While there isn't data on the levels of harassment faced by Black, Indigenous or transgender runners, if it follows patterns of everyday harassment, they certainly are bearing the brunt of our lack of action.   This focus is problematic because it shifts the responsibility for men's violence onto women, and distracts us from the difficult, long-term conversations and deep-seated cultural, social and structural changes that need to happen to truly prevent this violence from occurring in the first place. Silo-ing this conversation and making it something that only women have to think and talk about further perpetuates the issue.
MAKE A DIFFERENCE
While I do not typically feel afraid, I live in a world molded by this fear. I want companies and culture to stop commodifying female fear. The fact that so many of these items are so explicitly feminine, pink and sparkly, sends a clear signal. You aren't safe. To hedge your bets, buy this. Be afraid – but like, cute afraid. They aren't meant to be empowering. They're meant to be accessories. A reminder of fear that you can neatly fold into your life, into your run, that's cute enough to match your shoes. If you do not intend to make the world safer for me, please – don't make me pay for it, too.
Many women will never buy one of these personal-safety devices, but a large majority, 84 percent according to Runner's World, have experienced some kind of harassment while running. Shouldering the full responsibility by subtly rearranging your life, or buying one of these devices is costly and cumbersome. It feels like paying a  tax on society's discomfort for tackling difficult issues. While our culture isn't going to change tomorrow, and there aren't any easy or immediate solutions, relying on products that look like a combination of Barbie meets Mad Max distorts the underlying issue.
Women are fundamentally less safe than men while doing everyday things, like running or walking, and we're OK with making them pay rather than confronting the issue with more comprehensive legislation (like the Violence Against Women Act) or prevention strategies like early education, respectful relationships, and working with men and boys through, and in, the media, sports industries, and the world of work.
Safety bestowed conditionally isn't safety—it's implied violence.
Women want a running culture that doesn't treat fear and discomfort as a given. Whether it's being free to wear our hair in a ponytail, to run at night or to not spend money on titanium DNA-harvesting tiger claws, we want legitimate safety. Not a shallow, commodified reflection of the freedom my male friends and running partners enjoy. Safety bestowed conditionally isn't safety—it's implied violence.