Should Races Force Mandatory Trail Work?
Trails don't maintain themselves. Here's what trail work is and why you should consider volunteering, even if it isn't required.
Heading out the door? Read this article on the new Outside+ app available now on iOS devices for members! Download the app.
Without trail work there is no trail running. Nearly every mile of trail you have run throughout your life was created and maintained by trail work organizations and volunteers. Yet, despite how many of us love trails, the vast majority of us rarely, if ever, complete volunteer trail work. 
Why? Maybe it's because trail work feels intimidating, or maybe you're unsure how exactly to get involved, or maybe you're unaware just how vital this work is to the sport you love, or maybe you're unaware of just how enjoyable trail work can be. 
As trail running grows in popularity, it begs the question of whether or not more races should require trail work as a prerequisite for participation, and whether the responsibility of getting people involved should even fall onto race organizations in the first place. Regardless, the integrity of our trails, and trail running, relies heavily on each of us to give back to the trails we endlessly explore.
RELATED: Protecting Trails is Climate Action
What Exactly is Trail Work?
America's National Trails Systems works to maintain 88,600 miles of trails in the United States, a monumental number that doesn't even include the thousands of miles of trails on privately owned land throughout the country. The work for each of these trails doesn't stop after it is created, but is an ongoing process of maintenance to ensure a trail is safe and usable.

If trail work is so vital, then why are volunteers even necessary? Lack of funding for the United States Forest Service (USFS) has led to a heavy reliance on volunteer work. The budget that does exist tends to go towards basic maintenance of existing trails. Thus, the USFS relies heavily on local governments, non-profits, volunteers, and other outside partners for maintaining trails and expanding existing facilities. Without volunteers, environmental groups, or local organizations, trails across the country would become overgrown and less usable, threatening public access to these wild spaces.

Race directors are often working with the US Forest Service and recognize this demand firsthand. Jeremy Long is the founder of Daybreak Racing and he said that "since most public land managers do not have anywhere near the staff capacity needed to maintain trails on their own, volunteer stewardship is essential to keeping trails open."

Trail work can take many forms, from general trail maintenance to building structures, blocking illegal trails, and eradicating invasive species. After a big storm, for example, work parties pack in gear to clear the trail of any large branches, trees, and landslides. Supplies for every step, bridge, and railing along a trail has to be packed in and built on-site, in order to ensure the safety of a trail.
Since most public land managers do not have anywhere near the staff capacity needed to maintain trails on their own, volunteer stewardship is essential to keeping trails open.
Volunteers may cover unofficial trails with debris, to deter trail users from harming the surrounding ecosystem. The need for water bars and runoff routes has steadily increased, too, as more extreme bouts of weather threaten to wash out existing trails. 

The type of work varies based on each trail and its surrounding landscape. Generally, trail work is responsible for how a trail is created, maintained, protected, even decommissioned when no longer deemed safe.

The term "volunteer work" can often elicit a dull reaction when heard, but volunteer trail work is oftentimes far more fun and entertaining than it is boring. At its core, trail work is about a group of people coming together to care for nature, all while swapping stories, making memories, and perhaps enjoying a cold drink with new friends. Afterall, there's often a reason it's called a trail "party."
Should Trail Work be a Race Requirement?
Despite the rise of trail running over the past decade, a majority of races still don't require trail work as a prerequisite. Long reminds us that, in the United States, "most 100-mile races (or longer) usually have a trail work requirement, while most races below that distance do not." 
Race directors face multiple factors when determining whether or not to require participants to complete trail work. They must consider liability concerns, what time of year the race is taking place, if trails are accessible due to weather, the remoteness of trails, and whether or not races should offer a "buy-out" option, which would allow races to pay more and opt out of trail work for a race.
Though a majority of races still aren't requiring participants to complete trail work, that doesn't mean it isn't important. "Trail work is as vital to us successfully hosting our races as the event timers, the aid stations, and registration fees," says Long. "Without ongoing maintenance, most trails here would be gone or at least no longer runnable within a few years. Here in the Pacific Northwest, rain, snow, windblown trees, and abundant plant growth all work together to ensure trails will disappear rapidly without regular trail work." 
RELATED: Kaytlyn Gerbin and Jenny Abegg on the North Cascades High Route
For example, of the eight 100-mile races that took place in Washington State this year, only three required trail work. Races like the well-known Cascade Crest 100 have a deadline for trail work submissions, helping to narrow the field of participants even further. Other races in Washington that made trail work a prerequisite this year were Rainshadow Running's Orcas Island 100 and the Dark Divide 100, organized by Wonderland Running. Whether or not a race is in sufficient demand can certainly sway a race director's decision, as trail work can often act as a deterrent. 
So, should races be the ones held responsible for having more people complete trail work? Despite the rise of trail running in recent years, Long notes that when Daybreak Racing organizes trail work days, the participation is still relatively low. 
Instead of making trail work a strict prerequisite, races can continue to encourage runners to volunteer before the race, whether that be on local trails or trails that are specifically part of the race. Some organizations incentivize runners to volunteer by offering perks such as a race credit, swag, food, and the potential for good memories with fellow racers. There is likely to always be runners that opt out of this added work, but simply having race organizations acknowledge the importance of trail work and offering benefits can lead to more people signing up for a volunteer day. 
After a single day of volunteering, runners are provided with more perspective on the vast amount of work that goes into maintaining trails they know and love. This shift in perspective can encourage more runners to get involved on a regular basis and result in increased participation for trail work that isn't even tied to a race.
How to Get Involved?
Unless you are creating a trail on your own property, it's best to not hike into the words and start cutting down whatever tree you please. Exactly how to get involved can vary depending on who owns the trails and the region a trail is located, whether it's a national park, national forest, state park, city park, or private property.
The National Directory of Trail Work Organizations is the perfect place to start. It offers a comprehensive list of trail work organizations across the country, broken down by region. Some cities also have their own trail work organizations, which can be found on the city website, or by heading to your local running or outdoor store and inquiring. 
While each organization has different protocols, a majority of them lay out specific requirements for volunteers, detailing the type of work being completed and any gear volunteers are expected to bring. Volunteers should be prepared to work a six- to eight-hour day, though some organizations offer half-day work parties. Most organizations require volunteers to wear long pants, sturdy hiking boots, and bring a pair of their own work gloves. 
Work parties tend to have a specific goal each day, often resulting in volunteers working together efficiently, playing to everyone's strengths. The designated leader of the trail work day will check in with each volunteer to ensure they are being a productive member of the work party without forcing them to complete tasks outside their physical ability.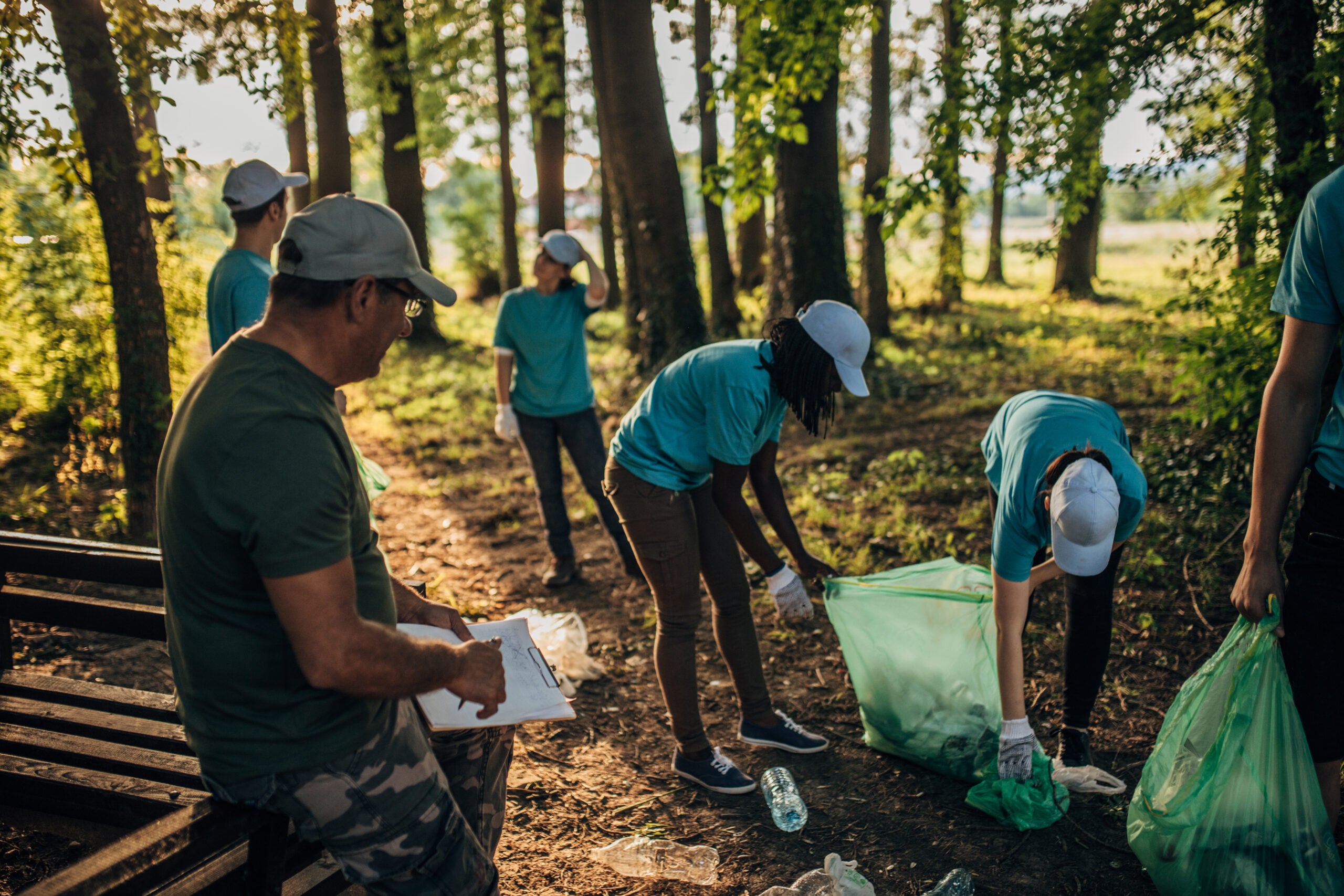 While previous experience with tools is not a prerequisite, knowing how to properly use a shovel or operate power tools will likely come in handy. If you are ever unclear on how to approach a task, or how to safely use a tool, ask the leader of the work party as they will be equipped with the necessary knowledge to help you.
Bottom Line? Trail Work is Empowering.
Tasks such as repairing bridges are likely to feel incredibly empowering, even though simple trail work, such as cutting back overgrowth or eradicating invasive species, is also vital to trail maintenance. Each organization assesses the most pressing needs of a trail and creates work parties accordingly, ensuring that the work you complete is vital to the maintenance and preservation of the region.
Perhaps most importantly, much like running ultramarathons, participating in a challenging trail work day can be incredibly fun. Running a race and completing trail work overlap in many ways, including building friendships, swapping stories, meeting new people, accomplishing feats you weren't sure you were capable of, and often sharing a post-trail meal that tastes just a bit sweeter after a strenuous day.
In my experience, volunteer leaders feel a lot like aid station captains. They work to make you feel comfortable, help you with whatever you need, and are likely to have an unexpected treat for each participant at the end. Though I can't guarantee each volunteer will have the same experience, trail work parties have often been a rewarding and entertaining event full of friendly people, good conversation, and a renewed appreciation for the work that goes into maintaining trails.
Not only is trail work an integral part to the sport of trail running, but it is vital to the maintenance of trails across the country. From trimming blackberry bushes to constructing bridges, the work of volunteers has literally shaped the trails on which you run. 
Whether it is a requirement for your next race or not, consider volunteering your time to help give back to the trails you love to explore. Reach out to local nonprofits and race organizations to see how you can be of service. Signing up to volunteer may give you some added perspective and remind you that without trail work, trail running wouldn't be the sport that it is today.