Jorge Moreno on Trail Running, Bridge Building And Equity In The Outdoors
Heading out the door? Read this article on the new Outside+ app available now on iOS devices for members! Download the app.
"It's been years since I put in a bunch of 60-mile weeks back-to-back, but doing it with two other folks has been really fun," said Jorge Moreno, in the midst of training for a self-planned and executed marathon near his home in Lander, Wyoming.
Growing up in Danbury, CT, just outside New York City, Moreno didn't find trail running until later in life. Today he works as a Development Officer for National Outdoor Leadership School, is a Latino Outdoors ambassador, and sits on the leaders council of PGM ONE, a grassroots organization that empowers the BIPOC (Black, Indigenous, People of Color) community in their pursuit towards social and environmental justice. His life is dedicated to helping less privileged kids outside, through hiking, trail running, and camping.
Moreno began training for this made up marathon last October, buying new shoes, creating Spotify training playlists, and enlisting friends to keep him accountable. But his motivation runs deeper.
As a kid Moreno spent long hours outside, playing games in the street and pickup basketball at the local courts. Today he says the word "outdoors" means something different to him, which is a problem. To help more people be comfortable outside, he hopes we take "the outdoors" off its pedestal. His grandma, mom or uncle habitually sent him outside to play. He joined football games, raced around the apartment complex or played wall ball against the side of the carwash. "We spent a lot of time outside, just not in the woods or on trails. But that's still outside. It's the same thing and making that connection helps build bridges."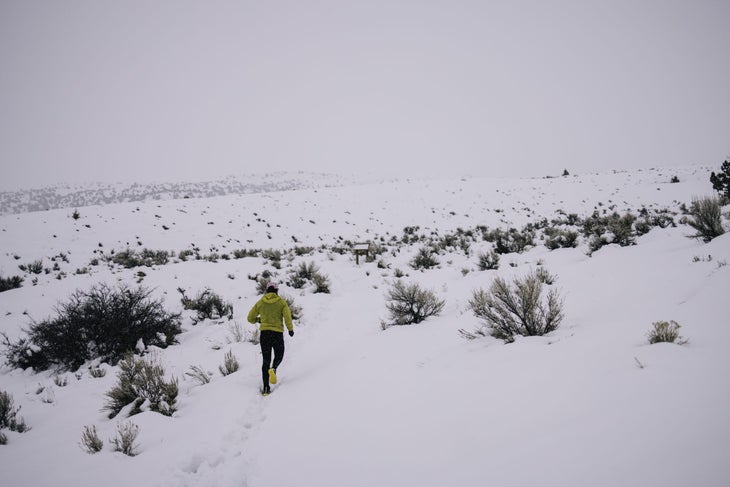 Moreno's earliest memory of racing was during his sophomore year in high school in 1996. Without the support that bigger schools and more established programs had, Moreno's cross country course was around the local cemetery. Despite little funding, hand-me-down unis, and a losing record, Moreno stuck with it. "I wasn't a great runner. My mile time didn't get noticed and no one was expecting me to win. I remember my coach telling me it's this or afterschool suspension, so I kept running."
Twenty-five years later, Moreno runs most days, but for a different reason. Now,  Moreno uses running as a way to check in with his body, mentally and physically. He makes time to run so that he can work through challenges, see sunrises, and escape the chaos of daily life. These days there is a lot to think about, between impacts of the pandemic and decades of social justice unrest.
"This sh*t doesn't lie to you. It's something you have to progress through. You can't just go out and run ten miles if you haven't done it in half a year. It makes you work for it," says Moreno, continuing "it's similar to social justice work. You can't jump in and out. You just gotta stick with it. The real rewards are all in the long term."
Now in his early 40's, Moreno has gotten more into trail running, racing a few times and getting out on trails more often. He believes trail running is all about making the commitment to new variables– new types of shoes, style of running, training, and variable conditions. It took him a while to leave the roads, but he now finds it just as rewarding. "Running side by side with someone has always been comforting to me, which is easier on roads. But there's a strong sense of community in trail running, even if you run alone a lot. I just love just putting on my shoes and leaving my door and just going."
There are very few Latinos in Lander, let alone Latino runners. Still, Moreno says despite being the only Latino at any of his group runs he's been met with open arms by the Lander running community. "Sure, I get a lot of attention and questions, despite the fact I'm not the best runner, but it always felt warm and open." In the larger outdoor community, Moreno has more mixed feelings, especially when it comes to how friends, colleagues and acquaintances have handled social movements since George Floyd's murder.
In the summer of 2020, Moreno saw a lot of people show up in the streets, joining marches and protests. He believes many of these people became more aware of the many injustices the BIPOC community faced daily and a lot of the community reached out to see how he was doing and offering space to talk. The dark side is seeing the lack of action and half-assed efforts that followed months later. " I look at these people–people who've had the power to recognize this inequity for decades –and wonder if it's my responsibility to educate them and bridge the gap between our lived experiences. There is only so much energy and time I am willing to give when it comes to folks that can not understand why social and environmental justice work is so important. At some point they just commit and put in the work themselves."
Moreno says step one is helping them understand that we need all hands on deck and they have a real impact in an adverse way. Step two is realizing that we need to take responsibility for our inactions, recognize our social power and start leading by example. "I'll always commit time to helping folks take their first steps, but I don't commit time when folks start taking shortcuts. There's a big difference."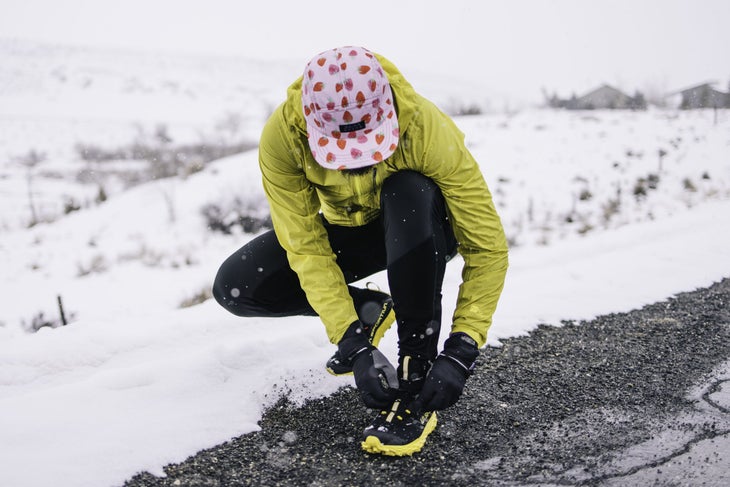 Trail running, like many other outdoor activities, is uniquely positioned to create change. "I have never experienced a quicker alignment of all the right factors than being outside. It breaks down barriers. It allows us to communicate better with folks we don't know. To get vulnerable, whatever that looks like for you. Way more than inside, by a screen, in a packed bar or on a bus."
Moreno sees trail running, hiking, and other outdoor pursuits as a tool to help different people come together. "My goal is to use the outdoors to break down barriers and build bridges between different communities." His belief is that recognizing and celebrating our differences create strong connections, and these connections create the foundation we need to build a better and more inclusive world.
After five years and 200,000 miles of #trucklife living in his Toyota Tacoma, Andy now lives in Jackson, Wyoming with his dog Bea. He works as a freelance producer, writer, and photographer and focuses on supply chains, systemic problems, and clever solutions.