How Jennifer Britz became a world champion snowshoe racer this summer
Team USA hauled in a lot of medals at World Snowshoe Championships in Argentina
Heading out the door? Read this article on the new Outside+ app available now on iOS devices for members! Download the app.
When you travel nearly 6,000 miles from home for a race, you're bound to encounter some language barriers.
Such was the case for Jennifer Britz in the homestretch of a memorable 12.2km race in the remote Argentine mountain town of Caviahue-Copahue on September 3. As the 45-year-old runner from Bar Harbor, Maine, approached the finish line, she found herself running alongside Argentine athlete Santiago Manrique who was relishing that Britz was about to win the women's title at the 2022 World Snowshoe Championships.
They couldn't really communicate, but as tears welled up in her eyes, Britz could sense the excitement he had for her as they sprinted to the finish amid hundreds of cheering spectators. Winning is understood in every dialect of the international language of running.
"He didn't speak English and I know very little Spanish, but he kind of looked at me and kind of signaled No. 1, and then charged down the hill together to the finish," Britz said. "It's just amazing to race with people from around the world who might not share the same language but who all have the same love of these types of events. Finishing like that in front of all of the people lined up was absolutely amazing. I was crying when I crossed the line."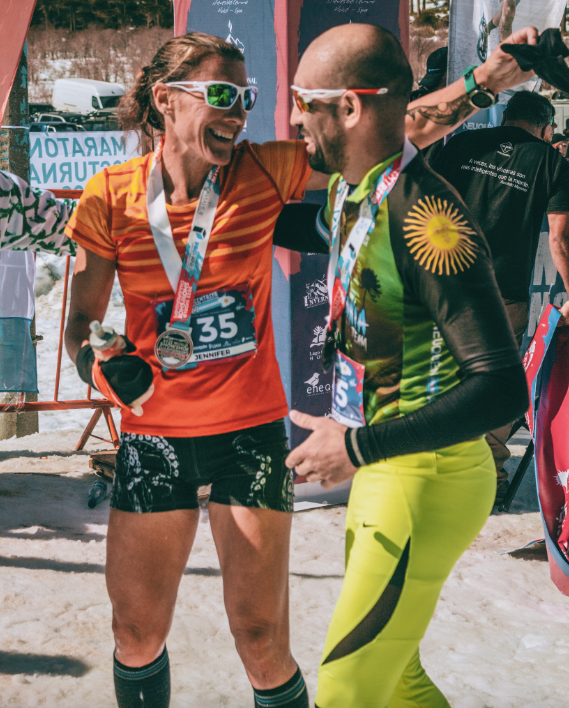 Britz and overall winner Javier Carriqueo of Argentina were the brightest stars of the world championship that was delayed for two and a half years because of the COVID-19 pandemic. The 43-year-old Carriqueo, a 2008 and 2012 Olympic middle-distance runner for Argentina, ran away with the men's title by covering the dramatically hilly course in the shadows of a smoldering semi-active volcano in 57 minutes, 10 seconds and winning by a 64-second margin over runner-up Roberto Ruiz of Spain. 
Britz was even more dominant, finishing in 1:21:54 and winning the women's race with a 6-minute margin over Argentina's Veronica Galvan.  
"I run my own race, and once I get out there and know where other women are, I'll start picking people off," Britz said. "I passed a number of women on the first climb, and ultimately did pass the woman who wound up second place on the first climb at about the 3.5 or 4km mark. But in this race, I really had no idea where the other women were. I caught up to one of my male teammates, Jason Reed, and he said, I think you're in first. And then eventually when I got closer to the end, I could hear people shouting 'Primera mujer!' and that was really cool."
Led by Britz and fellow Americans Heidi Strickler of Seattle (3rd, 1:29:18) and Stacie Minchoff of Plattsburgh, New York (4th, 1:31:11), Team USA won the women's team title. Erika Kuhnle of Grand Rapids, Michigan, (5th, 1:33:19) and Myra Klettke of Gladstone, Oregon (6th, 1:35:40) also turned in strong efforts for the American women. (Team scoring was based on the combined time—not placings—of a country's top three athletes.)
Minnesota's Eric Hartmark (3rd, 59:59), a veteran of several world snowshoe championships and a multi-time U.S. champion, led the American men's team to a second-place team finish with strong efforts from Alex Willis of Leadville, Colorado (8th, 1:05:15) and Cole Crosby of Cranston, Rhode Island (11th, 1:10:19). Overall, the U.S. men placed seven runners among the top 25.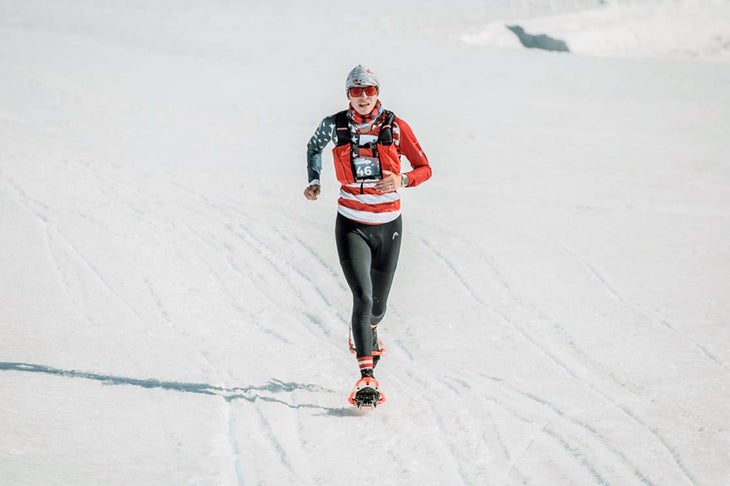 The race was organized by a local race director at the Caviahue ski resort just a few miles from the Chilean border and sanctioned by the World Snowshoe Federation (WSSF). The 12.5km course, which started at an elevation about 5,000 feet, had several brutally steep climbs and descents and about 1,500 feet of vertical gain. 
"Snowshoe races take all different shapes and forms around the world, but this was a pretty mountainous one with a lot of intensity," said Willis, who was the runner-up at the 2020 U.S. snowshoeing championships in Leadville. "It wasn't my best day, so I knew I had to change my race goals and race my hardest. I knew I wasn't going to podium, but I knew I had to race as fast as I could and be able to score for our team."
RELATED: Why Run on Trails When You Can Collapse in Snowshoes?
Team Work
As much as this is a story about Britz winning a world championship, it's also a story about how two dozen American runners made the effort to travel more than 24 hours to get to the event on their own dime. It's also about the efforts of like-minded athletes and race directors from around the world working hard to promote snowshoe racing on a global scale. 
Flying from numerous destinations around the U.S., the American athletes arrived in Buenos Aires five to six days before the race and then took a regional flight to the small city of Neuquen, followed by a six-hour bus ride to Caviahue-Copahue. (Their charter bus broke down about 12 miles from their destination, but a secondary bus picked them up.)
With no team sponsor, the American athletes didn't have any funding assistance or official Team USA race kits or national team jackets. (Nike is the official sponsor for all forms of competitive running in the U.S., but snowshoe racing doesn't fall under the auspices of USA Track & Field.) But most of the Americans donned a variety of red-white-and-blue gear in the race and carried American flags during the race festivities and awards ceremony. 
In addition to the overall results, American Daniel Edelstein (1:23:54) of Saranac Lake, New York, won the men's 60-69 age-group title, while U.S. teammate Philip Rickman (1:45:03) was third. Allan Bates (1:40:42) of Pittsfield, New York, was the top finisher in the 70-and-older division, followed by James Miner (2:12:12) of Dryden, New York. Hartmark also took second in the 40-49 age-group, while Klettke won the women's 60-69 age-group title and Corrie Desilets (2:38:07) of North Attleboro, Vermont, was third in the 20-29 age-group.
The U.S. also claimed victories in the 5km junior championship race, with Andrew Denial, of Saranac, New York, (26:26) and Olivia Drowne, of West Chazy, New York, (40:34) notching runaway victories in their respective divisions.
RELATED: Beginner's Guide to Snowshoe Running
The Growth of Snowshoe Racing
The United States Snowshoe Association (USSSA), especially through the efforts of longtime USSSA sports director Mark Elmore, has been part of a global push to expand competitive snowshoe racing around the world over the past 20 years, with the hopes of one day becoming a medal sport in the Winter Olympics. For this year, though, most of the competitors were happy to be able to compete in a world championship for the first time since 2019.
"Overall, it was an incredible event and experience," said Crosby, the U.S. team manager. "I am looking to grow the sport both in the U.S. and internationally, as well as combining ultra running and snowshoe running in distances 50k to 200 miles. My hope in running and competing in these distances is to set marks that others will want to chase after, but to also develop a new side of the sport that offers an ultimate winter endurance challenge for trail/ultra runners."
That's exactly what Britz likes about it. She has run numerous ultra-distance trail running races in New England and Canada and has gotten her three daughters involved in trail running. But, given that she lives in Maine just 15 minutes from the mountains, she appreciates the opportunity to run and race on the trails in the winter when they're covered with snow.  
Britz tallied her third straight top-10 finish at the World Snowshoe Championships, having previously placed seventh at the 2018 championships in Italy and sixth at the 2019 event in Japan.
"I really haven't processed it yet. I have run in a lot of big races, but crossing that line and breaking the tape in front of all of those people to win the world championship was really amazing," said Britz, who works in a fundraising position for the Mount Desert Island YMCA and directs two half marathon running races in Acadia National Park. "It's still hard to describe, but it's something I'll never forget."