Javelina Jundred is the Ultimate 'Jalloween' Party
Inside the 100-mile Halloween party.
Heading out the door? Read this article on the new Outside+ app available now on iOS devices for members! Download the app.
There's going to be one hell of a Halloween party held on the outskirts of the Phoenix metro area this weekend.
Part authentic endurance running race and part freak show with costumed trail runners constantly in need of rehydrating, the Javelina Jundred trail running races and post-race party are the stuff of legend. As the race producers at Aravaipa Running proclaim from the start, "it will test your endurance and challenge your sanity."
The 19th annual Javelina 100-mile and 100km races begin Saturday at 6 a.m. and send runners out on a mostly flat and fast multiple- loop course through the desert terrain of McDowell Mountain Regional Park. And while fast running isn't discouraged — the women's 100-mile winner usually finishers under 16 hours and the men under 14 hours — costumers definitely are encouraged. There's also a nighttime race called the single-loop Jackass Night Trail 31km that finishes as the Saturday night party is starting to rev into high gear. (The racing action will be livestreamed on Aravaipa's YouTube channel.)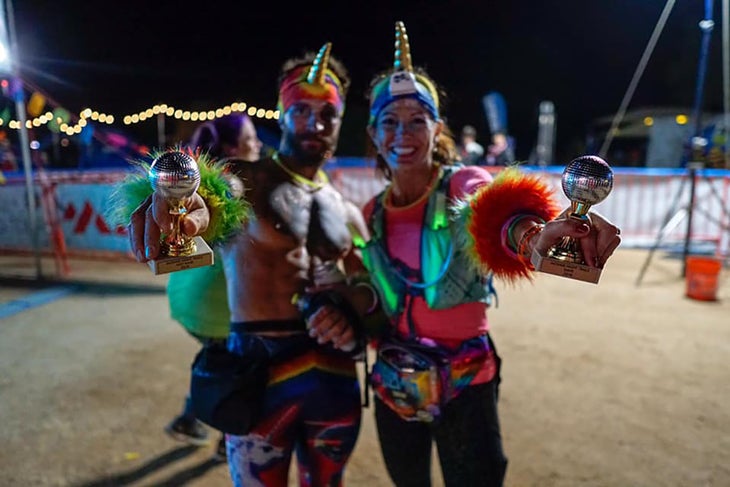 Javelina is a trail running party that really wants to be an all-night rave. As much as it offers great fall racing opportunities (with 2022 Western States 100 Golden Ticket qualifying spots for the first time), it's really more about being a massive Ultra Jalloween Party for the ultrarunning community. The races draw both elite pros, middle-of-the-packers and novice runners alike, but it's the colorful costumes, free candy at aid stations, all-night music, spontaneous dance parties, fire dancing, misfit parade for waitlisted runners and other festive craziness that runners remember the most.
The race was started in 2003 by Phoenix ultrarunner Geri Kilgariff as an irreverent, party-oriented fun run on a multi-loop course and eventually later taken over by Aravaipa Running in 2008.
"She created this event to basically troll everyone, and thought that it would be funny," Matt Feldhake said during the race's video preview released this week. "And it's turned out to be this incredible, fun event in the desert. She created something great and we've been grateful to continue to put it on since 2008." 
How wild is it? Put it this way, no other race has an aid station with the nickname of Boner. (It's a skeleton figure you'll encounter at the Jackass Junction aid station.) There's also a "Best Ass Award" at this desert party, which coincides with the adult-themed "R" rating Aravaipa brandishes on its website. (Check out the Javelina sizzle reel to catch the vibe.)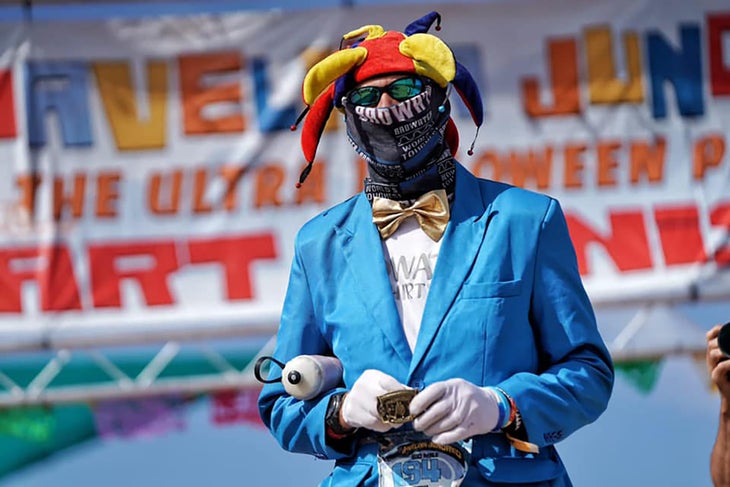 As for the racing, there are plenty of talented runners among the 588 entrants in the 100-mile field. That includes Devon Yanko (39, San Anselmo, California), Camille Heron (39, Oro Valley, Arizona), Brittany Peterson (35, Pocatello, Idaho), Meredith Edwards (37, Durango, Colorado), Lisa Robert (42, Tucson), Tessa Chesser (34, Flagstaff, Arizona) and Lotti Zeiler (25, Austin, Texas) on the women's side and Dave Stevens (39, Canada), Adam Dalton (27, San Diego), Michael Demarco (34, Baton Rogue, Louisiana), Zach Merrin (36, North Canton, Ohio), Charlie Ware (36, Tucson) and Joe "String Bean" McConaughey (30, Seattle) among the top men.
Also in the field are 13-time finisher Susan Donnelly (58, Oak Ridge, Tennessee) and 11-time finisher Fred Roberts (61, Tucson). And then there's Ed Ettinghausen (59, Murietta, California), a six-time Javelina finisher who has made a name for himself by taking on the Javelina Jundred in a full suit and heavy jester hat.
In the 100K, Tyler Andrews (41, Concord, Massachusetts) leads a strong men's field, while Cat Bradley (29, Boulder, Colorado) is one of the top entrants among the women's field. 
"It's definitely a one-of-a-kind race," says Phoenix trail runner John Byrne. "But even if you don't run fast or well or very long, it's an amazing party."