In Hillary Allen's Quarantraining, Everything Counts
Heading out the door? Read this article on the new Outside+ app available now on iOS devices for members! Download the app.
The 2019 U.S. Skyrunner Ultra Champ and TDS (UTMB's 145-kilometer event) runner-up Hillary Allen, 31, lives in a secluded cabin outside of Annecy, France, which is under strict lockdown measures. Residents aren't allowed to venture more than 500 meters from their home and are only allowed to exercise alone outside for an hour. Each person has to carry a permission slip signed and dated with their address on it, in the event they get stopped by a police officer. 
"And you will get stopped," says Allen. 
Making The Rounds
Allen's quarantraining is a mix of strength, cardio and non-running projects just to stay sane. She maximizes her 500 meters of allowed distance by running laps on the frontage road that abuts her cabin.
"I've been doing different interval increments, just to keep it interesting," says Allen. For her allotted hour, Allen cruises her neighborhood, grateful to be moving outside. 
For added cardio, Allen, who also races gravel bikes, has been turning to her bike trainer for aerobic base building. How much time she spends on the bike varies, and she's more focused on enjoying the workout than grinding out big miles. She's been spinning in front of her computer so that she can enjoy movies on the trainer. 
"I think it's OK to cut back on volume and enjoy the break," says Allen. "I don't want to burn myself out on training if I don't enjoy it." 
Everything Counts
For strength, the champion mountain runner has been throwing in a mix of bodyweight squats, lunges and single-leg squats that she can do without equipment in her living room. 
Allen's cross training also includes chores around her cabin, like gardening, cooking and even chopping wood. 
"Wood chopping is a killer workout," says Allen. 
When you're only allowed out for an hour a day, and 500 meters of space, every little bit of movement counts as training, and helps stave off cabin fever. Allen is also finding ways to be productive outside of her athletic pursuits, building some chairs in her woodshop. She's also working in plenty of stretching and yoga, and naps. "Lots and lots of naps," says Allen.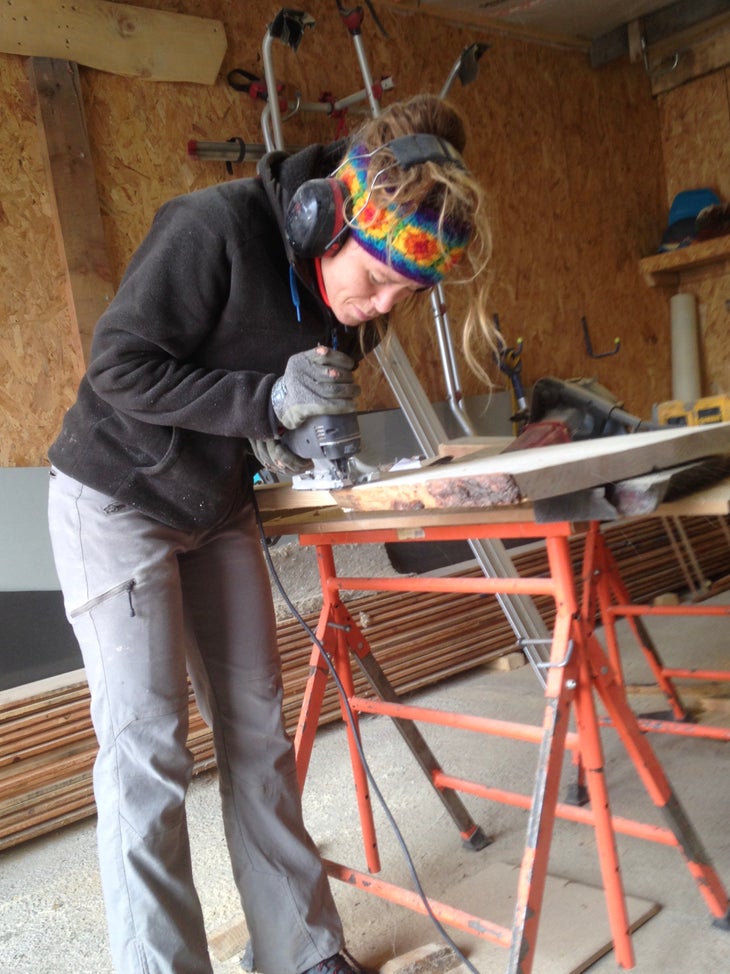 Staying Positive 
Like most runners around the world, Allen's early season race schedule was wiped clean by the pandemic, and she is taking special care to speak kindly to herself and stay positive. 
"Right now I'm trying to be in the present moment," says Allen, "I'm disappointed for sure, but I'm reminding myself that this is bigger than me, and it's important for the health of the greater global community. Races will come back, and parks will re-open."
Though she doesn't have definitive plans yet, Allen is scheming adventures that will help her stay present, focused and engaged in her training, and paying it forward in her community. 
"I'm planning adventures, FKT routes and brainstorming ways to help local businesses and run stores rebound after this pandemic clears," says Allen.
Zoë Rom is Assistant Editor at Trail Runner , host of the DNF Podcast and a trail running coach. She enjoys podcasts and pizza.