Heading out the door? Read this article on the new Outside+ app available now on iOS devices for members! Download the app.
On a summer workday, I took a break from spreadsheets to swipe through my Facebook app. Whoa! Things were ablaze with fiery rebuttals, name-calling and indignant defenses. Outside Online had posted an opinion piece, "Trail Runners Are Lazy Parasites." In it the author, Marc Peruzzi, poked, jabbed and even threw haymakers at trail runners for swarming the trails, while, as he noted, "The short-shorts crowd almost never pitches in when it comes to trail work."
The story also pitted mountain bikers against trail runners, elevating the former as exemplary trail stewards and pretty much lambasting the latter. Peruzzi posited that trail runners—nine million of them, according to a 2018 Outdoor Foundation report—are taking over the trails and eroding them, widening them (because trail runners run around puddles, whereas mountain bikers valiantly take them head on), and even harming natural areas because our urine kills native plants.
Apparently mountain bikers do not pee, have more eco-friendly urine, or are more skilled at holding it.
That was the petty stuff, however. Peruzzi's nuclear strike was the argument, "[T]rail runners are the least likely to volunteer to build and maintain trails." That was the basis for the blowtorch of a headline—which he claims was meant as a joke.
The joke was so funny that trail runners forgot to laugh. Our generally go-with-the-flow community exploded like a fallen hornets' nest.
"I'm from Massachusetts," Peruzzi said to me over the phone. "There's a certain sense of humor that probably does not translate."
The joke was so funny that trail runners forgot to laugh. Our generally go-with-the-flow community exploded like a fallen hornets' nest. Many trail runners listed their many hours of work, some of it because it's the right thing to do and some because target races require trail work. In fact, an increasing number of races require volunteerism to qualify—a trend that, to be fair, Peruzzi had pointed out. A small number of incensed trail runners resorted to furious fusillades directed at the author, who is both a mountain biker and trail runner.
"I had to shut down my Facebook account," Peruzzi said. "When you single out a community, a lot of readers will take offense. People will get really defensive about their passions."
Peruzzi said that he merely wanted to launch a dialogue. "I think it got people talking," he said. Based on Facebook chatter, Reddit rants, and my discussions with local runners, he receives an A+ on that front.
Still … he did get us talking. So let's have a conversation, but with ground rules.
First, this is not a faceoff. Trail Runners don't hate Mountain Bikers. And Mountain Bikers—I assume—don't hate Trail Runners. I know a few who actually love each other and have married across sport boundaries, naming their twins "Tread" and "Axel" (OK, I made up that part). On my trail run just this morning, I swapped smiles and some high fives with several two-wheeled peeps.
Second, with our sport booming and record numbers of people recreating outside in many ways, let's agree that our trails are being loved to death. If you want to experience Boulder's Mesa Trail between April and October, you better hit it by 8 a.m. if you want a parking spot. Popular trails are wider than I've ever seen in two decades of running them. More and more trail ultras use shuttle buses to get folks to aid stations because of ballooning race fields (and crews). Even races that only started in the past few years are resorting to entry lotteries.
Third, a helpful conversation requires that we each hold our emotions in check. OK, it's hard not to take such things personally and slingshot back with poop emojis. That accomplishes exactly … zero. 
For a level-headed viewpoint, I turned to Adam Chase, president of the American Trail Running Association (ATRA).
Chase cut to the … chase. "We are guilty as charged," he said. "Historically, we've been lame about helping with trail-running work—at least compared to others, including mountain bikers."
What? OK, you (or I) can disagree with Chase. But first raise your hand if you put in eight hours working on trails in 2019. Volunteering at a race does not count, because you're being bribed with M&M's and energy drinks, and you don't break a sweat. And you get only half credit if you worked as a race-entry requirement.
 My hand remains down and my excuses are many—both legit and lame. In the past three years, my only trail work has been required of me, for races. Shame on me. And, if you're like me, shame on us. 
Looking in the mirror is tough, especially if what you see is not what you seek. So we look away, redirecting our attention. Like at writers and polarizing prose.
Sure, I can tell you about the hundreds of gel wrappers I've picked up on the way down from working the Leadville Trail 100 Mountain Bike Race Columbine Mine Aid Station. Or share pictures of a place called "Mountain Biker's Den" on my favorite trail system—where bikers have decorated 1,000-year-old pinyon junipers with hundreds of bike parts that will be there long after we are here. One of my mountain-biking friends bragged about poaching a Bay Area trail—a trail closed to bikes—late at night.
One time I even saw a mountain biker peeing on some native plants.
There are also trail runners who pour a lot of blood and sweat into their trail work. To them, I say, "Thank you" and, "I will try harder."
The best way to thank them is to work alongside them.
Or better yet, call one of your mountain-biking friends and volunteer together. You won't get cooties, and it's the right thing to do.
I used to hate parasites. But I spent some time with one and it grew on me.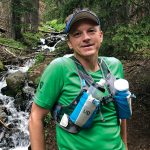 Garett Graubins is Contributing Editor of Trail Runner. He splashes straight through puddles while on the trails, but cannot run with his legs crossed.