Heading out the door? Read this article on the new Outside+ app available now on iOS devices for members! Download the app.
Get your copy of Brendan Leonard (aka Semi-Rad)'s latest book, I Hate Running And You Can Too here!
You know, I actually never trained at all—I just bought these high-tech shoes and drank this new sports drink, and somehow I ended up winning the race.
—No one, ever
As sports go, running is pretty fair. It takes a lot of work, the way that learning a new language or how to play the guitar is a lot of work. The equation, something you may have seen on the wall of a gym, looks like this: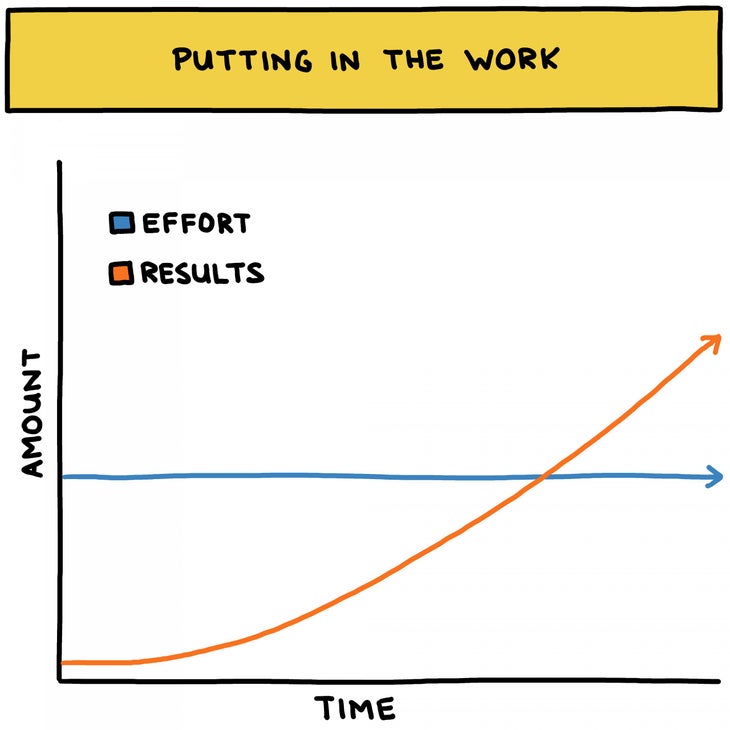 With running, if you put in effort over time, you generally get results. Sure, there are fast people and there are less-fast people, but everyone is working for it. For example, think about elite marathoners. They're not coasting on their natural talent to win races; they're running 80- to 100-mile training weeks. Compare that to a typical "beginner" marathon training plan, which usually maxes out at 40 miles per week (and that is still a hell of a lot of miles!).
There are training plans for every race distance—some have high running mileage, some have low running mileage, but none of them has no running mileage. Becoming a runner isn't like becoming a member of an airline's loyalty program. You can't just sit around for months eating chips and watching Netflix and then one day spend ninety seconds filling out an online form and, voilà, you're in. Running takes ambition and attendance. You do it regularly so you can keep doing it regularly.
We've gotten used to buying things that will help us do any task better, faster, and easier, from peeling garlic and mowing the lawn to cleaning our house and, especially, almost all forms of exercising. Whether we find these products through a late-night infomercial or a clickbait web ad, the promise they try to sell you looks something like this:
Running is no different. Lots of companies would be happy to sell you things that might help you run: shoes, apparel, water bottles, Bluetooth earbuds, massagers, foam rollers, and space-age foods and drink mixes. But we haven't figured out a way to pay someone else to run all the training miles while we get all the benefits without putting in any of those miles ourselves. You can't take the effort out of the equation. And the more you run, the more you'll realize that putting in the effort actually is one of the benefits.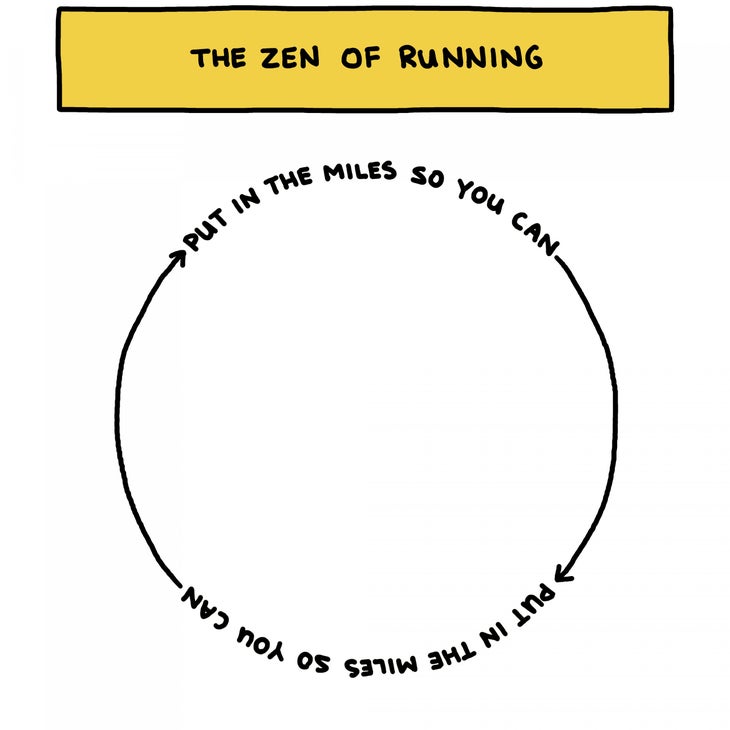 When I feel far too busy or overwhelmed with life to possibly consider going for a run, I go anyway, and I know two things will always happen:
Five or ten minutes into the run, the feeling of being overwhelmed and too busy will be gone.
I have more hope for the world fifteen minutes after I finish running than I did five minutes before I started. If that's all I get out of a run, that's still pretty good.
Excerpted from I Hate Running and You Can Too by Brendan Leonard (Artisan Books). Copyright © 2021. Illustrations by Brendan Leonard