How One Trail Runner Found Community In Northern Ontario
The remote town of Thunder Bay isn't known for trail running, but one trail group, created by Jamis Hall, is creating a niche.
Heading out the door? Read this article on the new Outside+ app available now on iOS devices for members! Download the app.
Late one night in 2019, Jamis Hall opened her computer and did something she's done dozens of times before: she logged into Facebook. But this time, upon signing in, she was nervous. 
Although Hall grew up in Thunder Bay, Ontario—a city of roughly 110,000 people about 860 miles northwest of Toronto—she felt lost. Hall longed to reconnect with her passion for running, a source of routine and mediation, that she had lost touch with after the birth of her son in 2018. 
On the Facebook website, thoughts flooded Hall's mind. 
It needs to have good artwork. 
It needs to have a nice logo. 
I don't want It looking janky. 
As an art graduate of nearby Lakehead University, her desire to create appealing aesthetics made sense. That wasn't what was stressing her out. Instead it was "It," a Facebook group she was planning to launch with the hope of connecting like-minded folks and trail running enthusiasts in Thunder Bay. 
When the page had the "fun" artwork and vibrant rainbow colors of her liking, Hall internally debated how to describe the group. 
She ran competitively in high school and had joined elite running groups after graduating, but didn't want It to be known as an elite-only group. She had experience in those sorts of groups, and didn't find them particularly welcoming. 
Instead, she wanted to establish a team that anybody could join and feel a part of something bigger than themselves, without having boxes to tick in order to gain acceptance.  
Especially considering the recent birth of her son, Leo, she was also looking for time to recharge. 
"I stayed at home with my son, just as a stay-at-home mom for the first couple of years. I just needed some adult companionship," says Hall with a laugh now, nearly three years later. 
She worried about navigating the city's trail network alone, and wanted friends to help keep her motivated to run throughout the year and Ontario's tough winters. 
"Who am I to even do this?" she thought to herself. 
With the night dragging on, the blue light of her computer filtering through the room, she published the group, "Northern Trail Runners," online and waited—and waited—wondering whether anybody would join at all.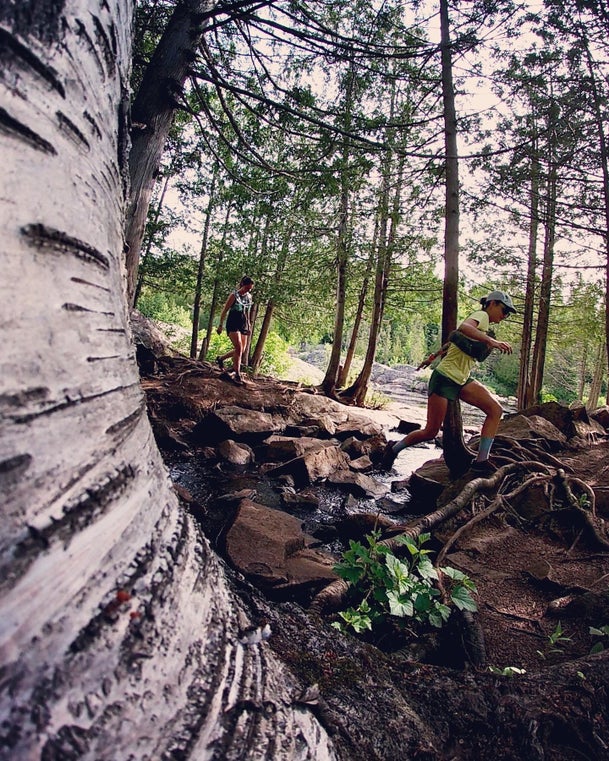 "Where's that?"
The city of Thunder Bay was established in 1970 with the combination of two communities, Port Arthur and Fort William. It is located on the traditional territory of the Anishinabek nation, which includes the Ojibwa of Fort William First Nation, an area that is located roughly 345 miles northeast of Minneapolis.  
Though the city is on the western shores of Lake Superior and just outside Quetico Provincial Park, with its 2,000 lakes and 460,000 hectares of wilderness, Thunder Bay isn't widely thought of as a trail running hot spot. 
"Thunder Bay's really not known in the ultra community," says Jan Ritchie, a runner from Thunder Bay who has run internationally in Asia and the U.S. "Ontario is a big place. And a lot of the people I talk to in the ultra running trails, I'll say, "I live in Thunder Bay, Ontario! And they'll be like, 'Where's that?'" 
There are 129 active parks in Thunder Bay, highlighted by Centennial Park, which runs along the Current River. The James Duncan Nature Trail along Lake Superior is another pristine spot to trail run just outside the city. 
Ritchie, who is from the Saugeen First Nation, started trail running in 2015 after he heard a message from a higher power. 
At the time, Ritchie was at university and considering law school. He applied and was studying for the LSAT when the higher power—energy that he connects with and that guides his intuition—gave him four messages: don't go to law school, practice your Indigenous culture, learn your language and get into running. He listened. And since then, he's become one of the most accomplished trail runners in Thunder Bay. 
Since he picked up the sport, Ritchie completed the Antelope Canyon 100 Miler in 2020, and was the first Indigenous person to complete the Triple Crown of 200s last year, completing the Tahoe 200 in California and Nevada, the Bigfoot 200 in Washington and the Moab 240 in Utah.
RELATED: Verna Volker Finds Healing In The Community She Built
On his road to compete in the Triple Crown, Ritchie got $2,000 in support from the Saugeen First Nation and nearly $1,000 from folks in Thunder Bay to help cover travel and race expenses.  
"I didn't know what to expect," he said. "The only thing I could do was reach out to the community and let them know I was running the Triple Crown. Not too many people know what that is, they think about horse races in Kentucky."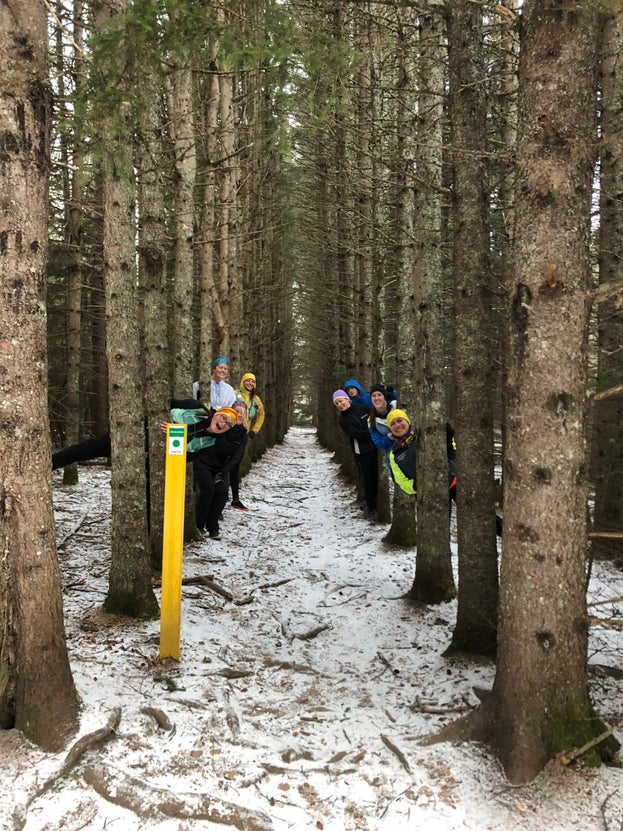 A Growing Community
Shortly after Hall launched Northern Trail Runners in 2019, Mark Kusznier was on Facebook when he noticed a trail running friend share something about the group. He decided to get involved. The circle provided friendship and community, two things Kusznier was looking for after a low point in his life. 
About eight years ago, following a breakup with his wife, Kusznier decided to lose some weight. Weighing over 300 pounds, he got onto a fitness plan. He began walking, then running, ultimately setting his sights on competitive races and triathlons. 
When the COVID-19 pandemic hit and folks sheltered in place, Kusznier found himself getting more involved with Northern Trail Runners. He answered questions from newcomers on Facebook, shared photos online, and led small groups on trail runs in a time when the first wave of pandemic lockdowns loomed over the community. 
Northern Trail Runners meets weekly on Wednesday and Sunday, and has around 15 regulars who show up every session. 
"I found, especially in the last two years with COVID, that I wanted to help and engage people to get out and do things," said Kusznier. "Lots of people were locked in, there were a lot of people out walking, but I tried to engage people to go out for a trail run." 
While about 10 people joined her Facebook group in 2019, Hall says the pandemic helped grow Northern Trail Runners to a group with over 500 members. 
As COVID led to a slew of race cancellations, Hall helped lead virtual ones—including a 5k "cupcake run" and half marathon—that helped inspire local runners and provide more opportunities. 
It was through these virtual races that Ritchie got involved with the group and completed a handful of runs with some members. 
"In the time right now, we're in a pandemic, community is really important," says Ritchie. "A lot of the ways we communicate is through social media. I see a lot of their posts, I follow what they're doing, I support them." 
RELATED: Laura Cortez Builds Community On And Off The Trails
While the group advocates for folks of all backgrounds to run, Hall also mentions the importance of acknowledging the significance of the Indigenous land they run on. 
"I've noticed, probably everywhere, but especially in Thunder Bay, a lot of the trail running, cross country skiing communities, there's not a lot of diversity. You don't see other Indigenous runners all the time," says Hall, whose father is Native American. 
Hall began hosting coaching sessions last winter for folks just beginning to get into running or wanting to set up a consistent monthly training plan, and hopes to hold more virtual races in the future. 
Two years ago, the uncertainty of making It on Facebook stressed her out. Today, she's found a huge community through that vulnerability, and is helping others connect through those weekly group runs. 
"Just getting the word out there and making [group runs] fun and accessible for people," says Hall. "Is my happy place."