Graduating From College Track to Professional Trail Running
Brooks adds Stanford's Meika Beaudoin-Rousseau to its growing trail running team
Heading out the door? Read this article on the new Outside+ app available now on iOS devices for members! Download the app.
Traditionally, when most collegiate distance runners have completed their NCAA eligibility, they turn to the marathon. 
For years, the primary option for collegiate distance runners with experience in cross country and 5,000- and 10,000-meter racing on the track was to immerse in high-mileage training after graduation and try to qualify for the U.S. Olympic Trials Marathon. That's still happening, and the 2024 U.S. Olympic Trials Marathon will be chock full of postcollegiate runners who have made it a priority to reach the qualifying standards (2:18 for men, 2:37 for women) a main priority.
But another trend afoot that's started to emerge—especially since the end of the Covid-19 pandemic—is the prevalence of young college runners going directly into mountain running and ultrarunning. The latest to do so is newly minted Brooks trail running team member Meika Beaudoin-Rousseau, a recent Stanford graduate from Sunnyvale, California, who was a strong cross country runner for the Cardinal with a 13:39 personal best for 5,000 meters on the track.
He's excited to get back into the grind of short-distance mountain running at the Cirque Series race on August 26 at Grand Targhee ski resort in Wyoming.
"Growing up my family was super outdoorsy, and so those kinds of adventures were what I loved to do most even before I was running competitively," Beaudoin-Rousseau said. "And then as soon as I discovered that world of competitive trail running, I was like, 'This is absolutely what I wanna do when I finish up college."
Beaudoin-Rousseau finished seventh in the 2021 U.S. Mountain Running Championships, a 6-mile race held in Government Camp, Oregon, and last year placed ninth in the Vertical K at the Broken Arrow Skyrace in Lake Tahoe. This year, he finished third in the Broken Arrow 23K race behind pro runners Eli Hemming and Chad Hall, and then in July, he won the 25K race at the Quebec Mega Trail event in Canada, covering the course in 1:48:11 and outrunning runner-up Samuel Poher by seven minutes.  
RELATED: Course Records Drop at the 11th Annual Quebec Mega Trail
Next up, he'll be racing in the Golden Trail World Series events held in conjunction with the Pikes Peak Ascent on September 16 in Manitou Springs, Colorado, and the Mammoth 26K September 22 in Mammoth Lakes, California. If all goes well, he'll compete in the Golden Trail World Series Finals (which includes a 5K prologue race and a 25K race) held in conjunction with the Il Golfo Dell'Isola Trail Race on October 20-22 in Liguria, Italy.
While Beaudoin-Rousseau says he eventually wants to run a fast marathon—perhaps as soon as the California International Marathon on December 4—his primary focus going forward will be running fast on trails. He's eager to get away from the rigid structure of track training, but has no immediate plans to run any ultra-distance races.
"When I'm doing workouts, I'm so used to being centered on pace," he admits. "But with trails, everything is different based on the terrain, how steep it is and if you're going up or down. So I'm really trying to learn to dial into those zones of effort just to be in better touch with my body and how I'm feeling. But I already love everything about trail running. The trail running community is amazing and the whole race environment feels almost like a festival atmosphere, which is so much fun."
Brooks has increased its presence in the U.S. trail running scene over the past several years by signing established competitors such as Hillary Allen, Joe "Stringbean" McCongaughy, Cat Bradley, Dan Curts, Mario Mendoza, and Kimber Mattox. 
By signing Beaudoin-Rousseau and Anna Gibson, it has added young talented runners who will immediately be able to compete in the fast-growing discipline of mountain running. While ultrarunning races have dominated the U.S. trail scene for years, the shorter, faster and more dynamic action of the GTWS is gaining traction around the world with enormous TV exposure. (The recent Sierre-Zinal race was broadcast in more than 80 countries worldwide by Eurosport and other cable TV outlets.) It's yet to gain exposure in the U.S., but the livestream broadcasts of its races are available on YouTube.
"I definitely sense times are changing," says Jordan Hamm, a Senior Sports Marketing Specialist for Brooks, who manages the Brooks Trail Team. "It's definitely a good time to be a collegiate athlete if you have any interest in trail racing or have any background in it. And, just in general, shorter distance trail races are a much easier gateway into trail racing. Doing a trail 10K or a trail half marathon is a lot easier for anyone than signing up for your first 100K or 100-miler. It's definitely relatable for any road runners looking to get into trail running."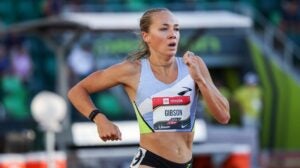 Gibson, a cross country runner and 1,500-meter specialist for the University of Washington, made her trail running debut by winning the women's Vertical K race at the Broken Arrow Skyrace on June 16, and taking second to Allie McLaughlin in the 23K two days later. 
Gibson has expressed an interest to continue running on the track while she pursues trail running in earnest and, if she remains in Seattle, she could train with the Brooks Beasts Track Club. She'll be running for Team USA at the Challenge Stellina race in Susa, Italy on August 27. That's an 8.8-mile uphill race with 5,400 feet of vertical gain. 
"I want to do both trails and track, and maybe some racing on the roads, too," Gibson said. "I think my 1,500-meter training actually lends itself really well to running on trails."
Additionally, Lauren Gregory just signed to run for the Nike Trail Team after finishing her collegiate career at the University of Arkansas. She placed second in the mile (4:34.24) at the March 11-12 NCAA Division I Indoor Championships. Meanwhile, former University of Utah skiers Sophi Laukli and Sam Hendry have both signed with Salomon. Laukli is already one of the world's top mountain runners, having won the Mont-Blanc Marathon and Sierre-Zinal on the GTWS circuit already this year.
"When I went into college, I was already certain I wanted to run trails when I was done with school," says Gregory, who grew up in Fort Collins, Colorado. "It was just how we trained in the summer. We would just run up near Horsetooth Reservoir every Friday in the summer and do our long runs on trails. It was just so much fun to be running out there with my team. I just love being out there running on the trails."
Meikael Beaudoin-Rousseau, Gibson, Gregory, and Hendry were all named to the inaugural edition of The Trail Team, a postcollegiate developmental team to encourage young college runners and skiers to get into mountain running.
"When you get out of school, there's really no roadmap for how to get into trail running," said Andy Wacker, who founded The Trail Team earlier this year to help develop young sub-ultra-distance trail runners and eventually steer more young athletes into competitive trail running. "In talking to runners, most said they didn't know how to train, which races to run, or how to find a coach. The goal of The Trail Team is to give them support to find their way into the sport and make trail running a first choice."
RELATED: Building a Path to Becoming a Competitive Trail Runner