Five Ways to Set Your 2023 Goals Like the Pros
How elite trail athletes set goals....and stick to them.
Heading out the door? Read this article on the new Outside+ app available now on iOS devices for members! Download the app.
New year, new goals. 
Goals can be a great motivator during tough times and, when chosen wisely, they can offer us a light at the end of any dark and challenging tunnel. 
However, according to a University of Scranton study, only 8% of people who set new year's resolutions actually achieve them. So where are things going wrong? What do we need to do to actually achieve the goals we set?
Elite runners often have a knack of juggling both life and athletic goals exceptionally well. But nobody was born knowing how to set goals. It's a process of trial and error, setting and resetting those benchmarks so your goals don't end up like the gym membership that got purchased on New Years Day and is left languishing on February 1.
Fellow Saucony runner Katie Asmuth (who was 5th at the Western States 100 back in June) and I (Grayson Murphy) got together to identify a few steps we take to choose our goals and stay on track to make them reality. 
Be tangible and specific
Choose measurable goals that are both challenging and motivating. If just the thought of it fills you with dread, scale it back! Juggling life as a mother of 2 and nurse practitioner, Asmuth chooses her most important races each year in coordination with her partner, who is also an endurance athlete. That way, they can schedule their training around the ebbs and flows of life. Asmuth also emphasizes the importance of specificity in her goal setting. For example, instead of an open-ended goal like "don't get injured," she tries to think of the specific elements that make up that larger  idea, like "strength and mobility twice a week" or "take a rest day." 
I like to pick goals that give me a feeling of nervous excitement. This means that they're big enough to be challenging but reasonable enough to keep me focused. I also try to identify the intrinsic motivations that make me want to go after a certain goal. In the past I have chosen goals based on what I thought it would make other people think of me. Is it surprising my heart wasn't really in them? Choosing goals that focus on my own deep desires, like pushing myself to try new things, is a much more sustainable, fulfilling approach that is more likely to lead to success. 
RELATED: How To Up Your Trail Running Game
It's the journey, not the destination
Most athletes spend 80-90% of their time working toward a goal race, and then only one day on the race itself (unless you're into multi-day adventures). That's an awful lot of time to spend stressing and worrying about whether you're going to make it or not, so reframe things to make the process just as important as the outcome.
"It's all about the long game, but if you aren't happy in the moment, then that long-term goal may not be the best one for you," says Asmuth. "You want to be fulfilled and happy while trying to achieve a goal". 
To keep myself present in pursuit of my goals, I like to think of each step as a building block. I use the habit tracker in my Training Log + Planner to focus on daily and weekly goals, like doing my strength exercises, making sure I recover properly, and checking in on my mental health with meditation. I know that consistency in these smaller steps will give me the base I need in order to stack my bigger goals on top. We're building a sturdy pyramid of bricks, not a house of cards!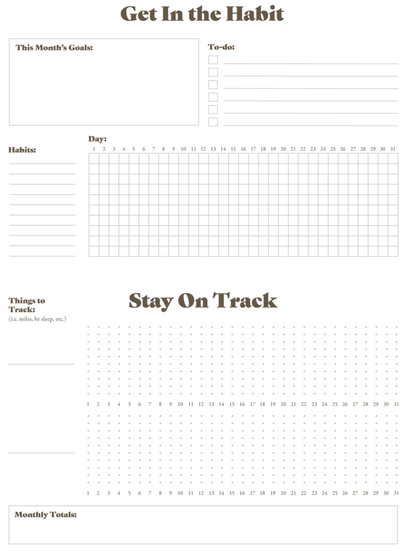 Write it down
Many runners rely on training logs to keep track of their training and goals. Asmuth uses a journal to flesh out her objectives, along with a digital version of her training log in an online spreadsheet. This allows her to update her training and goals on the go. I created my own Training Log + Planner for the specific purpose of keeping my goals, training, journaling, and personal life all in one place. 
Writing your goals down is a great way to hold yourself accountable to not only the goal itself, but your plan for achieving it. Keeping all of my personal and athletic goals in one place gives me a more holistic perspective on my life-sport balance. This is critical for every runner's mental health, because at the end of the day, we're a lot more than our athletic accomplishments, whether we're world champions or just out for our daily jog.
Steadfast in pursuit, flexible in approach
It's important to remember that sometimes no matter what we do, life gets in the way. While we all want to defy the odds and accomplish our goals, sometimes there is value in a more flexible approach and a goal pivot. Asmuth likes to keep at least 2 primary goal races on her calendar at all times so that no matter how those races go, she always has something else down the line. She also recommends getting comfortable adjusting your timeline. Injuries and other life interruptions happen, but you might not need a new goal altogether! Sometimes more time is all you need, and that flexibility is the sign of a healthy relationship with your goals.
RELATED: Six Ways To Set More Mindful Goals
To stay flexible in pursuit of my own goals, I employ an "A,B,C" system for my yearly goals and for each race. On an annual level, this means I give myself goals that range from "win Mountain Running World Championship" to "stay injury free" or "read 25 books". This means that if I have an A+ year and the stars align I can shoot for a world championship win, but if I have a B or C+ year then I still have some goals to shoot for, because no year is a waste. I use a similar strategy with races: I pick an A, B, and C goal so that no matter what happens, I can be happy with my performance. For example, in my most recent race at the U.S. Road 5K Championships, I did not accomplish my big A or B goals of making the podium or finishing in the top 10, but I did accomplish my C goal, "don't hate the start line. That means it was still a successful race, because I was able to be flexible and realistic with the circumstances. 
Celebrate success ALWAYS!
While enjoying the process is important, don't forget to celebrate your successes along the way. Asmuth intentionally sets aside time for gratitude and finds something to celebrate even on the days that don't feel so great. She sees races themselves as celebrations of her hard work regardless of outcome, and she plans post-race trips with her family to make sure everything stays in perspective. 
I like to celebrate my successes by journaling in my training log as post-race decompression. Letting my thoughts, emotions, and energy flow freely onto the page helps me process the highs of reaching a goal and the feelings that come from falling a bit short. It gives me a chance to recognize the value of my hard work and lets me revel in a sense of intimate and genuine pride. 
Remember, your goals are just for you. Nobody else gets to define what success looks or feels like; you get to chart your own course. Don't be afraid to dream big (it should feel a little scary!), be specific, stay flexible,  enjoy the process, and celebrate success. And if you're looking for a great training log to use as a tool to help you achieve your 2023 goals, you can find mine here: Racin' Grayson Training Log + Planner.  This is a training log and daily planner I created that includes mental health prompts, habit trackers (like the one above), a race schedule and a goal setting page. All of these tools are designed to help you live your healthiest life so that you can stay on track achieving your biggest life and athletic goals! 
Grayson Murphy is a World Mountain Running Champion, two-time U.S. Mountain Running Champion and creator of the Racin' Grayson Training Log + Planner.