Elsey Davis Sets Winter Record on the Bob Graham Round
The UK-based trail runner just raised the bar on one of the UK's gnarliest routes.
---
Join Trail Runner Magazine
Create a personalized feed and bookmark your favorites.
Join Trail Runner Magazine
Create a personalized feed and bookmark your favorites.
Join for free
Heading out the door? Read this article on the new Outside+ app available now on iOS devices for members! Download the app.
On January 6th, British fell runner Eleanor (Elsey) Davis broke the women's record on the Bob Graham Round, a gnarly test piece that's a staple of the UK trail scene. Davis lowered the record by 21 minutes to 20 hours and 21 minutes (ultra legend and Western States Endurance Run champion Beth Pascall currently holds the summer record). Davis, 33, from Cornwall, works as a doctor, though she is on a brief pause in her career to focus on running and racing. 
Davis is an accomplished runner, with top finishes at the Eiger Ultra Trail in Switzerland, the Scafell Marathon, a third-place finish in the Golden Trail World Series final, and competing for Britain at the World Mountain and Trail Running Champs. The history and community surrounding this route drew Davis back, with its forty-plus fells, to recon the route. Davis says she was inspired by Pascall's stout summer record (Pascall's husband paced Davis for a leg of the round) and wanted to feel connected to the history of strong women completing the route. Davis was also crewed by her wife, who handled everything from logistics to walking Davis through checkpoints, encouraging her with words and mashed potatoes in hand. 
"Every time I got to the checkpoints, I couldn't stop crying," says Davis. "I had never done an ultra, and it just felt so emotional. I think when you're married to someone who does stuff like this, it's quite full-on as well."
The Bob Graham Round
This classic fell running (what we call mountain-running, stateside) route combines over 100K of scrambly scree, onerous bogs, and a final, punishing road segment to fully extinguish any adventurers' already spent quads. This kind of choose-your-own-masochism might deter many runners, but the payoff has the potential to embed itself deep into a runner's psyche.
"I"ve always loved that area," says Davis, speaking from the front seat of a moving van just hours after her record, because, Bob Graham Round or no Bob Graham Round, sometimes you just gotta move. "I'm really drawn to it. I get it. When I'm there, I just feel really relaxed. All my worries are washed away." One runner's nightmare (read: frozen bogs) is another's spa day. 
"Each leg of the round is really different, and each offers a different challenge. I had never done anything like it before, and I wanted to put my body through a different kind of challenge to find out a bit more about myself," says Davis. 
According to the Bob Graham Club, for an attempt to be considered sufficiently wintery enough to qualify for the record, it must be undertaken between December 1st and the last day of February. The route traverses 42 fells in 66 miles, with 26,913 feet of gain, which is difficult any day of the year, but particularly arduous in the Lake District's infamously fickle winter weather, when gale-force winds whip the fells' grimy granite and the bogs rise to become quad-deep quagmires that all but obliterate any thought of efficient movement. Snow isn't just expected, but a welcome break from the skin-tearing granite and bone-chilling wet of the bogs. Any record attempt is already reconciled to a suboptimal weather scenario. 
RELATED: Men's FKT of the Year: Jack Kuenzle's Bob Graham Round In England's Lake District
The history and community surrounding the route drew Davis back to the forty-plus fells to project the route. Named after runner Bob Graham, who first completed the route in under 24 hours in 1932 (though ambitious Lake District visitors have been pitting their legs and lungs against the route since the first recorded long-distance full Round in 1864), there are no "FKTs" (fastest-known times), only records kept by the Bob Graham 24 Hour Club, an organization that's been stewarding the route and all record attempts since 1971. 
Anyone who finishes the round in 24 hours or less is invited to join the club and attend a swanky, annual club dinner in October, where adventurers swap stories and compare hard-won battle scars from the peaks and peat. The round consists of five legs that push runners to find the most efficient route between peaks, which is rarely the actual trail, and requires advanced mountaineering techniques like butt-scooting. 
"Loads of the descents are just scree," says Davis. "I would just slide down on my bum to save my legs. That's faster than running and gives me a few seconds to rest my legs. So that's fun."
The Winter Round
The winter route isn't simply the Bob Graham round, but colder.  It's an entirely different beast, requiring specific skills and gear. For the attempt, Davis wore a pair of custom North Face shoes with an integrated gaiter to combat snow and bog water, as well as ski goggles to try to preserve some semblance of vision in the high-mountain snow squalls.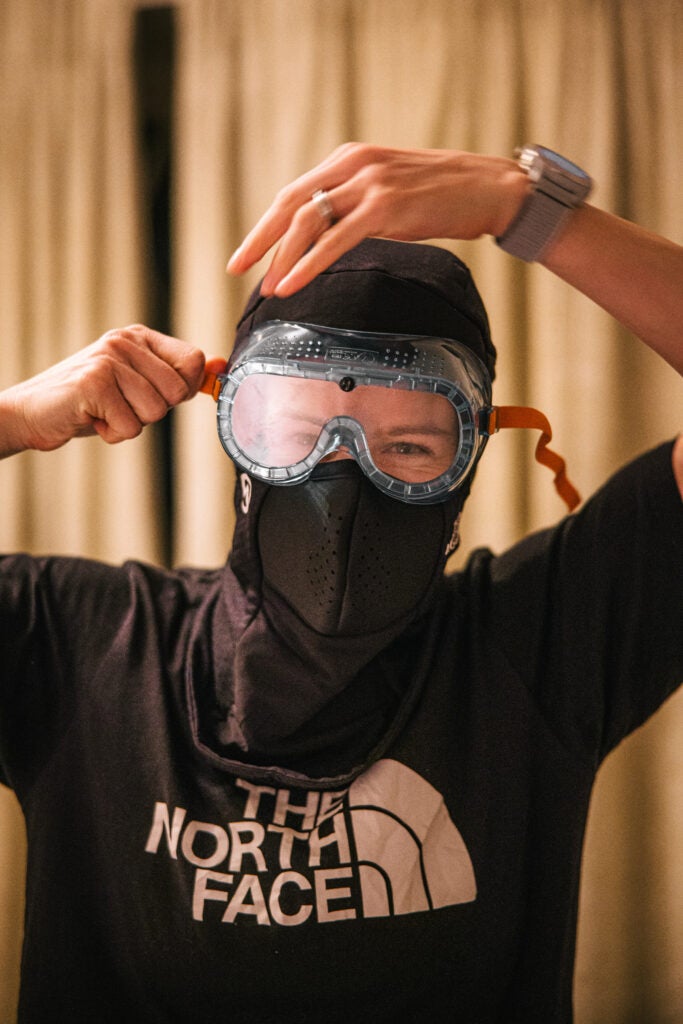 "I went out knowing that it was going to be bad, but that it probably wasn't going to get worse while I was out there," says Davis. "It was so windy that it was difficult to descend. On the plus side, at points, the wind was kind of blowing us up the mountain."
Any help is welcome when the aspect can top out between 40-50% gradients. "Nothing about it is gradual. The biggest challenge for me was the amount of elevation. It's just a lot to put in your legs going up and down that," says Davis. 
RELATED: The Ultimate Guide to Uphill Trail Running
To prepare, Davis implemented a Killian Jornet-approved uphill training routine passed down via UK runner John Albon. Davis would find a long, steep hill and alternate between sets of bounding to emphasize strength, and quick feet to practice agility and maintain a high cadence. 
The Bob Graham Round's rugged allure has tugged at the heartstrings of many runners, but Davis said she's glad to have exorcized her curiosity for now. 
"That was my first real ultra experience, and I think I just want to stick with shorter stuff for at least another year," says Davis. "It's just exciting to be a part of a long line of history, and it has so much prestige, especially in the UK. It's like a great, mystical thing. The mythical side of it is what drew me to it."