In Defense of Adventurous Mothers
The death of Hilaree Nelson highlights a double standard that still exists with mothers in the adventure world
Heading out the door? Read this article on the new Outside+ app available now on iOS devices for members! Download the app.
After the death of the great ski mountaineer Hilaree Nelson, many of us are—again—contemplating the balance we try to strike as adventure-loving outdoors people who are also parents. Pursuing the activities we love, which are sometimes dangerous, can feel at odds with our dedication to our children.
Outdoor mothers, of which I am one, navigate a third pressure, which often feels unfair: a harsh double standard that society holds for us, while adventurous fathers seem to be largely immune. The discourse around Nelson's death has reminded me of one of the saddest stories I ever had to cover, 27 years ago.
In 1995 the British alpinist Alison Hargreaves died at age 33, her children tiny: the boy, Tom, only six and Kate age four. The detail that kept me awake the night that, at a trade show in Las Vegas, I found out about Alison's death was of how she would slip out of the house for trips without saying goodbye, because Kate always cried. Alison dearly loved her children and missed them terribly in the mountains, to the point where she almost packed up and left on K2 when the year's season, her last, stretched out interminably. She summited and then died on the descent, probably blown off her feet.
But she wanted to climb K2, shared purposefulness and sometimes obsessiveness with many a great climber, and felt that climbing the world's second-highest peak would cement her career as a professional mountaineer, then an emerging concept. Alison had already soloed six faces in the Alps in a season, her family camped out in a car below; and had climbed Mount Everest alone, unsupported, and without oxygen, finishing feeling not wasted or even merely solid: "I felt great," she told me. At the top she wept with joy. She hoped to become the first woman to climb the world's three highest mountains, including the 28,169-foot Kanchenjunga, without supplemental oxygen.
I spoke to Alison on the phone in 1995, after Everest, having in autumn of 1994 traveled to her home country, England, to interview her for a long profile in Climbing magazine.
It has sometimes seemed as if nearly a generation of British male alpinists ahead of Hargreaves had been wiped out. One prominent climber from the era, Brian Hall, notes that he tied in with 24 friends, of whom seven—including Joe Tasker, Alex MacIntyre, Al Rouse, and Pete Thexton—were killed in the mountains. The sweeping losses gave him the impetus to write his new memoir, and also gave him the title, High Risk: Climbing to Extinction, when a line in a file of magazine obituaries caught his eye: "The generation that climbed themselves to extinction," as he recalls in the book. "That was my generation." The book is divided into 11 chapters, each for a lost friend.
Many of these climbers were in their early 30s and not yet married or in longterm relationships, but among those memorialized are Rouse, who died on K2 in 1986, leaving a pregnant partner, and Paul Nunn, who had two daughters when he was killed in the Karakoram in 1995. The revered alpinist Doug Scott, another survivor of the era (though since lost to natural causes), was a father, as was Sir Christian Bonington, a few years older than Doug (Chris Bonington, who was knighted, is thankfully still with us). Doug, who was made a Commander of the Order of the British Empire (one rank below a knight) by the Queen, said he accepted the possibility of death every time he left on an expedition.
RELATED: A UTMB Participant Died on Course. Is the Race Too Dangerous?
Yet Alison's death was the one that brought the issue of parenting and risk taking into mainstream conversation.
During Alison's lifetime a columnist in the Times of London lambasted her "reality-denying self-centredness."
That was while she was still alive. After her death, it seemed open season.
In fairness, some of the attention may have been tied to Alison's decision to reference her children as part of her public persona. She had begun doing lectures, still mostly to outdoor groups (at least before Everest), and having a family was one of her themes: "I have a much broader appeal because I am a woman and I have got the children," she said.
But life is complicated, and Alison too accepted a partial double standard.  I have always been sure it is no accident that the great movie Saving Private Ryan shows two dying soldiers calling for their mothers. "It is different," she said. "I think the mother is more important to the child than the father. It's a terrible thing to say, but you carried the child, you bore it. A father can make up for things, but can't bridge the gap."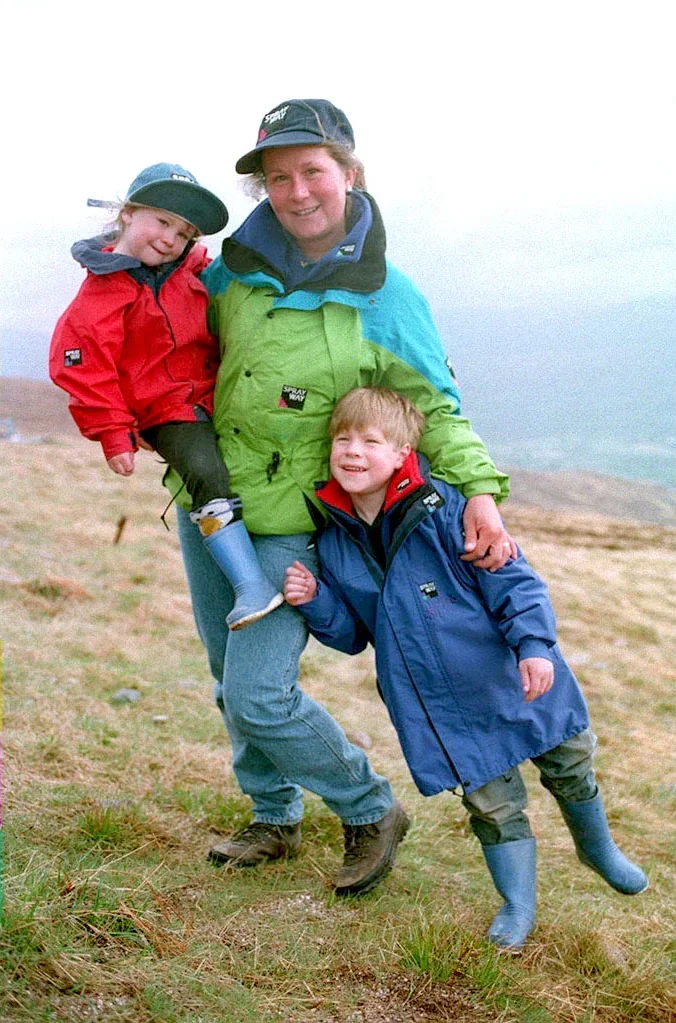 Hilaree Nelson was part of, and instrumental to, a change in how women athletes who had children were viewed. She has written that at the time of her pregnancies, they were considered in the same vein as injuries. Then, in 2012, she climbed Lhotse and Everest in a 24-hour push, and her career took off.
"Outside did a full feature on me, 'Mother on the Mountain,'" she wrote on this website. "There was for sure some negative feedback, 'How on earth can you do this and be a mother?' But the overwhelming response was incredibly supportive. I feel like that story played a role in changing the way media and brands looked at women in the mountains. …
"There was so much amazing support for me. Compared to 15 years earlier, British climber Alison Hargreaves had two kids and died coming down from K2. She was totally vilified for climbing Everest and other big mountains while being a mother. I was lucky to be part of the change."
Now here we are again. From two posts in The Washington Post comments section, below an account of Hilaree's life and death:
"And now two children without a mother. Sad."
Wrote another:
"It's … possible her children would have preferred that she be a teacher or accountant or something and be alive to hold her grandchildren.
"Her life, her choice; no one is saying any differently. But stop trying to spin it to be something other than the utterly selfish and self-gratifying choice that it was."
When the pro skier Cody Townsend posted a heartfelt tribute on Facebook, saying what Hilaree had meant to him as a role model and person, most comments were loving and supportive, yet a commenter wrote that Hilaree "selfishly subordinated her love of adventure ahead of her family and kids. What a shame and a waste." The commenter was properly eviscerated by a woman who wrote, "Is that what you say when other mountaineers and athletes pass away? Or just because she's a woman so her place is in the kitchen? Also you used the word subordinated wrong and your sentence makes no grammatical sense in addition to being completely asinine."
Another of the commenters in The Washington Post wrote: "I too blame north face, they should perhaps not sponsor parents with children." Now we're getting ridiculous.
You get the idea, and the criticism is mostly from non-climbers and non-mountain people. But as someone who has monitored mountain literature for a long time, I can attest that such widespread criticisms do not follow father alpinists. Let's go back to the last century. Ernest Shackleton, admired as one of the greatest and most spirited explorers of all time, had three children (I've only just learned that) when he sailed away, again and again, eventually dying of a heart attack in the Antarctic at age 47. The leading climber Dave Cheesmond had a daughter when he was killed, along with my friend Catherine Freer, on the Hummingbird Ridge, Mount Logan, 1987.
John Roskelley. George Lowe, his cousin Jeff Lowe: all did significant climbs as parents (all thankfully coming out unscathed).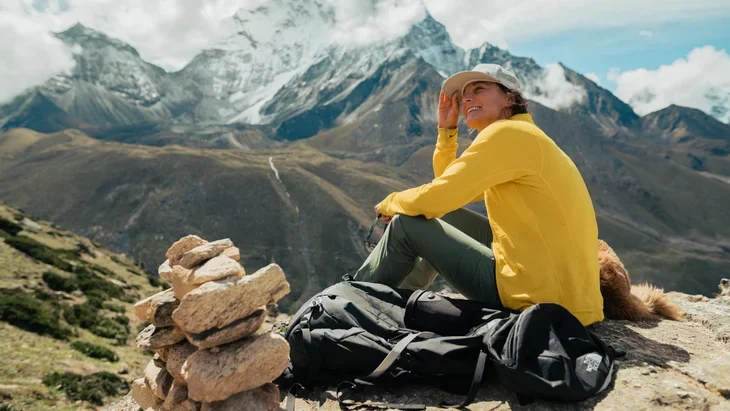 I remember thinking after Alison's death, If you're going to criticize her, then you'd have to be prepared to criticize Alex Lowe, brilliant climber and father of three, if something were to happen to him; never dreaming that his death was on the horizon. We all reacted with pure heartbreak and still mourn him.
Alex had worried about it. He told me in an interview that he wasn't fooling himself: "I know what kind of devastation I would leave behind." And in fact he seemed to be winding it down when he died in an avalanche on Shishapangma in 1999 at age 40, along with Dave Bridges. What about Doug Coombs, who died ski mountaineering near La Grave, France, trying to rescue a friend who had washed down an icy cliff? He left a child and unadulterated sorrow. Please, put your emotions to concern and sympathy for Hilaree's two sons and her life partner, Jim Morrison. And all bereft family and friends.
Had Alison, Rob Slater, and the four others lost on K2 in 1995 returned safely, they would have been feted as heroes. Instead the world suffered their loss, and some judged. In the profile of Alison, which came out posthumously, I wrote that the tragedy was especially painful to women climbers, many of whom were trying to sort out dueling obligations to self and family. "We felt for her, trying to pursue those dreams. Some thought of those kids and wondered, well, had she been selfish? But we cannot judge that, not unless we are prepared to judge the entire pantheon of lost climber fathers." Or risk-taking fathers. How many of the men in the Everest disaster of 1996 had children or pregnant partners? Plenty. But observers view women's deaths differently.
Brian Hall, author of High Risk, emails: "Sad as it was, Hilaree's death follows a long list of mountaineers who have perished in the mountains. … Whether she had children or not, it was her personal choice. She must have gained huge satisfaction attempting adventurous projects. This time it did not work out.
"I was once a mad keen skier with an appreciation of extreme mountain skiing. When I heard that Hilaree had skied the Lhotse Couloir [in 2018, with Jim Morrison], I was absolutely astounded. Respect. She leaves a legacy that can never be taken out of mountaineering and culture."
Most climbers will live to see their children grow up. We can all only draw our own lines in the sand, and manage risk carefully, vigilantly. Even so, much is prone to luck. I nearly met disaster in the relatively safe genre of sport climbing, on a sunny September day about ten years ago, when a non-climber knocked down a mega rock that bounded toward my friend and me. I wasn't even climbing, but sitting on a rock eating a sandwich. I jumped up, cowered against the cliff and behind a tiny tree; saw the spinning disk come right at me. It hit the wall and tree—which, believe me, has never been the same—and split into three pieces, one of which caught me in the chest, spun me around, and knocked me 20-plus feet down the gully. The rock was 40 pounds; it's still there. My two boys were teens, as are Hilaree's.
RELATED: WATCH: Coros Convos with Kilian Jornet and Tommy Caldwell
I met Hilaree many times through her work as a (volunteer) board member for the American Alpine Club, where she took her service seriously, and I always very much liked and respected her for her warmth and thoughtfulness as well as strength. Hilaree was "unapologetic," to quote her close friend and mentee Emily Harrington (now expecting a baby) about adventuring, and she encouraged other women to be themselves.
Caroline George, a mother and international alpine guide (technical coordinator for the "100% Women Peak Challenge" that put 80 women atop the 4,164-meter Breithorn this past year and 700 total women on all 48 of Switzerland's 4000-meter peaks last year, all safely), posted this on Facebook, crediting Hilaree for legitimizing her life choices. See the last line:
"I have infinite gratitude for her journey on this planet and for the legacy she leaves. A father who falls in a crevasse, well he was out there living his dream. A mother who falls in the mountains will be judged a lot harsher. … She gifted me these words when … I was [seeking] my path as a mother: 'As for not seeing your little girl grow up—it won't be because of what you do or don't do in the mountains. It would only be because death is part of life.'"
Alison Osius is a senior editor at Outside and was the first woman president of the American Alpine Club. She is the mother of two sons.