Dean Karnazes Is Still Running Inspired
How the trail running legend continues to inspire others after years in the sport.
Heading out the door? Read this article on the new Outside+ app available now on iOS devices for members! Download the app.
When it comes to trail running, Dean Karnazes has seen or done just about everything.
He's been a front-of-the-pack competitor, a charismatic ambassador who's played a big role in the sport's massive growth, a longtime athlete ambassador for The North Face and a best-selling author who's inspired the masses, and perhaps ruffled the feathers of some longtime runners, too. 
But lately, he's been an aid station volunteer and a middle-of-the-pack slogger. Still super fit at age 58, more than anything he's just a dude who loves trail running. He's involved with the new Speedland trail running shoe brand and planning to run 1,000 miles in 10 days across Australia.
Although Karnazes has 12 Western States and 10 Badwater Ultramarathon finishes among the 75 or so ultra-distance races he's run since his first one in 1994, he says in his new book, "A Runner's High: My Life in Motion," as much as he enjoy races, it's not what he has lived for.
RELATED: The Man Behind Ultramarathon Man
"To me, running is a grand adventure, an intrepid outward exploration of the landscape and a revealing inward journey of the self," Karnazes writes. "Those are what keep me going, the lust for exploration and the quest to better comprehend who I am and what I'm made of." 
Mostly, he says, running has been an experiential trip, not a desire to wind up on the podium. And starting with his first Western States 100 in 1994, wow, what a long, strange trip it's been.
Karnazes' best Western States finish — fourth place in 2003 — came at the age of 40. The next year, he won Badwater, the only race he says he explicitly set out to win. That's when things really started to really take off for him and, not coincidentally, for the sport of ultrarunning, too. No, he wasn't the only catalyst to the sport's growth. There have obviously been hundreds of amazing athletes, compelling performances around the planet and key athletic and societal trends that all contributed to the rise in popularity. But "Karno" definitely played a big role.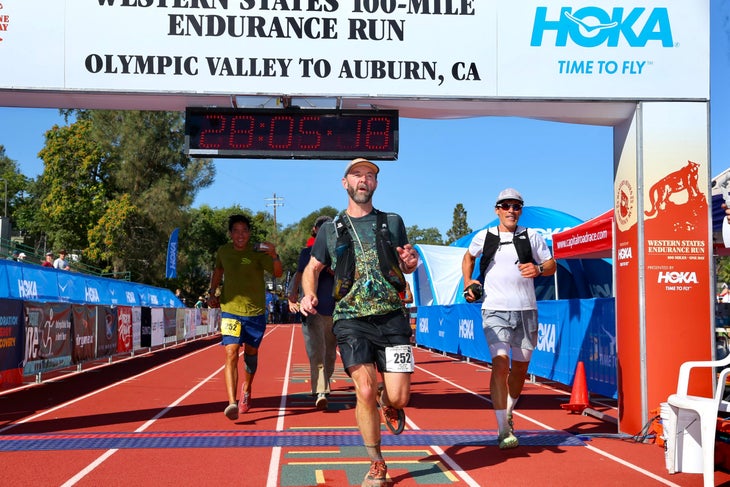 Who Is Ultramarathon Man?
He started to gain notoriety as a larger-than-life personality when the mainstream media began to take note of his ultra results and peculiar feats like running the 199-mile relay from Calistoga to Santa Cruz as a solo runner, running 350 miles in 80 hours without any sleep and, of course, running 50 marathons in 50 states in 50 consecutive days in 2006. 
His first book, "Ultramarathon Man: Confessions of an All-Night Runner," became a New York Times best-seller that year and made him a household name outside of the sport. While that book was about some of his crazy early exploits that often left him sleep-deprived or hankering for a pizza midway through a 40-mile training run, his newest book is about his return to the Western States 100 in 2018 — after missing out on the lottery but getting accepted from the waitlist — with compelling storytelling about many of the people he's interacted with or encountered through his trail running odyssey: his parents, his wife and kids, close friends, random runners he's met and run with during races and even Michelle Obama.
No matter what level of trail runner you are or hope to become, it's a fun and introspective read that really touches on the authentic, glorious, frustrating, funny and downright odd aspects of the sport.
"I knew this needed to be book about a runner's high, something that speaks to all runners, not just to one guy," he says. "The struggling, the suffering, the 'why we do this' and the aspects of rebirth and redemption, all of those things that are common to all of us. So I didn't want it to be about one guy chest-pounding and running hundreds of miles. I wanted it to be relatable and approachable based on good story-telling."
Growing the sport — and sharing it with as many people as possible — has always been one of Karnazes' biggest motivations. In 2003, there were only about 18,000 ultrarunning race finishes in North America. But that number ballooned to more than 50,000 by 2010 and 127,000 in 2019 — a time when the sport grew globally to more than 350,000 race finishes. U.S. races have remained notoriously smallish in size because of permitting logistics on public lands, but the number of events has grown tenfold. 
Ultrarunning also morphed from a regional/domestic recreational activity to a legitimate international sport with high-level global competitions.
"I never thought I would see ultrarunning getting to that point in my lifetime," Karnazes says. "Seeing the interest and the growth is amazing. Getting more people out and getting more people on trails is good for everyone, not just from an ultrarunning point of view but for people running shorter distances and just getting started. I see nothing but upside, especially for the environment because as soon as someone sets foot on a trail they start to appreciate and care for the natural world more."
RELATED: In New Book, Dean Karnazes Explores Ancient 'Ultrarunning,' Then Tries to Recreate It
Building Community
Twenty years ago, old-school purists lamented the growth of the sport, fearing the tight-knit community feeling would dissipate. But with the growth has come inclusion, albeit slowly, that has attracted a wider range of runners from different backgrounds, with different body types and varying athletic abilities.
Karnazes views the growth of ultrarunning much like the growth of surfing — his other big passion as a kid.
"When I was growing up, surfing was like trail running was 20 years ago, small and authentic," Karnazes says. "All the old-timers say it's too crowded and too popular now, but when I talk to kids who are into surfing they're just as stoked as I was about it when I was a little kid. They don't see the crowds. And with trail running, it's a big change for the old-timers, but the new people love it as much as ever and so many people at WS100 are first-timers and they all have that twinkle in their eye that says "wow" when they are in the Olympic Village and sense the lore of it all. And they're just as fired up about it as I was for the first time in 1994."
Still, amid the huge growth period of the last 15 years, Karnazes became an easy target who took some flack as a promotional huckster for some of his events that attracted a lot of media attention. Perhaps some of the angst was because it was so odd to see an ultrarunner chatting with David Letterman, Conan O'Brien and Howard Stern, making appearances on The Today Show, 60 Minutes and ESPN or being featured in the New York Times and the cover of Runner's World when no one else from the sport received anywhere close to that kind of attention.
Karnazes, though, has always been his own man and, as a result, became the pied piper of a whole new generation of trail runners and ultrarunners. Newcomers to the sport are still awestruck when they see him — as they were at his pre-Western States book signing three weeks ago — many of whom read his books long before they thought about doing their first ultra. Now those neophytes are qualifying and running Western States and immersing in the same community feeling that Karnazes has always loved
"For people who don't know him but only know the persona, they don't realize he's really just like the rest of us," says Scott LaPlante, a 48-year-old ultrarunner from Tigard, Oregon. 
LaPlante should know. He met Karnazes at Western States in 2019 at the Rucky Chucky 78-mile aid station. While waiting for the friend he was crewing, LaPlante watched the Western States documentary playing on a big screen TV. After seeing Scott Jurek and Ann Transon highlighted on the screen, the narrator said, "And here comes Dean Karnazes." And with that, came a tap on LaPlante's left shoulder and a voice saying, "I know that guy."
"I turned around and it was Dean," LaPlante says. "I don't know if he was volunteering or crewing, but we talked for a bit there and had a nice conversation and then I later followed up with an email to tell him how awesome it was to chat with him."
Runner, Pacer
Fast-forward to this year and LaPlante was gearing up to run the Grand Slam of Ultrarunning — running four of the original 100-milers in the same summer — when his pacer for Western States told him he had a bad back and an injured knee. His first thought was to see if Karnazes would fill in and help him out.
"I thought, 'What the hell? I have nothing to lose, so I'm just going to ask," LaPlante says. "I told him, 'I know you hold the race close to your heart. I may need a pacer from the river to the finish and would you consider it?' He replied and said if he was able to satisfy the requirements of his volunteer time at Rucky Chucky, then for sure he would do it."
In the early miles of this year's race on June 26, LaPlante smartly backed off his pace to avoid blowing up in the heat. He was in OK shape when he rolled into Rucky Chucky in the wee hours of the next morning, even though he was only about 7 minutes ahead of the cutoff pace. Having already spent hours helping other runners as a volunteer, Karnazes was there waiting and ready to run.
LaPlante says Karnazes offered insights and advice with a calm presence and helped him fight of fatigue and rally for a strong finish. 
"He was encouraging, very intuitive," LaPlante says. "I didn't have bandwidth to have any anxiety about running with Dean Karnazes. At that point, I knew he was going to be there, and I treated him like a buddy and vice versa, and he was really genuine and awesome in that respect. He was good at keeping me to task, paying attention to the course and doing the math for me. It was pretty cool, really natural and comfortable."
With the help and shared fun of Karnazes, LaPlante gained an hour back over the final 22 miles and finished in 28 hours, 5 minutes and change, good enough for 111th place overall among the 208 who reached the finish line at Auburn High School.
"He did great," Karnazes says. "I got to lift his spirits and help him out and got a bit of the buzz myself. When you're on the trail for 8 or 9 hours with someone, there are a lot of great conversations and a lot of memorable moments. It's about the community, even the moments or words you share with an aid station volunteer. It's brilliant. And it's like a rebirth every time you finish one of these races. What we do just inspires the hell out of people who don't understand it, but it's pretty inspiring for those of us who are doing it, too."
Brian Metzler was the founding editor of Trail Runner and now serves as a contributing editor.