Why Chamonix Is the Center of the Trail Running Universe
I've visited the Mont Blanc region more than a dozen times and am always gobsmacked by mystical aura it exudes
Photo: Courtesy of Brian Metzler
Heading out the door? Read this article on the new Outside+ app available now on iOS devices for members! Download the app.
As I lace up my trail running shoes, zip up my shell, and cinch down my pack in the center of Chamonix, France, I find it impossible not to be awed by the site of Mont Blanc.

The 15,555-foot peak—the highest in Western Europe—stands as a sentinel to anyone who visits the Chamonix valley, even though the actual summit is typically not visible from the valley floor. The upper points of the Mont Blanc massif—including the spiky Grandes Jorasses—appear differently at every hour of the day based on sunlight and weather patterns that continually tangle and tussle, and occasionally, if briefly, harmonize into a stunning alpenglow that looks more like a watercolor painting than something that you're seeing with your own eyes.
I have been fortunate to visit the Chamonix Valley 16 or so times—both to run races and for a variety of adventurous mountain runs—and I have felt the pervasive energy of the mountain on every single run I have ever embarked upon. While I very much believe that trail running can be special wherever you are in the world, Chamonix is almost magical, and I hope more trail runners get the opportunity to experience it.
While the Mont Blanc summit isn't attainable by trail running—reaching the glaciated top of Mont-Blanc requires advanced mountaineering skills and a lot of gear—the mountain exudes a distinct mix of scenic beauty, breathtaking ruggedness, and a mystical aura that serves as a physical and sensory backdrop to running around its jagged flanks in both France and Italy. 
"I Just Feel This Pull to Be Here"
"The mountain just draws me in. I just feel this pull to be here," says Stephanie Howe, an American trail runner for The North Face who recently moved to Les Houches, France, 10 minutes down the valley from Chamonix. "I feel so happy and content. I don't know what that energy is. There are other incredible mountain places that are a little bit closer to home for me (in Bend, Oregon), but I just feel drawn to the energy from that mountain."
To anyone heading out for a trail run on either side of the mountain, it is usually both entirely menacing and infinitely inspiring. The same goes for anyone participating in any of the eight events of the Ultra-Trail du Mont-Blanc festival, that all finish in the metaphorical shadow of Mont Blanc, or Monte Bianco as it is called on the Italian side of the mountain. (The ETC 15K race held entirely on trails in Courmayeur, Italy, is the only race that doesn't finish in Chamonix.) 
RELATED: Trail Runner's Guide to UTMB 2023
Trail Running Nirvana
Running in Chamonix is not a place for weak or timid souls, though it is inclusive and welcoming to all who are interested in testing their physical, emotional, and spiritual mettle on its rocky routes. Trail running in the valleys below Mont Blanc is rooted in the mountaineering culture that has been prevalent around the mountain for more than 200 years. 
What does that mean for trail runners coming from a modern ultrarunning background? Just as intrepid mountaineers have developed hard-earned skills to experience and explore the hundreds of notable rocky routes up spires, crags and peaks, so, too, have trail runners increasingly felt the allure of the massive mountains and wide-ranging trails for the past 30 years.
"There's so much history here that's tied to alpinism, so not just trail running, but skiing and climbing too, and I think that's really cool," Howe says. "That mountain is just so stunning, so rugged. But there's also a little bit of a sense of danger, too. You can get yourself into trouble in this terrain, so you have to have a sense of being careful."
While there is a smooth trail path that leads out of the Chamonix city center along the glacier-fed Arve and Arveyon river tributaries, most of the singletrack trails and dirt paths above the valley floor include steep, punchy climbs that require strong legs, dexterous agility, and an adventurous mindset. The circumnavigating TMB trail, on which many of the UTMB races are held, is mostly a smooth, well-worn dirt route with only a few moderately technical sections. 
But there are many other less-trod routes and remote offshoots that require nimble footsteps, focused mental acuity and trail running shoes with soft midsoles and durable rubber outsoles. 
Truth be told, you have to work to get access to a lot of the best trails in Chamonix, either by way of long, winding uphill trails (or perhaps the steep zigzagging route of the VK course) or by linking some of the ski lifts and tourist gondolas (or the electric train line that bisects the valley). One of my favorite runs entails taking a train from Chamonix to the Vallorcine, then running back up and over 7,200-foot Col de Balme and meandering down the trails through Argentiere and back to Chamonix. 
There are an extraordinary network of scenic trails on the midway plateaus above Chamonix—essentially geologic balconies below the high peaks—and many afford the opportunity to to view glaciers, high-alpine lakes or waterfalls or stop at huts, mid-mountain restaurants, or hotels for the nourishment and community of a hearty snack or a cold beer. But perhaps more essential, there are also countless solitary places to stop and smell the flowers, which in the Chamonix valley means sitting down and immersing in the grandeur that surrounds you in every direction. It's always an exhilarating experience that moves me every time.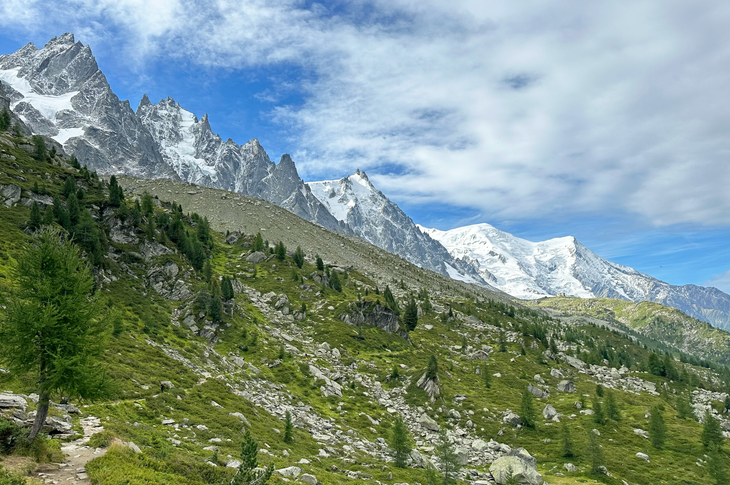 A Warming Landscape 
However, there are some harsh realities of running in and around Chamonix, too. 
When Mont-Blanc was first climbed in 1786 by Jacques Balmat and Michel Paccard, glaciated ice flows stretched to the valley floor. That was then, this is now. I remember Kilian Jornet telling me in 2011 that the mountains were melting, and legendary climbing routes were becoming unstable and dangerous. Last year I witnessed a massive serac avalanche from across the valley—an increasing situation in and around Chamonix—and later learned that it smashed and completely destroyed a 200-year–old mountaineering hut.  
When I first visited Chamonix, the two most prominent glaciers in the Chamonix valley—Mer de Glace and the Bossons Glacier—were much more robust than they are today. It's sad to think that in 15 years they've shrunk considerably and that, in 15 more years, they might barely remain. 
While trail running in the valley isn't acutely focused on the remote crags and state of the glaciers, as human beings who love recreating in the mountains, we all have to realize the impacts the changing conditions have on the entire picture of the environment and do whatever we can to improve it—not only in Chamonix but everywhere we live and run.
RELATED: 10 Things to Know About Jim Walmsley's Obsession with UTMB
Racing Around Mont Blanc
Chamonix's combination of scenic splendor and challenging trails is what inspired runners to begin traversing the mountain trails on foot more regularly in the 1980s—about the time ultra-distance trail running was also becoming a thing in the U.S.—and eventually led to races such as the Mont Blanc Marathon and the UTMB becoming massively popular on a global scale. (That's something that American writer and longtime Chamonix resident Doug Mayer so eloquently describes in his new book, The Race That Changed Running.)
This week, a diverse collection of about 12,000 runners from all over the world will be racing in one of  eight UTMB races, including the championship-level OCC 50K, CCC 100K, and UTMB 170K events of the 2023 UTMB World Series Final.
"It has a certain vibe to it that you can't get anywhere else," says American Matt Daniels, a Nike-sponsored runner who's competing in UTMB this year after running CCC last year. "And with everything going on in town leading up to the race, it gets you pretty amped up."
That's putting it lightly. If you've been to Chamonix during UTMB week, it's overflowing  with community runs, running movie releases, shoe giveaways, a massive gear expo, races of all distances, and much more. The town is packed—with tourists and runners—who have both found their way to Chamonix after having heard that siren call of Mont Blanc's magnificence.

Ultimately, it's one of those places I was overjoyed to have experienced once and eternally grateful that I've had so many opportunities to return. While there are special places to run trails all around the world, this is truly a trail running paradise, both because of the energy that flows from the Mont Blanc massif, but also because of the community that comes to cherish it.