Heading out the door? Read this article on the new Outside+ app available now on iOS devices for members! Download the app.
I awoke at three a.m. on a mattress pad in the back seat of my truck. I felt sick, and rolled over to try to ease the pain. I had fallen asleep so full of emotions I had to crack the windows. Maybe the universe was big enough to hold these feelings, but my truck was not. I had just quit an 800 mile Fastest Known Time speed attempt because of all things: a worldwide pandemic.
I awoke hours later and the truck was hot with sunshine. Sleep and confusion weighed on my head. Where was I? Endless miles of running and my coronavirus-induced DNF (Did Not Finish) slowly coming back as I looked around my truck: a half-empty bottle of kombucha, turmeric capsules, yesterday's mug of coffee, dirty trail running shoes and a lone sock. My alarm was playing Lewis Capaldi's "Someone You Loved":
"I'm going under and this time I fear there's no one to save me
This all or nothing really got a way of driving me crazy…"
My goal was ambitious. I wanted to finish in 12-14 days, hoping to average over 60 miles a day. In retrospect, without prior knowledge of the trail, this was brazen and even a bit naive. But, I wouldn't have it any other way. I wanted to beat the overall fastest time on the trail held by Josh Perry of 14 days 12 hours which he did self-supported. I opted for crew, supported style, due to my lack of experience on this particular route and the length of the trail. 
The number of crew locations on the AZT left a lot to be desired for a supported run. Crew locations were often few and far between, often spanning 26-40 miles between aid. Our timing didn't help either. March was known for unpredictable and moody weather, lots of mud and even the occasional snowstorm. I also did not take into account the sleep deprivation that would result from having to make it from one crew location to the next, sections often taking 12 hours or longer and technical mountains, heavy rainstorms, snow, high elevations and solo all-night-long epic treks. 
Not only were the challenges of the trail greater than we had hoped, news of the increasingly disturbing Coronavirus outbreak began to cloud our focus the further we progressed as towns and trailheads along the entire state closed down. This once inconceivable menace became the most looming threat to finishing the entire Arizona Trail as word came to us that it was becoming more and more likely that the Grand Canyon would shut down before we could got there. The Grand Canyon marked the last 100 miles of the AZT and crossing the big ditch was essential to completing the FKT.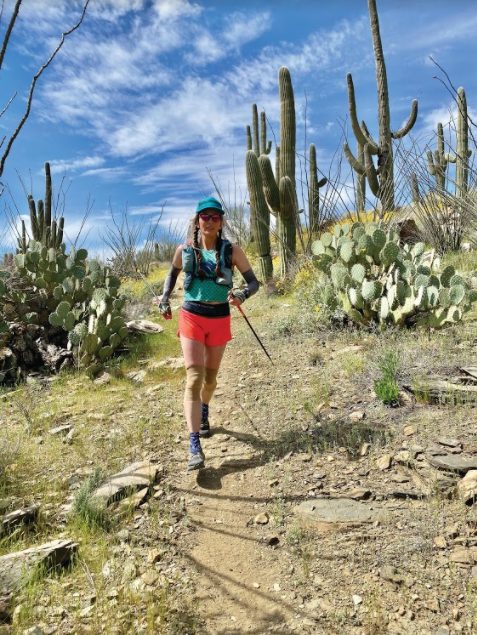 My entire speed attempt, and even for a week before we started, my crew and I received increasingly disturbing information from the outside world about this new virus. My children's school was shut down until the end of April right before I left home and President Trump tightened European travel restrictions. During the run we heard that California shut down all non-essential businesses and instituted a stay at home order. I couldn't shake the feeling that I needed to be home. Running a two-week-long FKT is tough even without the outside world falling apart at a shocking speed. 
Just 5 days into my FKT we were hit by a snowstorm at 7,000ft on Mt. Lemmon and my FKT suddenly felt like a bid to survive, rather than a speedy adventure. The snow and high winds pummeled my pacer Dave and me as we logged endless miles along high ridgelines, navigating snow-covered trails. I struggled up steep climbs— my legs heavy with hundreds of miles already. When the storm finally passed I glimpsed an animal in the clouds: a lion crouched on the hillside and for a moment I felt raw fear that the clouds would attack me. Instead, they moved north growling and pouncing on the highest peaks turning them white. 
There were many times I questioned my sanity choosing to do such a rugged and long route. Eight days into the speed attempt, I was out on a rock-strewn section of trail at 3 am.. with my pacer Adam. I was stumbling in and out of a river bed searching for the trail, cursing at why the trail won't just stay on one side of the river. On this section of trail, well over 300 miles in, I lost all hope; hope that this section would ever be over, that I could do the entire route, that I was enough. I struggled even to walk and fatigue was so deep I knew I needed to sleep. There were five miles between us and the next crew station. It may as well have been 500 miles.  
"I need to sleep," I told Adam, who after eight days looked a bit beaten up too. He pulled out a bright orange foil emergency bivy and I climbed inside. I didn't care that there were rocks under my shoulder and my right quad, I moved slightly left and covered my head with the top of the bivy, my head on the ground. It felt like the most amazing bed I've ever slept in. In this foil coffin, I felt safe and warm. Next thing I knew Adam was telling me it was time to go. I had been sleeping maybe 15-20 minutes. It was enough to keep from sleepwalking another five miles.
The next day I bagged the FKT bid, "I'm going to have to make this decision, I might as well make it now on my own terms," I told Catra Corbett my crew chief. I knew that we would likely be cut off at the Grand Canyon before finishing and that it was more important to be home with my family. By the time I was driving home I knew I'd be back again to finish the entire trail no matter how many times it took. Winning often requires failing. 
As I drove home, into a world changed by fear and the coronavirus, I couldn't wait to get back to the Arizona Trail. Back to the Saguaro cactus that were taller than houses, their presence so alive that I could almost hear them breathe. Back to 16, 20, 24 hour days on the trail pounding blood, sweat, and hopes through my legs into the dirt, rocks and steep mountain climbs. 
The patience required on the Arizona Trail to keep moving forward day after day with no end in sight was faith in action. Faith that the experience would end even if it didn't feel like it ever would. Yet I knew that to wish for the end was to throw away the moment. To throw away the moment was to reject the pleasure in the experience. The pandemic-struck world I emerged into really isn't so different from the paradoxical pain and pleasure of the trail, the only way to the end is one foot in front of the other and the more we choose to embrace the experience, the more capable we are of overcoming it. 
Candice Burt is an elite runner for Altra Running and lives in Leavenworth, WA with her two girls and four dogs. She works full time for her company Destination Trail, a trail race event company that organizes the Triple Crown of 200s and a number of other events throughout the year.