A Guide To Running Colorado's 14ers
Heading out the door? Read this article on the new Outside+ app available now on iOS devices for members! Download the app.
When the alarm went off at 4 a.m. last Friday morning, I was admittedly a bit weary and in need of more sleep. But it was going to be a special day, so I ignored my lingering fatigue and used the excitement for the morning ahead to put a spring in my step. I wrangled my pack and some gear into my truck, filled my water bottles and hit the road for Mt. Bierstadt, my first 14er of the year.
Summer doesn't officially arrive until June 20, but 14er season is already here in earnest for trail runners in Colorado.
Why run up and down 14ers? Well, first, because there are trails leading to the top, and why not? Secondly, the scenery is almost always stunning. (Not so much in an electrical storm, though!) But mostly, it's because the elective grind through the wild environment typically leads to an existential experience. Or at least the question: Why don't I do this more often?
Mt. Bierstadt, located about 75 minutes west of Denver, is one of the easier of the Colorado 14ers to run, but let me be clear that none of them are truly easy. Running (or hiking) at altitude, especially at 12,000 to 14,000 feet can be a challenge for a lot of reasons, not the least of which is you feel like you're breathing through a drinking straw most of the time. And by running, I mean sometimes running at a decent pace, sometimes slogging slower than that ultra shuffle we all love to hate, sometimes power hiking and sometimes just plain old walking.
My Friday morning adventure partner and I were intent on doing a mix of all of that, given that it was our first one of the season and we didn't really have our mountain legs or oxygen-deprived lungs ready yet. Our goal was to have fun, enjoy the views and get stoked for a summer of mountain running. (And really, what other motivations do you need?)
Typically, Mt. Bierstadt is a 7-mile roundtrip with about 3,000 feet of vertical gain from the trailhead on Guanella Pass to summit and back, but as I was driving toward the pass on that morning, I found out the road was still closed at the winter recreation parking area a mile down from the trailhead. (It's always best to check 14ers.com for recent trip reports, and I did, but neither report mentioned the closure.)
It wasn't a big deal because the road and the lower portions of the trail were dry, however, it did mean our effort would require a 9-mile roundtrip and an extra 1,000 feet of gain and descent. We took our time, ran when and where we could, encountered some tiny snowfields, cold wind and hot sun, and we later relished in our 4–hour journey as we toasted frosty beers over lunch later in Georgetown.
Colorado is home to 53 peaks considered 14ers and each one offers a unique set of challenges to reach by foot. (There are five more than don't meet the qualifying standards and, of course, hundreds of 12ers and 13ers to run, too!) Some are definitely more runnable than others, and some aren't runnable at all. But with considerably less spring snow in Colorado's high country compared to recent years and few races on the calendar because of the Covid-19 pandemic, the unique thin-air thrill of tackling 14ers has been welcomed with open arms.
"Yeah, it's fun to get up high again," says Trail Sisters founder Gina Lucrezi, who lives in Buena Vista, Colo., with easy access to about a dozen 14ers in the Sawatch Range, including 14,197-foot Mt. Belford, which she tackled Sunday with her husband and two friends. "My thing is more about power hiking up and running where I can on the way up, but then running the whole way down."
As much as there is good reason to practice Covid-19 social distancing when you come in contact with others, it's prime time to start running where the air gets thin. As I scrolled my Instagram feed over the weekend, I saw several posts with friends on 14ers.
Tayte Pollman, a Nike Trail athlete who also lives in Buena Vista, went up Mt. Belford with a different group of runners on Saturday. He's just getting back from a few offseason injuries, so he's not wearing a watch when he runs yet, but apparently his 1:06 clocking for the 4-mile route up the northwest ridge might have eclipsed the current FKT and Strava segments. Oh well, next time!
Understanding pacing and when to change gears is important, he says, but being present in every stride is, too.
"I think the biggest thing about running 14ers is that you get fatigued fairly easy, so I think it's really important to make each step intentional and look where you're going to place each foot," Pollman says. "And if you're using trekking poles, you should know exactly where you're going to place each pole. You don't want to do things that will waste your energy or cause you to slip at all."
The key thing to remember with any high-altitude running adventure —  but especially with 14ers — is the mountain almost always wins, even if you're super fit. You've got to head into every 14er experience with realistic expectations, be prepared for changing conditions and other variables (see below) and, of course, be willing to be humbled by the slow pace and the possibility of not reaching the top.
"The reward is different hiking a 14er than it is running," Pollman says. "When I'm running, I'm more focused and get into a flow where I don't even really think about stopping or taking things in. I just try to go and hold my pace, do my base to stick to my rhythm and listen to my breathing. Then once I get to the top, I can click out of that and know that I made it and take in the reward at the end. And then the downhill can be just fast and fun."
Lucrezi's first 14er was a 15-mile roundtrip on Longs Peak near Estes Park a decade ago before she lived in Colorado. That's a big one to bite off on the first try. She endured all kinds of weather, including a terrifyingly close lightning storm.
"It scared the shit out of me," Lucrezi recalled with a sarcastic laugh. "I probably should have never been on it, but then I was hooked to come back to Colorado and explore more mountains and do more 14ers."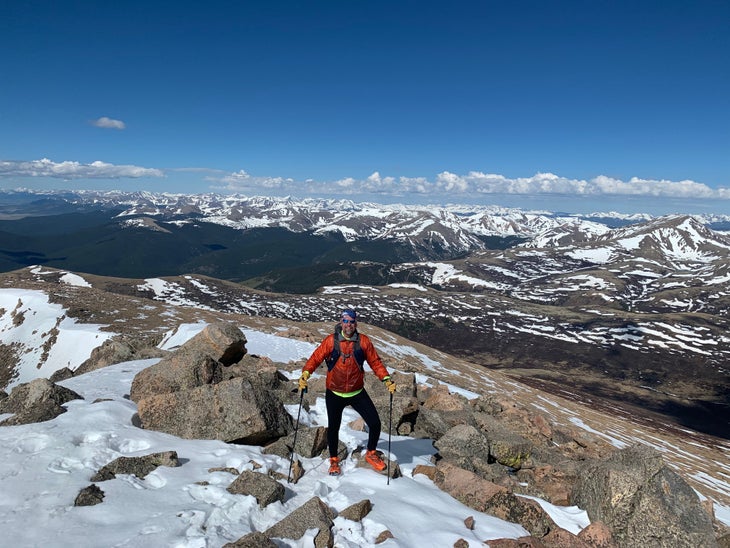 Top Eight Most Runnable 14ers
There are a lot of runnable 14ers in Colorado, but these are at the top of the list.
Mt. Belford (Buena Vista), 14,197 feet, 8 miles roundtrip
There are several routes up this peak located northwest of Buena Vista, but the best one to run is the northwest ridge.
Mt. Bierstadt (Georgetown), 14,060 feet, 7 miles roundtrip
The first mile is a combination of downhill and flat, but the switchbacking route up the 2,900-foot ascent is pretty runnable until about 13,200 feet.
Handies Peak (Silverton), 14,048 feet, 5.5-8.0 miles roundtrip
You might never get a chance to run the Hardrock 100, but you can explore the course and go up and down this peak in the heart of the San Juan Mountains from either Grizzly Gulch or American Basin.
Pikes Peak (Colorado Springs/Manitou Springs), 14,110 feet, 26 miles roundtrip
Running up and/or down Pikes is a must-do adventure for every trail runner, either in the Pikes Peak Ascent and Marathon in mid-August or as a do-it-yourself excursion.
Mt. Elbert (Leadville), 14,433 feet, 9 miles roundtrip
This is the highest peak in the state and definitely worthy, but there are some very steep sections that will require power hiking. For a bigger challenge, go up Elbert and adjacent Mt. Massive in the same day!
Mt. Princeton (Buena Vista), 14,197 feet, 6.0-8.0 miles roundtrip
You can start at the trailhead at 8,900 feet or you can drive part of the way up the mountain on an old mining road to a small parking area at about 10,800 feet. Best of all, there is two hot springs resorts in the valley below.
San Luis Peak (Creede), 14,014 feet, 11.5-13.5 miles roundtrip
This little-known peak located in the Gunnison National Forest portion of the La Garita Wilderness has two long, but mild routes. It's a bit out of the way, but worth the drive.
Longs Peak (Estes Park), 14,255 feet, 15 miles roundtrip
There are several routes up and down this majestic peak in Rocky Mountain National Park and each one of them is fairly long. The Keyhole Route is the most straightforward, but the Loft Route and the Cables Route offer unique, white-knuckle scrambling challenges.
If you're just starting, this article on Colorado's easiest 14ers from our partner Backpacker can give you more options for peaks with more running and less scrambling.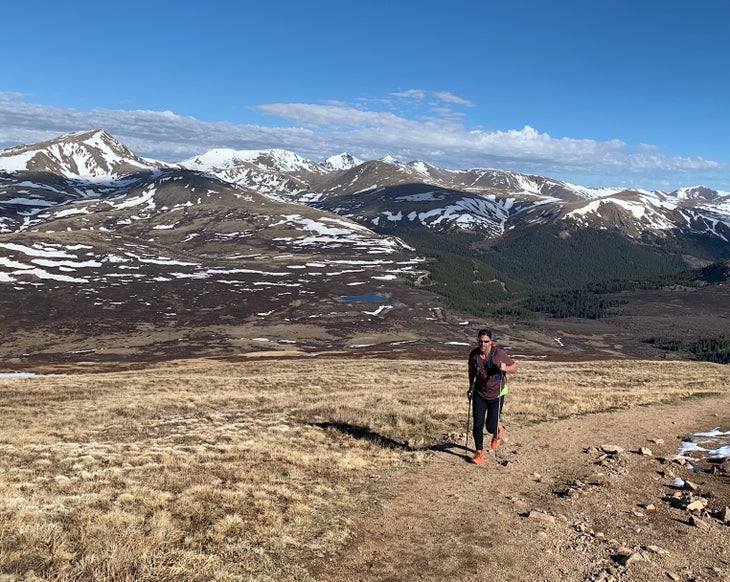 Tips for Running Colorado 14ers
Mind the Height
Elevation is a real thing and it affects everyone differently on different days. You can smash yourself early if you start out too hard, even if the terrain isn't super steep. Start with a moderate, low-key approach and see how you feel as you get into it. If you're not from a high-altitude environment, try to acclimate by arriving a few days ahead of time, drinking a lot of water, avoiding too much alcohol and getting a lot of rest. It's not uncommon to get lightheaded, dizzy, disoriented or sick to your stomach — even when things are going pretty well. If those symptoms occur, take a rest break, refuel and rehydrate a bit and keep a realistic (and humble) outlook. Turning around and coming back another day is better than risking injury, illness or death.
Gear Up
As trail runners, we like to do everything light and fast and that's what makes it fun. But you should always dress in moisture-wicking layers (because you'll alternately be warm and cold often) and carry a small running pack with essential gear, including a lightweight rain shell, sufficient hydration, energy snacks, a first-aid kit, a mobile phone and a map of the route (possibly downloaded as a .gpx file). Wearing the right pair of trail running shoes for the terrain is key, and opting for a pair that offers more durability and protection. Lightweight, collapsible trekking poles (for example, like Black Diamond's Distance Carbon Z) can come in handy, both going uphill and downhill.
Know the Route
Most 14ers have several routes and each are typically vastly different in terrain and difficulty. Study the route you plan to run and understand where terrain changes and where it becomes difficult, but also take a paper map or digital map with you. Keep in mind that up 14ers include every type of surface imaginable — loose dirt, packed dirt, mud, sand, streams, talus and scree — and often routes can head off in different directions from the summit.
Watch the Weather
Weather changes quickly in the mountains, especially above 12,000 feet. What might start like a calm, clear, sunny morning can turn stormy with snow and lightning in less than an hour. Also, wind patterns and directions can change at various elevations. It might be calm with no wind in your first 1,500 feet of elevation, but then you can encounter huge gusts during the next 1,500 feet of ascent, only to have it peaceful and calm on top. Check the weather the night before and the morning of your run and, most importantly, look for signs of dark clouds bunching up quickly, big wind gusts and lightning off in the distance.
Safety First
Always tell someone in advance where you're heading and when you think you'll be back, even if that means sending a last-minute text or email. Then be sure to check in when you get back. Weather, injuries, navigational challenges and other variables can easily turn a 4- to 6-hour high-altitude run into a 7- to 10-hour ordeal. You can get a rough estimate of your time on the mountain by checking the FKT of each peak at the FastestKnowTime site and then add 1-3 hours for your expected pace.
Brian Metzler is a Contributing Editor for Trail Runner.