Courtney Dauwalter Breaks UTMB Record To Win
D'Haene wins a fourth UTMB, Dauwalter runs to a new women's record
Heading out the door? Read this article on the new Outside+ app available now on iOS devices for members! Download the app.
Courtney Dauwalter's epic performance running around Mt. Blanc this past weekend wasn't perfect, but it was pretty darn close.
After a disappointing DNF at Colorado's Hardrock 100 in mid-July, the Salomon-sponsored runner was back in top form at the 172km Ultra-Trail du Mont-Blanc on August 27-28 in Chamonix, France, as she not only successfully defended her 2019 title, but she did it with such record-shattering flair that it left it fans, followers and fellow athletes in mesmerizing awe.
Two years after winning in dominating fashion in her first attempt at this epic race that circumnavigates 15,777-foot Mont Blanc, Dauwalter returned to Chamonix and turned in an even more stunning performance. The 36-year-old resident of Leadville, Colorado, established a new course record of 22 hours, 30 minutes, 54 seconds while finishing seventh overall.
"She was just on another planet alone among the women," says Greg Vollet, who manages Salomon's Global Trail Running team. "That was just a huge performance."
RELATED: How Courtney Dauwalter's Curiosity and Problem Solving Push Her To The Brink Of What Is Possible
Salomon teammate Francois D'Haene of France was nearly as impressive, winning the overall race in 20:45:59 to seal his fourth title, the most in UTMB history. The 35-year-old winemaker from the Beaujolais region of France narrowly outran Aureilen Dunand-Pallaz (20:58), who finished less than 14 minutes off the pace and 14 minutes ahead of third-place finisher Matthieu Blanchard (21:12). French runners swept the first five places of the men's race, which lit up the massive crowd that had been following the race on several massive video boards in the village most of Saturday morning and afternoon. 
And while D'Haene was given the hero's welcome that he deserved — especially given that he won UTMB just six weeks after winning the Hardrock 100 in record-breaking time — it was Dauwalter that the mass of humanity in Chamonix cheered most vociferously for as she high-fived fans on the final 200 meters of the course leading up to the finish line.
RELATED: Courtney Dauwalter Returns To UTMB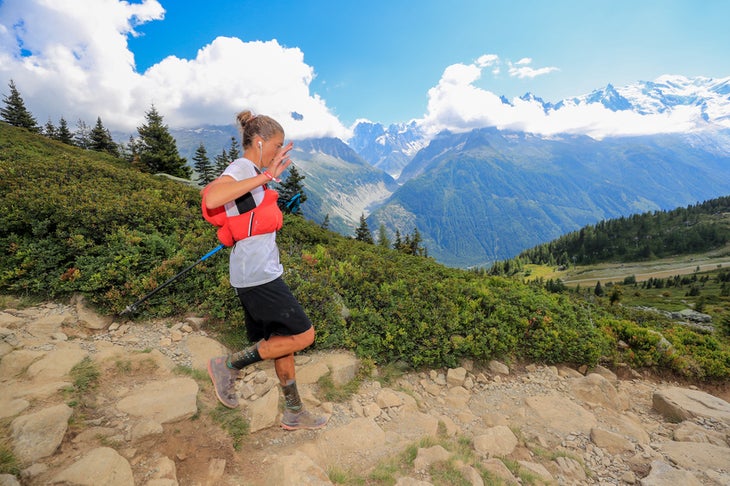 Courtney Dauwalter Takes On UTMB
In 2019, Dauwalter went out hard and wound up winning in 24:34, an hour ahead of runner-up Sweden's Kristin Berglund. That was an impressive effort and a great time, though still well off the winning marks that American Rory Bosio posted while claiming back-to-back victories in 2013 (22:37) and 2014 (23:23). But in fairness to Dauwalter, she had never run on the course before running the race that year and she felt miserable because of stomach issues through most of the second half of the race. (Also, Bosio's 2013 time was on a course that was about 3km shorter than the 2021 version.)
This time around, Dauwalter ran completely untethered, starting off even faster than she did in 2019 and, aside from one small setback, she never let up. After dropping out of Hardrock because of stomach issues, she retooled her nutrition strategy a bit and spent a lot of long days running on the 14,000-foot peaks near Leadville. She flew to Europe a week before the race, did a few easy final runs and then rested up for the Friday evening start.
Running in near-perfect conditions from the beginning among the top 25 men, she was the first woman to reach the 22km aid station at St. Gervais in 2:02, an effort that was pretty close to her split in 2019. She kept pushing from there, though, and by the time she reached Refuge de la Croix du Bonhomme on a high mountain pass near the French-Italian border (5 hours into the race), she had built a 5-minute lead on Mimmi Kotka (Sweden) and Camille Bruyas (France) and was 10 minutes ahead of her 2019 pace.
By the time she reached the aid station in Courmayeur, Italy, on the back side of Mont Blanc at roughly the 81km mark of the race, she had increased her lead by a few minutes, was in 23rd place overall and was 12 minutes ahead of her 2019 pace. 
While the fans following the livestream back in the U.S. might have been loving it, her husband, Kevin Schmidt, was a tiny bit concerned.
"I thought she was going out too hard because every split was faster than last time," said Schmidt, who crewed Dauwalter at every aid station around the course. "Going into it, she was going to try to go out a little slower, but I guess that's just what felt slower to her. She really didn't pay any attention to the times or splits, she just did it and it felt really good. I only had an uh-oh moment with the splits once or twice, but then seeing her at the aid stations, she looked great and was happy and having fun so I knew she was going to be fine."
RELATED: Beating The Boys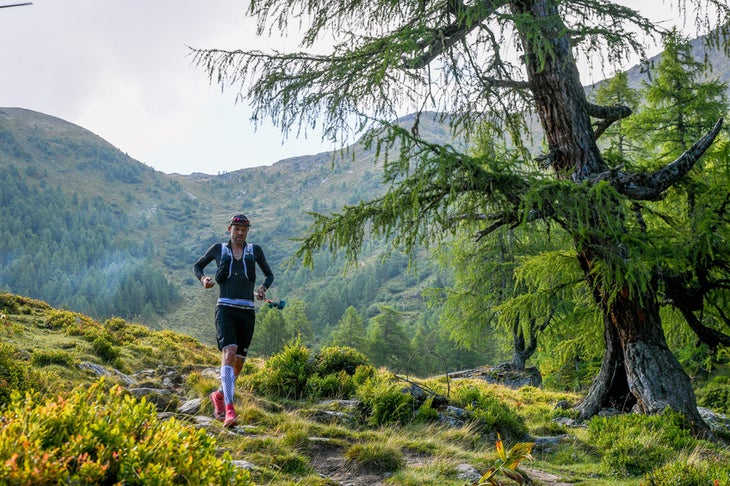 Challenges In The Alps
Fine indeed, but not before having one minor setback. Things were looking great as she departed Courmayeur, but she had gulped down an entire bottle of water at that 3 a.m. pit stop and soon felt a bit woozy heading up the next moderate climb to the Bertone aid station. Just a few miles down the trail, she had an upset stomach and had to stop for a moment.
"Yeah, I threw up," she admits. "At first, when it happened, I was nervous that it was a sign of what was about to happen. But it seems like my body wasn't ready for the amount of liquids I had put into it, and it got rid of those and it was all fine again."
Feeling better, she got back into beast mode and it took it to another level from there in the wee hours of the morning. To be safe, she and Kevin agreed to limit her refueling to liquids only the rest of the race, avoiding all solid foods. 
She made quick work of the Grand Col Feret, cruising over the 8,323-foot pass and into Switzerland just before the sun came up, passing several men in the process. By the time she got to the Swiss village of LaFouly at 7:36 a.m. Saturday morning, she was in 10th place overall and on the verge of record pace. 
RELATED: Everything You Need To Know About Pacing And Crewing
That's when she really started hammering. She had run over Grand Col Feret about 17 minutes ahead of her 2019 effort. She picked the pace on the way to Champex and was an hour ahead of her previous effort by the time she got to the Trient aid station at the 144km point of the race. In 2019, she struggled up the steep climb from Trient to Les Tseppes near the French border and down the descent down into the village of Valorcine (154 km), but this time around crushed it and moved into sixth place overall. 
Although Germany Hannes Namberger eventually caught her on the long climbs on the way to the La Flégère ski area aid station, Dauwalter didn't let up. Once she left La Flégère, she bombed down the final descent into Chamonix, slowing only slightly near the end to celebrate with the receptive crowd.
"That was amazing," she said of the extremely loud and raucous crowd. "There's nothing like that anywhere in our sport but here in Chamonix."
What was amazing was how dominant Dauwalter was. More than 90 minutes after Dauwalter finished, Bruyas claimed second place in the women's division (16th overall, 24:09) while Kotka took third an hour after that (23rd overall, 25:08).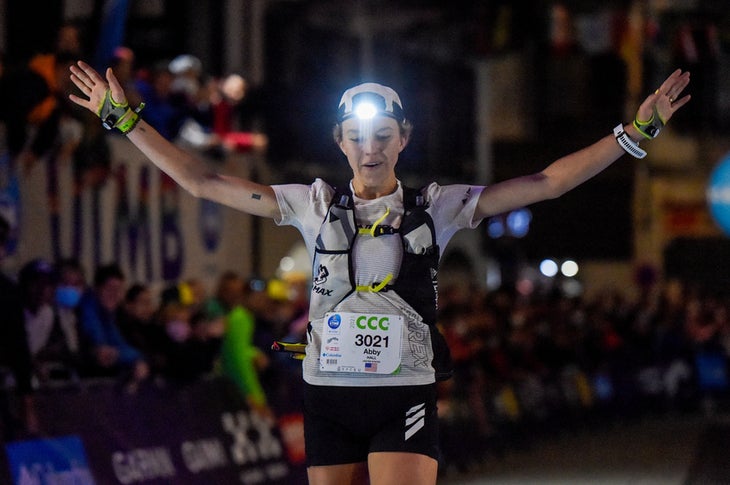 Dauwalter wasn't the only American who shined. In fact, there were five U.S. runners among the top 25 of the women's race. Katie Schide, a 29-year-old American who has lived in France for several years while working on a Ph.D. in geology, turned in another strong performance at UTMB finishing eighth (27:39). Molly Bazilchuk, a 31-year-old American who lives in Norway, turned in another strong effort (16th, 30:35) after a 14th place effort in the CCC 101km race in 2019, while Monique Van Den Boogaart, 32, of Cupertino, California, (20th, 32:28), Angela Meyer, 40, of Atlanta (25th, 35:42) and Amanda Debevc, 43, from Chagrin Falls, Ohio, (37th, 39:03) also ran well.
On the men's side, America's top contenders struggled once again. For the third time in the last four UTMB races, Jim Walmsley ran among the leaders for the first half of the race. The 31-year-old American star from Flagstaff, Arizona, traded the lead with D'Haene, Xavier Thevenard (France) and Remigio Huaman Quispe (Peru) at St. Gervais, and was still second behind D'Haene at the Courmayeur aid station. But he started losing time on the climb way out of Courmayeur, and although he was still the second runner to reach the Bertone aid station (86km), he struggled and had slipped to 17th place by the time he reached the Arnouvaz aid station (99km), where he eventually dropped out at 5:45 a.m. Saturday morning.
Tim Tollefson, 36, who admitted he was a bit dinged up coming into the race, nonetheless ran strong through the first half. Despite being the 10th runner to reach Courmayeur, Tollefson, who previously finished third in the UTMB in 2016 and 2017, opted not to leave the Courmayeur aid station. Meanwhile, 30-year-old Tim Freriks, on occasional training partner of Walmsley's from Flagstaff, started strong and was the seventh runner to the 32km mark in Les Contamines, faded badly once it got dark on Friday night and also eventually dropped in Courmayeur.
The top American finisher wound up being Luke Jay, a 41-year-old trail runner from the Denver area who previously won Colorado's High Lonesome 100 in 2019 and finished third at the Leadville 100 in 2016. He ran a smart and strong race, starting conservatively and moving up the whole way. He was only the 60th fastest runner to reach Courmayeur, but with his grit and determination, as well as the attrition of other runners in the second half of the race, he wound up with a very respectable 34th place overall finish (25:54), which placed him 30th among men.
As for D'Haene, he became the first runner to win UTMB four times, surpassing Kilian Jornet and Thevenard, who dropped out of this year's race near the 50 km mark. He also became the first runner to win Hardrock and UTMB in the same year, besting the previous effort of American Darcy Piceu, who won Hardrock and took third in the UTMB in 2011.
"After a difficult start to the season, I was able to motivate myself for this challenge," D'Haene said at the finish line. "I relished this hard-won victory. My legs got stiff quite quickly. Before Courmayeur, we really battled it out with Jim Walmsley, and he paid for it. From Courmayeur to Champex, I suffered. It was a really intense race."
Social media lit up in celebration of D'Haene and Dauwalter, and the buzz both online and around Chamonix after the race was that D'Haene might just be the best mountain ultrarunner of all-time and that Dauwalter's effort could be the best women's ultrarunning performances of all-time. 
While that might or might not be a bit of hyperbole in the aftermath of this year's race, Dauwalter was intent on just enjoying the moment, feasting on chocolate croissants, having a few beers and enjoying a couple of days relaxing with Kevin near Lake Como in Italy before flying back to Colorado. 
"Those people are very kind, but that's not my goal," Dauwalter said. "My goal is just to keep trying as hard as I can when I line up for a race, give it everything I have and see what happens. I was happy that it was mostly smooth sailing for me this time because every race is always different, but even as smooth as it was I was wrecked in the end."
Top 10 Results
(Complete results can be found here.)
WOMEN
Courtney Dauwalter, U.S. (Salomon), 22:30:54 (women's course record)

Camille Bruyas, France (Salomon), 24:09:42 

Mimmi Kotka (La Sportiva), 25:08:29

Marion Delespierre (On Running), 25:54:22

Luzia Buehler (Biberli/Capricorn Endurance), 26:06:17

Maryline Nakache (WAA Ultra), 26:40:48

Lucie Jamsin (MAC Sport), 26:44:41

Katie Schide (On Running), 27:39:45

Claudia Tremps (Asics), 27:55:36

Emily Hawgood (adidas Terrex), 28:36:48
MEN
François D'Haene, France (Salomon), 20:45:59 

Aurélien Dunand-Pallaz, France (Compressport),  20:58:31

Mathieu Blanchard, France (Salomon), 21:12:43 

Ludovic Pommeret, France (Hoka One One), 21:38:44

Germain Grangier, France (On Running), 21:52:47

Hannes Namberger, Germany (Dynafit), 22:22:06

(tie) Gregoire Curmer, France (Compresssport / Scarpa), 23:00:10

(tie) Diego Pazos, Switzerland (Compressport), 23:00:10

Mathieu Clément, Switzerland (Asics Trail), 23:08:05

Ho Chung Wong, Hong Kong (The North Face), 23:17:40