Courtney Dauwalter Returns To UTMB
Dauwalter returns to UTMB two years removed from a dominating victory
Heading out the door? Read this article on the new Outside+ app available now on iOS devices for members! Download the app.
Courtney Dauwalter is excited to be back in Chamonix, France, to run the Ultra-Trail du Mont-Blanc again, but as a well-known foodie, she's also enticed by the yummy gastronomy this celebrated mountain village has to offer.
"Being back in Chamonix is so cool because it's a reunion of the same sport that I love," she said Wednesday morning. "The trail running community is blown up here in Chamonix, times 100,000 of what something like it is at Hardrock or Leadville. But it has the same feeling of a family reunion and that makes it very special. You meet people and you have this instantly like you have a connection. 
"And of course, I am excited to play on the trails here, but I'm also thrilled by the cuisine — all of the pastries and cheese.
I love all of the pastries, especially the pain au chocolate. Oh my god!"
RELATED: How Courtney Dauwalter's Curiosity And Problem-Solving Push Her To The Brink Of What Is Possible
As her effervescent laugh tails off, you get the idea that Dauwalter is as cool and calm as she always seems to be heading into a big race — even when it's the gnarly and competitive 171 km UTMB. The 36-year-old Salomon-sponsored runner from Leadville, Colorado, put the disappointment of not finishing the Hardrock 100 on July 15-16 — she was running strong through the first half of the race but eventually dropped out two-thirds of the way through due to stomach problems — in the rearview mirror immediately and moved on.
Now six weeks later, she's ready for another huge, long-distance test that she has thrived tackling more often than not over the past seven years. Since 2014, Dauwalter has won 31 races from 50km to 240 miles and the bigger the challenge the more happy-go-lucky she seems.
"So Hardrock didn't go as planned," she said candidly on Wednesday morning. "I made it 62 miles instead of 100, which made the recovery much quicker. I was able to get in a lot of good training between Hardrock and now and enjoy some time in the Colorado mountains. We'll see how it pans out."
You can watch the live stream of UTMB races here.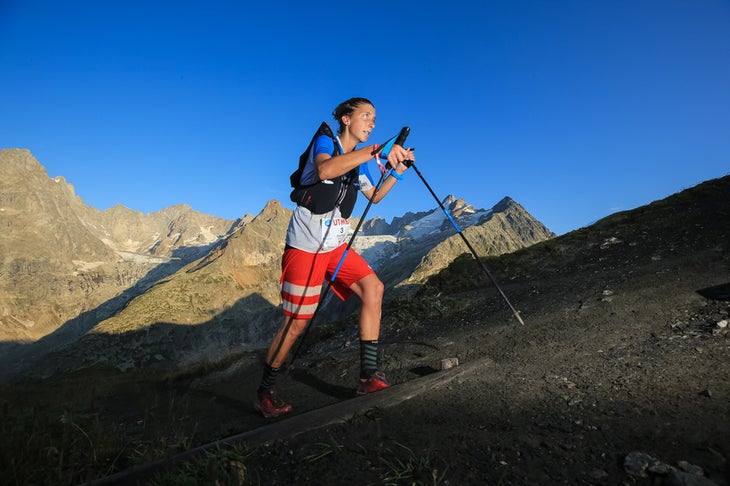 After Her Hardrock DNF
After Hardrock, Dauwalter quickly got back into training on the high-altitude trails and 14,000-foot peaks near her home in Leadville. She says she tinkered with her fueling plan a bit and came up with a new strategy that she hopes will serve her well in Chamonix. Her husband, Kevin, will be crewing her as she circumnavigates the 106-mile race around the Mont Blanc massif. 
"Everything is feeling really good and most importantly I feel very excited to run 100 miles and get to the finish line, so mentally I feel ready to rumble," she said with a smile from the village as 15,777-foot Mt. Blanc could be seen over her left shoulder. "I felt that right after Hardrock. When there is unfinished business like that, I think mentally you can come back quicker because the fire is still burning from that attempt."
When almost every race was canceled last summer, Dauwalter attempted to set a new Fastest Known Time on the 500-mile Colorado Trail from Durango to suburban Denver. She was on pace but then was overcome by smoke from wildfires burning in Colorado and eventually had to curtail her efforts about a day and a half short of reaching the end of the trail. 
RELATED: Runners Reflect On Their Connection To Chamonix And UTMB
She recovered from that to outrun all of the American runners at the uniquely challenging Big's Backyard Ultra in Tennessee (and finished second overall in the virtual international race), covering 283.33 miles 68 hours. In late June, just three weeks before Hardrock, she won the challenge San Juan Solstice 50-miler in Lake City, Colorado, in a course-record time of 9:11:10.
Dauwalter flew into Milan, Italy, last weekend and spent a few relaxing days in Northern Italy before showing up in Chamonix on August 24. She made a brief appearance at the Salomon store in Chamonix on Wednesday morning, signing autographs for fans who went on a fun run. Aside from indulging in some of the local cuisine, she'll keep a low profile before the 5 p.m. start time Friday evening (11 a.m. ET)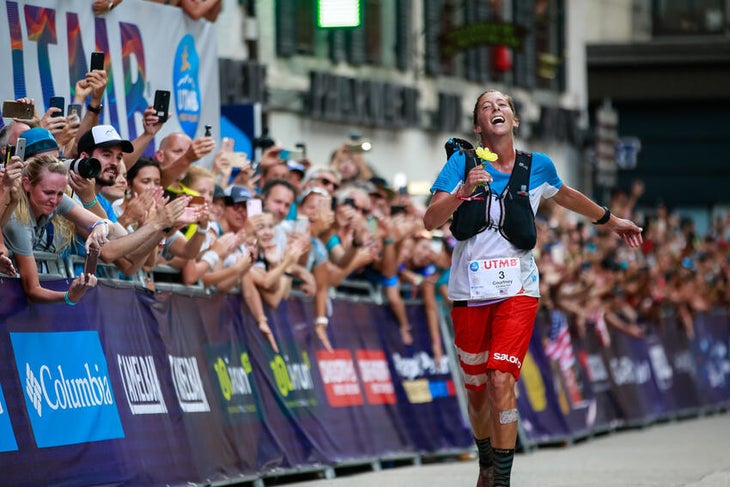 With a combination of a deep field, moderately high altitude, long stretches of technical terrain, 10 wickedly steep climbs and descents through parts of France, Italy and Switzerland, the UTMB is considered the pinnacle race in ultra-distance mountain ultrarunning. But Dauwalter made it look easy in 2019.
She dominated the race in 2019 despite never having been on the course before, grinding out a win in 24 hours, 34 minutes, 26 seconds in a pair of the longer, basketball-style shorts she's become known for. That was well off the course record of two-time winner Rory Bosio (22:37:26 in 2013), but she Dauwalter won with a 59-minute margin of victory over runner-up Kristin Berglund of Sweden.
With every 100-miler, you just take each section as it comes, do it as well as it comes and then move on to the next. To me, this is all just another chance to run 100 miles and test myself.
RELATED: Walmsley Ready To Go Full-Send At UTMB
She returns as one of top contenders along with Beth Pascall of the UK, Maite Maiora of Spain, Regana Debats of the Netherlands and Camille Bruyas of France. Also in the field are fellow Americans Kate Schide (who lives in France), Brittany Peterson, Hillary Allen, Kelly Wolf and Magda Boulet.
"It's awesome that we're all here and we're going to start the race, but it doesn't feel like I am coming back as the defending champion because it's so far removed," Dauwalter said. "There are a ton of sections of the course where I just don't remember anything about it. It will be cool to get back out there and trigger the memories of some of those sections. But I think with every 100-miler, you just take each section as it comes, do it as well as it comes and then move on to the next. To me, this is all just another chance to run 100 miles and test myself."