Indigenous Skier Connor Ryan Is Ready For Leadville's Silver Rush 50
Professional skier Connor Ryan is taking his winter fitness and an Indigenous training approach to Leadville's Silver Rush 50. 
Photo: Courtesy Connor Ryan
Heading out the door? Read this article on the new Outside+ app available now on iOS devices for members! Download the app.
There are many ways to move through the mountains, but Connor Ryan – professional skier and member of the Húŋkpapȟa Lakȟóta from Boulder, Colorado – finds long-distance running to be a perfect opportunity to maintain off-season fitness while honoring the lands upon which he recreates. 
On July 9, Ryan will toe the line at the Leadville Race Series' fourth event, the Silver Rush 50 Mile Run, a high-elevation out-and-back that starts and ends at 10,200 feet, following dirt roads up and around mining towns east of Leadville, Colorado, traditional lands of the Ute.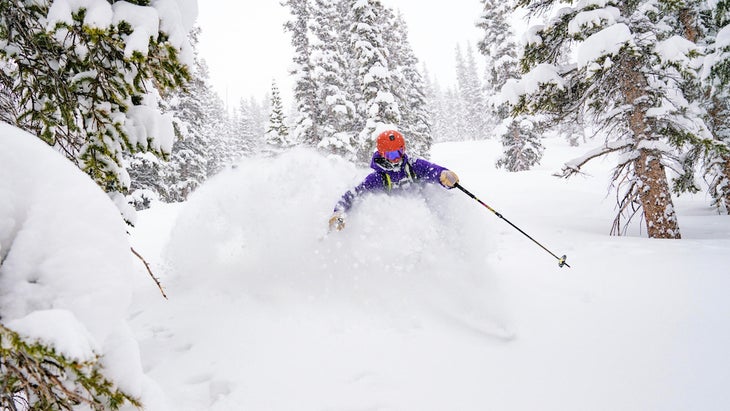 "For Lakota people, there is a rich tradition of running long distances," says Ryan. "There's a long distance race around the Black Hills that's referenced in our creation story." He goes on to name notable Lakota runners like Billy Mills (Oglala Lakota), who famously won the gold medal at the 1964 Tokyo Olympics for the 10,000-meter run, and remains the only American man to win at this distance. And more recently, Jordan Marie Daniel (Lakota), elite runner and founder of Rising Hearts, an Indigenous-led grassroots advocacy organization that works to elevate the voices of Native peoples and cultivate community for racial, social, economic, and environmental justice. 
"Sometimes as Native people we have to remind people we exist," says Ryan. "Toeing the starting line with someone else is a powerful way to do that." 
RELATED: Indigenous Athletes Are Running For Justice
The Crossover: From Backcountry Skiing to Mountain Running
Connor Ryan's first real experience trail running was the Kachina Marathon in Taos, New Mexico, in 2019. The course offers 8,000 feet of vertical gain over a marathon distance (read: steep), but he finished strong, and returned last year with a podium finish, despite getting lost and adding several miles to make it an unofficial 50K. 
After Kachina, Ryan was hooked, though he makes it clear that skiing comes first. Skiing allowed him to see that he could go up and down mountains faster and easier, with a lot less weight. Just like running. 
"Sometimes as Native people we have to remind people we exist," says Ryan. "Toeing the starting line with someone else is a powerful way to do that." 
As an experienced backcountry skier, not only does the fitness cross over, but so does the mentality. "It's all about listening for the right moment," says Connor, referring to the importance of monitoring snow conditions and avalanche risk. "That's impacted the way I move in the mountains, and that's my approach as an Indigenous person as well. When the mountains tell me it's time to ski something, it's time to ski something."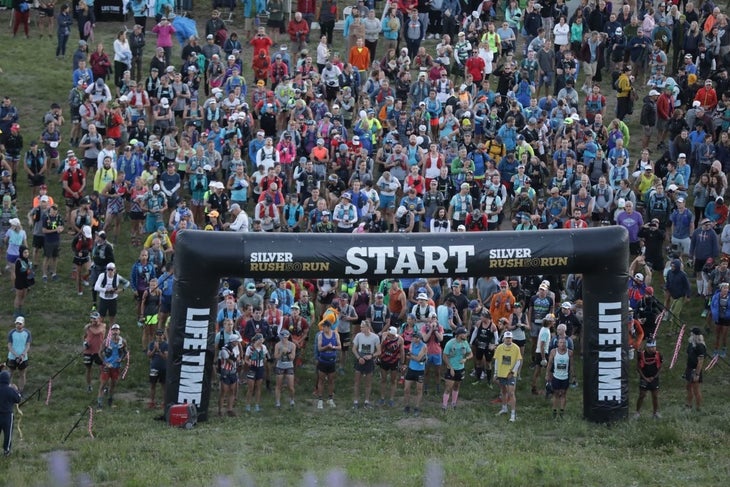 An Indigenous Way of Training
As Ryan approaches the Silver Rush 50 this weekend, it'll be the longest he's ever traveled afoot. He says that it all comes down to the approach. 
"The way I train is an Indigenous way of training. A lot of it is in the preparation. I train really intuitively. I let the places tell me: this is what you need to be running right now. This is how fast. As opposed to scheduling workouts throughout the week, it's more like: where am I, emotionally and spiritually? It's letting it be more like a relationship. There's more listening involved." 
He appears at ease in navigating the spotlight as a public figure, a climate activist with Protect Our Winters (POW), and a professional athlete. The key for Ryan is remembering this is all much bigger than him. 
"Skiing gives me the opportunity to do this thing I have in common with a bunch of people, but it's also an opportunity to be heard about these things that are often pushed aside in a race, like being in the places where the races happen."
Normally, after the ski season wraps up, he rests. But not this season. This season, he's ready.  When trail runners complain that they haven't been able to access much high country because of lingering snowpack, Ryan shrugs. He's been up there all winter, charging hard, gaining fitness.
RELATED: You Cannot Erase Us – A Letter From An Indigenous Runner
Spirit of the Peaks
In January 2022, Ryan teamed up with NativesOutdoors, REI Co-op Studios, and Wondercamp to launch Spirit of the Peaks, a 41-minute film that "connects conflicted pasts to an awakening in cultural awareness that can create an equitable future for Indigenous people and skiers."
In a way, running in the mountains feels like "a continuation of the storytelling journey of Spirit of the Peaks, on Ute Territory," says Ryan. "For the film, there was a big process of learning from Ute folks, studying their history." He feels that knowing the history of the lands upon which we run is required, to interrogate naming conventions of land and water features associated with colonization. Most of the high mountain passes and interstates that crisscross Colorado, for example, were first charted by Indigenous people following game, claimed now as settler engineering ingenuity.
"When you're running up on those peaks, you know that Ute people ran among them, too. I don't know, that's just an inherently Indigenous feeling to me."
Ryan is optimistic that most people are receptive to learning the true cultural histories of the places they live and the trails they run, when given the opportunity and resources.  "I think a lot more people would be inclined to learn from and allow Indigenous people to lead in these spaces if they realized that … we're even in these spaces!" 
The Right Crew
To transition from skiing to long-distance trail running requires guidance, and luckily, Ryan has made some key contacts in the sport. At last year's POW conference, he met ultrarunning star Scott Jurek, and they've run together a handful of times. Ryan is also good friends with Patagonia-sponsored ultrarunner and environmental activist Clare Gallagher.
"I'd heard about Connor from mutual friends in the Southwest outdoor and Native communities for years before finally meeting a few years ago," says Gallagher. "I'm inspired by how multidimensional he is. It's extremely rare for world-class skiers to also be top-level trail runners. Not only that, but he's always opening his mind and perspective to others.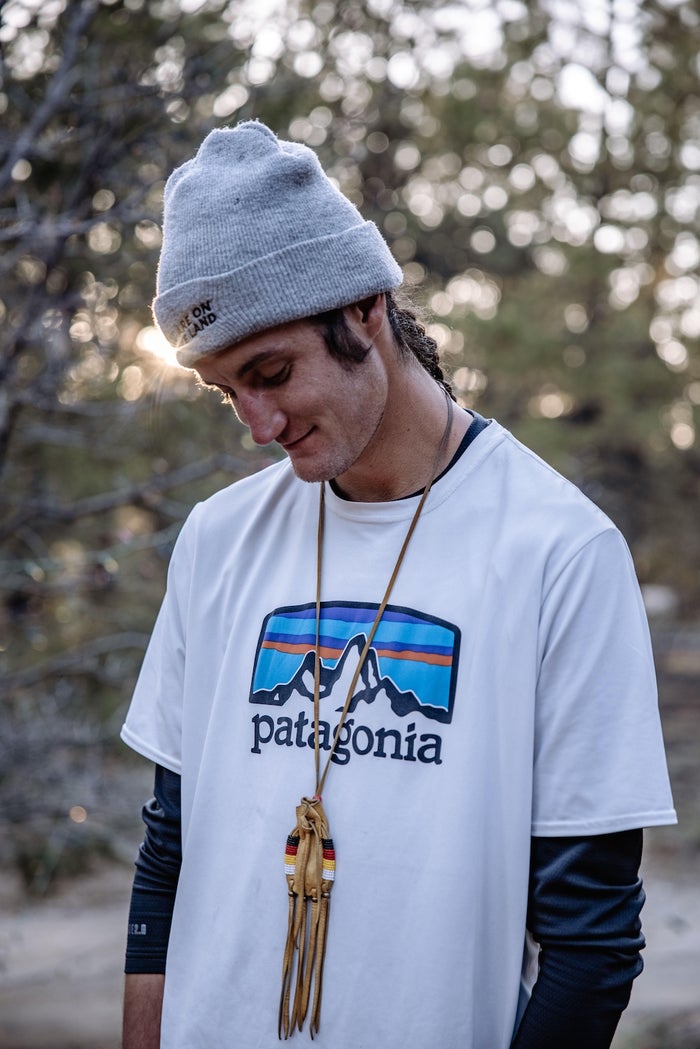 I loved his recent film because it opened my eyes to feelings I also have about my connection to nature, and Connor empathetically shared and explained how a deep connection to place and our surroundings is ingrained in his Lakota heritage. I appreciate his approach to sharing his experience because he's positive and inviting. I'm always laughing when I talk with Connor.
"I am not surprised he's running one of the harder 50-milers in Colorado this summer and I am so excited to hear how his journey goes. At the very least, I know he'll be heat-acclimated because like me, he says he loves running the Boulder trails in the heat of the day!" 
A Slight Change of Plans
Originally, Ryan was going to run the Leadville Trail Marathon on June 18, but he tested positive for COVID and had to change plans. Now, he will run the Silver Rush 50. 
"The Silver Rush 50 Run course navigates Leadville's historic east side mining terrain and is riddled with old mines that began extracting silver, gold, and ore nearly 100 years ago," says Ryan Cross, Senior Marketing Manager at Life Time. "This will be Connor's first participation in a Leadville event. He brings an astute awareness to the Indigenous lands that we all recreate on, and it's our honor to bring him out to experience Leadville." Cross acknowledges that, historically, the Leadville Race Series hasn't taken substantive measures to honor Indigenous history and culture, but aims to change that.
RELATED: Land Acknowledgements And How We Relate To The Trails We Run
A few days from race day, and despite the minor health setback from COVID, Ryan remains excited about the race redirect. "I had to ease back into training after having COVID and haven't had much time to train for a longer race with less climbing and more running. I did a little damage to the lower legs coming back off the COVID couch and have a nagging calf injury, but I'm confident I can push through it. Overall, I think I'm in for a long hard day, stoked to be up against a challenge that will truly test me."