Check Out This Gnarly Race Series
The Cirque Series takes runners up and down high peaks on rugged ski resorts.
Heading out the door? Read this article on the new Outside+ app available now on iOS devices for members! Download the app.
Giselle Slotboom loves running trails through the mountains of Utah, but she admits that she was a bit blown away by the steep climbs and stunning views she encountered running in Alaska earlier this summer
The 28-year-old Salt Lake City resident was one of about 500 runners who found their way to Alaska's Alyeska Resort for a 5.9-mile Cirque Series trail race on July 31. But this wasn't just any 5.9-mile race. This one had a lung-busting 3,890 feet of vertical gain.
"Yeah, Alaska was really cool. The mountains there are amazing," says Slotboom, a native of the Netherlands who formerly ran track and cross country for the University of Utah. "You're near sea level when you start and then you do a huge climb up to the summit, and you have the views of the ocean in one direction and on other side you have glaciers and big mountains. That was really awesome." 
RELATED: The 5-Minute Leg Circuit For Mountain Runners
The Cirque Series is an increasingly popular summer circuit of short races known for huge vert. Each of the six races are situated at ski resorts in the West and send runners searing ascents and thigh-blasting descents. The events have attracted a range of trail runners, but also mountain athletes who specialize in other sports like skiing, mountain biking and mountaineering.
"When you're going up that really steep terrain where you absolutely have to be walking and you can't run anymore, it switches from being just a cardiovascular activity and you need to have some muscular pop," says Sam Hendry, 22, a junior Nordic skier for the University of Utah. "There isn't a direct correlation between skiing and trail running, but it's a lot of fun."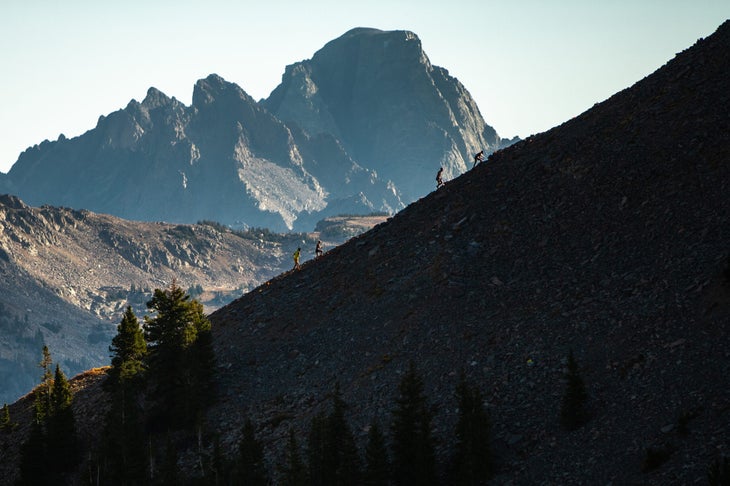 A Ski-Inspired Series
Series founder Julian Carr got the inspiration for the race series after hiking so many high mountain ridgelines in the winter as a professional alpine freeskier. Although he was never a runner when he was younger, he relied on his mountain fitness, alpine wherewithal and all-around tenacity as he developed a reputation for skiing steep descents and hucking himself off enormous cliffs. (If you haven't seen it, you've got to see this segment of Carr famously nailing this world-record 210-foot cliff jump!)
Initially, Carr says he got his summer fitness mojo through mountain biking in Utah, but later he started hiking some of the same peaks in the summer with his dog. That helped turn his focus to trail running and before long a cartoon lightbulb appeared over his head with the idea of creating a rugged, high-mountain trail running series.
"I was used to traveling through the mountains on the most direct path to a peak," Carr says. "And that's kind of why my big inspiration on creating the races was all about summiting a peak and making it via a really cool, direct, intuitive path. The idea was meant to create courses that required redline hiking or trail running, if you can call it that."
At one point several years ago, Carr was also trying out for a gig as a forest firefighter in Utah, but to pass the fitness test he had to be able to reach a certain point a third of the way up Mt. Olympus in under 30 minutes. On his first attempt, he missed the objective by about a minute. That inspired him to become a better trail runner and eventually cut his time down to under 23 minutes. 
RELATED: An Expert Training Plan For Your First 50k
Carr eventually entered a few sub-ultra trail running races, but was disappointed to find what he considered mild courses without any major crux or events with relatively low production value. He admits he did take some positive input from Mount Marathon in Alaska and the GoPro Mountain Games in Colorado and wondered why there weren't more events like those.
When he launched the Cirque Series in 2015, he wanted to make sure that his courses were extremely challenging but also had a fun mountain vibe that celebrated high-level elites and first-timers alike.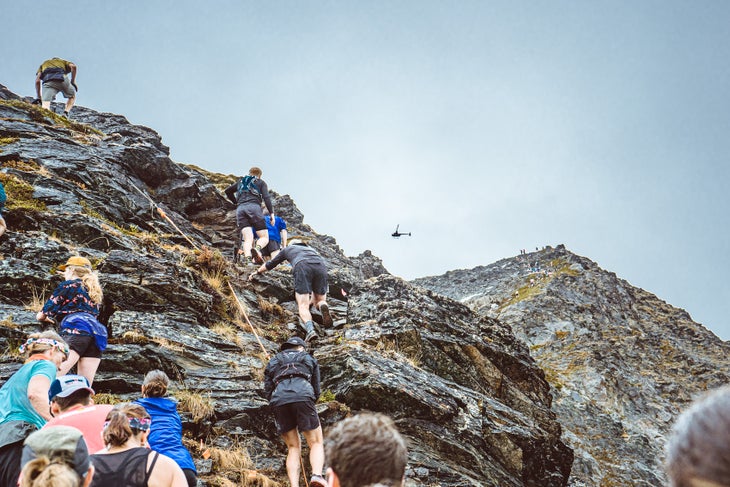 Carr's made it a point to have prize money for the top elite athletes in the Pro division ($1,000 for first, $300 for second, $100 for third for both men and women for each race and for the overall series), as well as gear and swag packages for the Expert and Sport level podium finishers 
"The whole objective is to get into the high alpine terrain and have a great course that even the top runners will be challenged by, but also that anybody — runners and hikers of any age, all walks of life — will be able to enjoy and appreciate after the race," Carr says. "It doesn't matter if you do it in an hour or two and half hours, it's pretty awesome to have that shared sense of accomplishment from doing that same course and going up and down a peak."
In November, Carr will be recognized for his achievements both as a skier and for getting people involved in trail running when he will become the recipient of the 2021 George Mallory Award from Wasatch Mountain Arts, an organization fosters bonds between the community and the outdoors by inspiring an active and sustainable lifestyle through film, art, literature, and events. (Trail runners Ueli Steck, Jared Campbell and Courtney Dauwalter are among the previous recipients of the award.)
RELATED: How To Train Specifically For Mountain Running
After a year off in 2020, the series returned with six races this year, with each race being capped at 500 participants. Some of those races could have more participants based on ski area special use permits, but Carr doesn't want to make the events too big or increase the environmental impact of putting more people on the sometimes fragile terrain.  
"To be able to share the love I have of the alpine and to be able to build a course that is reasonable that a lot of people can experience and discover has been a lot of fun," says Carr, who is a consultant to several gear brands and also serves as an ambassador for Protect Our Winters (POW) and Climate Reality Project and is a board member of Lands Conservation Foundation. "It's just a blast to see people fall in love with mountain running just like I did by being first exposed to it from skiing. For a lack of a better term, it's a mini ultra. We still go up into the true alpine in rugged, really cool mountains."
An Ultra Alternative
Slotboom says she loves trail running but has no interest just yet in running ultra-distance races. She entered her first Cirque Series in 2017 and has since has enjoyed seeing more top runners enter the races.
"I like the shorter stuff and have no interest, at least not now, in running 50 miles," says Slotboom, who competed in the World Mountain Running Championships for her native country in 2018. "The Cirque races are great because they're short and fast. It's rewarding when you bag a peak and then get to run the downhill back to the bottom. It feels good to be out there in that kind of terrain, where you're working hard, you're in a cool place and there is amazing mountain scenery."
At the Alyeska race in July, Maine's Sophia Laukli, another University of Utah Nordic skier, went off the front and dominated in impressive fashion, winning in 1 hour, 14 minutes, 56 seconds. But Slotboom hung in there when the going got tough at placed second in 1:18:06, allowing her to garner key points for the overall standings. Meanwhile, Scott Patterson, a Olympic Nordic skier from Alaska, won the men's race in 1:05:27.
RELATED: A Six Week Training Plan To Improve Speed
At the series finale on Sept. 18 at Grand Targhee Resort in Wyoming, Colorado's Janelle Lincks won her second consecutive race (following her dominating win at the Sept. 4 race at Colorado's Arapahoe Basin ski resort) with a 1:01:08 effort, solidly outrunning Laukli (1:01:35) on the 7.1-mile course that included 2,212 feet of vert. 
But Slotboom again ran strong and placed third (1:04:18) and earned 40 more series points to give her the overall series title for women with 178 points. Earlier in the season, she who won the series-opening race on July 3 at Brighton Resort in Utah and placed second at the race at Alta ski area in Utah on July 17. Laukli and Lincks, who each won two races in 2021, each finished tied in the series standings with 144 points, while 18-year-old Kylah Ricks, a standout high school runner from Moab, Utah, finished fourth with 130 points.
On the men's side, Hendry was the overall champion. He placed seventh at the race in Alaska, but came back to win the Aug. 21 race at Utah's Snowbird Resort and the series finale in Wyoming. In the final, with the overall title on the line, Hendry covered the course in 55:15, running away from Idaho's Michelino Sunseri (55:51) and Wyoming's Sean Mulherin (57:00).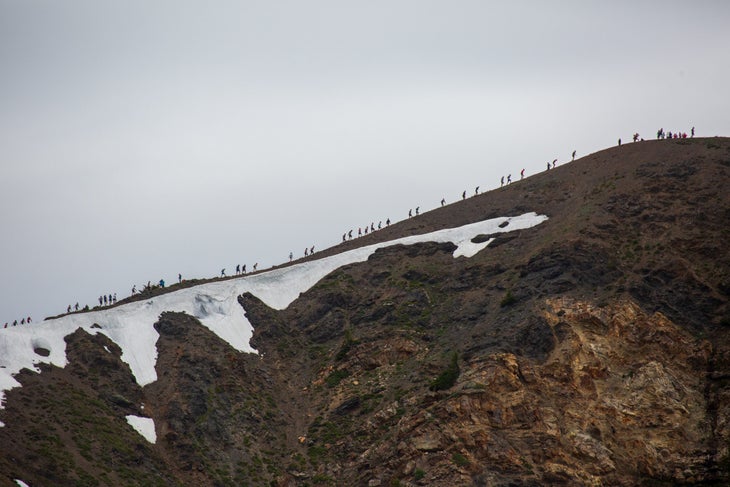 The series drew other top runners to one or more events, including two-time mountain running world champion Joe Gray, who won the race at Arapahoe Basin in Colorado (55:10) by a mere 20 seconds over runner-up and fellow Coloradan Eli Hemming (55:30). Other top-tier runners who competed in the Cirque Series this year included Rickey Gates, Andy Wacker, Allie Mac, Morgan Arritola, Tabor Scholl, Grayson Murphy, Josh Korn, Travis Morrison, Joseph DeMoor and Stephen Mulherin.
RELATED: How Can You Maximize Your Glutes?
After having to cancel its 2020 race series because of the COVID-19 pandemic, Carr and his cohorts launched a maximum vertical challenge and it gained a lot of attention. It's bringing the Max Vert October back this year and hoping to inspire more people to tackle big vert while running or hiking. Last year, Utah's Noah Brautigam covered 340,000 vertical feet in the challenge. This year, Colorado's Chris Fisher has already said he'll be gunning for 400,000 feet of vert.
After the Cirque Series races, runners are encouraged to stick around at the ski area base to check out the exhibitor booths, music from a DJ while enjoying food and beverages — cold beer or otherwise. 
"In skiing, the apres time is just as important as the skiing itself," Carr says. "After we all go hike or run that peak together, I want to have an environment where we can mingle and talk and make friends and celebrate that adventure we just had. I want the after-hangout to be just as fun as the race itself."