Catra Corbett Is an Unstoppable Force in Ultrarunning
At age 56, Catra Corbett is just getting warmed up.
Heading out the door? Read this article on the new Outside+ app available now on iOS devices for members! Download the app.
It would be hard to miss her fluorescent and usually matching athletic wear, bright-pink locks twisted into twin buns on the top of her head, tattoos and facial piercings a blur in the California sun as she whisks by you with a smile (and at least one dachshund running alongside).
Catra Corbett turns heads. She's impossible not to notice at the dozens of ultras or, if you happen to be in the California backcountry, solo trail excursions she runs every year. Now 56, Corbett, of Bishop, California, holds the FKT for a double run of the John Muir Trail: over 400 miles in 12 days 4 hours 57 minutes. Now she runs it nearly every summer, just for fun.
RELATED: Meet Courtney Dauwalter
She is the first American woman to run 100 100-mile races. She's podiumed in 64 ultras across the country, including placing third at the Beyond Limits 72-hour ultra just this April. She's the only woman to complete the San Diego 100 10 times, and she regularly orchestrates solo hundred-milers just for the heck of it.
And this year, she plans to be the first person to run the Triple Crown of 200s (the Bigfoot, Tahoe and Moab Endurance Runs) three times.
"She is persistent," says her friend and fellow runner Mike Palmer. "She's unique in that most of the time she accomplishes what she says she's going to do no matter how outlandish it may seem to others."
However, Corbett wasn't always a picture of such confident, determined energy on the trail. In fact, her running career didn't start on a high-school track or a college cross-country team. It began in a jail cell.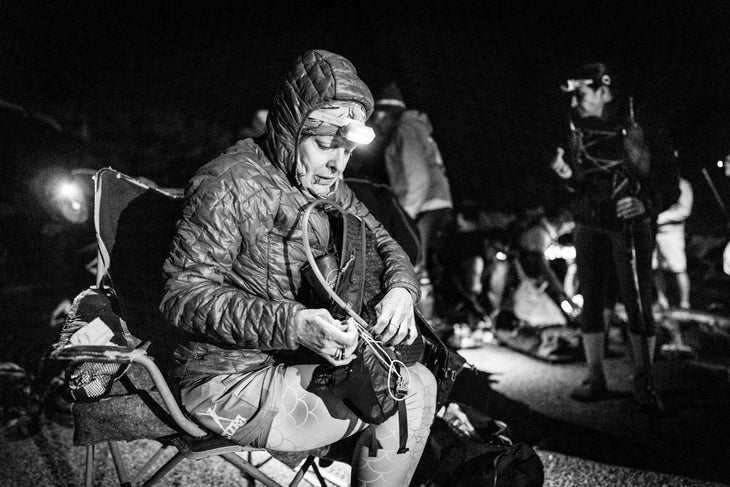 In The Beginning
At 28, tears stinging her eyes, quaking from fear and cold, Corbett wondered where she had gone wrong. She didn't deserve to be there behind bars.
It appeared that her high-octane, punk-rock, wild and reckless lifestyle had caught up to her. For years she had managed to maintain what she would later describe as a half-existence, tumbling through life high, drunk or strung out, bouncing from club to club all week long, working at a
salon and dancing at a strip club just to afford her drug of choice—meth. At some point, she began selling the drug for more cash and easier access.
For years she survived as that high-functioning addict: she kept her job, spent her nights at goth clubs and concerts, all while maintaining a virtually uninterrupted high. She had friends. Love. Life seemed good.
Until she was arrested for dealing.
Then, terrified at the thought of spending another night— or longer—in a cell, ashamed and broken, she had to decide if this was how she wanted to live. Or die. She didn't want to die. She didn't want to spend more nights in more cold, lonely jail cells. So, that night marked the end of life as she knew it.
"I sat there thinking, How did my life get to this point? I knew I wasn't a bad person and I needed to change, but how?" Corbett asked herself. "I just knew I wanted a better life for myself."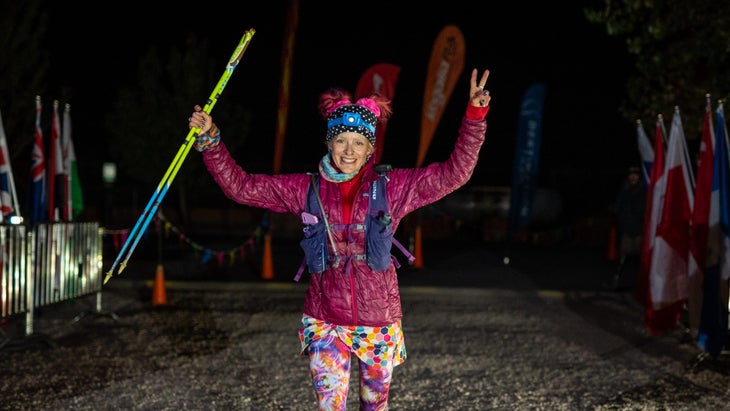 A Fresh Start
It was her father who had planted the running seed years before with a seemingly innocent plea for his teenage daughter: watch the televised Western States ultramarathon with him in their living room.
She rolled her eyes, as teenagers are wont to do, and wrote off those runners and the whole concept of ultrarunning as crazy. But years later, after her night in jail, after leaving friends and boyfriends behind in the name of a fresh start, and after Corbett's father had passed away from a heart attack, in 1996, Corbett, then 30, started running.
She didn't know anything about running, but just felt a pull to it. Maybe it was a need to test her limits, maybe it was her father's exuberant spirit and passion bubbling up within her, maybe it was simply to survive the pain and loneliness she was feeling now that she had left everyone and everything she knew behind. Whatever the motivation, she laced up her shoes and went out the door.
Awkwardly, slowly perhaps, and in nothing more than a pair of cutoff shorts and a black T-shirt, she ran down the block. Around the neighborhood. Found the Mission Peak Trail near her home in the Bay Area. And ran.
She boldly signed up for a marathon, so she could test her distance-running chops. It was at that first marathon that she overheard another runner talking about ultras.
Specifically, he mentioned the Skyline 50K. Corbett thought, That's not really much longer than 26.2 miles. If I can do this, I can do that.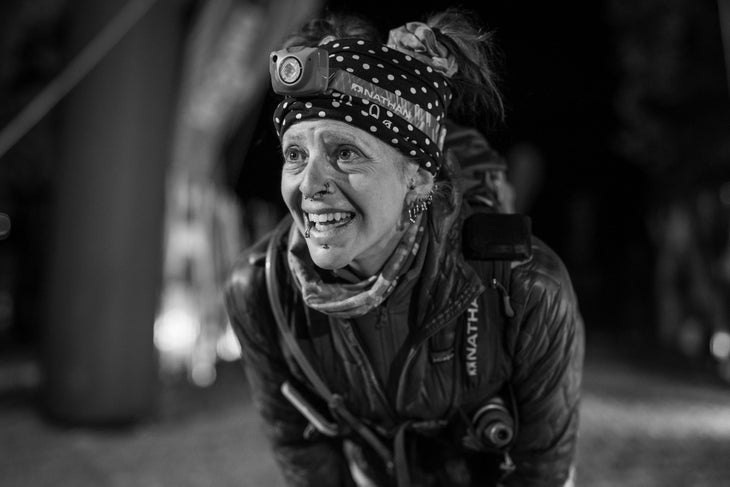 An Intro To Ultras
RELATED:When Passion Becomes Protection
So, in 1998, just two years after she laced up her shoes for the very first time, she entered her first ultra: the Skyline 50K, the longest-running 50K in California. As Corbett ran, other racers gawked at her as she skipped aid stations and eschewed mid-race fuel stops. One runner offered a sage piece of trail-ultra wisdom: she might want to consider walking up the hills.
"I didn't know anybody that ran, so I didn't have anybody to ask how to train or race," Corbett says. "I had to figure it all out by trial and error."
Three weeks after Skyline, she ran the Tamalpa Headlands 50K. Two months after that was the Firetrails
50-miler, then the Quad Dipsea 28.4 the very next month. The very next day she signed up to compete in her first 100: Texas's Rocky Raccoon.
At Rocky, she wasn't even halfway through the race and her feet were already covered in blisters. And duct tape. No one—not her boyfriend, who was cheering her on, nor the medic peeling the silver strips from her heels (along with several layers of skin)—thought she should continue. She may not have known much about racing, but inside she knew one thing: she was going to finish.
So she gritted her teeth as blisters sloughed off with the sweaty tape, and limped back out onto the rocky dirt trail, tears stinging her eyes. That same medic would replace the tape once more, urging her to call the race. But this is who she was now: an ultrarunner. And she was determined to prove it to herself come bloody feet or skinned knees.
"I was in pain and just wanted to keep going so I could finish," she says. "I wanted to prove to myself I could overcome all obstacles in life."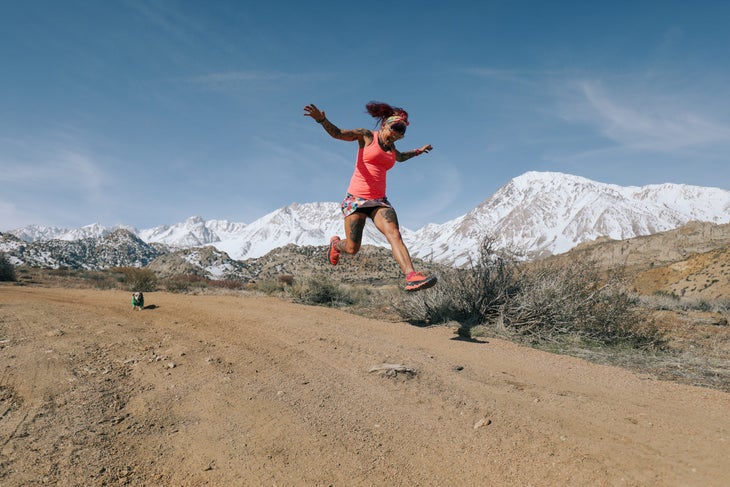 The Battle Continues
Addiction wasn't all Corbett would have to overcome. She had also struggled with an eating disorder for much of her life. But as she discovered, ultras were no place to deprive her body of fuel.
Often, she would attempt long, strenuous runs with little more than a few pieces of fruit in her stomach. She would struggle and wilt on the trail, assuming that was just how running made you feel.
Her unhealthy obsession with her weight and fixation on food just got worse. She suffered four heart episodes
due to mitral valve prolapse, and family members and other runners questioned her health. She wanted to be an ultrarunner. She needed to be an ultrarunner. Because if she was an ultrarunner, she was no longer an addict.
So that determination to become the person she wanted to be pushed her into recovery from a different type of addiction. Once she was able to acknowledge her eating disorder, she was able to confront it, and began a 12-step eating-disorder program, mirroring the same approach she'd taken to addiction rehabilitation.
"I started focusing on eating more food and having a healthy mindset toward food," Corbett recalls.
She had trained her body to run; now she would train her body to eat. She threw away her scale, researched the importance of fueling her runner's body on and off the trail, and began slowly introducing herself to the filling and nutritious foods she needed. She started eating almond butter by the spoonful—still her preferred trail fuel—and continued working on her disorder.
She fueled with coconut yogurt before races, and almond butter, gels, fruit and dates throughout the events.
"People think you can't run ultras without meat," says Corbett, a vegan since age 18. "But I've always done that."
Healthy and well-fueled, she thrived.
RELATED:The Injuries You Can't See: How David Laney Learned to Manage His Running Dependency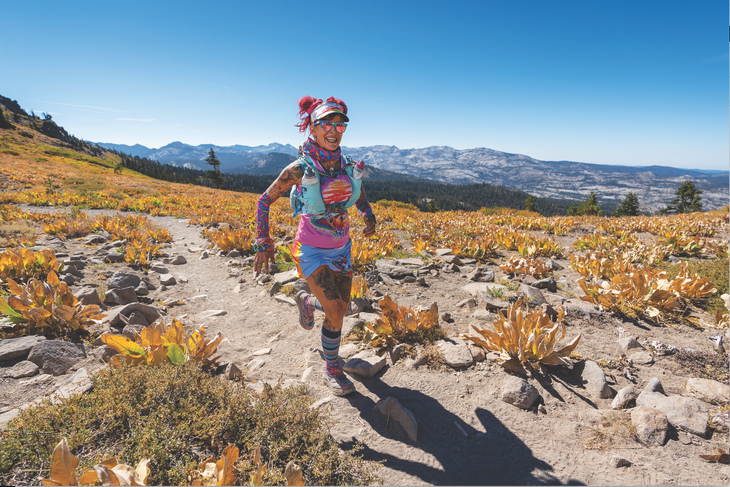 Keep On Keeping On
So she kept running. And running. Past the finish line at Rocky Raccoon. Into her mother's arms when she didn't finish in time at her first Western States, and after other races and record-setting trail solos. During her FKT of the JMT, Corbett earned the nickname of Dirt Diva, which she has adopted ever since.
She ran to beat addiction. To heal after broken and unhealthy relationships. To feel close to her parents after they passed. And soon, running became more than setting one foot in front of another just to prove she could do
it; it became fun, freeing and the place she would find community.
"Running gave me confidence," Corbett says. "It gave me a whole different life and a whole new purpose. I had something to do."
Over her 25 years in the sport, Corbett has become an unstoppable force, an effervescent Rainbow Bright who goes out for solo hundred-mile runs for fun.
She has completed more than 169 runs of 100 miles or more, plans to run a 100-miler in every state (13 down, 37 to go) and, this year, to set PRs in each of the Triple Crown 200-mile ultras.
She won the 2013 Razorback Endurance Race 100-miler and podiumed in 64 races. More recently, in 2018, she won the Beyond Limits 72-hour ultra, and, in 2019, placed third in the Bigfoot 200 and was the first-place female in the Triple Crown of 200s that year.
"Catra's running career is one of a kind. She could have won more if she raced less, but she's not out there to beat people—she's out there for the adventure," says fellow runner Christopher McDougall, author of Born to Run . So far in 2021, she's finished a virtual 10 -day race in which she ran 250 miles, two official 100s, one virtual
200-miler, one virtual 100 and an official 72-hour race (completing 186 miles). And this summer, she aims to set an FKT on a double of the Tahoe Rim Trail, for a total of 340 miles. If she runs Mount Whitney three more times (as she plans to do), she'll have achieved 20 summits of the peak.
If you think it all seems like a lot, it is. Instead of slowing down, Corbett wants to spend as much time outdoors on the trails as she can for as long as she can.
"I'm only going to be able to do this for so long. It's a gift," she says, which is why she has run every day for eight straight years, since her 48th birthday.
"More than anyone else I've met, Catra understands that running isn't supposed to be a punishment for pizza. It's supposed to be fun," McDougall says.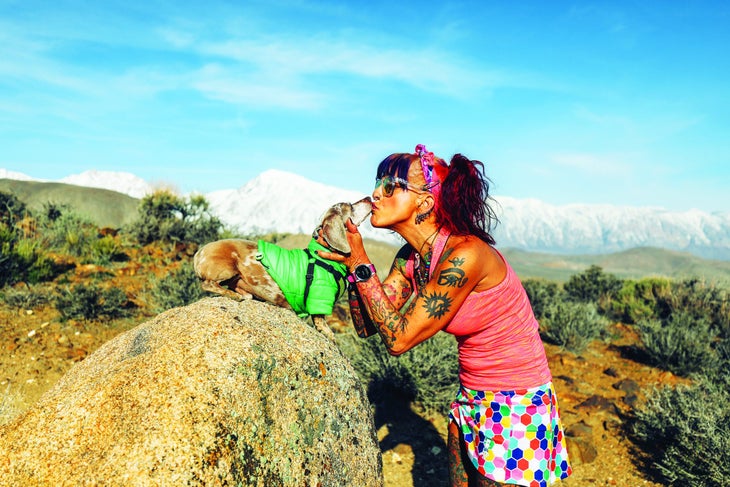 Sharing Her Healing
n 2015, the longtime ultrarunner and addiction advocate Charlie Engle invited Corbett and a handful of other recovering addicts on a cross-country run from LA to DC: the Icebreaker Run, Engle called it. The team ran relay-style, 24 hours a day for 24 straight days. The mission: to open up the conversation about addiction and show others it was not only possible to survive after addiction, but thrive.
"Catra barely knew me at the time but she said yes right away, no hesitation," Engle remembers.
Along the way, she had inspiring conversations with people of all ages struggling with addiction and recovery. Other former addicts came out to join the team for short jaunts and share their stories. Corbett was as inspired as she was inspiring. And those running with her could see how important it was to her to get outside and do what she loved—that which had healed her.
"I think that Catra is fueled by running," says Engle. "To be clear, it's not the physical part of her that needs fueling: it's the spiritual part. Catra needs running to feel whole."
Never Alone
While Corbett revels in her solo runs, she is rarely alone. Her running partners on her daily runs? A pair of dachshunds.
She adopted TruMan years ago during a dark and lonely time in her life and taught him to love running. As far as she knows, he's the only doxie in the world who runs ultras. He's 15 now, so his distance days are mostly behind him, but he's
run five 50Ks, and he and Corbett and BaXter, a two-year-old doxie Corbett adopted more recently, still go on daily morning runs for coffee.
The dogs even compete in their own races: TruMan completed a virtual 100-miler in 28 days, and BaXter ran a virtual 200-miler and finished in 32 days. BaXter is ready for more, she says, now that the vet has given him the go-ahead after extensive health checks and X-rays.
These are Corbett's running partners, her companions, her family, and it shows in the abundant, smiling—and often costumed—photos on Corbett's Instagram account.
"They are smart, cute, funny and stubborn. Just like me," says Corbett. And last year, they were frequently her only running companions. While her partner, Phil Nimmo, joins her on runs a few times a month, running was lonely in 2020, with in-person races cancelled, postponed or turned into virtual events.
It was lonely, Corbett says, not getting to run alongside her friends and fellow athletes, but she would FaceTime them from the trail on her daily runs, organize small group runs in the Eastern Sierras near her home in Bishop, California, and help organizers plan and execute virtual races. But she can't wait until hugs are once again a mainstay at finish lines everywhere.
Looking Forward
In the meantime, she keeps running and she keeps telling her story. Her book, Reborn on the Run, was published in 2018 and will be available in German later this year. Corbett is active on social media (@DirtDiva333), where she shares her day-glo running outfits along with effervescent encouragement and stories of recovery, which have earned her (and her doxies) thousands of followers and fans.
Corbett is 56, and shows no sign of slowing down. She will continue to don those vibrant visors and running skirts, flash a big smile to anyone she might pass on the trail and offer hope for addiction recovery for anyone who needs it.
Says Corbett, "I'm going to do this as long as I can. Every day I get out the door is a gift."
When she's not backpacking, rock climbing or trail running, Alisha McDarris is an Austin -based outdoor journalist and head honcho of the sustainable-travel and outdoor-adventure blog Terradrift.com.