Beast Coast Runner Eric LiPuma Helps Team USA Earn Silver
For the second time in eight months, the Vermont-based runner took seventh at the World Mountain and Trail Running Championships long trail race, locking down another Team USA podium finish.
Heading out the door? Read this article on the new Outside+ app available now on iOS devices for members! Download the app.
Pack up the car, drive west, and pursue the running dream. It's an adage so well-worn it nearly feels like a necessary step for success.
Except for Eric LiPuma.
It wasn't until LiPuma left the running mecca of Boulder, Colorado and made the reverse pilgrimage east that he fully realized his running potential as a world-class ultrarunner. 
The Richmond, Vermont-based athlete took seventh at the WMTRC long trail race on June 9th in Innusbruck, Austria. The team event is scored based on the cumulative time of each team's top three finishers, and LiPuma nabbed that critical third spot to secure Team USA's silver medal. 
"That was the hardest thing ever," LiPuma says. "I can't imagine a harder course than that."
It's his second seventh-place finish at the world champs in just eight months. In November's 80K in Chiang Mai, Thailand, LiPuma took seventh overall and second for the U.S. behind the Western States winner Adam Peterman, who won the event, once again helping secure America's top podium spot. 
The experience earned in the 2022 edition of the race certainly paid off. This year, the 30-year-old graphic designer ran with the patience of a seasoned veteran, biding his time in around 40th place for the first couple hours of the grueling and technical 54-mile race jam-packed with 20,000-feet of climbing as it traced the Alps and valleys from Stubai to Innsbruck.
LiPuma systematically worked his way up the punishingly steep climbs, some as steep as 40 percent, down the technical descents, and through the field, moving up to seventh place and catching teammate Drew Holman with just over 10K to go.
"I think we saved each other's races," LiPuma says of catching Holman. "I thought I had made a wrong turn, I was so out of it. But then I saw Drew, and I knew we could both do well. It was great to have someone to run with and pace off of. I walked when he walked and ran when he ran."
Working together, Holman and LiPuma charged the final six miles, catching teammate Zach Miller for the eventual Team USA fifth-six-seventh sweep. If this race was scored like a cross country meet, that is to say by adding up the top three places for each team, America would have taken home the gold. But, the World Trail and Mountain Championships are scored in a less traditional way that adds up the cumulative time for each country's runner. Team France with its first, second, and 17th-place finishers edged out the stars and stripes by a mere five minutes—over the combined 30-plus hour span.
Of the five American men to score at the last two world champs—Jeff Colt and aforementioned Peterman in Thailand, Holman and Miller in Austria, and LiPuma in both—LiPuma is the only one who does not live surrounded by the thin air, high peaks, and endless trails of the mountain west. But he doesn't view that difference as a disadvantage. In fact, LiPuma believes his home base in rural northern Vermont serves as his secret weapon.
"My training prepared me as well as possible for this race," LiPuma says. "I trained on a lot of steep, techy New England terrain."
LiPuma consistently clocked 100-mile weeks with at least 15,000 feet of climbing over New England's gnarly terrain this spring. The only thing he wasn't prepared for was for his feet to slide into the front of his shoes because the Austrian trails had fewer rocks to impede his speed on the descent than those back home.
RELATED: American Grayson Murphy Earns Bronze in World Championships Vert Race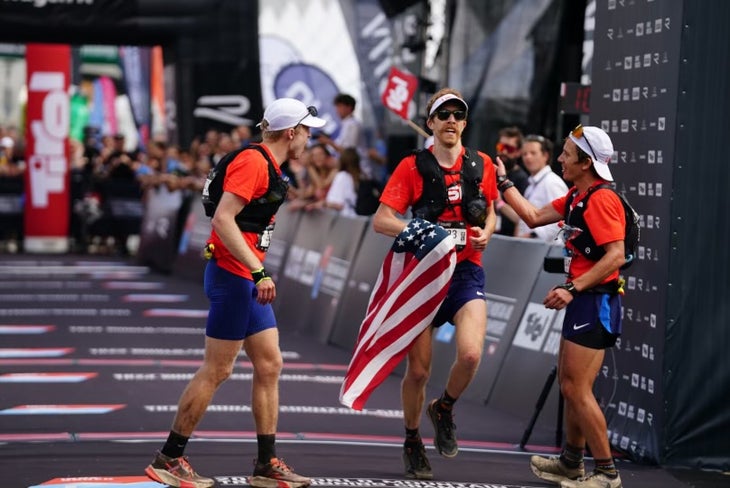 "Go East!"
LiPuma's background supports his case. He's been there, done that with the Rockies. 
The graphic design major ran cross country and track and field at Marywood University, a small Division III Catholic school in Scranton, Pennsylvania. He quit the team after junior year. LiPuma dabbled in running after leaving the NCAA system, and when his best friend Casey Peckio asked if he wanted to join him at the local South Mountain Reservation Mayapple 50K LiPuma revealed his innate talent by not only entering but tying for outright first place as well. 
In 2016, the Midland, New Jerseyite left the Mid-Atlantic for Boulder, Colorado. But it was only once he arrived in the running mecca that LiPuma fully re-emersed himself in the sport. In 2017 he podiumed at numerous ultras around the West, including the Desert Rats 50K (third), the Bighorn 100 (second), and the Pikes Peak Ultra 50 (second). The following year he tapped into that collegiate leg speed and won the USATF National 50K road championship.
LiPuma's as much an expert with a pen as with a pair of running shoes, and despite his entrenched place in the Boulder running community, his career in graphic design pulled him back east in the spring of 2019 for a job in Stowe, Vermont at bespoke Stowe, Cider. He swore he would return to the Flatirons someday.
That was four years ago.
RELATED: Team USA Ready to Take on the World in Austria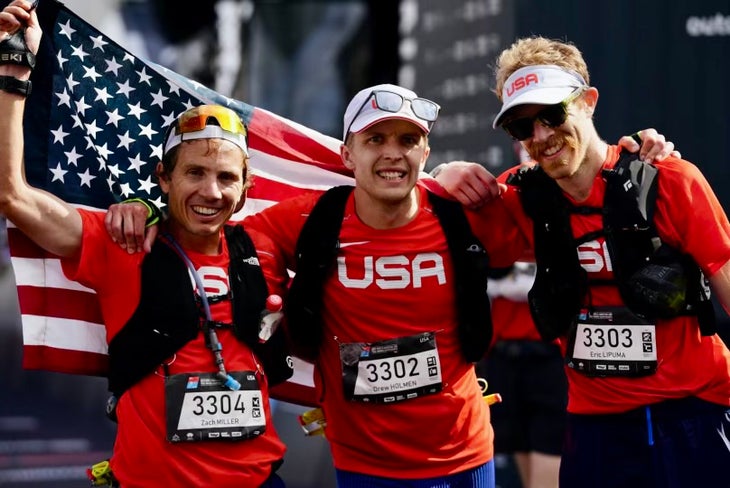 Six months after moving to Stowe, LiPuma connected with a fellow Vermonter and accomplished trail runner Joanna Fortier over their shared hunger for running buddies and a trail community. The couple have essentially been inseparable since. They live on a dirt road in Richmond, Vermont, a town of 4,000 sandwiched between Burlington and the Long Trail, with their tiny dog Hazel.
It's a charmed life, New England style. Yes, the winters are frigidly cold and the trails are snowed in. Yes, mud and black fly season wreak havoc on your shoes and your psyche.  And it turns out that fickle, tempestuous weather hardens your mind and seasons your body for European racing conditions. 
"It was very hot and humid today," LiPuma says of the race. "Especially on the exposed road sections. But it gets very hot and humid in Vermont."
LiPuma trains through everything, according to Fortier. She recalls an outing from last summer just across the border in New Hampshire: "Last summer we did a run in the Whites and we got so dehydrated. Coming down massive boulders and rocks, Eric was so done. He wasn't quite used to it. It's tough here."
Places with 300-plus days of sun like Boulder make lacing up the shoes and heading out the door easy. But athletes trying to reach their potential must thread the needle between motivation and stimulation And when it comes to preparing for European races, LiPuma believes the beast coast is hard to beat as a simulator for European races, with its technical features, incredibly steep climbs and descents, and bad weather.
Sure, Vermont and New Hampshire don't have jaw-dropping 14,000-footers jutting into the clouds. But they have a sneaky, unparalleled preponderance of steep dirt roads and even steeper trails.
"Moving to New England has been good for my running," LiPuma says. "The terrain is so different from out west. The biggest thing is the access to dirt roads, which are all super hilly. Training on those means I can handle more climbing and more descents. And the trails are so hard. By comparison, everything else feels easy. Some routes are so unbelievably technical it prepares you for anything—except smooth trails."
But LiPuma doesn't seem to be too slowed down by buffed-out terrain like California carpet either. In April, he took third in the Canyons Endurance Runs by UTMB 50K, a predominately singletrack race.
RELATED: World Champs 2022: Adam Peterman, U.S. Men Win Gold in World Championships 80km, Women Win Silver in 40k
"That felt like a dirt road race it was so smooth," LiPuma says.
LiPuma split his training about 60 percent trails, 40 percent roads in the leadup to the world champs, with a sprinkling of biking too. On May 20 during a training run he shaved an hour and 40 minutes off of the 4 Humped Camel FKT, which summits Vermont's wildest and arguably most breathtaking summit as well as local test piece, Camel's Hump, four times over the course of 25 miles with over 11,000 feet of climbing.
But as anyone who's run in the northern Appalachians knows, the stats hardly tell the full story. Some terrain is so rocky, rooty, and steep that calling an outing a "run" is a stretch even by ultrarunning standards. 
It's not just the weather and the terrain. LiPuma also cites the altitude—or lack thereof—as a plus-one for the East. 
"I like sea level," LiPuma says. "Not being at altitude is a benefit for me. You recover better, which means you can put in more quality days. I had some trouble today with the higher altitude sections but I did fine."
Don't get him wrong, New England isn't perfect. Even beyond the bugs and humidity.
"As long as I've known Eric he's been trying to get back out west," Fortier says. "I think he's settled with the idea of living on the east coast, but I think he still misses the West in terms of what it has to offer. He misses the terrain, but I think he misses the people the most. He misses having people to train with at his level."
LiPuma quit his job at Stowe Cider in March. While not working a nine-to-five freed up flexibility with his training, he's looking forward to returning to a desk job. 
"I feel like I run just as well with a job," LiPuma says. "And I think having a job actually helps me. It makes me feel cooler. I really admire runners who perform at an elite level while holding down a full-time job. Plus I need a job for monetary reasons."
LiPuma reached out to shoe brands after his top-10 finish in Chiang Mai, but remains unsponsored. 
"East Coast runners and races don't get that much attention," Fortier says. "Eric can win every race on the east coast and it's not going to matter."
Could LiPuma's second top-10 finish and second team podium in two world champs be the charm? 
Let's hope so.