Alex Nichols Has Summited Pikes Peak Every Month for Over Four Years
Western States 100 Contender Alex Nichols has summited Pikes Peak every month for the last 56 consecutive months. Here's how.
Heading out the door? Read this article on the new Outside+ app available now on iOS devices for members! Download the app.
It's a cold and windy late-February afternoon, and Alex Nichols can barely feel his fingers and toes.
It's not an unfamiliar situation, but he knows he has to make a decision as he stops for a moment around 13,500 feet on a southeastern face of Pikes Peak. Weather can worsen in an instant at high elevations, and a frigid wind can quickly lead to frostbite. 
Should he suck it up and run another mile or so to the top of the 14,115-foot mountain, or bail on the summit and start heading down to get out of the wind? It's the consummate peak-bagger's dilemma, but this is not your typical peak and Nichols is not really a peak-bagger. On this particular day, he forges ahead, reaches the top and, after checking his watch, immediately begins a 12-mile descent down the Barr Trail.
As of mid-June, Nichols has run up and down Colorado's most famous mountain at least once every month for 56 consecutive months. Most roundtrip runs have been between 19 and 27 miles with about 8,000 feet in elevation gain and taken between 5 and 10 hours, depending on the route and weather conditions. 
Nichols most recently ran up and down Pikes Peak on June 15 — his first snow-free summit since last fall — in what was his final big tune-up run for the Western States 100 on June 25.
However, Nichols is not a summit-at-all-costs kind of guy hellbent on preserving the streak. He's a savvy mountain runner with a strong above-treeline sensibility. And he's become as familiar with the routes and conditions on Pikes Peak as if it was his own backyard because, well, it essentially is his backyard.
"It never really gets easier. It's always a really big mountain and depending on the conditions, it can still be a huge undertaking," says the 37-year-old trail runner, who lives in Manitou Springs at the base of the mountain with his wife, Maddy. "It can go from warm to cold pretty quickly, so you have to stay focused on how cold you are. You've got to make sure your extremities stay warm. And it's hard to eat when it's really cold, so you have to watch out for that, too."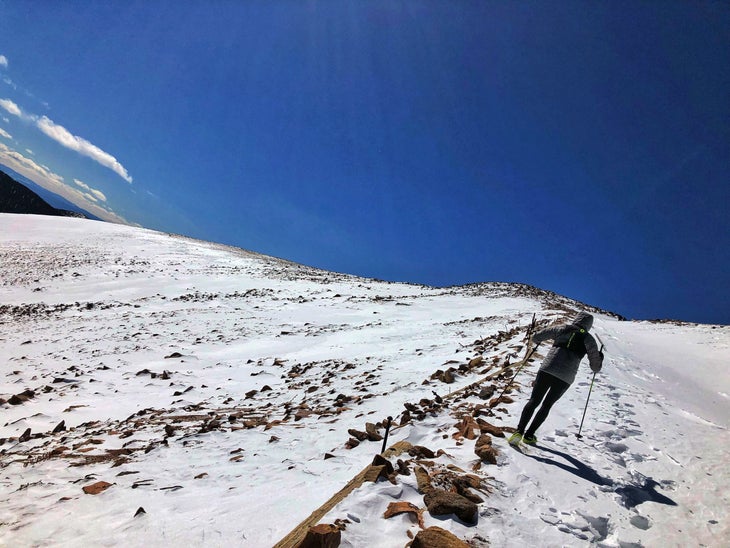 Alex Nichols Gets Western States Ready
Nichols figures to be in the thick of the men's race at Western States that includes last year's runner-up Tyler Green, as well as other top contenders Drew Holman, Cody Lind, Tim Tollefson, Hayden Hawks, Ludovic Pommeret, Jared Hazen, Arlen Glick and Adam Peterman, among others.
He's raced twice this year, placing third overall in the USATF 100-mile road championships in February near Las Vegas and winning the low-key Tava Canons Ultra 50-miler on June 4 in Colorado Springs.
While his streak is not the longest monthly summit sequence on record — there are a few local runners and hikers who have done it every month for longer stretches — what makes Nichols' effort special is that he hasn't let it interrupt his high-level training and competitive racing schedule.
"I think about it more as a fun training run instead of it being a huge undertaking," says Nichols, who placed 10th among men (15th overall) last year at Western States and second overall in 2017. "But as it got started, I've realized over time that it's really held me accountable to be at a certain level of fitness at all times. I could never take a ton of time off and be out of shape. I always knew I would need to get up Pikes Peak in the next 30 days and had to be ready for that. But that's also part of why I enjoy it."
Pikes Peak Beginnings
Nichols caught the bug for trail running in earnest while running cross country and track for Colorado College. He trained in the mountains during the summer with teammate Anton Krupicka, who had twice run the Pikes Peak Ascent before their college cross country season. 
When Krupicka later burst onto the ultra scene with back-to-back wins at the Leadville 100 in 2006-2007, Nichols was there pacing, crewing, and filming with teammate Brennan Galloway. (Their ahead-of-its time video was titled "Indulgence: 1000 Miles Under the Colorado Sky"). He absorbed everything he could along the way, even though he initially thought the idea of running 100 miles through the mountains was crazy.
After his collegiate running career concluded in 2008, Nichols took his high-level fitness and growing trail running skills to the competitive international circuit — first at moderate-distance mountain running and Skyrunning races, then eventually to ultra-distance events, too — and continued running numerous trails on Pikes Peak and adjacent mountains as a regular part of his training.
While a lot changed in the ensuing 14 years, for Nichols it has been a subtle evolution. He's now the head cross country coach and an assistant track coach at his alma mater, a preeminent ultrarunner sponsored by Scott, and among the most prolific trail runners ever on Pikes Peak. 
Still, he might be the most successful trail runner you've barely heard of, even though his race résumé stacks up well to just about any contemporary American runner. Nichols took third at the 2013 SkyRunning World Series and placed 27th at the World Mountain Running Championships in Poland later that year. He won the Marathon du Mont Blanc 80K, was sixth at the IAU Trail World Championships, and was second at the Speedgoat 50K in 2015. He also won the Pikes Peak Marathon in 2015 and 2016, and Colorado's Run Rabbit Run 100 in 2016.  
After taking third at the Les Templiers 73K in Millau, France, in the fall of 2017, Nichols realized he hadn't been to the summit of Pikes at all that year. He and friend and occasional running partner Brandon Stapanowich rectified that in mid-November when they went halfway up Barr Trail, veered off on a secondary route to reach the summit, then retraced their steps back to the bottom. When they finished, they decided it would be fun to try and go up and down the mountain every month of the year.
"I thought, 'It doesn't make sense when the mountain is right here that I haven't gone up all year,'" Nichols recalls. "So then after doing a couple months in a row, I figured I might as well try and do it for a year. That was the main goal and it just kind of went from there."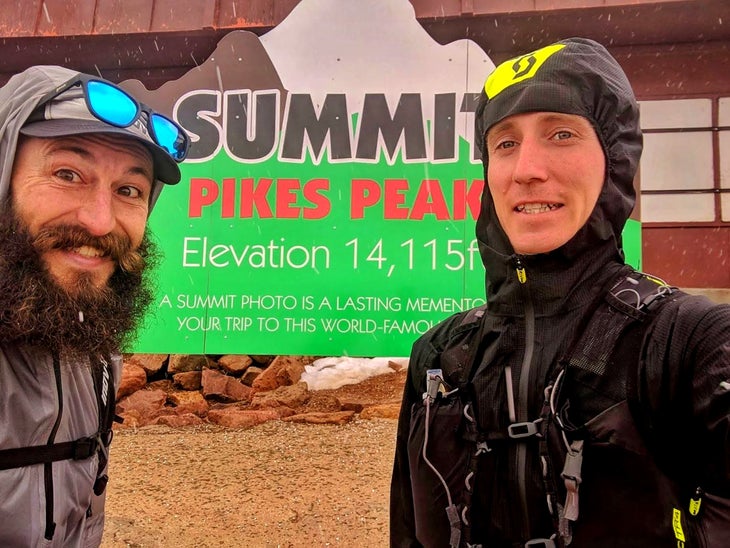 Back to Barr Camp
Despite sometimes precarious weather conditions, Nichols has only had to turn around a couple of times during the streak. On one of those occasions, he found himself post-holing above Barr Camp again. He turned around and made it safely back down, but returned two days later with snowshoes and ticked off his summit for the month. 
But the weather can be fickle in any month, and he's had to battle the elements — frigid weather, howling winds, blowing snow, rain, hail, fog, mud, and even extreme warm weather.
"It always humbles you," says Peter Maksimow, who has completed several trips to the summit and back with Nichols. 
The key to Nichols' success and consistency, Maksimow says, is his meticulous planning. Once he settles on a day to ascend, he'll monitor weather forecasts to plan what he'll wear, the extra gear he'll take, and how much water and calories he'll carry.
While he's still relishing the streak, he admits it's not crucial to continue at all costs. For the most part, it has provided an ideal, long training run for his ultra races and running projects, including the Fastest Known Time he set in 2018 on the Nolan's 14 linkup of 14 Colorado peaks over 14,000 feet. (He covered that northbound, 100-mile route with 44,000 feet of elevation gain in supported fashion in 46 hours, 41 minutes.) 
There have been plenty of instances when he waited until the end of the month to make sure weather was favorable, and, in February of this year, he had to hold off until the final weekend because he ran the Jackpot 100-miler on Feb. 19, where he placed third overall. 
"Once in a while, it can be a little bit challenging and starting up the mountain I've realized 'This isn't exactly what I want to be doing today,'" he admits. "But it's definitely very familiar to me now, and that's nice on those days when maybe I'm not feeling great. Knowing all of the different landmarks and being able to think, 'If I get to this next rock, then I only have an hour to go' can be very helpful. And most of the time, when I get over that little hump, then it's always a good day."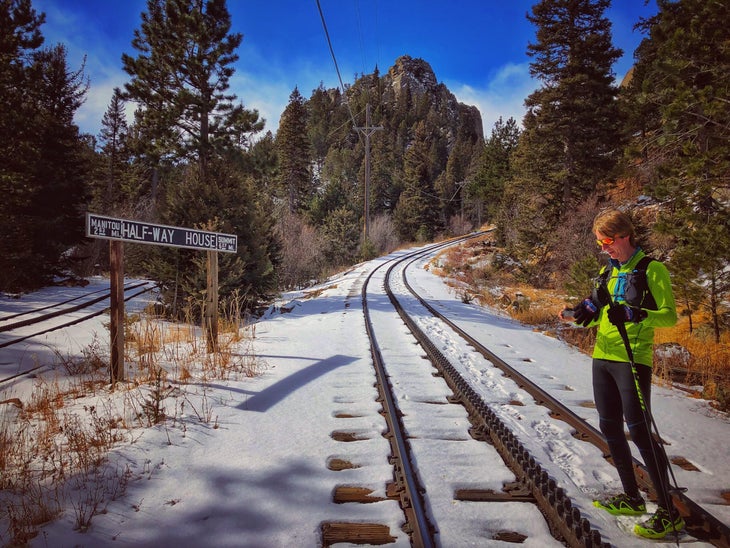 Life on the Peak
As Nichols' streak has evolved, Nichols' consistent monthly pursuits have become equal parts methodical training efforts and the creative outlet of someone who truly loves running in the mountains. He seldom goes up and down Barr Trail, but instead enjoys linking up less common trails via Cameron Cone, Devil's Playground, or Bottomless Pit. That usually means running on more technical terrain and encountering fewer people on the way to the summit. 
But really, it's about venturing along the paths less traveled, immersing in the mountain's unique features, varying degrees of light and vistas and, of course, the ever-changing weather.
"I think he's explored every named route that you can and even some unnamed or off-trail routes, exploring different ridges and different ways to get up and connecting different routes," says Stapanowich. "Sometimes they're direct, sometimes they're not. Sometimes it's just about finding a different adventure and finding a different way to approach the mountain."
Although life got in the way for Stapanowich after the 12 straight months, Nichols kept going and hasn't stopped yet. He's maintained it organically, almost as if it didn't exist, keeping the humble, stoic, and analytical approach he brings to all of his running and coaching.
But perhaps what's most impressive in this age of social media vanity is that, true to his infinitely humble demeanor, Nichols has done it with very little fanfare or notoriety.
"It is no small feat. In fact, it's huge," says Mike Everson, a Colorado Springs runner and one of the leaders of the Incline Club, a local group that regularly trains on Barr Trail in preparation for the late-summer Pikes Peak Ascent and Pikes Peak Marathon. "The thing about Alex is that the people who know him aren't surprised that he's done this, but there just aren't that many people at all who know that he's done this."