Adam Peterman, U.S. Men Win Gold in World Championships 80km, Women Win Silver in 40k
Strong performances from American athletes netted the national team several podium positions.
Heading out the door? Read this article on the new Outside+ app available now on iOS devices for members! Download the app.
There's no such thing as a typical ultrarunning race, but the 80km race at the World Mountain and Trail Running Championships on Saturday in Chiang Mai, Thailand, had a bit of everything.
Take it from the guy who won it.
American Adam Peterman battled heat, humidity, technical trails, massive climbs and nearly 16,000 feet of vertical gain—not to mention a bunch of fast competitors from 32 countries—to win what was known as the Long Trail Race in the first combined off-road running world championships. The course, which started and finished in the city center of Chiang Mai, was actually about 78km in length—or about 48.4 miles.
After not feeling so great for the first 30km or so of the race, the 26-year-old Missoula, Montana, runner switched up his nutrition strategy a bit and started to feel better. He was able to put a small gap on Frenchman Nico Martin and by the 35km mark and continued to keep pushing and extend the lead over the final 45km to the finish line.
But without any help out on the course—competitors weren't allowed crew and the American teammates and staff couldn't access most of the remote aid stations—the Hoka-sponsored runner was running blind and had no idea how close the pursuing runners were behind him, so he just had to keep running hard.
Just as he did in the JFK 50-miler last November and the Chuckanut 50K, Canyons Endurance Run 100K and Western States 100 in 2022, Peterman was untouchable. He crossed the finish line in Chiang Mai in 7:15:53, nearly 13 minutes ahead of second-place Martin.
"It was pretty intense from the beginning and probably one of the harder ultras I've ever ran, I think because everyone is representing their country," Peterman said. "I made a gap on Nico and kept it pinned all the way. But I wasn't able to get any updates on the size of my lead, so I had to push all the way to the finish."
Combined with strong efforts from American teammates Eric LiPuma (7th, 7:52:13), Jeff Colt (14th, 7:58:23) and Adam Merry (53rd, 9:02:42), the U.S. captured the team gold medal. It was the second individual and team gold medals for Team USA, following Allie McLaughlin's victory and a U.S. team win in the 8.5km Classic Uphill Mountain Race on Friday.
Italy's Adreas Reiterer secured third-place podium spot (7:36:50) after winning an epic battle with Spaniards Jose Angel Fernandez Jimenez (4th, 39:19) and Aritz Egea Caceres (5th, 7:48:42). France was the second-place team and narrowly edged out Spain on the strength of a 2-6-10 finish from Martin, Thibaut Garrivier (6th, 7:50:12) and Paul Mathou (10th, 7:53:47)
In the women's Long Trail Race held the same day, Spain's Maite Mayora Elizondo was the winner in 8:56:40, followed by Italy's Giuditta Turnini (9:00:05) and Nepal's Sunmaya Budha (9:00:28). France dominated the women's team championship by placing all three of its runners in the top seven overall, led by winner Blandine L'hirondelle (8:22:14) and Audrey Tanguy (6th, 8:51:57), Marion Delespierre (7th, 8:51:57). Leah Yingling was the top American finisher in 19th (9:16:28) and led the American women to fifth place, along with Kaytlyn Gerbin (24th, 9:33:08) and Brittany Charboneau (27th, 9:43:52).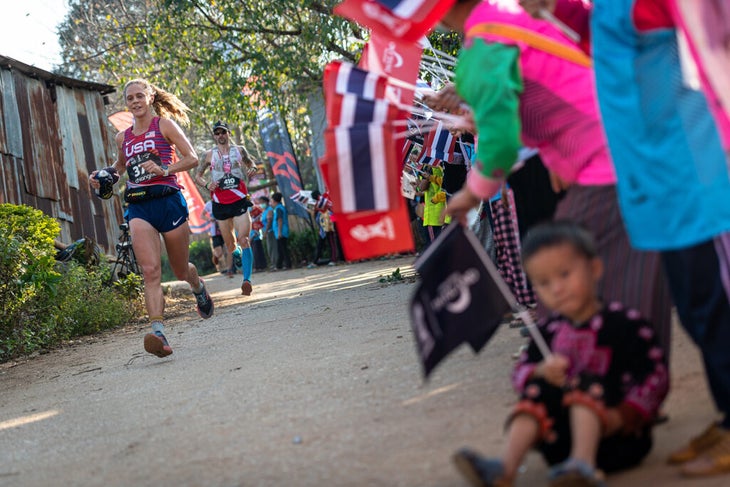 U.S. Women Take Home the Silver
In the 40km Short Trail Race, Romania's Denisa Ionela Dragomir (3:49:23) outdueled Barbora Macurova of the Czech Republic (3:51:22) for the individual win on a course with 7,956 feet of elevation gain, while Spain won the team title by placing four runners among the top 10. The U.S. women won the silver medal in the 40km, thanks to strong running from Kimber Mattox (7th, 3:57:40), Ashley Brasovan (11th, 4:04:05) and Stevie Kremer (13th, 4:06:55).
"It's hard to put into words the experiences of this weekend's World Mountain & Trail Running Championships," Mattox said on Instagram. "But the biggest takeaway of this trip was that when we encourage each other as teammates, competitors, and fellow athletes, and when we embrace the opportunities and experiences we're given, that's what it's all about…no matter what place we finish."
When we encourage each other as teammates, competitors, and fellow athletes, and when we embrace the opportunities and experiences we're given, that's what it's all about…no matter what place we finish.
In the men's 40km race, Norway's Stian Hovind Angermund (3:08:29) overcame Italy's Francesco Puppi (3:11:47) and Great Britain's Jonathan Albon (3:13:05) to earn the individual world title, while Italy topped France and Great Britain in the team standings. The U.S. men's team placed sixth as a team with Max King taking fourth (3:17:31) and strong efforts from Noah Williams (22nd, 3:33:21) and Zach Miller (23rd, 3:34:06).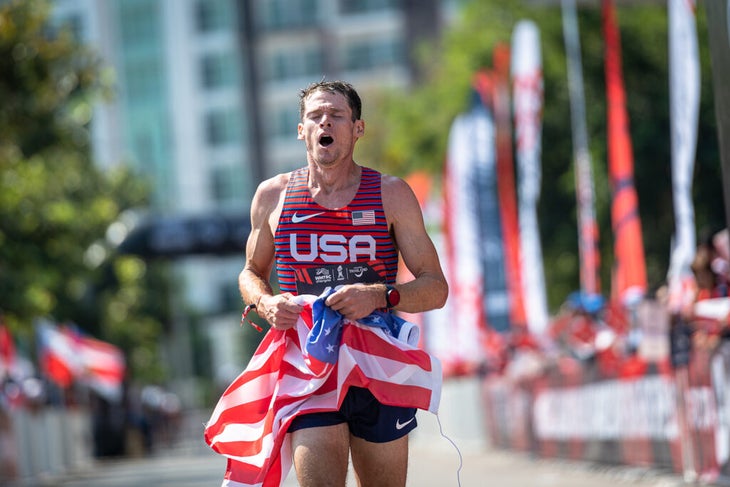 McLaughlin Wins More Medals
American Allie McLaughlin closed out the world championships with another sterling performance in the Up/Down Mountain Race on Sunday. After winning gold in the Classic Uphill Mountain Race on Friday, the Colorado Springs runner placed third (48:31) behind Uganda's runaway tandem of Rebecca Cheptegei (46:25) and Annet Chemengich Chelangat (46:52) on a 10.5km course with with 1,600 feet of vertical gain and descent.
It was McLaughlin's fifth podium finish in five international races over the previous 12 days after she earned two wins and a runner-up showing in three races at the Golden Trail World Series on Madeira Island the previous week.
"I'm not sure if I'll ever fully process it all," McLaughlin said. "What a dream this has been – the races, the faces, and the places."
The U.S. women earned the team bronze medal based on McLaughlin's strong showing, along with those of U.S. teammates Rachel Tomajczyk (19th, 52:23), Corey Dowe (23rd, 53:19) and Samantha Lewis (40th, 56:24).
In the men's Up/Down Mountain Race, Dan Curts (16th) was the top American finisher as the U.S. team placed ninth. In the junior women's 6km mountain race, the U.S. placed fourth on the efforts of Oakley Olson (5th, 28:32), Samantha Blair (13th, 30:00) and Willow Lott (20th, 32:15). The U.S. men placed seventh in the junior men's mountain race, led by Michael Maiorano's seventh-place (23:29) individual finish.
RELATED: 'Allie Mac' Wins World Championship, Leads Team USA to Gold