How Tom Evans Won the Western States 100
His meticulous, data-focused preparation and race-day approach served him well
Heading out the door? Read this article on the new Outside+ app available now on iOS devices for members! Download the app.
Midway through last weekend's Western States Endurance Run, Tom Evans saw his chance at a victory running away from him.

And that's where the 31-year-old British ultrarunner called on the speed work he honed with American marathoner Molly Seidel. That might sound odd, but stay with me.
For the first half of the year, Evans was meticulously focused on doing everything he could to prepare for—and decisively win— Western States, the historic 100.2-mile race from Olympic Valley to Auburn, California. Working with his coach, Scott Johnston of Evoke Endurance, he followed a plan that blended high-volume running (125 miles a week since January) with a mix of training on the roads, trails and track.
While living and training in the 7,000-foot environment of Flagstaff, Arizona, for several months, he did long trail runs and hill repeats with Adidas-Terrex teammate Cordis Hall, joined elite marathoners of the NAZ Elite team for fast sessions on the roads and ran up-tempo track workouts with Molly Seidel and other speedy road and track runners who train in the high-altitude training mecca. 
While that might seem above-and-beyond training for most ultrarunners, that's the new bar that's been set by the sport's advanced competitiveness. Although he rarely races on the roads, Evans has run 13:41 for 5K and 1:03:14 for the half marathon, and in 2021 he made an attempt to qualify for the UK marathon squad at the Tokyo Olympics.
Four years after finishing third in his 100-mile debut in Auburn—and recovering from a major injury two years ago—he turned in a sterling effort that earned him a victory in 14:40:22, the fourth-fastest time in race history.
"I followed my race plan to the T, and it worked absolutely perfectly," said Evans, who spent eight years as a captain in the British Army before getting into running in 2017. "We trained super specifically for the race and for the demands of the race, knowing that on tired legs I was going to have to be able to put a surge in at some point. So we had replicated that quite a lot in training, doing a lot of uphill tempos followed by downhill tempos just to get the speed and the legs right. I knew I had to give myself a chance and trust the training and that I knew I'd done."
RELATED: How to Properly Prepare for Hot-Weather Races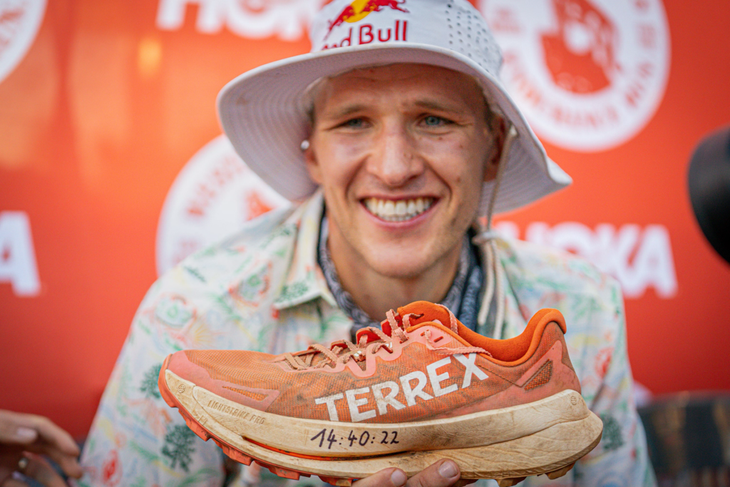 Making Bold Moves

Evans started a bit conservatively on the massive, 2,650-foot climb from the base of Palisades Tahoe ski resort to the 8,650-foot summit on the Escarpment. As China's Jiaju Zhao went off the front, Evans stayed with the rest of the top men through the 10.3-mile Lyon Ridge aid station. But from there, he began to move up and bite into Zhao's lead and caught him at about the 27-mile mark with American Dakota Jones.
As the early miles of the Western States 100 unfolded, Evans and Jones emerged as the top two runners in the field by the 30.3-mile Robinson Flat aid station. That was 15 minutes slower than Evans anticipated in his elaborate data analysis of the course, but by then he was feeling good and ready to roar. Although Chinese runner Jiasheng Shen and American Tyler Green gave chase, Evans and Jones continued to separate themselves by running sub-7-minute-mile pace on the ensuing 15-mile, 4,000-foot descent.

By the time they got to the 55.7-mile Michigan Bluff aid station, they had put a six-minute gap on Anthony Costales, who was in third place and running well. After going through the 62-mile Foresthill aid station together, Jones bolted ahead without stopping as he ran through the mayhem of the vociferous crowds on Main Street. He looked like he might gap Evans, who stopped briefly for a pit stop with his crew to top off the fluid in his bottles and change into new socks and a fresh pair of a yet-to-be-released Adidas-Terrex prototype trail racing shoes.
Two other things happened in those brief moments in Foresthill that had a direct impact on the outcome of the race. First, Evans told his pacer, Josh Eberly, not to join him on that section of the course, but instead to meet him at the Rucky Chucky river crossing so he could run with him from the 78-mile mark to the finish. Secondly, Evans laced up his new shoes and got out of the camping chair in about 90 seconds, then fired up his afterburners and clicked off a 5:56 mile in pursuit of Jones. 
He quickly caught Jones and two continued running together for several miles, but it might not have played out that way if it had not been for a slight course change due to last fall's Mosquito Fire on the flanks of the canyon below Foresthill. In the past, runners would have normally taken a left off of Main Street onto California Street a few blocks from the aid station and gone out of sight en route to the descent into the canyons. But the adjusted course wound up sending runners along Foresthill Road for several miles before dropping down into the canyons, so Evans could see Jones down the road after changing his shoes.
Evans admits running a sub-six mile might have been a bit much, but he admitted that had Jones gone out of sight on the typical course he might have been less energized to catch him.

"It was high-risk at that point, putting in a big surge, but you've gotta be prepared to do that," Evans said. "I had the confidence going into the race that I could try things that I'd never done before in races — like run a sub-six-minute mile when you need to. You ask yourself 'How much do you want it?' and 'How much are you prepared to suffer?' And I knew at that moment that was when I had to give it everything I had in order for that 1 percent chance of standing on the top step of the podium, and it paid off."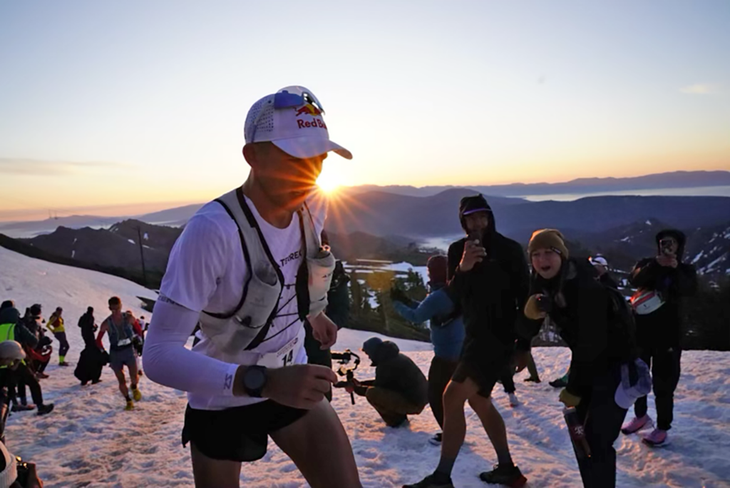 RELATED: Courtney Dauwalter Runs to New Western States 100 Women's Course Record

Evans and Jones ran alongside each other for a few miles in the canyons (in what was the hottest time of the entire day), but then Evans put in a prodigious surge on a rugged uphill section of trail and gapped Jones, who was starting to feel the effects of all of the fast running midway through the race. By the time Evans reached the Rucky Chucky aid station and river crossing, he had opened up a 16-minute lead over Green, who had moved into second place as Jones faded.

After meeting up with Eberly at the aid station, Evans immediately hopped in a raft and crossed the river without stopping 2 minutes to take a dunk in the water to cool off (as several runners did after him, including Green) and, with Eberly leading the way, continued to open up his lead to 22 minutes by the time they got to the 85.2-mile aid station.
From there, Eberly kept Evans updated on their pace every mile, as well as the split times of Green and Costales via the UltraLive tracking app. Even though Eberly assured him that he had a big gap Evans implored him to not let up at all as they buzzed through the final 15 miles average 9:10 mile pace over terrain that included two sustained ascents. Green (15:04:09) and Costales (15:09:16) were in hot pursuit, but by then the gap was too big and the race was over.
"He definitely was super aggressive for that next 15 miles because he didn't want anyone to come up on him," Eberly said. "He just wanted to keep on pressing hard on the gas, which is completely understandable. You know, you work to get in the lead and then you definitely don't want to lose it. He just wanted that confidence from that feedback as soon as updates were available just to make sure that things are going his direction. The last 20 miles were amazing. I was just blown away." 
It was part of a well-executed day for the Adidas-Terrex Team, which also garnered top-10 results from Germany's Janosch Kowalczyk (10th, 16:09) in the men's race and Zimbabwe's Emily Hawgood (fifth, 17:26:22) and American Taylor Nowlin (sixth, 17:40:11) in the women's race.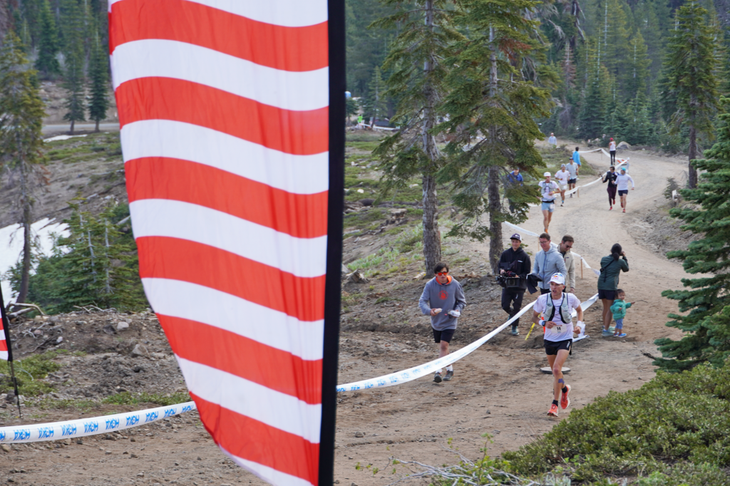 Returning to States
Evans drew on his previous experience of running Western States much more conservatively in 2019. Although it was a year after he won the CCC 100K in Chamonix, France, it was also his debut 100-mile race and he wanted to do it right, which meant staying out of the buzzsaw of Jim Walmsley's record-setting pace. While Evans finished within an hour of Walmsley's 14:09:28 course record and behind Jared Hazen (14:26:36) that day, he knew he could come back and run much faster. 
He always intended to come back to try to win Western States, but the Covid-19 pandemic got in the way in 2020 and in 2021 he was training for the British Olympic Marathon Trials. But collapsed during that race and later discovered he had developed a femoral stress fracture requiring an IT band-lengthening surgery. Last year he focused on running Ultra-Trail du Mont-Blanc (UTMB) in Chamonix, where he landed on the podium in third place, just ahead of Walmsley.
All the while, his interest in winning Western States never dissipated, so this year he planned his year around it. Three months of preparation at high altitude, combined with a strong race effort at the mid-February Black Canyons 100K in Mayer, Arizona—he finished second about five minutes behind Anthony Costales—were the precursor to what turned out to be a near-perfect day at Western States. 
"This year it was kind of not an all-or-nothing approach, but I wanted it to be decisive," Evans said a day after his victory. "My view on it is, in order to win a race, you've gotta make a move. And if a race was a storybook, you have to be the main character, and you've gotta be able to control the race. If you are the one who splits the race open, the story is written about you. I feel by running with Dakota and then making a solid break and then holding onto it, you end up being the main story and the main character in the story, and I think that's how you win races. I was prepared to take that risk of knowing you're either gonna win it or you're gonna blow up. And that's what the story is."

Evans spent the morning after his victory relishing in the community that pervades Western States. He watched the final finishers arrive during the golden hour before the awards ceremony and pontificated about why more European runners should try to race it.
Next up for Evans, assuming he recovers well and can get back to training in short order, will likely be a return to UTMB in Chamonix. But he's aware that no male Western States champion has ever rebounded to finish on the podium at UTMB. So if UTMB doesn't pan out, he said he might take a shot at lowering the Fastest Known Time for the Bob Graham Round, a 66-mile loop in the English Lake District with 27,000 feet of elevation gain. (American Jack Kuenzle lowered the FKT to 12:23 last summer.)
"I don't think it's impossible to do very well at both, but I think it's very, very difficult," he said. "You've got to approach it in the right way, so we'll see how I recover."
Boulder-based Brian Metzler has run more than 75,000 miles in his life, competing in every distance from 50 meters to 100 miles, running the Rim-to-Rim-to-Rim run across the Grand Canyon and back several times, racing pack burros on many occasions and going up Colorado's Longs Peak 20 times. In 2018, he ran the Great Wall of China, completed the Leadman series and ran a 100K in South Korea. He is the founding editor of Trail Runner and the author of "Kicksology: The Hype, Science, Culture and Cool of Running Shoes."