10 Takeaways From the 2022 Ultra-Trail du Mont-Blanc
2022's Edition of the Ultra Tour de Mont Blanc is in the books. Here are the stories and changes we're tracking, and what they mean for the trail community.
---
Join Trail Runner Magazine
Create a personalized feed and bookmark your favorites.
Join Trail Runner Magazine
Create a personalized feed and bookmark your favorites.
Join for free
Heading out the door? Read this article on the new Outside+ app available now on iOS devices for members! Download the app.
During an early morning run in Chamonix, France, on Monday, the town was surprisingly quiet. There were a few trail runners jogging casually along the Arve River path as the sun began to light up the jagged mountain spires around Mont Blanc. Many more of the 10,000 runners who had been in town for the Ultra-Trail du Mont-Blanc (UTMB) festival of races were scurrying to shuttle buses and headed to the Geneva International Airport to fly back home. But the surprisingly quiet calm of this mountain village belies the excitement of what was arguably the biggest and most boisterous UTMB week yet.
RELATED: Will 2022 Be the Last Great UTMB?
Chamonix was electric
Chamonix always has an exciting vibe in the summer, if only because the breathtaking mountains that surround it serve up a siren call of adventure—especially for trail runners. That was still true during the last week of August, but with thousands of runners arriving to run one of the eight races in the UTMB trail running festival, the atmosphere was absolutely bonkers. Early in the week there were group runs hosted by seemingly every brand in the run space. The second episode of the three-part Journey to the Top video series from Wahoo featuring Jim Walmsley and Jess Brazeau debuted on Wednesday at the Chamonix movie theater. On any given day, elite runners from around the world could be seen walking or running through the crowded pedestrian village all week leading up to the marquee races, the 56km OCC, 101km CCC and 171.5km UTMB while amateur runners from around the world were prepping for their own races. Every day brought new race finishers to the village, all celebrated in style (and many with the Vangelis song "Conquest of Paradise" playing over loudspeakers) at the UTMB finish line adjacent to the circa-1709 Saint-Michel church. If you're a trail runner, a visit to Chamonix should be on your bucket list—no matter if you're racing or just visiting to watch the races and run on your own. 
There was more hype than ever before
UTMB has been a big thing in Chamonix and the trail running universe since its inception in 2003 and it has continually grown in prominence every year, but this year everything was cranked up several notches. In the first official year of the UTMB/Ironman partnership with Hoka as the primary sponsor, there was a much bigger expo (and official UTMB merchandise tent), more sponsor branding around the village and around the course, more signage welcoming runners and hyping the event and more buzz about the new UTMB World Series. Aside from Hoka, several other shoe brands were in town with athletes, marketing and footwear development teams and even high-level executives, including Brooks, On, Altra, Merrell, Adidas-Terrex, Salomon, The North Face and La Sportiva. They were there to support athletes, host pre-race events and throw parties. As one long-time running industry insider said at an aid station during the CCC race: "I've never seen so many running shoe company CEOs in Chamonix." 
RELATED: Trail Runner's Guide to UTMB
The race fields were deeper than ever.
Despite the absence of 2021 UTMB winners Courtney Dauwalter of the U.S. and François D'Haene of France—or maybe because of it—the men's and women's elite fields of the UTMB were as deep as they've ever been. In the end, Spain's Kilian Jornet (despite having a false-positive or positive but asymptomatic Covid-19 test result days before the race) produced yet another masterwork performance, overcoming Jim Walmsley's breakaway lead in Champex and outdueling Frenchman Mathieu Blanchard over the final climb to win the men's race for a record-tying fourth time in a course-record 19 hours, 49 minutes—and becoming the second (after D'Haene) to win both UTMB and Colorado's Hardrock 100 in the same summer. Evans turned in a strong effort to snag third, while Walmsley hung on for his best finish yet in fourth and Zach Miller produced the feel-good comeback story with a solid fifth-place showing. With yet another extraordinary effort, the 34-year-old Jornet, running in shoes made from his new brand NNormal, solidified his status as the G.O.A.T. 
Meanwhile, 30-year-old American Katie Schide, who grew up in Maine but has been living and running in Nice, France, for several years while working on a Ph.D in geology, turned in her own exquisite performance by following up on top-10 efforts in 2019 and 2021 with a commanding win in 23:15, the second-fastest women's time behind Dauwalter's 2021 course-record 22:30. Canada's Marianne Hogan held on for second after losing the lead to Schide, while American Kaytlyn Gerbin earned the final podium spot with a strong and consistent day on the loop around Mont Blanc. While no American man has won UTMB, Schide became the fifth American woman to win UTMB (for a total of eight victories) since its inception in 2003.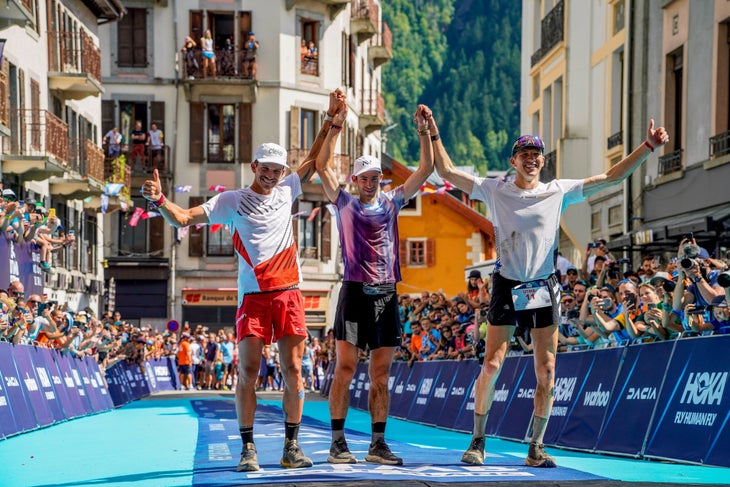 New trail running shoes
There were several new trail running shoes on display at the UTMB race expo, including Hoka's recently released Mafate Speed 4, Inov-8's TrailFly Ultra G 280, Altra's Mont Blanc BOA, Craft's Pro Endure Trail and NNormal's Kjerag. The Mafate Speed 4 was developed from the recent Mafate 3 and the Evo Mafate and features a new upper and next-gen ProFly midsole foam and Vibram outsole. The Inov-8 TrailFly Ultra G 280 has an energetic but very stable, nitrogen-infused midsole foam and the reliable traction of a Graphene Grip outsole. The Altra Mont Blanc BOA has a two-way micro-adjustable BOA dial fit system for a semi-customizable fit. Craft's Pro Endure Trail is the off-road version of its Pro Endure Distance road shoe with a hyper-responsive Px expanded bead foam, while NNormal is a maximally cushioned shoe with a Vibram Litebase outsole and an innovative Kevlar-mesh upper. Several athletes appeared to wear prototype shoes during UTMB races, including Jim Walmsley, who was wearing what looked like a modified Hoka Rocket X road racing shoe with a trail tread, and Katie Schide, who was wearing what looked to be a new maximally cushioned shoe from The North Face with a trail outsole.
RELATED:Four Major UTMB Takeaways For Pacing and Predictions, Based on Historical Data
Hoka's UTMB light tunnel activation was a wild, new twist
For years during UTMB, runners would run past bonfires at Notre Dame de la Gorge at about the 30km point of the race, not long after runners left the village of Les Contamines to head into the backcountry. It was meant as a symbolic way to re-energize runners through the first night of racing on the way into the Italian portion of the race. After UTMB returned in 2021 following the 2020 Covid-19 cancellation, the traditional bonfire did not. This year, Hoka brought in a stunning and colorful light tunnel that runners ran through.. While some social media posts have complained about it being over-the-top or inappropriate for the ethos of trail, most runners and spectators raved about it. American runner Andrew Glaze of Redlands, California, called it "a surreal but amazing experience to run through."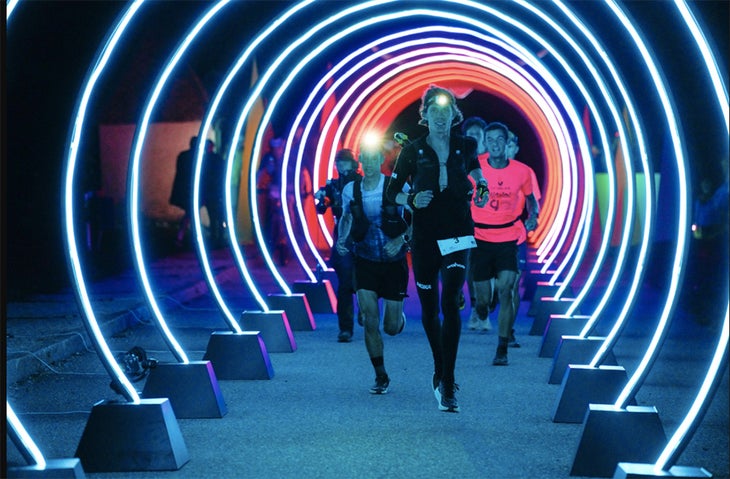 There was more exposure than ever before
The UTMB race organization said it expects the media impact of the 2022 edition UTMB will be at least twice as great as during the 2021 edition which had already smashed all the records. It reported that there were a record 460 accredited journalists onsite, 964 articles published during the week and 18,832,266 views on various social networks. Plus, there were nearly 14 million views and 100 million minutes of videos viewed (UTMB Live and highlights) on the new live.utmb.world platform and the official social networks of the UTMB Mont-Blanc. (That's the equivalent of 188 years of UTMB videos watched continuously.) There are now 650,000 fans on the official UTMB Mont-Blanc social networks, including 50.000 new fans who joined the community in the past week. More than 2 million users have viewed 21 milion pages on the official UTMB and the UTMB World Series websites. Perhaps most notable is the fact that more than 50,000 people have created an account on the new MyUTMB site, which is the first step to registering for a UTMB World Series event. On top of all of that, there were more content teams following more elite and amateur racers than ever before, so new content from the week will continue to emerge as brands like Hoka, Adidas-Terrex, Altra, Wahoo, The North Face and others release new video storytelling pieces.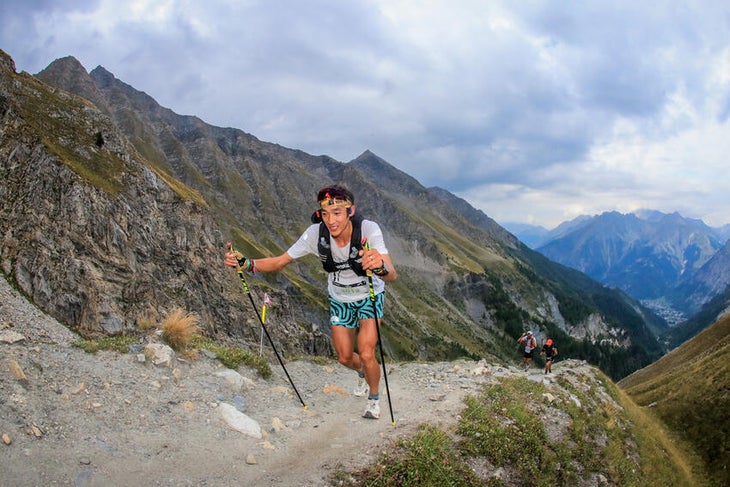 Sadly, a competitor passed away from a fall during the PTL
A year after Czech runner Ondrej Tabarka died in the 145km TDS race, a Brazilian athlete was killed in a tragic accident during the rugged 180-mile La Petite Trotte à Léon (PTL) event. The PTL, which started at 8 a.m. local time on August 22 in Chamonix, is the longest and arguably most challenging of the eight races during the UTMB week's schedule of events. Teams of two or three athletes maneuver a massive loop through the steep and rugged terrain around the Mont Blanc massif in parts of France, Switzerland, and Italy. The course includes more than 86,000 feet of vertical gain and takes teams anywhere from four to six days to complete. All competitors must bring helmets, crampons and via ferrata gear. The 40-year-old victim, who has not been identified by the race organization, was crossing a section of loose, rocky scree with his teammate, who was also from Brazil, when he slipped and tumbled an estimated 30 to 50 feet down the mountain just before 1:30 a.m. The incident occurred at roughly the 23-mile point of the course on an established but remote hiking trail between Col de Tricot and the Refuge de Plan Glacier, high above the French village of Les Contamines west of Chamonix.
RELATED:Brazilian Runner Dies in PTL Race at UTMB
Is Olympic marathoner Desi Linden becoming a trail runner?
Among the Brooks athletes in town was 2018 Boston Marathon winner Desi Linden, who is still primarily a marathoner (she's running the New York City Marathon in November) but has started to dabble in ultrarunning (she set a women's 50km world record last year) and trail running. Fresh off a visit to the inaugural Brooks Trail Summit on August 16 in Snoqualmie Pass, Washington, Linden arrived to check out the scene in Chamonix. Linden, a two-time Olympic marathoner, was out exploring the high-alpine trials on several runs, including a 25km effort with Ruth Croft. While she admits she has a lot to learn as a trail runner, she seems to have the necessary grit and adventurous mindset to complement her considerable aerobic capabilities. Might she follow in the footsteps of 2008 Olympic marathoner Magda Boulet, who has had an amazing encore career as an ultra-distance trail runner? We certainly hope so!
UTMB co-founder Michel Poletti finished UTMB again!
Michel Poleti, co-founder of the UTMB, finished this year's race on Sunday morning in 41 hours, 57 minutes. It is the seventh finish for the 64-year-old Frenchman, but his first since 2009. Poletti, who also has two Western States 100 finishes to his credit, also ran the Speedgoat 50km in Utah and the Ultra-Trail Snowdonia 50km in the UK earlier this summer.
The path to Chamonix now goes through the UTMB World Series  
Up until now, runners who wanted to compete in the UTMB had to earn qualifying points in a vast array of races around the world and improve their ITRA score. But after the UTMB organization partnered with the Ironman Group, a new UTMB World Series was introduced. Next year's UTMB—as well as the 100km CCC race and 56km OCC race during the UTMB festival—will require runners to qualify by collecting "Running Stones" via the 25-race UTMB World Series that amount to lottery tickets for those events. The idea is that runners participate in regional or destination races to earn the chance to run the championship events. Chamonix. The new setup is loosely modeled after the Ironman triathlon series of events that culminates every October in a world championship event in Kailua-Kona. The other events held during the UTMB week in Chamonix—the 290km PTL, 145km TDS, 42km MCC, 15km YCC (youth race) and the new 15km ETC—will continue to be filled on a first-come, first-served basis, though the PTL has special requirements and the MCC is typically reserved for local residents, race officials and race volunteers. Registration for those events will begin on January 3, 2023.