Our Chef's Favorite Weeknight Meal For Athletes
When he's not putting together recipes for the world's best endurance athletes, Chef Biju Thomas likes to keep things simple. Here's his favorite mid-week recipe when you want fast, healthy flavor.
Heading out the door? Read this article on the new Outside+ app available now on iOS devices for members! Download the app.
I started working in kitchens at the age of 15.  My first real restaurant job was an incredibly special place in downtown Denver in the late 80's called Al Fresco.  The owner, Jack Leone, had imported one of the first wood burning ovens into the U.S. He made so many new and exotic things out with it, from roasted root vegetables and charred rabbit to spongy focaccia and, of course, pizzas. 
Along with my first taste of prosciutto, baked ziti and white bean minestrone, I had my first real Neapolitan pizza out of that oven, tasting of charred wood and smoke, with bubbling fresh mozzarella and giant basil leaves.  
I've since worked in dozens of kitchens, but regardless of how fancy the menu or the building or the overall feel of the space may be, the best tasting food is often not on the menu. 
Not all kitchens have kept the tradition alive, but anyone lucky enough to work in a kitchen that serves up a "family meal" knows exactly what I mean. It is often a combination of leftovers, slightly wilted produce, or off-menu items in a broth, curry, stew or simply a large baked dish with a generous amount of homemade hot sauce and other accoutrements. The food is loaded with flavors and seasonings and always devoured by eager staff who seldom, if ever, get to enjoy a home cooked meal.
The reason we share this intense love for the "family meal" is that it is often a shared task.  Most kitchens will rotate who makes the dish: one day it is a dishwasher or a server, the next day it is the owner or the chef.  It is a nervous honor to prepare a meal for the team, one magician doing tricks for a room full of other tired and slightly bored magicians.
Most of these meals start with a handful of humble ingredients, limited time and one pot. No one wants to make anything but the best expression of their own skills, background and palette. The food is usually eaten in relative quiet, staff enjoying a few minutes of peace and rest in a job where "sitting" is not a thing. 
Ask any chef what he or she makes at home, and it's often a meal inspired by this experience.  We never come home with cravings of perfectly staged dishes topped with flavored smokes, foams or any of the ridiculous. What we want are noodles, simple stews with warm bread, omelettes and fried rice, spicy curries or bowls overloaded with green chili and beans.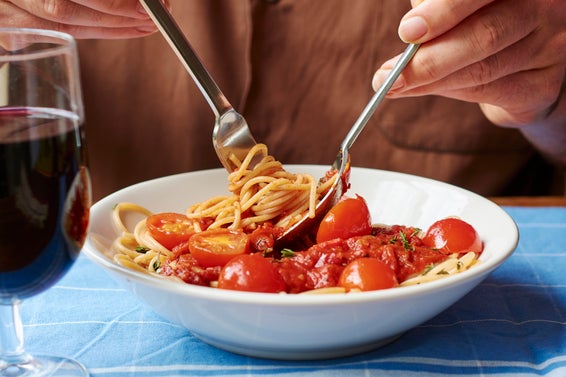 What we always want at home is that first dish that made us love cooking, that made us want to share our love of food and family, both genetic and chosen, with our neighbors. 
With that in mind, one of my favorite dishes, when I have a few extra minutes, is a classic spaghetti and meatballs.  Equal parts ground beef and Italian sausage, with a handful of bread crumbs, an egg to hold it together and shaped into plum size balls.  Pan sear with some chopped garlic and minced onions, add a splash of red wine and a jar of good tomato sauce, a drizzle of balsamic, some fresh chopped parsley and basil and some giant chunks of coarse ground black pepper. Then simmer until cooked through.
RELATED: Recipe: Quinoa "Fried Rice" With Wasabi Meatballs
Plate over cooked noodles with a generous drizzle of olive oil and fresh grated parmesan.  Open up a bottle of chianti or barbaresco, warm up some bread and change out of the white shirt, because this will get a bit messy. And don't forget Sinatra, nothing warms up the room like ol' blue eyes!
Enjoy!
Meatballs in Red Wine Sauce
This is a one-pot recipe to make you famous among your friends. Make sure your pot is large enough. It's really a three-step process: First make and brown the meatballs. Then, in the same pot, make the sauce. Last, return the meatballs to the sauce to stew while you revel in your kitchen skills.
INGREDIENTS
MEATBALLS
1 pound ground beef

1 pound spicy Italian bulk sausage
2 eggs, lightly beaten
2 tablespoons grated parmesan
1 cup bread crumbs (see note)
1 teaspoon of each: dry basil leaves and red pepper flakes
RED WINE SAUCE
1⁄2 cup chopped onion

2 tablespoons minced garlic
1⁄2 cup diced bell peppers
1⁄2 cup diced fresh tomato
1 small can (4 ounces) tomato paste
1 cup water
1 cup crushed tomatoes
1⁄2 cup red wine
1⁄4 cup balsamic vinegar
1 tablespoon brown sugar
2 tablespoons of each: chopped fresh parsley and basil
METHOD
To make the meatballs: Place ingredients in a large bowl and blend together by hand, making sure that bread crumbs are worked evenly into the mixture. Let rest in the fridge for 30 minutes. Shape to be the size of golf balls.

Bring 1⁄4 cup olive oil to medium-high heat in a large pot, then add a few meatballs and brown them on all sides. Remove them from the pot as they finish browning, adding more oil as needed. (The meatballs will finish cooking in the sauce.)

To make the sauce: Keeping the heat on medium, add the onions, garlic, peppers and tomatoes to the pot and sauté until the onions are translucent.

Add the remaining ingredients in the order shown, thoroughly incorporating each item into the sauce before adding the next. 

Keep scraping the bottom of the pan while the sauce cooks. Bring sauce to a low boil, then return the meatballs to the pot. Let simmer, covered, until cooked thoroughly, approximately 30–40 minutes. Adjust salt to taste.
Makes 12 meatballs. Serve with your favorite pasta.
NOTE: To make bread crumbs, pulse stale or hard bread in a food processor.
PER SERVING: Energy 449 cal • Fat 27 g • Sodium 748 mg • Carbs 15 g • Fiber 2 g • Protein 33g
RELATED: 3 DIY Energy Bars For Your Next Run