The Rarámuri Figured Out the Perfect Drink For Running Through The Night
Two Indigenous ultrarunners share simple recipes for whole-food endurance.
Heading out the door? Read this article on the new Outside+ app available now on iOS devices for members! Download the app.
In 2009, Christopher McDougall's bestseller Born to Run created a chasm in the running world. Are you a barefoot runner? Or, are you someone who wears…shoes? Regardless, many runners took to McDougall's tales of running with the Indigenous Rarámuri. Shoe brands from Nike to Adidas jumped on the bandwagon, launching new lines of minimalist toe shoes. Others churned out their own line of Rarámuri-style huaraches sandals.
Whether you're out there slogging through your miles with calloused soles or still looking for thick pillows underfoot – that's up to you. As a food writer, I'm more interested in another focus from McDougall's book––the Rarámuri diet, a topic largely overshadowed by the whole barefoot debate.
As with ancient Greeks, I was interested in looking into foods that the Rarámuri have been using since time immemorial to fuel their incredible feats of endurance running––and what we can learn from them. To learn more, I reached out to Arnulfo Quimare and Miguel Lara––two celebrated Rarámuri ultra-runners––and Mickey Mahaffey, who's spent 25 years working and living with the Rarámuri in Mexico's Copper Canyon. From him: "It supports the Ultra Caballo Blanco, Raramuri children's educational programs, Cultural projects and all kinds of other worthy programs in the Sierra. In fact it sponsors, Miguel and Manuel Luna and Arnulfo."
Besides organizing international races and traditional events as well as spearheading scholarship programs for Rarámuri student athletes, Mahaffey is the program manager of the Copper Canyon Alliance––a non-profit working with Rarámuri communities to secure clean water and sustainable agriculture in their ancestral canyonlands.
Corn Tortillas and Beans
The Rarámuri (also known as the Tarahumara) are a Native American people primarily from the Sierra Madre Occidental, in the northwestern Mexican state of Chihuahua. In their language, rarámuri means "foot runners" or "those who run fast." For centuries they fed themselves through farming and persistence hunting––chasing prey afoot over long distances until the animal collapses from heat stroke or exhaustion. Sometimes they might run an animal into an ambush or human-made trap. Though certainly not the first written account of Rarámuri runners, McDougall's book catapulted the Rarámuri and their minimalist approach to endurance into the contemporary, mainstream world of running. 
Mahaffey remembers the Rarámuri grinding corn kernels with a stone metate, patting out the off-white powder by hand, and cooking the corn tortillas over an open fire when he first visited. "They are amazing with cooking beans, too," he says. "They can cook them a number of different ways, so every time you eat them, it's a new experience." That is the gist of a daily Rarámuri diet. Corn tortillas and beans, always with jalapeños or chiltepin––a small red pepper with a smoky flavor indigenous to the Copper Canyons.
RELATED: Corn Tortillas / Tortillas de Maíz
Rarámuri Race Day Fueling
On race day, Rarámuri runners will eat very little before walking up to the starting line. Usually it'll be some pinole, a "power drink" made of finely ground corn mixed with water. Others might go with atole, similar to pinole but with a thicker consistency like oatmeal and served warm. 
One of the celebrated runners from Born to Run, Arnulfo Quimare, says that before a race he sticks with plain pinole, atole, or elote tamales made with fresh corn. During the race, he'll turn again to plain pinole, "but sometimes sweetened with raw Mexican sugar, piloncillo. It's good energy and there are no problems with the stomach when needing to run long and fast," he says. Then, Quimare turns back to beans and lots of tortillas with nopales––a cactus leaf with onion and tomato salsa––after he crosses the finish line.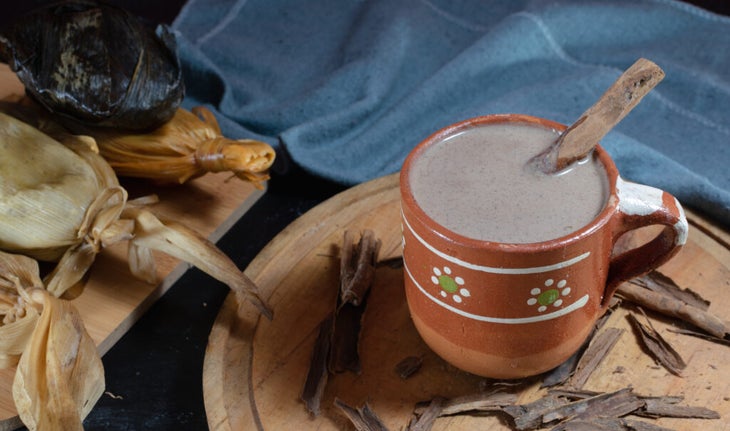 The pinole is particularly special to Rarámuri because of their connection with the source ingredients. Most Rarámuri runners are subsistence farmers who grow the corn, plough the fields, dry the corn, shell the kernels, and grind it with a stone metate until its a fine, beige powder that they mix with water. 
Miguel Lara, another Rarámuri running champion, follows a similar pre-race diet––adding that he might have some potatoes, lentils, or broth before a race. Once he's on the course, like Quimare, he'll opt for pinole or atole. But he might also have some cooked potato, hard boiled egg, tomato, orange, watermelon, or a banana. "My favorite Rarámuri dish when it comes to running is a chicken broth from my ranch," he says. 
Mahaffey added that although diets were similar across gender, some women shared during a recent interview that they prefer beans before a race. "They emphasized that they had to be very, very well cooked," says Mahaffey. "And they didn't eat many because it was too heavy in their stomach."
Another important aspect of their diet is that they eat very little meat. The Rarámuri generally only eat meat at ceremonies and dances. At such an occasion, they'll slaughter a goat and make stew (pozole) with onions, chiles, and oregano. Quimare did note that he'll have some goat a couple of days before a race to get the protein, but he doesn't want to have meat too close to a race.
Agua Chile and A'ri
Many of these foods are covered in Born to Run 2, McDougall's forthcoming book, which includes recipes for pinole energy bars, Arnuflo's pozole, and atole. But something that doesn't seem to have made the cut is agua chile, a local favorite during races, made with pressed chiltepin peppers mixed with water, maybe onion or garlic and some greens. They'll substitute in jalapeños and habaneros if chiltepin isn't available and maybe throw in a dash of cilantro. 
"They ate that during the race," Mahaffey says, because most of the organized races are run at night. "The agua chile was preferred because it helped them stay awake. So at like three or four o'clock in the morning, they would stop and drink some agua chile, maybe with a burrito."
Another ingredient you'll be hard-pressed to find is a'ri. In 2016's Tarahumara Medicine, author Fructuoso Irgoyen-Rascón describes a'ri as a sweet, acidic, and refreshing drink made with the secreted wax from female homopterous insects that Rarámuri harvest during the rainy season. They dissolve the substance in boiling water to produce a reddish emulsion or sauce. This sauce is a delicacy and occasionally flavored with isíburi peppers. A'ri serves primarily a medicinal role and has done so for centuries. It's a pain reliever, a remedy for gout, it treats headaches, and relieves fever and constipation. It's also known as a hangover cure.
Walking to Run
Besides nutrition, Mahaffey believes the key to Rarámuri endurance is how they train––by walking as much as seven to nine miles per day in rugged canyons. "They'll tell you the key to their strength and endurance is walking," he says. Quimare says he only runs in races, or when he's scared. Women Mahaffey interviewed say the only time they run is to chase the goats out of the cornfield.
RELATED: The Art Of The Easy Shuffle
In addition to their physical training are what are called "marathon dances" that take place in communities up to 12 times per year. They usually happen to mark holidays, like Semana Santa or Easter. "They'll start dancing Good Friday morning and dance until Saturday afternoon," he says. "The next day is 24 to 30 hours of pure dancing and drinking tesgüino." 
Tesgüino is fermented corn that the Rarámuri boil for about 12 hours and strain to remove the corn. They'll let it sit for several days to ferment. Some will even have a bit before or during a race, though most will wait until the race is over. 
But let's leave the booze to the experts. To help fuel your night runs, we've put together an agua chile pinole de atole to give you the carbs you need, with a little spice to keep you upright.
RECIPE: 
Agua Chile Pinole de Atole
Pinole is like a flour or masa harina you can find at Mexican grocery stores with sugar and cinnamon. You can also buy it online at sites like Mas Korima, with 50 percent of the profits going to True Messages, a nonprofit that supports Rarámuri children's educational programs and cultural projects in the Sierra. (Arnulfo Quimare is a board member of True Messages.)
For the pepper in the agua chile, Rarámuri traditionally use chiltepin. These, too, can be found online or in Mexican grocery stores. But in lieu of that, we recommend grabbing a spicy pepper of your choice, such as jalapeño or habanero. 
This recipe makes one drink of about 450 milliliters or nearly 2 cups––enough to fill one large mug. Feel free to double for an additional mug. You should get the toasty corn flavor with a hint of cinnamon sweetness on the front of your tongue, followed by a kick of spice down the back of your throat as a plume of garlic slowly fills your mouth.
Note that some of the pinole can settle at the bottom if you nurse the drink. Local supporters at Rarámuri running events set up rehydration stations to keep the drinks stirred so they're ready when the runners stop. So stir occasionally or shake well to keep the pinole mixed up.
Ingredients
Pinole
2 heaping tablespoons or approximately 30g of cornmeal
3/4 teaspoon raw cane sugar (or piloncillo if available)

1/4 teaspoon cinnamon
Agua Chile
1 small hot pepper of choice, about 10 – 15g

1 clove of garlic

3 – 4 Tbsp of water
Atole
2 heaping tablespoons of pinole or approximately 30g

1 cup of warm water

1 cup of plant-based milk

1 tablespoon of agua chile

Optional:

Add additional sugar, cinnamon, and ground cayenne pepper to taste
Directions
Skip to step 3 if you have pinole.
Toast your cornmeal on a skillet for about 10 minutes over medium-low heat. Keep an eye on it and stir occasionally to make sure it doesn't burn. You'll notice the color change to a darker yellow and start to smell like popcorn.

Mix your toasted cornmeal with the sugar and cinnamon to create your pinole.

Blend your pepper and garlic in a food processor with 3 – 4 Tbsp of water and run the liquid through a fine mesh strainer. This should make just about 15 ml of liquid. If your pepper is spicy, that should be plenty.

Feeling lazy?

Skip the pepper and simply add cayenne pepper powder directly to the atole de pinole to taste.

Pour 1 cup of warm water and 1 cup of plant-based milk into a stovetop saucepan and gently whisk.

Slowly add your pinole to the saucepan while whisking.

Then, combine your agua chile to the pinole de atole until you reach your desired spice level. If you have a weak pepper that just isn't that spicy, feel free to add cayenne pepper powder to taste.

Serve and add additional sugar, cinnamon, and ground cayenne pepper to taste.