How to Make Nepal's 24-Hour Power Food. (It's Easy.)
What's the ultimate power food? In Nepal, it's as simple as lentils.
Heading out the door? Read this article on the new Outside+ app available now on iOS devices for members! Download the app.
Few trail runners have as inspiring and impressive of a story as Mira Rai. Born in the remote village of Bhojpur, Nepal (200-plus miles east of Kathmandu), Rai rocked the trail running world when she won the 50 kilometer Himalayan Outdoor Festival race in 2014. Not only did she win, but she did it without any fancy gear or hydration packs of energy gels bouncing around in her vest. That's because she showed up completely unprepared for the race. As far as she knew, she was just meeting up with some new friends for another run on the trails.
Rai quickly catapulted to the upper echelons of the sport, traveling across the globe to compete in some of the world's most challenging races where she often found herself at the top of the podium. A ruptured ACL slowed her down in 2016, but she came back the next year to set a new course record for the 120-kilometer Ben Nevis Ultrain Race Race in Scotland. She capped that season off by winning National Geographic's 2017 People's Choice Adventurer of the Year.
These days, the 34-year-old athlete spends most of her time in Nepal leading the Mira Rai Initiative, where she promotes trail running and works to empower female trail runners in the country. But the initiative also stresses the importance of education. "We support young female athletes to help them graduate from school and gain important skills," she explained from her home in Kathmandu. "It's a very important thing to do, because in Nepal, it's difficult to do sports. We don't have many opportunities. So I'm glad to work to support our athletes achieve their dreams."
WATCH: Running in Nepal with Mira Rai
Reading Rai's story reminded me a bit of the Rarámuri runners whose lives were so intertwined with running, they could hit the trail without worrying about having the latest gear or energy gels in their back pocket. I've been interested in how different cultures fuel their bodies throughout history for feats of endurance, while trying to determine what trail runners might glean from those stories. I wondered if there was something within the Nepali culinary canon that helped fuel Rai's impressive performances. So I called her up in Kathmandu. The answer: Daal bhat masu.
Daal Bhat Masu: Breaking Down the Dish
"Daal bhat masu" literally translates to lentils with steamed rice and meat, and it's the national dish of Nepal. The daal bhat at my local Nepalese restaurant in Berlin labels it as "Daal Bhat Power 24 Hour," and that's precisely one of the reasons Rai turns to this dish for her nutritional needs. 
Daal Bhat is typically presented as a platter with several small dishes, like lentils, rice, steamed spinach, and achar––a kind of chutney made of pickled vegetables and fruits. Nepalese versions of achar are usually made with spices, like mustard seeds, as well as chili, coriander, cumin, and turmeric powders.
Dr. Huma Bokkhim is a Nepali expert in food science and technology who breaks down the nutritional benefits runners can get from a daal bhat.
"Rice, the staple food of most Nepalese cuisine, is a good source of easily available energy in terms of carbohydrates," she says. "For endurance athletes, it is a scientifically established fact that the human body needs to store glycogen in their muscle and liver so that they can perform for a longer duration. This process is termed  "carb loading," which most Nepalese have been doing knowingly or unknowingly since long back. Rice provides the required, easily digestible carbohydrates for muscles and the liver to generate and store extra glycogen, which is later used by the body during strenuous activity in the absence of food. Burning glycogen requires less energy compared to other sources of energy such as proteins and fats."
Daal Power
Though rice is an obvious carb-loading staple, daal is arguably the star of any daal bhat. Bokkhim explains that Nepalese daal is a soup-like dish prepared by cooking pulses (think: chickpeas, lentils, dry peas, and beans). Pulses are tremendous sources of plant-based protein.
"Though the bioavailability of plant proteins is lower than that of animal proteins, it does play an important role in fulfilling the protein requirements along with the important minerals, such as folate, iron, magnesium, potassium, zinc, phosphorus, and selenium required for proper functioning of muscles as they help in balancing the electrolytes in the body," she says. "During endurance sports, the body loses some of those minerals through sweat, and eating daal will help replenish them."
Bokkhim adds that, although rice contains lower amounts of protein, it's still among the highest bioavailable protein sources among plant proteins. This means endurance athletes can stand to benefit with a little rice in their diet before training or a race. (Think of the popularity of rice balls among trail runners.)
All of this is why runners like Rai will turn to lentil-based dishes like daal bhat to prepare for, or refuel after, a challenging mountain run. The combination of rice and lentils fulfills many of the nutritional needs trail runners have for their sport. But that's old news in Nepal.
"Eating daal bhat has been our traditional way of loading carbohydrates by rural farmers for strenuous farm activities," Bokkhim says. "And by being able to work for long hours in the field, it's become an established fact that 'daal bhat equals power for 24 hours."
RELATED: Ancient Endurance Fuels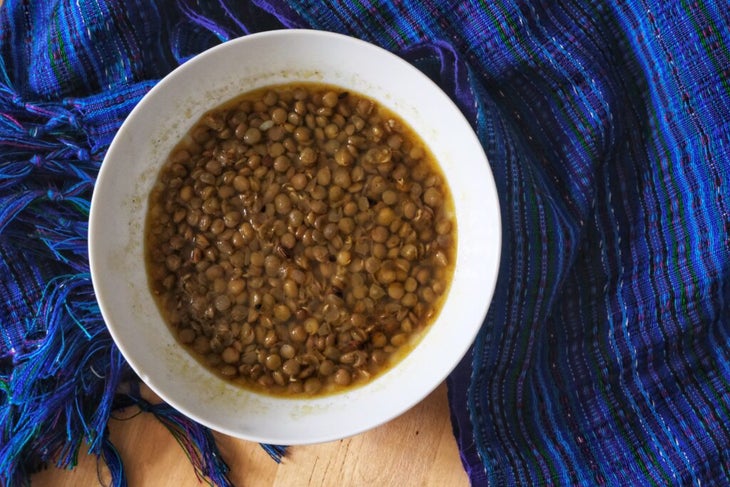 How to make Thakali daal
Kathmandu-based Prashanta Khanal works on environmental issues by day. He's also a food writer and author of the Nepali cookbook Timmur: Stories and Flavours from Nepal.
Khanal eats some variety of daal twice a day. He shared some of his tips for making this Nepali comfort dish, Thakali-style, from the Mustang District in Nepal.
First, he emphasized that there are many different ways to make daal. If you have access to a pressure cooker, Khanal suggests using it, covering the daal with water to speed up the process. He also notes that you can use different types of lentils (Khanal uses split Mustang Simi, grown in the high altitude of Mustang), but to take note that the cooking time can vary among different lentil varieties. 
If using a pressure cooker, Khanal suggests cooking the daal for two to three "whistles." Once the daal is ready, add the aromatics, like fennel, garlic, chilis, and cumin.
This recipe for Thakali daal is adapted, with permission, from Khanal's website, The Gundruk.
Ingredients
1 cup or 200g of green lentils

4 ½ – 5 ½ cups water

½ thumb-size ginger (8-10g)

4 cloves garlic

1 teaspoon kosher salt

1 ¼ teaspoon turmeric powder

1 – 2 tablespoons ghee

2 – 3 dry red chilis

½ teaspoon fenugreek seed
Instructions
Rinse the lentils until the water is clear and place them in a stovetop pot. Add 2½ cups of water. Smash the ginger and 3 cloves of garlic. Add them to the lentils along with kosher salt and a pinch (¼ teaspoon) of turmeric powder. Cover and bring to a boil. Once it boils immediately lower to a low heat. Simmer for about 40 minutes.

While your lentils are simmering, prep the rest of your ingredients: the ghee and the spices.

Note:

Can't find ghee?

You can easily make your own

while the lentils simmer.

Once the lentils absorb most of the water and are tender, remove the garlic and ginger from the pot. Continue cooking over medium heat and stir frequently. This will help to ensure that beans do not stick to the bottom of the pot. After 5 minutes, add 2-3 cups of hot water (depending on how soupy you want the daal), and cook the lentils for around 8-10 mins on medium heat, uncovered. Taste and add more kosher salt, if desired, and r

emove the pot from the heat.

Next, add the ghee onto a small saucepan over medium heat. When the ghee starts to smoke, reduce heat to low and add one clove of finely chopped garlic, dry red chilies, and fenugreek seed.

After one minute, turn off the heat and add 1 teaspoon of turmeric powder. 

Pour this mixture immediately into the stovetop pot with the daal. This gives a hot sizzling sound while pouring and gives an aromatic, garlicky, buttery, and smokey flavor to the dish. 

Serve with rice, curry, and achaar to make a complete, everyday Nepali meal.