Cheers to a Better Night's Sleep
Athletes are sipping CBD before bedtime to max out their post-workout recovery.
There's no buzzier word in fitness right now than "recovery"—but despite all the gear and gadgets promising to help you recover better so you can work out harder, there's only one proven way to do that: sleep. Sleep may actually be the single most important factor in exercise recovery, according to August 2019 research from the International Journal of Sports Medicine. But willing yourself to sleep can feel as impossible as trying to beat an FKT set by Killian Jornet. 
That's why professional runners like Sara Hall, Molly Seidel, Colleen Quiqley, and more are turning Beam's Dream CBD and night-time powder to relax and recover during training.
CBD, or cannabidiol, is a non-psychoactive cannabinoid compound found in the cannabis plant; it works by interacting with your body's endocannabinoid system, which helps maintain a state of balance and stability—think downshifting your body after a high-intensity run so you aren't laying awake later staring at the ceiling (it can also help reduce inflammation from workouts and enhance tissue repair; a win-win for hardcore athletes). After a month of taking CBD, 79 percent of people reported lower anxiety levels (a major cause of sleep issues) and 67 percent reported better sleep in a 2019 study published in Permanente Journal.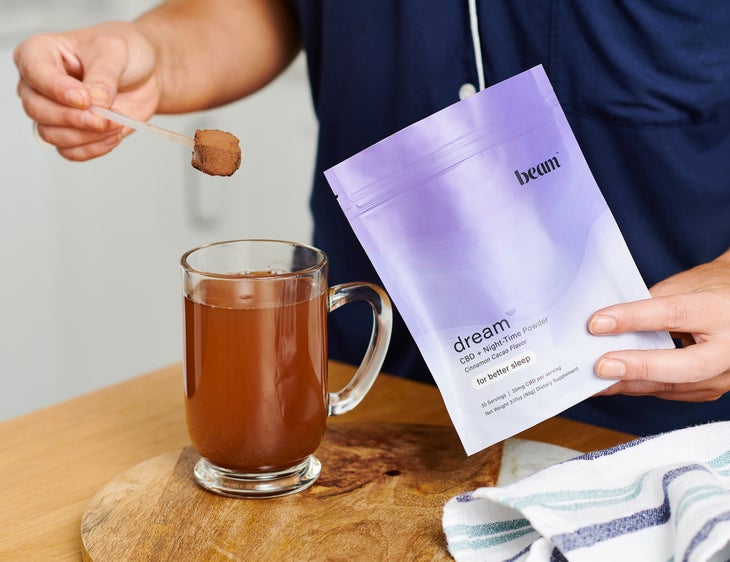 Add to that ingredients like Reishi mushroom extract, which is often used as a solution for insomnia; L-theanine, an amino acid with stress- and anxiety-relieving powers; melatonin, a familiar sleep aid;  and magnesium citrate, a mineral that boosts the body's natural melatonin production, and you've got the ideal recipe for easing into dreamland. And the better you sleep, the more likely you are to wake up ready to crush PRs.