I Ran 80 Miles Around Mount Rainier. Here's the Gear that Supported Me.
Six pieces of equipment for running around a 14,000-foot mountain
Heading out the door? Read this article on the new Outside+ app available now on iOS devices for members! Download the app.
The Wonderland Trail circumnavigates Mount Tahoma (Rainier) in Washington State over 93 scenic miles and 24,000 feet of elevation gain. It winds through evergreen forests, across dramatic glacial basins, and over raging rivers. To call it runnable would be a bit generous—the ups and downs are never ending.
Early one Sunday morning in August, my sister and I stood in the parking lot at Longmire, ready to start our watches for a counterclockwise jaunt around the 14,441-foot peak. The mountain is huge, and imagining using our legs to move all the way around it was daunting. I've run 100 miles before, but it was at a race with aid stations placed every half dozen miles. This was different.
Thankfully, we enlisted our dear friend Alex Borsuk (who, conveniently, holds the unsupported FKT on the route) to help. We broke the route into sections, and arranged for Alex to meet us about every 26 miles for aid.
Big ultra efforts like this require training, yes, but any number of variables—pain, injury, illness—can render you quickly humbled by the distance. As it turned out, this was one of those days. I made it 80 miles and 22,000 feet of elevation gain before calling it quits to avoid creating a new case of patellar tendonitis (as I'm prone to doing).
Still: to make it even that far, I gained a newfound appreciation for the gear that carried me for those 30 hours (including a full overnight on foot). Here are my favorites, from energy gels to my puffy.
RELATED: WATCH PARTY: Here's What It's Like to Run Mount Tahoma's 93-Mile Wonderland Trail . . . Blind.  
Kogalla RA Adventure Light ($180)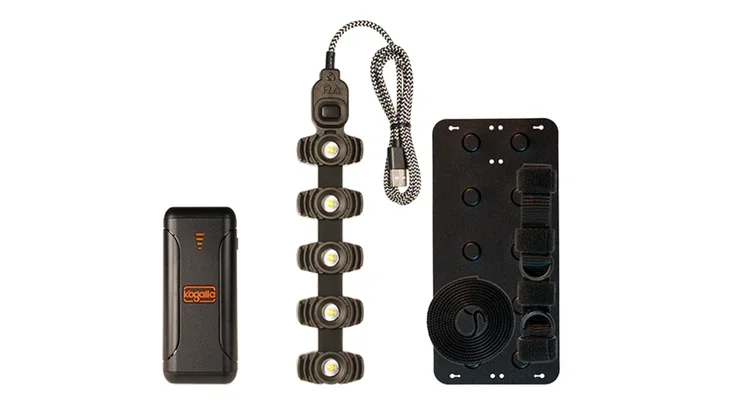 From previous experiences, I've learned that dim lighting on dark trails can exacerbate sleepiness and nausea. A faint, bouncy headlamp beam is a quick ticket to throwing up precious calories, tripping over an obstacle, hallucinating, or all three. During eight hours of total darkness on the trail, I opted for the 3.6-ounce RA Adventure Light, which I wore around my waist.
Its five 800-lumen lights evenly flooded the trail and stayed steady while I moved. The RA runs on a 4.6-ounce battery pack, which I tucked into a pocket in my hydration pack. I carried a spare battery pack, but never needed it. By running behind my sister, who wore a headlamp, I was able to light up the trail well for both of us. I'm now a convert to both the RA, and to waist lights in general.
Garmin InReach Mini ($350)
Most folks already know that an InReach is an invaluable tool while traveling in the backcountry. It's a 3.5-ounce lifeline that can call for a rescue from almost anywhere, even when there's no service. I always carry one in the backcountry, but I bumped up my plan to the highest level ($49/month) for the unlimited messaging. First, I set up live tracking so family and friends could watch our dot slowly move around the mountain. Since Alex also had an InReach, we were able to keep in contact through InReach-to-InReach messaging to give her our ETA and tell her our trail cravings for the next meetup. One downside: An InReach mini usually needs to charge about 12 hours into an adventure, so you'll need to bring a battery pack. It still works while it's charging, though.
Science In Sport Isotonic Energy Gels ($65 for 30)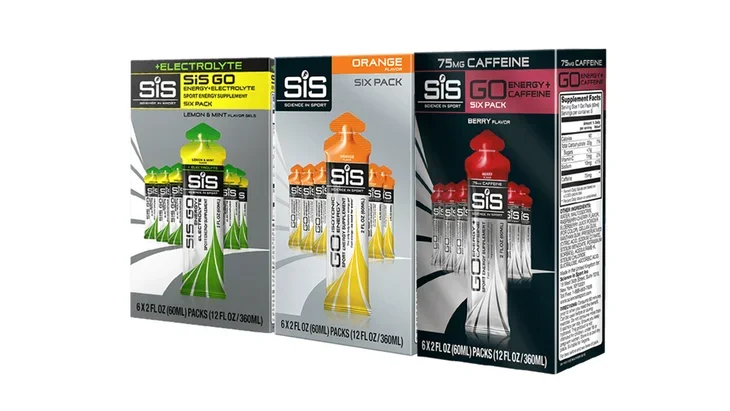 My friend and prolific ultrarunner, Clare Gallagher, tipped me off to these particular gels a few weeks before the Wonderland. But in order to get 250 to 300 calories on board, you have to eat them almost constantly. She texted me a few days before our departure: "Non-negotiable. Repeat after me. I will eat a gel every 30 minutes." If you've ever tried to eat a gel every 30 minutes over 100 miles, you probably have an idea of how the stomach responds—anything from general distress to total annihilation. Gel brands are a personal choice, but for anyone with a sensitive stomach, I'd recommend giving these a try. Each has 90 calories and 22 grams of carbs, and they're designed to be consumed without water. The consistency is like watery Jell-O, but like they're marketed, these are easy to digest. I ate probably 45 of these and had no stomach issues (a first!).
RELATED: Here's What Our Editors Loved In September
Swiss Safe Emergency Blanket ($20 for 10)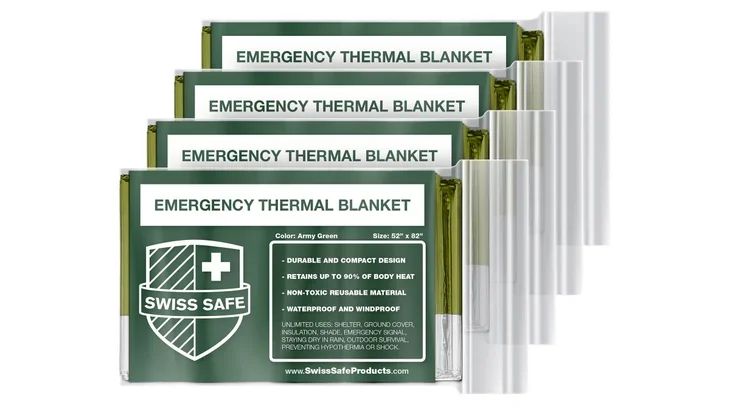 I once had to share an unplanned open bivy with three friends in 45-degree weather with only a single emergency blanket between us. Despite the coziness, it worked so well that I now always carry my own blanket with me. They weigh a mere two ounces and are windproof, waterproof, and retain up to 90 percent of your body heat. And yes, they actually work really well. You can use them for a number of things: tent footprint, poncho, shelter, sleeping bag liner. My sister and I used it for a 15-minute 3 a.m. trail nap when she started falling asleep while walking. When we first laid down, she started shivering. We wrapped ourselves in the blanket and she immediately warmed up. Had we not set an alarm, we could've slept for hours in the dirt.
Katadyn BeFree Filter ($50)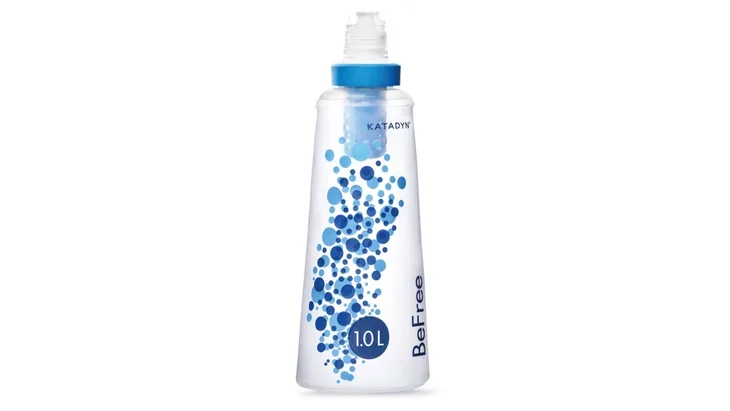 In my opinion, there's no better on-the-move water filter than the BeFree. The collapsible one-liter flask and built-in filter weigh just 2.3-ounces, barely noticeable in a pack. By gently squeezing the flask, it can filter up to two liters of water per minute. Compared to other filters that can take a whole snack break to filter that much, it's fast. Just after dark we stopped at a creek to refill. Temperatures had dropped and the wind was whipping. We wanted to get moving again quickly and the BeFree made our water stop incredibly efficient: scoop water into the BeFree, flip it upside down, and squeeze to fill all four of our 500 milliliter flasks in no time.
Mountain Hardwear Ghost Whisperer UL Puffy ($400)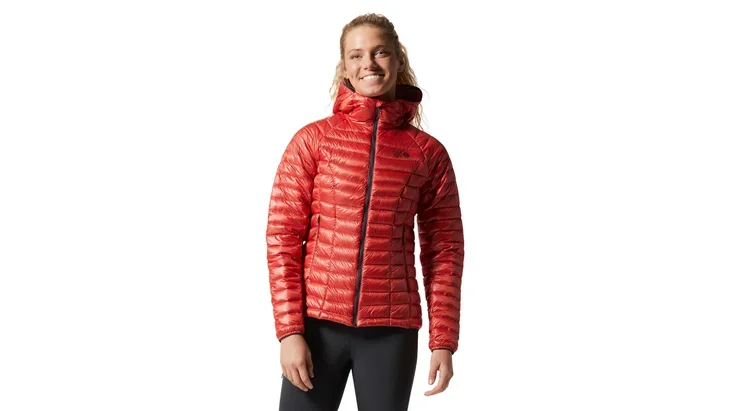 With temperatures dipping into the low 40s at night and no chance of precipitation, I knew it would be worth packing a warm layer to stave off chills and block the cold. When I picked up this six-ounce hooded puffy with 1,000-fill down, the highest possible insulation rating for jackets, it felt almost nonexistent in my hands—perfect for a light and fast excursion. It has a stellar warmth-to-weight ratio and packs down small, but I put this on the second the sun went down and didn't take it off until morning. While I was mostly power hiking and jogging, the Ghost Whisperer was comfortable to move in and kept me warm without causing me to break a sweat.