What We're Getting Dirty With
Heading out the door? Read this article on the new Outside+ app available now on iOS devices for members! Download the app.
As I ease into more intense winter-training, I'm relying on gear that keeps me warm and dry during workouts. This week's picks are all things to help you stay stoked on winter running even when it's cold and dark and GU has frozen all over your mittens.
BioLite HeadLamp 330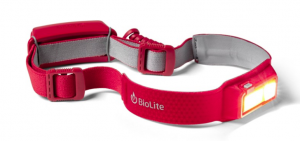 I've taken this headlamp up a couple of summits and even raced with it a few times, and though it's not the brightest, it's definitely the most comfortable I've tried. It's lightweight and re-chargeable, and the low-profile works well on the complicated bangs-and-glasses-under-beanie situation my forehead is rocking through most of the winter. The battery element is opposite the light in the back, so it doesn't bounce or feel heavy on my delicate forehead.  The headband is sweat-absorbent and not too squeezy for those dawn-patrol miles.
REI Co-op Swiftland Trail Run Jacket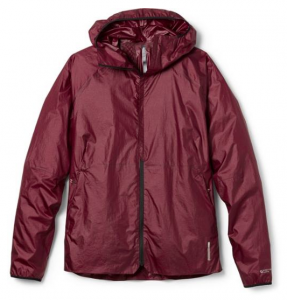 I love this jacket. I recently wore it on a snowy long-run that went from cold, to warm, to colder, to muggy and snowy (this is a testament both to my committed slowness and mercurial Colorado weather). This jacket was great in all conditions. The torso is lined with a lightly fuzzy material for just a bit of insulation where you need it, and it has little laser-cut holes around the armpits for ventilation when you inexplicably start snow-sweating.  It is also ultra-packable considering how warm it is. Women's version here.
Title Nine Crash Tights
Not today, treadmill!! When the going gets cold, these tights are my go-to. They're fleecy and wind-resistant – these are NOT the duds you want to wear to hot yoga (barring an extreme, masochistic desire to sous-vide your hams). But, they are perfect for hard-core chilly runs or hard-core chillin' with cocoa.
Rabbit Slim Sleeves
These long sleeves are warm enough to be worn as a base layer or on their own for sunny but chilly runs. They're sleek and sporty with a slim-fit, and are great at wicking sweat, even under a jacket. Even though they're partially Polartec, they have a light shine to them that makes them feel fit for any temps. Gents, get yours here.
Mighty Music Player
I would never besmirch the pure, sylvan tranquility of a trail run by bringing my phone on runs (except for pictures…), but I DO love blasting Carly Rae Jepsen in the alpine at every given opportunity. The Mighty is a perfectly portable music player that you can sync with your Spotify or Amazon music playlists and podcasts. The simple interface makes it easy to toggle with gloves, and it's small enough to clip on a bra strap or belt loop. It syncs with Bluetooth and has up to five hours of battery life (just long enough for that Lizzo-dependent 50k PR!) so that you can enjoy your jams off the grid.
Believe Training Journal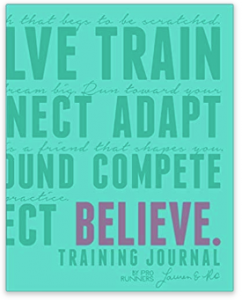 As a writer, runner, and writer who frequently writes about running, having a space to jot down my post-run thoughts adds a lot to my practice. Thisjournal has a years' worth of undated weeks for you to record your workouts and reflections offline, which is a great space to record thoughts that don't need to go on Strava. The Believe Journal has quizzes, essays and pro-tips from G.O.A.T. Lauren Fleshman. There are also options in red and charcoal, but perhaps the Venn diagram of people threatened by traditionally feminine colorways but who also journal, is small.
Other Recommendations
A new analysis by The New York Times shows that Nike shoes with carbon plates provide a real – and bigger than previously estimated – edge in running. If you like data and shoes and are looking for a good reason to have a strong opinion about shoes you've never worn, here you go.
Try combining toasted marshmallow GU and chocolate GU in your mouth on your next long run in the snow! It's almost like hot cocoa. Almost.
Don't make a New Years resolution. They don't' work, and you're perfect as you are. Instead, reflect on all the awesome things you're already crushing, relationships you've formed or dogs you've pet this year! Making a year-end highlight reel of your life that only includes your "achievements" at work or in races minimizes your innate worth as a human by focusing on productivity and performance, and not dog-pets or conversations on long runs (the things that really matter!).  Tweet me your best non-productive achievements of 2k19 @ZoeHRom.
Also, get stoked. A new podcast is coming soon from yours truly.
Zoë Rom is Assistant Editor at Trail Runner. She enjoys podcasts and pizza. You can follow her trail running adventures on Instagram @carrot_flowers_z .