What Our Run Editors Loved in July
Here's a look at the gear, tech, media, and general miscellany our Outside Run editors loved last month
Heading out the door? Read this article on the new Outside+ app available now on iOS devices for members! Download the app.
Gear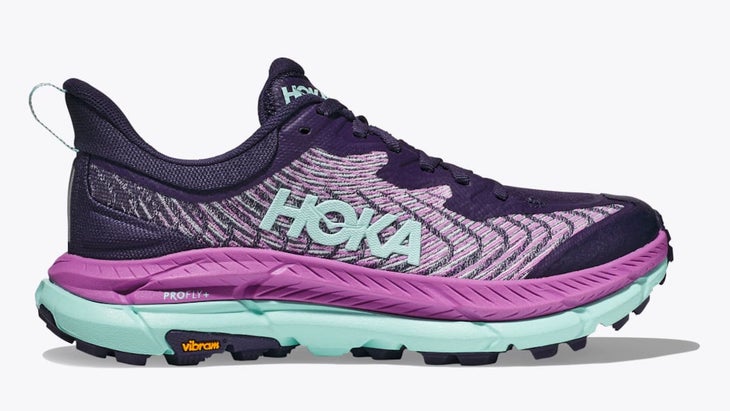 Hoka Mafate Speed 4 – $185
Built for the rough and rowdy trails of Ultra Trail du Mont Blanc, this has become my go-to shoe for long days and technical races. The propulsive midsole feels responsive all day long, and the Vibram Megagrip and traction lugs provide the best grip of any maximum cushion shoe I've tried. If you're looking for a shoe that strikes a perfect balance between comfort and technical agility, this is it. – Zoë Rom, editor in chief, Trail Runner, Women's Running
Path Projects Andes AD Tank Top – $42
With high temps hitting triple digits daily at my home on the high plains, I've been wearing as little as possible on my runs. This 3.1-ounce singlet is just that: as little as possible. But it's not just light and thin—the 90 percent poly / 10 percent spandex fabric is woven with an interior texture and ventilating holes that makes it stand away from the skin and breathe freely. It's slim-fitting without being tight, so it stays close to the body and out of the way. Plus, it falls just past the waistline, so it isn't bunching over my shorts. One morning this week, when it was over 90 degrees by the time I got out, I opted for anaerobic pick-ups (one minute on/one minute off) to avoid heat build-up. The tank top disappeared during the sprints and vented and evaporated sweat during rest periods, making the heat feel quite bearable. The top was hardly wet at the end of the workout—until I stopped, then it got drenched like the rest of me. But it still didn't cling, and it dried quickly. The singlet looks sporty without feeling like it should have a race number pinned to it: I got a "nice top" from my wife at breakfast one morning, and she didn't even detect that I'd worn it on runs every day for most of the week. – Jonathan Beverly, senior running gear editor
RELATED: The Best Summer Running Gear Made of Recycled Materials
Salomon Sense Ride 5 – $140
When anyone in my life who is new to trail running asks me for shoe recommendations, often the Sense Rides are a first recommendation. I share this with the caveat that I've actually never worn a pair of Sense Rides a lot, personally, I just know they're a solid choice that meets a variety of needs. Now that I have a pair of the latest Sense Ride 5's, I can say unequivocally that these shoes deliver. With a light upper and a mid-range EnergyFoam midsole, this shoe is wonderful for nearly everything, from your run-commute to weekly miles to your next ultra. It does it all, and it looks good doing it. At just around 10 ounces, it's on the heavier side for me, for racing, but will still be in regular rotation. – Nicholas Triolo, senior editor, Outside Run and Trail Runner
Smith Vert PivLock Sunglasses – $219
Hands down the best running sunglasses I've tried! They're so lightweight and adjust to changing conditions beautifully so that you're not always taking them on and off when you descend below the treeline. They're so light and adjustable, it's easy to forget you're wearing them at all.  – ZR
Nike Trail Second Sunrise Shorts 5" – $75
I've been in dire need of a new pair of trail running shorts that are comfy, light, and full of pockets. With two deep-zippered side pockets, wide hip pockets, and a zippered back pocket, these shorts deliver. Not to mention they're lightweight, look good, and are made with 75 percent recycled fibers. – Gordon Coates, digital producer
Salomon Bonatti Cross Wind – $75
I'm a sucker for well-designed ultralight, packable windbreakers for running. An ardent Patagonia Houdini evangelist since 2007, I'm always on the lookout for a shell that fits well and performs in a variety of weather conditions. Last week, I was running a high ridgeline in Colorado, above 12,000 feet, when a thunderstorm rolled through, followed by hail. I immediately threw on this Bonatti and was dialed in, staying warm and dry until it passed. The one chest pocket is perfectly placed, and there aren't any annoying cinch cords, only strategic elastic. – NT
Lululemon Nulux Road to Trail High-Rise Short 4" – $59
These shorts are a do-it-all go-to for days when I'm running errands or running big miles. A back zippered pocket can hold a phone fairly comfortably, and a back sleeve can take poles or a flask for hands-free carrying ease. The liner is comfortable and the high-rise fit is super flattering. The liner has drop-in pockets to carry plenty of snacks or a credit card for post-run coffee and pastries, too. – ZR
RELATED: The Evolution of Trail Running Shoes
Reading Material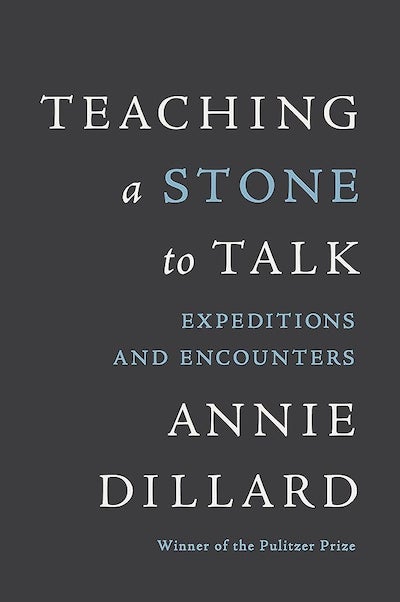 Teaching a Stone to Talk – Annie Dillard
I'd heard about this collection of essays forever, and yet hadn't made my way to it. I'm glad I finally did. If you haven't yet read Dillard's Pilgrim at Tinker Creek, stop everything you're doing and read this masterwork first, then come to these shorter meditations on place, natural wonders, and human folly. Dillard is one of the all-time best, and reading her work can certainly be applied to our deepening practices of running, of being in wild spaces and continuing to cultivate awe in uncertain times. – NT
Fat Talk: Parenting in the Age of Diet Culture – Virginia Sole-Smith
While I'm not a parent, there's something for everyone in this deep dive into diet culture from journalist and writer Virginia Sole-Smith. This examination of the ways that diet culture and diet talk infiltrate every level of our culture and upbringing is thoughtful and provocative, and it offers a deeply loving and compassionate path forward in building a world where all bodies are valued and celebrated. – ZR
In Our Ears
Big Red Machine – How Long Do You Think It's Gonna Last?
How did I miss this record? I loved every single second of their self-titled album (2018), but somehow, in the midst of the pandemic, neglected their most recent delivery. I'd start with the track "Reese" on your next run and go from there. Special appearances by Fleet Foxes, Anais Mitchell, and (!!!) Taylor Swift. – NT
"The Retreivals" – This American Life
This five-part podcast from the producers of Serial and This American Life is a thoughtful examination of how women experience pain, and how we storytell around it, for ourselves and others. – ZR
The Vibe – A COLORS SHOW – by KAMAUU
Groovy, uplifting, engaging, a pure BOP. Get loose and start your pre-run warmup with a little dance. – GC
"How Thinking About Death Can Improve Your Life" – 10 Percent Happier Podcast
I listened to this interview while on a 10-mile hill workout and it literally made me see everything differently. Death doula and professor Aula Arthur talks with Dan Harris on one of my go-to podcasts about the urgency of coming to terms with, even celebrating, our own mortality. The conversation is rich and will bring everything into higher resolution, I promise. – NT
The Greater Wings – Julie Byrne
Julie Byrne is one of my all-time favorite artists, and this album is a spectacular addition to her oeuvre. This album is a deep meditation on longing and grief in musical form, re-writing pain as a place of renewal. – ZR
Other Good Stuff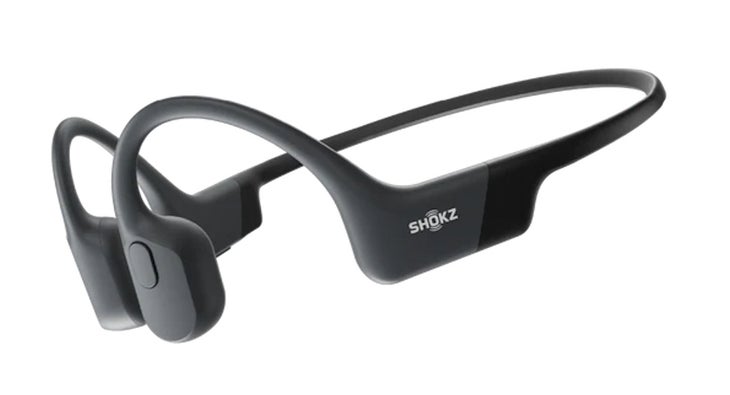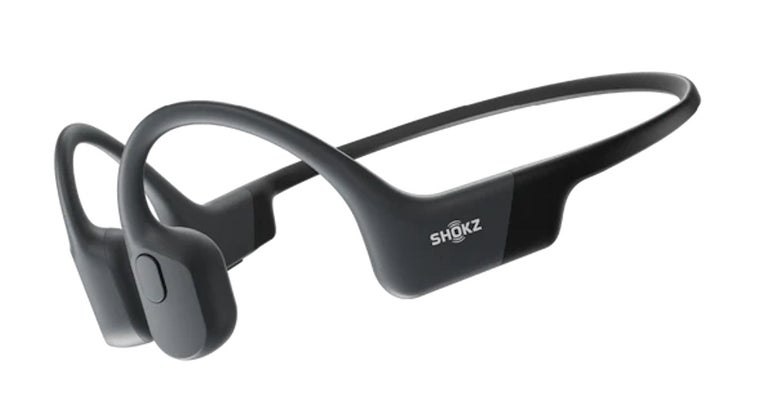 Shokz OPENRUN – $129.95
These headphones are so comfortable that I've gotten into the shower with them multiple times. I use them every day for running and biking so I can hear mountain bikers on the trails and cars on the roads while also listening to Andy Serkis (actor who played Gollum) read the Lord of the Rings on Audible. I would argue that these are some of the best running headphones for comfort and practicality. Get them sweaty; throw them around. They can take it. There is a small tradeoff in sound quality compared to over-the-ear headphones or earbuds, and you do need to find sunglasses that don't get dislodged by the headphones, but so far, I wouldn't trade anything for the Shokz on the run. – GC
RELATED: Ask a Gear Guru: What Are the Best (New) Headphones for Working Out in 2023?
You just have to see it. – ZR
I recently joined the great Rickey Gates for a Hut Run Hut trip in Colorado's high country and, of the many wonderful accoutrements along the way, Rickey and his team would always put out piles of Hi-Chew candies for runners each day. I quickly became addicted to this Japanese chewy candy. They offer a delicious burst of flavor with just the right amount of chew. I'll be heading to World Market to pick up a few dozen bags of these asap; I encourage you to do the same. – NT
John Early – Now More Than Ever 
This stand-up special from comedian John Early comes in the form of a faux-70s mockumentary that combines improvisation, stand-up, and musical comedy. From hilarious Spinal-tap style sketches to Early's water-tight standup, this is definitely worth a watch. – ZR