Here's What Our Editors Loved in January
To start off the new year on the right foot, here are the essential gear finds, music, books, podcasts, and general miscellany that our Run Editors loved from last month.
Heading out the door? Read this article on the new Outside+ app available now on iOS devices for members! Download the app.
We adore January, mostly for its pace. These days just burn slower. Quiet. Calm. Peaceful. As we remain close to the fire this season, many of us are beginning to sketch our plans for spring and summer adventures, and this is a great time to experiment with gear, to take stock of media inputs and try new sources of information and inspiration. Our team never stops searching for the best trail gear, tunes, books, podcasts, and gadgets we think runners will love, so here are some of our best finds as we wrap up the month. 
GEAR
Tracksmith NDO Tights – $198
I know, they're pricey, but these tights are worth it. They're basically two pairs of leggings, meant for the chilliest days so that you're not stuck with cumbersome layers. These are the best tights for very cold days (for me, that's below 20 degrees Fahrenheit), and they don't limit mobility or annoy me by sliding down. – Zoë Rom, Editor in Chief of Trail Runner, and Managing Editor of Women's Running
Oiselle Super Puff Mittens – $42
My hands get really cold when running, and these puffy mittens are my go-to for really cold days. While they're not good if you need any level of dexterity (and obviously aren't touch-screen compatible), I've worn them for some very chilly runs in the teens, and even on some ski tours. – ZR
Nathan Hypernight Reflective Gloves – $30
During the winter, I run outdoors as much as possible but, because of the snow and ice covering the trails, that means running on roads more than usual — and often in low-light conditions in the early morning or evening. Unless temperatures drop below 10 degrees, I typically wear lightweight, breathable gloves because my hands warm up and sweat quite a bit when I run. The Nathan Hypernight Reflective Gloves have been one of my go-to pairs this winter, both because they're soft and comfortable but also because they offer a bit of visibility in car headlights as I'm slogging in the roadside slush. – Brian Metzler, Contributing Editor
Janji Multipass Sling Bag – $52
As a Brit, it goes against my culture to say the word "fanny pack" out loud, never mind wear one. But after 20-plus years living stateside, I have taken the Kool-Aid. This particular pack is made for runners, so that gives me some discretion, no? I eschew the traditional waist-wearing set up, and opt instead for the cross-body orientation for running. Featuring an additional strap, this key element secures the bag for running with no movement. It's smaller than a running backpack, which I don't always need, but it meets my storage requirements for running with a phone that's getting way too big for a pocket, some extra snacks, and a key.  – Melanie Mitchell, Run Brand Director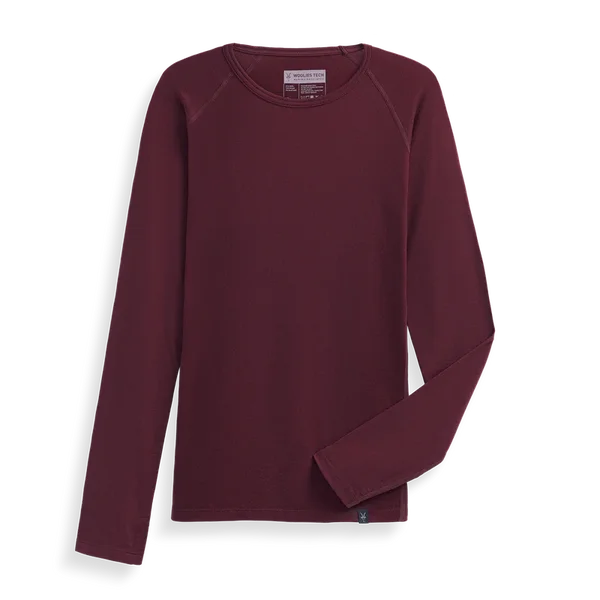 Ibex Men's Woolies Tech Long Sleeve Crew – $115
I'll never forget asking my very first serious girlfriend what her all-time favorite article of clothing was, and she said without hesitation: "Duh, dude. Long-sleeve shirt." Though I never exactly shared her undying passion for the long-sleeve, I do appreciate when they're done well, and this midlayer merino tech shirt from Ibex is about as good as it gets. Its Pro-tec fabric has Nylon Core for increased durability so it's thin, but not to the point where it'll easily rip, and not too thick that it's stuffy. I'm a sucker for versatility, and this works as a casual layer, just as it does while running or skiing in cold weather. The earthy colors are on point, too, as are the thumbholes for keeping those hands warm without packing gloves. – Nicholas Triolo, Senior Editor, Trail Runner and Outside Run.
Nathan Men's Stealth Jacket – $90
Radical transparency: I own several of these types of jackets. Ultralight windbreakers, rain-resistant shells that might not quite defend against a deluge but are good for just about everything else. Most of them, though, don't quite have the right cut, and I find them baggy and insufficient. Nathan's Stealth Jacket does not feel this way. Clocking in at under one pound, this hyperlight jacket touts itself as not being loud and swishy as other shells can sound, and this checks out. Quiet and trim, the Stealth packs into its own pocket, which I sometimes will stuff it into my Naked belt when it gets too hot. I feel like we're beginning to creep into the territory of gear that feels almost dangerously too light to be protective, and yet somehow they perform. This jacket is one of those pieces. – NT
La Sportiva Cyklon Cross GTX Running Shoe – $245
Until this winter, I sat firmly in the camp that no piece of running gear could possibly be worth $245. It's just running, after all, and sometimes running means suffering. The Cyklon Cross GTX's prove I was a naive fool. I spent a month running through freezing rain, splashing through dirty ice water slushies, and postholing up wind-battered mountains in New Hampshire, and my feet stayed warm and dry the entire time. And it turns out, that's all it took to revolutionize my outlook on both an entire season and this entire sport. The integrated GORE-TEX waterproof gaiter proves both fully waterproof and insulating while still miraculously managing to be comfortable. The lightweight BOA lacing system makes it easy to adjust the fit while wearing your thickest mittens. The tread is sticky enough to grip icy roads and relatively slippery trails without the need for extra traction. And the compression molded EVA insole keeps your foot stable without adding unwanted stiffness and weight—and the associated Achilles and knee issues. These shoes might make me soft. But I used to avoid trails on gnarly winter days, and now I seek them out. — Abby Levene, Gaia GPS editor
RELATED: Our Five Favorite Winter Trail Running Shoes in 2023
Atomic Redster S9 Gen S skate skis – $960 (with Prolink Shift-In bindings)
In the winter months, I try to hone my aerobic fitness on skate skis as much as possible, skiing on the Mineral Belt Trail and rolling terrain of the Tennessee Pass Nordic Center in Leadville, Colorado, several days a week. I literally skied my previous pair of (circa 2006) Atomic skate skis into the ground by the end of last winter, so it was time to invest in new sticks last fall. After about 35 days of skating so far, I've found my new Atomic Redster S9 skis to be extremely efficient and versatile for my 1- to 2-hour fitness sessions. The dramatic sidecut and shorter recommended length of the skis helps me recoil the ski back to a neutral stance for a more compact and effective skiing motion. — B.M.
Asics Novablast – $140
I felt like I needed to spice up my running when I transitioned almost entirely to roads this winter, and the Novablasts were the perfect antidote to any possible winter running blues. Whatever Asics is doing with their new foams like the Flight Foam Blast, I'm into it. The shoes made me feel smoother on easy days, protected on long runs, and fast when I needed to be. I heard complaints about the stability of the first iteration of the shoe, but the wider base and slightly firmer foam of number three solves that problem. This might be one of my favorite daily trainers on the road, and last year's version is on sale. – Gordon Coates, Digital Producer
Spring Energy Chocolate Cherry Heaven – $8.80 for two 
At 170 calories, these taste like a dark chocolate bar, with ingredients you can understand. What else is there to say? This gel is my new go-to energy source on winter runs. It's delicious baseline, but it tastes even better when it can get nice and cold in your pack – like a chocolate cherry smoothie. The only downside is the price. I save these for special occasions, and try my best not to snack on them outside of running. – GC
READING MATERIAL
The Last American Man by Elizabeth Gilbert
Deep dives into American masculinity – it's not just for dudes! The author of yes, Eat, Pray, Love uses the true story of Eustace Conway, who left a comfortable suburban upbringing to live in the woods (hunting, foraging, even tanning his own shirts) to examine what it means to be a man in America today. Gilbert disentangles complicated ideas of materialism and masculinity, (and though I'd argue her conceit falls into some of the same traps she tries to critique), I enjoyed the story and have been recommending to all my friends with a woodsy, Alexander Supertramp streak. – ZR
Tonechaser – Understanding Edward: My 26-Year Journey with Edward Van Halen by Steven Rosen
I have been a Eddie Van Halen fanatic since I was in middle school, initially because a buddy turned me on to his innovative guitar playing style but also because I learned Eddie and I shared the same birthday. Rosen, a respected rock journalist, poured over hours of interviews he recorded on cassette tapes to write an intimate profile of the friendship they developed through the heyday of the band, highlighting Eddie not as the guitar hero he became but as the funny, self-deprecating, deeply caring and shy virtuoso musician he always was. — B.M.
Sula by Toni Morrison 
Everybody needs to stop and read Toni Morrison. (Like, as soon as you're through with this Editor's Choice, go pick up The Bluest Eye immediately). Sorry to sound so prescriptive but I say this with urgency because I was late to Morrison's work and feel like my love for fiction, for real bone-rattling fiction, forever changed as a result. Sula is my fifth book of hers, documenting a rich friendship between two girls in Ohio, both of them set on different trajectories but colliding and ricocheting off each other over the years through trauma, racism, femininity, and maturation. This is one of her shorter novels, so if you haven't yet had the pleasure of Morrison's work, you might start here (though The Bluest Eye was my introduction and I can't recommend it enough.) – NT
Desolation Angels by Jack Kerouac
Kerouac has become a bit of a polarizing figure, and perhaps for good reason, as some of his work and language certainly hasn't aged well. However, this doesn't discount the absolute pure transmission of Kerouac's clear-eyed literary might and torment. As a trail runner who constantly thinks about my relationship to mountains, trails, and routes (and civilization), Desolation Angels begins with Kerouac plopped up on Desolation Peak for 60 days in the North Cascades of Washington State, totally alone and immersed in a vast wilderness with only his crazy thoughts and the crackle-buzz of a fire lookout radio. I haven't finished this book yet, but his confrontation with solitude, with the Void, and with the big, old, indifference of wilderness makes for one of the more intimate, harrowing, unromantic but delicious mountaintop writings I've read in some time. – NT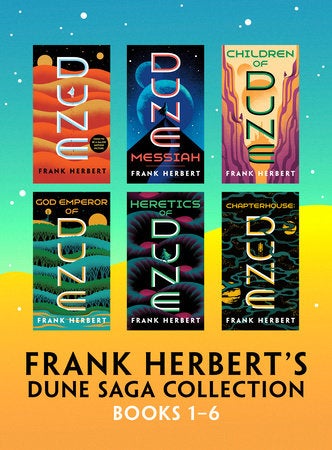 Dune Saga by Frank Herbert
If you're looking to escape the cold depths of winter, transport the inner recesses of your mind to the sand-swept planet of Arrakis. Herbert builds a world as rich and mesmerizing as his prose. I find winter to be a time for introspection and reflection, and what better way to do so than by chewing on the pitfalls of dogma, power, and environmental control. Plus, with six books in the series, you have an excuse to curl up by the fire all winter long. — A.L.
LISTENING
Natural Brown Prom Queen – Sudan Archives
Trust me, you need more Sudanese techno-fiddle in your life. This album came out this spring, and I keep returning to it when I need something that's equal parts sonically absorbing and emotionally resonant. Favorite tracks include "Home Maker" and "Selfish Soul". – Z.R.
Eragon by Christopher Paolini 
Do you love high fantasy books like Lord of the Rings? Do you wish dragons were featured more prominently? Do you like to pretend you are an ordinary farm boy destined for greatness? Enter, Eragon. This audiobook and series was one of my favorites as a youth, and while it might not capture my deeply profound literary interests (like reading the Histories of Middle Earth), it is a really fun story that can pull you through a run. – GC
Heavyweight Podcast – "Another Roadside Attraction"
I'm new on the Heavyweight bandwagon, so bear with me if you've already discovered this audio gold, but wow. I was first turned onto this podcast through another podcast, Longform (which I listen to religiously), and they'd interviewed the host of Heavyweight, Jonathan Goldstein, who spoke of recent episode called "Another Roadside Attraction," about a multiyear saga involving a bookstore that disappeared and the wild backstory. Storytelling at its finest. Human. Real. Quirky. Try not to cry. – NT
The Smile – "You Will Never Work in Television Again" (Live on KEXP)
What's better than discovering new music that gives you goosebumps, that makes you play it over and over again? The Smile includes Thom Yorke and Jonny Greenwood, from Radiohead, and the drummer Tom Skinner. Most anything I watch from Seattle's KEXP studio is a winner, but this session took my breath away. If you want to go right to the heart of the matter, patch into the last song in the full performance, "You Will Never Work in Television Again." – NT
OTHER GOOD STUFF
Life comes at you fast. One day, you're a dirtbag living out of your 1996 Volvo S60, then you're editing a magazine and you've become the type of person who spends money on sheets. Now, they're called bedding, and you're obsessed. 
If you, like me, are in the phase of life where sleep is everything, and you only half-jokingly use the phrase "adulting," then these sheets are for you. Sheets, like socks, I've discovered, are one of those things that you really shouldn't skimp on. And these sheets are the BEST I've ever tried. It feels like everyday is vacation in a fancy hotel that someone else is paying for. – ZR
If you're a coffee-dependent creature like I am–but are also aware that any caffeine after 2 P.M. will affect the quality of your sleep–and yet in the evening you sometimes crave a rich beverage, I think I found the holy grail: Dandy Blend. It's a 100 percent caffeine-free blend made of barley, rye, dandelion, and chicory root extracts. If red flags are waving, I totally get it. But try this stuff before you mock it, especially with some cream and a drizzle of maple syrup. Sleep seems to be the rediscovered x-factor for high performance these days, and we all know that too much caffeine can stack the recovery deck against you. Grab a bag of dandy blend and soar. – NT