Photo: Emma Frances Logan/Unsplash
Heading out the door? Read this article on the new Outside+ app available now on iOS devices for members! Download the app.
Our Favorite Things: Locally-made, huarache-style sandals for the trail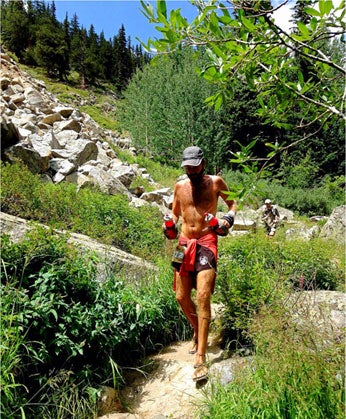 Many of us first became familiar with the notion of running in sandals through reading about Mexico's huarache-clad Tarahumara in Christopher McDougall's 2009 bestseller, Born to Run. Those who have embraced huaraches are still a relatively small percentage of the general trail-running population—but you can find them everywhere from your local 5K to 100-milers.
"Depending on terrain, having the option to let your feet breathe and have that near-barefoot experience can really make running way more fun," says Jonathan Loewus-Deitch, one of our huarache testers. "Running in sandals gives variety to your experience and truly makes you focus on how you run and where you're stepping."
Aside from requiring a higher level of attention to the trail, huaraches encourage a low-impact, mid/forefoot strike. Even if you have no interest in ditching your running shoes altogether, huaraches can be a great tool for strengthening the muscles in your feet and improving your running form.
Read on for the dirt on two brands of trail-running huaraches that we've tried out …

Photo courtesy of Luna Sandals
Luna and Bedrock, reviewed below, are by no means the only companies making running sandals; other well-known ones are the Xero shoes (as seen on Shark Tank), Unshoes and Teva Zilch. (Let us know in the comments here what brands of huaraches you've tried!) But we love the passion, authenticity and craftsmanship that the folks at Luna and Bedrock put behind their huaraches.
In a day and age when almost all athletic footwear is made overseas, we also think it's pretty special when a footwear company keeps their manufacturing local. Both of the sandals reviewed here are 100% made in the USA.
How To Run In Sandals
Huaraches are usually sized differently than regular running shoes. Get a measuring tape and use the size charts on each huarache company's website to determine your size.
Both Luna and Bedrock offer custom sizing. For the best fit, splurge a little ($5-15 extra) to get a custom, hand-cut pair.
Cold weather coming? Couple your huaraches with a pair of cozy toe socks to keep your feet a little warmer this fall. These can also combat any potential rubbing from sandal straps or buckles.
Reviews