The Best Trail Running Gear Of 2022
From shoes and apparel to tech and hydration, here's all the best trail running gear of 2022, chosen by our editors and testers.
Heading out the door? Read this article on the new Outside+ app available now on iOS devices for members! Download the app.
Trail racing season has finally – finally! – arrived once again. We test trail gear year-round, but we save our absolute favorite pieces for this, our annual Trail Runner best-of roundup. There's only so much you can fit into a print magazine, so we wanted to take this opportunity to provide even more gear recommendations across four categories: apparel, shoes, hydration, and tech. Plus, we've thrown in a few bonus pieces that don't fit in any of those categories, but that we still think are great.
We brought together a team of over a dozen testers, writers, athletes, and other gear experts to bring you this collection of our all-time favorites. We hope you're able to find some items that fill the voids in your own trail gear arsenal!
Note: At Trail Runner, we have a policy of showing no preference based on brand in our gear testing. We are not compensated by brands for testing or consideration, and we do not guarantee inclusion of a product in our coverage. Our testers live in the Rocky Mountain west and are both recreational and competitive runners. This list includes gear that we receive from brands for testing as well as our own personal favorites from decades of running.
Apparel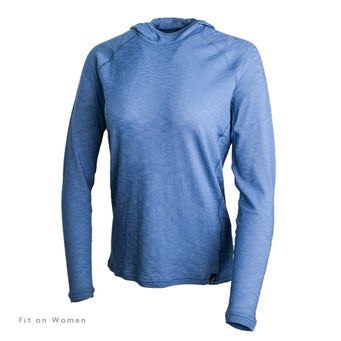 OutdoorVitals Tern Ultralight Merino Hoodie – $85
One of our complaints about merino is that it often doesn't have much stretch – this superlight layer is the answer to that. Extra stretchy and insanely soft, it makes the perfect single layer for cooler days, or layers perfectly under a vest or over a t-shirt for an easily stuffable bit of extra warmth. XS-3XL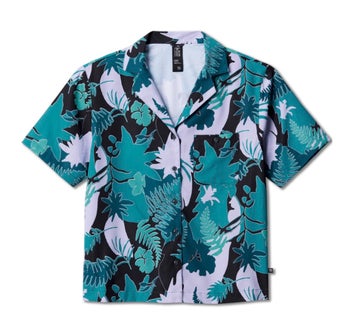 Mountain Hardwear Shade Lite Short Sleeve – $65
You know those folks you see at races who run in button down shirts – sometimes accompanied by jorts? Consider this the performance version of that shirt. It's light and open, with vents that allow for maximum airflow and cooling. We had testers run everything from technical trails to road races in this, and it worked well both accompanied by hydration vests and on its own. XS-XL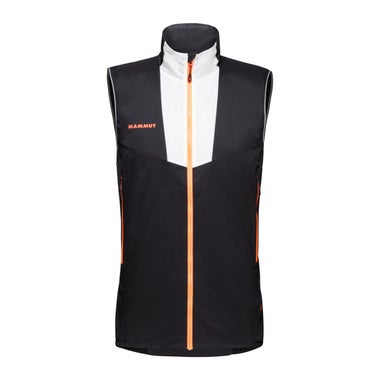 Mammut Rime Light IN Flex Vest – $159
This vest is just enough for the cooler mornings of spring and summer. Stretchy side panels can accommodate multiple layers underneath for colder days, and the stuff sack inside the pocket means you can easily pack it away when things warm up. It's also a Bluesign-certified product, which guarantees responsible use of resources and minimal environmental impact. XS-XL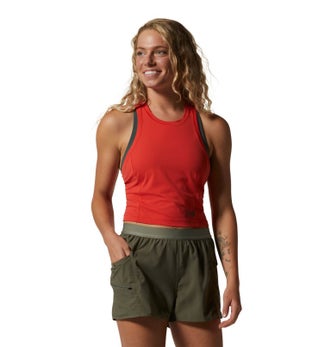 Mountain Hardwear Mountain Stretch Tanklette – $50
Let us count the ways we love this tank. The stretchy fabric stays cool and wicks sweat; the racerback construction allows for maximum range of motion; the length is just right to be the balance between an ordinary tee or tank and running in just a sports bra. On the warmest of days, this is what we're reaching for. XS-XL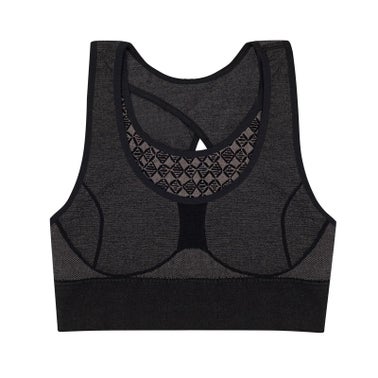 Ibex Balance Crop Bra – $70
This is one of the stretchiest bras we tried that still offered great support. You know how difficult it is to take off a wet sports bra? We were so confident in this one that we literally swam in it, and didn't end up feeling like we were in a straightjacket. With mapped support zones right where you need them, it offers flexibility and stability in equal measure. Plus, it's seamless, which minimizes chafing. S-XL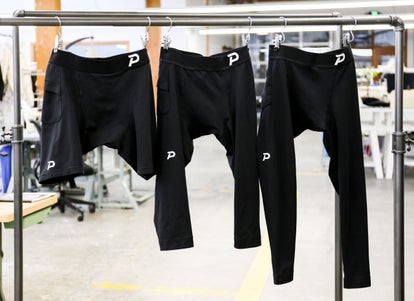 Pacterra Athletics Strider Compression Tight – $52
These tights provide intention around both performance and recovery. Pacterra's SwingLoft is an ultra soft polyester/spandex that testers found exceptionally comfortable. The only feature missing were ankle zippers, but what's lost in ankle access is gained with a perfectly placed hip pocket to secure a device, keys, or a gel. And they also come in a compression short ($36). S-XL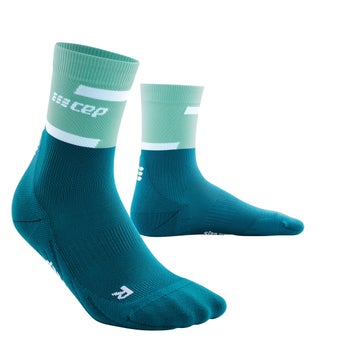 CEP The Run Compression Mid-Cut Socks – $19
These socks are the ideal marriage of squeeze and stretch. Just tall enough to protect from gravel and ruts, they provide support in all the right places without being too constricting. The material won't create hot spots on your feet and doesn't slip around inside shoes, even when it gets wet. Plus, the price is right!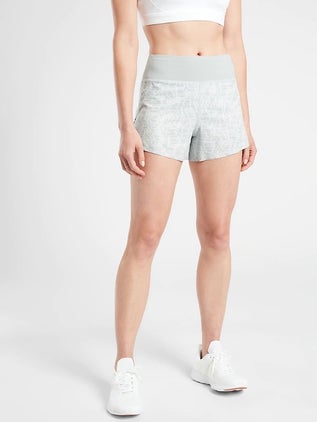 Athleta Run With It 3.5" Shorts – $59
Our testers loved these shorts for days with more speed. They've got a pretty short inseam at 3.5", but the wide waistband and built-in brief make for secure and comfortable coverage. With a full split that maximizes range of motion and some truly wild patterns, they're a summer staple for our testers – and editors! We also loved the inclusive size range (the larger versions have a 4" inseam rather than 3.5".) XXS-3XL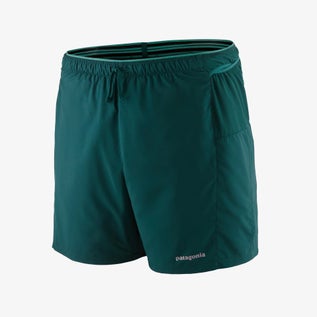 Patagonia Strider 5″ Pro Shorts – $69
If there was an award for the most consistently high-performing trail shorts of all time, Patagonia's Strider Pros might win. Perfectly cut, ultralight design, with pockets right where you need them. It's possible to fit over 10 gels in these shorts. (Yes, we've tried.) Fast-drying and Fair Trade Certified. 100% recycled polyester stretch ripstop fabric treated with a water repellent finish. 3.7 ounces, and also available in a 7″ inseam. XS-XL.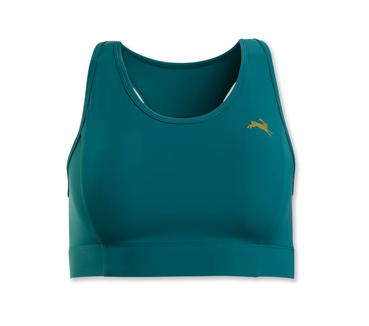 Tracksmith Allston Bra – $72
This bra works great whether you like to run in only a sports bra or prefer to keep covered up in the summer. A little longer than your average sports bra, it offers snug support without restricting movement, and the higher neckline minimizes bounce. Our testers wore them for both training and races, and loved both the fit and the smooth, cooling fabric. XS-L
Trail Running Shoes
Reviews written by Adam Chase
Best New Max-Cushioned Trail Shoes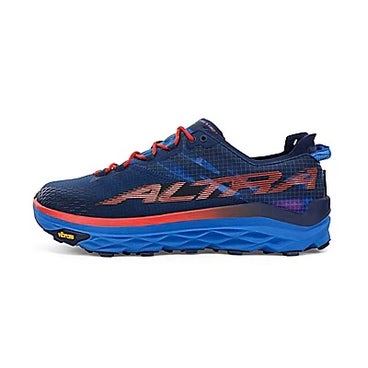 Editors' Choice: Altra Mont Blanc – $180
Putting the moniker "Mont Blanc" on a shoe is a tall order. But his all-new shoe, designed for ultra racing, could feel at home on the Alps' highest peak with its renowned technical trails. Our test team was wowed by how well the lightweight model handled mountainous long runs, negotiating rocky inclines and declines with quad-saving panache. One tester raved, "You feel so nimble and light, but with an unbelievable amount of protection and responsiveness."
Underfoot, 30 millimeters of Altra's newest nitrogen-infused foam provide well-cushioned rebound. Despite the sole height, the shoe feels stable, thanks to the generous width, guiderails that add support under both sides of the arch, and a late-starting toe rocker that allows for a solid forefoot stance before dropping off steeply under the toes. 
The flexible mesh upper sheds water and is remarkably breathable while wrapping the foot in a secure hold. The fit isn't ideal for those with lower-volume feet, nor does the low heel height work for everyone, but when it came to overall performance the Mont Blanc received unanimous appreciation from our test team. 
Weight: 6.9 oz (women's) / 9.9 oz (men's) 
Stack Height: 30 mm heel / 30 mm forefoot; 0 mm drop
Brooks Caldera 6 – $150
In this major update of the Caldera, Brooks manufactured some magic, using advanced foam and clever geometry to make a max-cushioned shoe feel stable, almost nimble. According to one skeptical tester, the resulting ride "seduced this minimalist to reach for them on days when I wanted to float, comfortably disconnected from life's rough surfaces." 
Key to its category-bending ride is a new midsole foam made of EVA and rubber injected with nitrogen. Testers confirmed the claims that it's softer than the foams used in past versions, yet also firms up quickly on compression and provides a responsive snap-back. Raised sidewalls add stability that. Plus, the laterally split outsole allows each side of the heel to move more independently, helping to keep tricky footing from tipping the platform.  
The upper features a new, quick-to-dry, durable mesh and an internal midfoot saddle for a secure, non-constraining fit. Testers called Caldera 6  a "great daily trainer," and recommended it for those newer to off-road running, those coming off an injury, or anyone who simply prefers a well-cushioned ride that doesn't wallow.
Weight: 9.8 oz (women's) / 11.0 oz (men's) 
Stack Height: 31 mm heel/ 25 mm forefoot; 6 mm drop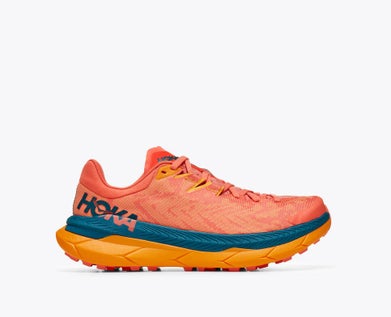 HOKA Tecton X – $200
After trying models from three brands, the answer to the question, "Will carbon plates make trail shoes into super shoes?" remains "maybe," and "it depends." Having to deal with varied terrain underfoot complicates the ability to direct the bouncy foam's rebound effectively and consistently. In addition, the specific combinations of foam responsiveness, plate stiffness and rocker geometry are highly tuned to each runner's stride. 
The Tecton X has two parallel plates that can move independently—like the earth's tectonic plates. These are sandwiched between a high-rebound foam on top, to provide underfoot pop, and a softer foam beneath, to absorb rocks and roots on the trail.
Testers reported that it performed better on more groomed off-road surfaces, and they considered the plates' effect more protective than propulsive. As expected, reactions varied greatly, depending on how well the plates worked with each individual's stride. Some of our testers found them to be "nimble" and "responsive," while others thought they "missed the mark" and were "squishy" and "unstable."
Weight: 8.0 oz (women's) / 9.1 oz (men's) 
Stack Height: 33 mm heel/ 29 mm forefoot; 4 mm drop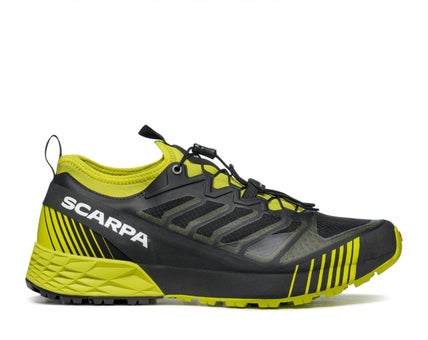 Scarpa Ribelle Run – $159
Scarpa has a long legacy in the climbing world, and brings that expertise to the Ribelle Run, a shoe that blurs the lines between trail running and mountaineering. The result is a sturdy yet surprisingly agile choice for moving quickly through rocky, rugged terrain where protection is the priority. 
The upper stands out, with its climbing-inspired, rubber-like TPU band wrapping the heel, the perimeter of the midsole, and the lower half of the upper. Above that protective band, a rugged upper of ripstop mesh with overlays of welded polyurethane surrounds a stretch-fabric gusseted tongue and ankle collar, keeping out debris and delivering a superior foothold. The cinch lacing supplies lock-down security, although testers complained about the pull cords being too long and flopping annoyingly.
Despite burly protection, the ride provided by the relatively low and firm midsole is surprisingly cushioned, flexible, and adaptive to terrain. While the toe tapers strongly at the end, it doesn't cramp the ball of the foot, allowing a stable stance and push-off. Testers reported that Scarpa's proprietary rubber outsole, with widely-spaced, four-millimeter lugs, shed mud effectively and had great stick, even on wet rock—plus it didn't show any signs of wear during the test period. You pay for the shoe's toughness and durability with some extra weight, but if you need the versatility to combine trail running, scrambling, and moderate alpine climbing, it may be ideal.
Weight: 9.2 oz (women's) / 10.6 oz (men's) 
Stack Height: 25 mm heel/ 21 mm forefoot; 4 mm drop
Best Versatile Road-to-Trail Shoes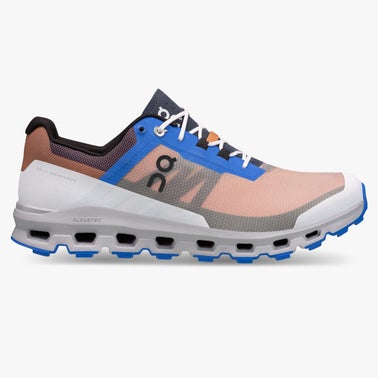 Editors' Choice: On Cloudvista – $140
On's newest trail model should probably be called a path shoe, as it is essentially a road shoe with a lightly-lugged tread. That formula works well for its intended use, according to our testers, who reported that the shoe shines, with a light, smooth, snappy ride and comfortable fit—as long as the footing doesn't get too tricky.
Testers said the shoe performed fluidly on groomed trails and other smooth surfaces, with a light, responsive but supportive ride, aided by a full-length flexible plastic plate underfoot that gives the shoe a firm step-in feel, underlaid with moderate, bouncy cushioning from On's proprietary super foam. Credit that foam for making the Cloudvista one of the lightest shoes in On's lineup, despite the rugged outsole. 
The outsole's varied grip patterns held on to slippery surfaces and the small, flat-topped lugs didn't interfere on the roads. On unpredictable or muddy trails, however, they lacked dynamic stability and traction. The materials and fit of the upper were universally cheered, and the test team loved wearing their fashionable Cloudvistas all day long. 
Weight: 8.4 oz (women's) / 10.0 oz (men's) 
Stack Height: 30 mm heel/ 23 mm forefoot; 7 mm drop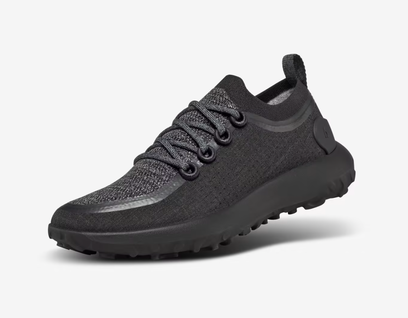 Allbirds Trail Runners SWT – $140
The first thing you need to know about the Allbirds Trail Runner SWT is that it is created following Allbirds' ambitious sustainability and social responsibility priorities. These include sourcing most components from natural materials like sugar, wool, and trees (hence the SWT name). If your first priority in footwear is to support these efforts, Allbirds has created one of the best eco-friendly models to date. Compared to all other shoes on the market, however, most of our testers found these wanting when it came to actual performance.
Accepting that the shoes are more suited for short neighborhood path runs than serious trail miles, some testers thought they ran better than expected. The midsole is dense and thick enough to provide plenty of underfoot protection, without being too tall for trails, and the natural-rubber outsole tread created a solid, grippy hold. The weight of those bio-based materials on the bottom of the shoe, however, makes the ride feel heavy, even clunky. "This did not feel like a performance shoe to me," said one tester. "Though I appreciate the environmental values that drove this shoe's creation, I'm not going to be logging many miles in it." 
Everyone appreciated the shoe's style, which stems from a soft and stretchy knit upper made of Merino wool and eucalyptus tree fiber, with a smooth, Merino and recycled polyester rip-stop outer layer surrounding the sides. Tying it all together are round laces that look like wool but are made from recycled plastic bottles. One tester summed up, "I found these to be a nice casual running shoe that can take you comfortably from road to path to café—and makes you feel as good about your environmental choice."  
Weight: 12.4 oz (women's) / 12.4 oz (men's) 
Stack Height: 25 mm heel/ 18 mm forefoot; 7mm drop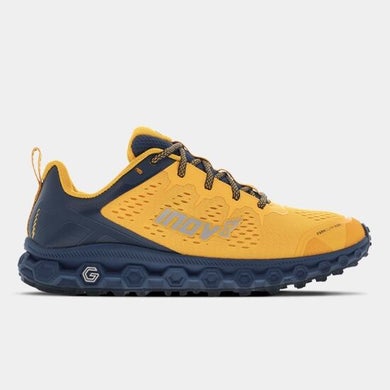 Inov-8 Parkclaw G 280 – $180
With the Parkclaw G 280, Inov-8 has created the running-shoe equivalent of the gravel bike, combining road characteristics with off-road capability. As might be expected from a brand known for making rugged hill running shoes, the Parkclaw is well-suited for dirt: low to the ground, flexible, and durable, with tightly-clustered four-millimeter rubber cleats and a reinforced toe bumper and heel wrap. 
Inov-8 blends its secret sauce, graphene, into both the outsole rubber and the midsole foam. As the world's strongest and thinnest material, it is said to make the compounds stronger, stickier, and more energetic. One tester reported that the enhanced sole "provided ample feel for the trail, while resilient enough to both shield from shock and give my step a pleasant bounce."  
Testers enjoyed the supple uppers that hugged feet comfortably, but noted it might not provide the security necessary for technical trails. For door-to-trail outings, however, they excel. "Great bounce and cushioning…smooth on the road and well-performing on the trail," summed up one tester. 
Weight: 9.8 oz (women's) / 9.8 oz (men's) 
Stack Height: 29 mm heel/ 21 mm forefoot; 8 mm drop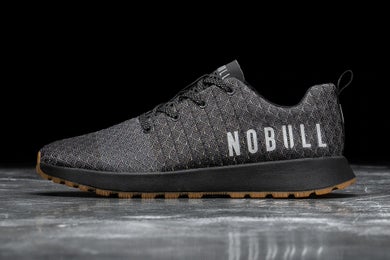 NOBULL Matryx Trail – $179
NOBULL, a Boston-based cross-training apparel company known for its gritty, zero-excuses attitude, has gone way outside the CrossFit box by making its first off-road shoe. But their Matryx Trail model runs so well on any surface we're not sure we'd classify it as a trail runner. Whatever you call it, the Matryx lives up to the brand's marketing that it makes shoes that are stripped of gimmicks and simply do a reliable job.
From the ground up, the Matryx looks like a shoe from a less complicated time. The outsole is a thin, full-coverage layer with a regular pattern of short triangular lugs that deliver a gummy grip. The midsole is a single-density slab of Phylon foam that holds the heel securely with subtle sidewalls and delivers a good dose of rebound. The upper is made of one piece of abrasion-resistant, moisture-wicking synthetic fiber. Although it feels stiff to the touch, it wraps flexibly around the foot and creates a comfortable, supportive fit that doesn't bind and provides plenty of toe room.
Our testers were divided on their overall reviews. Many appreciated the close-to-the-ground feel and smooth, natural roll-through, calling the stable and responsive ride "clean" and "old school." Others found them lacking compared to other models tested for this review. One who liked them still considered them a lifestyle shoe better suited for walking or hiking than running. 
Weight: 7.9 oz (women's) / 9.6 oz (men's) 
Stack Height: 22 mm heel/ 16 mm forefoot; 6 mm drop
Best New Light, Agile Trail Shoes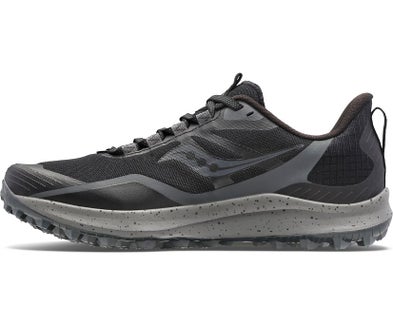 Editors' Choice: Saucony Peregrine 12 – $130
The Peregrine has always been a speedy off-road slipper, but this update takes its ability to float over the trail to a new level, receiving resounding accolades of "best Peregrine ever" from our test team. Updates included a new rock plate that provides more flexible protection, a redesigned, mud-shedding outsole, and an airy upper that better releases moisture. 
Testers praised the upper that delivers a strong foothold without restricting foot motion. A thin, flexible saddle and soft, gusseted tongue hugs the midfoot, while the toe box is wide and free. The aggressive five-millimeter lugs and sticky rubber sole inspired confident strides. One tester, who loved the way the Peregrine handled a variety of types of terrain, said,  "I'd recommend this for anyone who wants a 'one and done' shoe."
But it was the shoe's light weight and high-performance ride that really stood out. The low, flexible and bouncy midsole gave the shoe a natural, close-to-the-ground feel that allowed for quick, nimble feet. The insole, made of Saucony's softest and most responsive foam, made the underfoot sensation more plush and peppy. When asked for overall impressions, the test team lauded the shoes' simplicity and efficient design. 
Weight: 8.3 oz (women's) / 9.7 oz (men's) 
Stack Height: 26.5 mm heel/ 22.5 mm forefoot; 4 mm drop
Merrell MTL Long Sky 2 – $140
The MTL Long Sky 2 won our testers' hearts not because of one feature that stood out, but by having each element work well and come together seamlessly to trainers that one tester called "the most exciting new trail shoe of the season." The shoe brings a balanced approach to trail running that delivers protection and cushioning without removing the nimble feel of dancing over the trail.
The toothy outsole provided ample traction on wet and dry trails, gripping strongly with widely-spaced, five-millimeter-deep, chevron-shaped lugs. The proprietary FloatPro foam provided a ride described by one tester as having a "throwback feel" compared to today's more squishy shoes. The upper was a crowd pleaser, wrapping securely over the booty-style gusseted tongue with an airy forefoot allowing plenty of room for the toes. This updated version uses a variety of recycled materials in the insole, laces, tongue webbing and overlays, while weighing 10% less and retaining 30% less water than the original.
The shoe isn't perfect; some considered it a bit rigid and clunky while others noted some ankle collar irritation. But even those with criticisms overlooked their misgivings in light of the shoe's durability, wide-ranging uses, and reliable handling even on steep, tricky trails.
Weight: 8.0 oz (women's) / 10.0 oz (men's) 
Stack Height: 22.5 mm heel/ 18.5 mm forefoot; 4 mm drop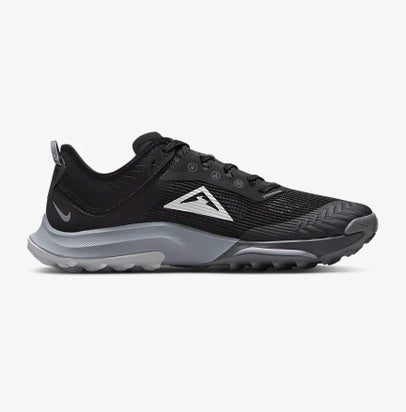 Nike Air Zoom Terra Kiger 8 – $140
The agile fit and ride made the Terra Kiger 8 stand out, with testers lauding the shoe's ability to maneuver adeptly on rugged footing. This minor update to the popular Terra Kiger 7 retained that version's cushioned and responsive sole while improving the upper. Testers appreciate the changes, with loud callouts for the heel and midfoot hold, which locks the foot into place securely. 
The Kiger 8's underfoot experience was described by one tester as feeling like "two shoes stitched together: in the rear a plush, highly cushioned trainer, in the front a low, responsive, connected racer." The soft landings are delivered by an ample layer of Nike's synthetic rubber-based React midsole foam. The low, 24-millimeter forefoot employs a Zoom Air unit that combines pressurized air and tightly stretched fibers to produce bouncy, powerful push-offs.
Flexible, segmented rock plates between the midsole and outsole protect both heel and forefoot. The strategically-lugged outsole's high-abrasion rubber had sufficient bite to hold onto a variety of trails and conditions, including shedding sand, mud, slush, and snow. 
Weight: 8.6 oz (women's) / 11.1 oz (men's) 
Stack Height: 30 mm heel/ 24 mm forefoot; 6 mm drop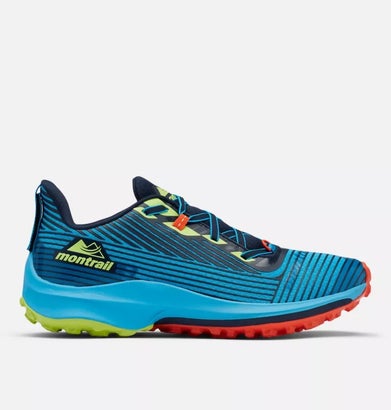 Columbia Montrail Trinity AG – $150
The Trinity AG continues Montrail's performance tradition, now part of Columbia. A workhorse for training, one that feels lighter on the run than it weighs on the scales, the Trinity AG delivers a welcome measure of forefoot ground feel plus plenty of cushioning in the flared, raised heel, making it a mullet of a shoe: business up front, party in the back.
The business end is powered by a three-layer midsole sandwich: on top is a soft-durometer EVA foam for cushioning, close to the ground, a firm-durometer EVA for underfoot protection, and in between, a flexible, propulsive Pebax plate. Testers found that the combination resulted in a quick-rebounding ride—if you stay forward-balanced on your toes. Some heel strikers found the ride cushioned and protective, but somewhat clunky. 
The outsole has moderate lugs that wrap around the edges of the forefoot, producing a snug feel that rolls easily through off-kilter footing. Combine that with the sturdy, seamless mesh upper that hugs your feet with a natural fit and you get confidence-building dependability worthy of gnarly, challenging trails.
Weight: 8.5 oz (women's) / 11.0 oz (men's) 
Stack Height: 32 mm heel/ 24 mm forefoot; 8 mm drop
Hydration Gear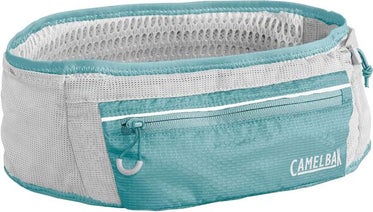 Camelbak Ultra Belt – $55
Our testers initially worried that this belt would be too snug, but the wide waistband fit comfortably and had a surprisingly great capacity. It cut down on the sweatiness that can occur with standard hydration vests and stayed in place through runs. Easily washable and reflective for morning or evening runs, it's perfect for days when going fuel-less isn't enough, but you don't need a full pack.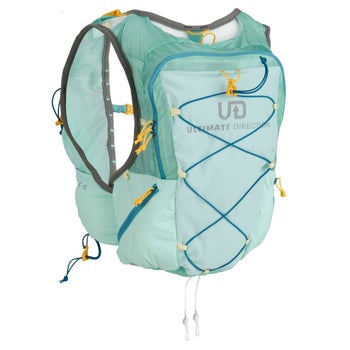 Ultimate Direction Ultra Vest/Vesta 6.0 – $140
The Ultra Vesta has the great fit and breathability Ultimate Direction is known for, with maximal capacity to carry everything you might need. Testers were impressed with the lack of bounce when they filled the back pocket (which is waterproof!) with extra layers and fuel, and the customizable loops and cinches for attaching trekking poles. Ultimate Direction has updated the overall shape the vest for a snugger, more streamlined fit, and it shows – it has an intuitive, body-friendly shape that minimizes movement and chafing.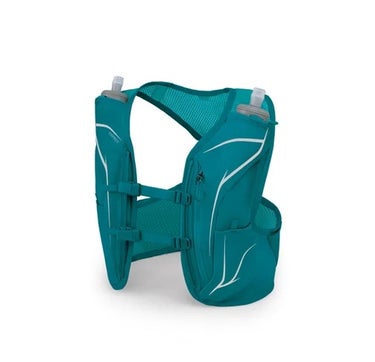 Osprey Duro/Dyna LT – $80
Releasing in July, this vest is a minimalist runner's dream. Weighing less than 0.9 pounds, it's perfect for shorter efforts on its own or longer days with access to water refills. It comfortably fits two flasks, has the perfect number of pockets for keys, gels, and sunglasses, and is ergonomic with a snug enough profile to fit easily under a jacket in the case of a downpour. Plus, we give it the award for easiest-to-adjust chest straps. Note: the Duro is the men's version, and the Dyna is designed for women. S-L.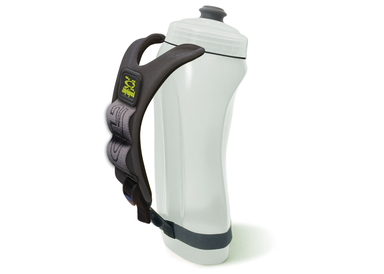 Amphipod Hydraform Ergo Minimalist Handheld Water Bottle – $24
Looking for a super minimal handheld that can easily be stowed in a waist belt or short elastic? This is the answer. Designed to minimize slosh and maximize comfort, this bottle is BPA-free, and offers two holsters for gels, with a baggy zipper pocket to slow you down. Jett-Lock cap style. 16 and 20 fl. oz.
Tech and Wearables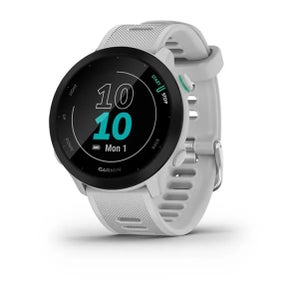 Garmin Forerunner 55 – $200
This is the watch to go for when you want a durable tool that can cover the basics. In the scheme of watches, it's a steal, and our testers were impressed with the accuracy of mapping and data collection on distance, vert, and pace. Plus, it adapts to your changing fitness over time and can suggest workouts (a feature you can disable if you like).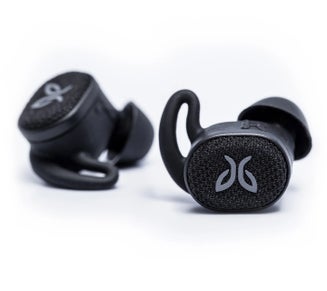 Jaybird Vista 2 Earbuds – $149
Minimal. Sleek. "Earthproof" durability, meaning they can withstand a heavy dose of wind and rain. Plus, they've got an easy way to toggle between noise canceling settings and SurroundSense, to let a configurable level of ambient noise in while you're logging those miles.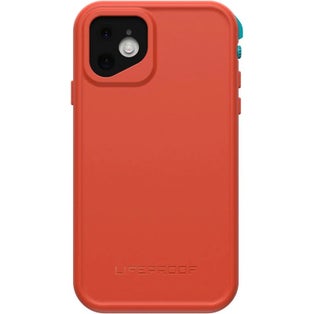 Lifeproof iPhone Case FRĒ – $89
No more wrapping your phone in plastic lunch baggies. Take the guesswork out of whether you should take your phone or not if a storm is brewing with these minimal yet rock-solid phone cases, including built-in screen protection. Even better, newer versions use 60% recycled plastic. Waterproof. Dustproof. Snowproof. Dropproof.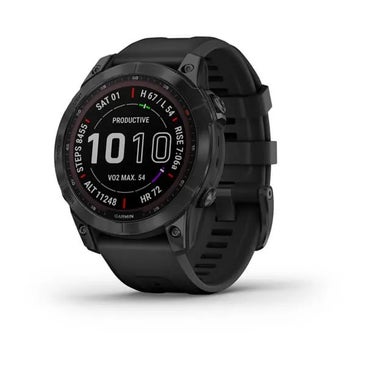 Garmin Fenix – $900
The Fenix is a Garmin staple for a reason. Sleek and sporty, you could also rock it at a fancy wedding no problem. The touchscreen is super functional and the face ultra customizable, with whatever data points you want available on the home screen. The app allows for customizable workouts, from the most simple intervals to complex ladders and combos, making it extra helpful for advanced athletes. The battery life is stellar, but some testers did find it a little heavier than other comparable options, and some didn't like the in-run performance evaluations.
Bonus Gear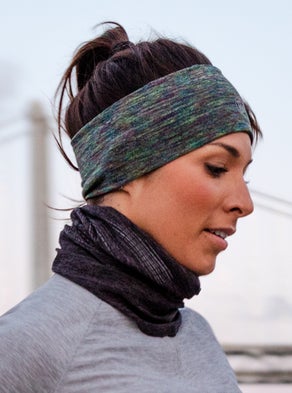 Buff Dryflx Headband – $17
We know: we don't need headbands in the summer. But this lightweight band has become a go-to for our testers for everything from some added visibility on early-morning runs to keeping hair out of their faces while working out in the gym. It's just the right width to cover your ears on chillier mornings, is great for wicking sweat, and has an extra elastic band on one side to keep it from slipping back over your forehead. We'll be wearing this one year-round.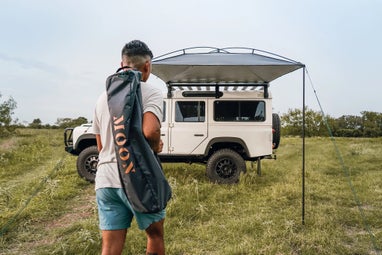 MoonShade Tent – $350
This is one of those products we never thought we needed until we tried it. The portable awning (which weighs only 8 pounds) can set up attached to basically any stable surface, like your car, making it a perfect portable aid station. Whether you're camping, need a dry place to change after a rainy run, or crewing a friend and need a basecamp, this easy-setup awning is the perfect way to add some temporary shelter with minimal effort and minimal environmental impact left behind.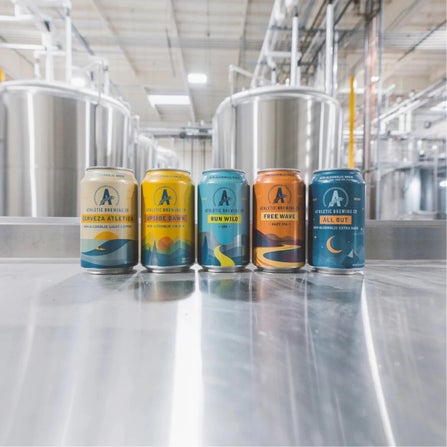 The Venn diagram of trail runners who also love a great post-run brew isn't a perfect circle, but it's probably pretty close. Athletic Brewing makes nonalcoholic craft beers that taste exactly like the real thing, with a range from the darkest of porters to the snappiest of IPAs, but without the performance and recovery impacts of alcohol. Plus, you can feel good about supporting them: the company recently became a certified B Corporation, meaning it's been independently certified based on standards of social and environmental responsibility, legal accountability, and public transparency. (Becoming a B Corp is also an ongoing commitment, as companies have to be periodically re-certified to ensure they're maintaining the highest standard of practices.)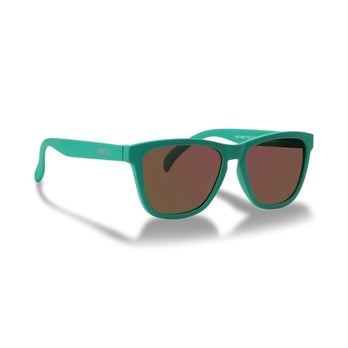 Sayso Shades Sunglasses – $39
These super-economical sunglasses are some of the best we've tried, and we've tried a lot. But even more than their performance – which includes no bounce, no slip, a depth-perception boost, and full elimination of UVA, UVB, and UVC light – we can get on board with their sustainability practices. Sayso uses recycled cardboard, fishing nets, fabric, and other materials in its production, and whenever your pair runs out, you can send them back to be recycled, and get a 25% discount off your next pair.