Whoop Is Like Strava For Recovery
Heading out the door? Read this article on the new Outside+ app available now on iOS devices for members! Download the app.
Even for elite trail athletes, the majority of their day isn't spent working out. It's spent recovering.
And, recently, there's been a shift in interest away from only paying attention to what's happening on the trail to a focus on recovery. After all, your training adaptations are only as good as your recovery.
Whoop looks to help demystify that process for runners by breaking down their most important recovery metrics and giving them individualized tricks to prioritize their recovery.
How It Works
The Whoop system comprises an app that you download onto your smartphone that syncs with a small, wrist-based heart-rate monitor. The band itself is slightly wider than my thumb and sits just below the wrist on the arm. To get the most accurate HR readings, users are supposed to keep the band on 24/7. Membership in Whoop's program is $30 a month and includes the Whoop strap.
The band itself is fairly low-profile unobtrusive, but, as someone who also wears a GPS watch 24/7, it feels a little odd to have wearable tech on both wrists. The band comes with a small charger that adds juice to your Whoop while you're wearing it. Thankfully, the Whoop can also be worn while swimming and in the shower.
The band syncs via Bluetooth with your smartphone, and automatically detects workouts and sleep so that you can get instant feedback on your recovery. The app can also be integrated to platforms like Strava so that you can upload non-GPS workouts and HR data for yoga, stationary cycling and or other workouts.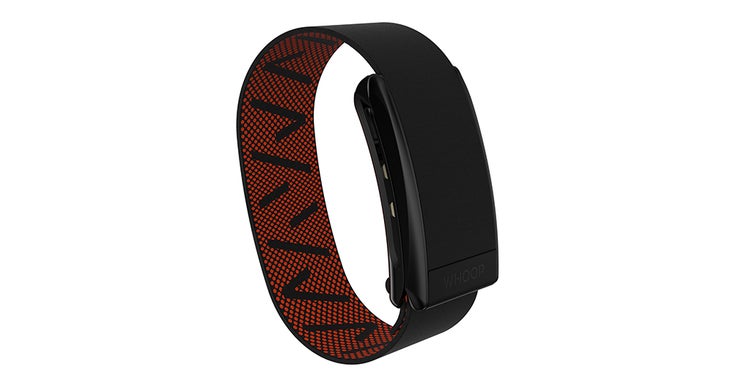 I've been testing the Whoop band for four weeks, including training for, running and recovering from a 46-mile ultramarathon. The primary metrics that Whoop looks at are Strain (how much training load/stress you take on in a day), Recovery (based primarily on heart-rate variability) and Sleep.
The wristband can detect and quantify your strain throughout the day, whether that's a trail run, bike ride, strength session or walk to work. It turns that into your Strain score, that functions on a scale of 0 (nothing) to 21 (extreme strain). The Strain Coach function works with your recovery performance to help you decide how much strain you should take on in a day. For example, after a bad night of sleep, my Strain Coach told me to consider reducing activity, as it would be unproductive considering my low recovery. The Strain score helped me better conceive of how much work I'm doing in a day outside of running, and helped me be more mindful about taking on extra load.
My favorite element is the Sleep function, which uses HR monitoring and an accelerometer to track your sleep, and what percentage of sleep is spent in REM sleep. I've never considered myself a rockstar sleeper, but the Whoop app made it easy to connect the dots (literally—there's a graph that shows you this in the app) between less than optimal sleep and recovery.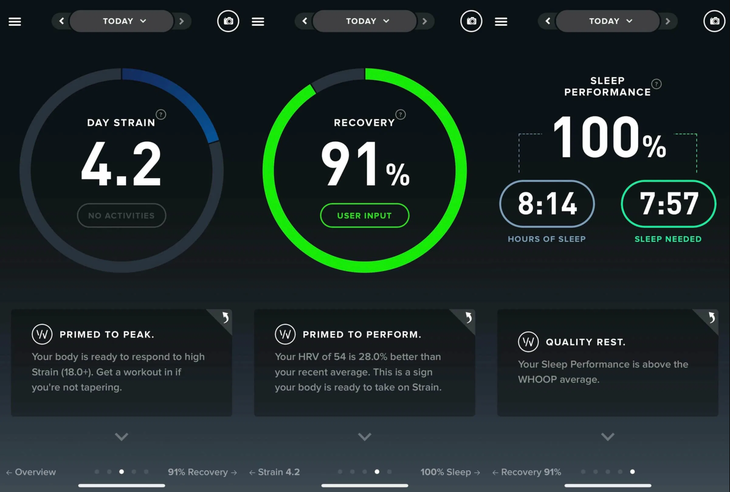 The app's Sleep coach gives clear guidance on getting more sleep after key workouts and long runs to improve recovery, which gave me a quantifiable sleep target to hit after big runs. It also offers guidance on ways to improve sleep, like setting a bedtime alarm and just spending more time in bed (advice taken!).
I'm not a hard-core data addict, but it's nice to shine a light on what feels like the black box of recovery. As someone who is highly motivated by Strava leaderboards and segments, I like that Whoop motivated me to improve my long-term training with solid metrics rather than trying to slay Strava segments. For someone who's eternally competitive, it's probably good for me to channel that instinct into getting more sleep and recovering more effectively.
I'd recommend Whoop to any athlete who struggles with fatigue or sleep issues, and who might need a little nudge establishing healthier habits. I'd also suggest it for anyone who loves data and wants to bring the same level of analysis to their recovery that they bring to their actual training.
Zoë Rom is Assistant Editor at Trail Runner and producer and host of the DNF Podcast.